Samsung's 2021 Neo QLED TVs + Dolby Atmos Soundbars
Samsung delivers sensational big-screen viewing and captivating sound to Aussie homes in 2021. Its new range of Neo QLED TVs and Dolby Atmos Soundbars are now available for purchase online and from selected retailers. Upgrading your Home Theatre experience to rival that of Greater Union, Samsung rocks up with new Neo QLED 8K TVs, QLED TVs and The Frame, alongside an expanded Dolby Atmos line up and 11.1.4ch surround sound.
Setting the playing field for 2021, Hass Mahdi, Head of Audio Visual, Samsung Australia, understands better than most when he declares: "What we watch and how we watch it has changed." Entering their 15th year as the global TV market leader, Mahdi believes Samsung's role is "to provide industry pioneering innovations that are designed for the way we live."
We've got a lot to get through here, so join us as we go through the entire lineup of home entertainment gear Samsung just dropped for 2021.
You'll Also Like:
Samsung's Insane 2021 Neo QLED TVs are Slimmer, Sharper and Sexier
Samsung Unveils Astonishing 110-inch MicroLED TV Worth $200,000
Go All-Out with Samsung's New Premiere 4K Projector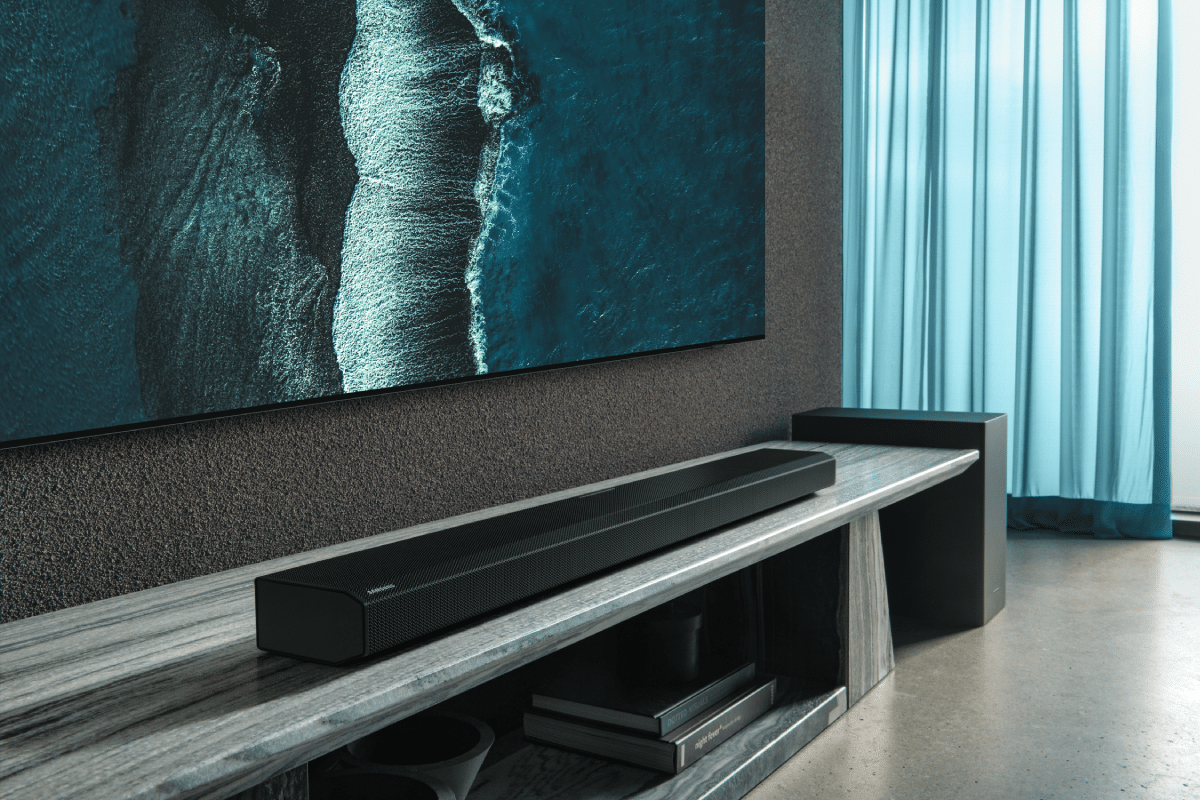 Samsung 2021 Neo QLED TV Lineup
Kicking us off in 2021 is the newly re-engineered Neo QLED technology. Considered "a game-changer for big-screen TVs in Australia," Mahdi knows full well how hungry we are for "bigger TVs and that picture quality is the number one consideration for many customers when upgrading". To satiate our demands, "Neo QLED will offer incredible contrast, colour and brightness to deliver an unparalleled viewing experience."
Levelling up for 2021, Neo QLED incorporates a brand new light source called Quantum mini LED that is 1/40 of the thickness of a standard Samsung LED. Each Quantum mini LED is precisely controlled by Samsung's Quantum Matrix Technology and Neo Quantum Processor, a powerful picture processor, optimised for Neo QLED. This combination of technologies enables more precise light control in a smaller form factor, in addition to ultra-fine and accurate control of the densely packed LEDs.
Incredibly, it's this same technology that has afforded the 2021 Neo QLED lineup a first-of-its-kind Eye Care certification from Verband Deutscher Elektrotechniker (VDE), a well-regarded electrical engineering certification institute in Germany.
Coupled with Samsung's nearly bezel-less Infinity Design and the attachable Slim One Connect box, the new Neo QLED 8K TVs are some of the sexiest we've ever seen. Starting at only AU$5,599 for the 65-inch 8K model, those who want the ultimate experience can drop $13,999 on the gargantuan 85-inch QN900A. If you're not sold on the future of 8K viewing just yet, then slash your costs with the Neo QLED 4K lineup, with prices ranging from $4,429 to $6,399.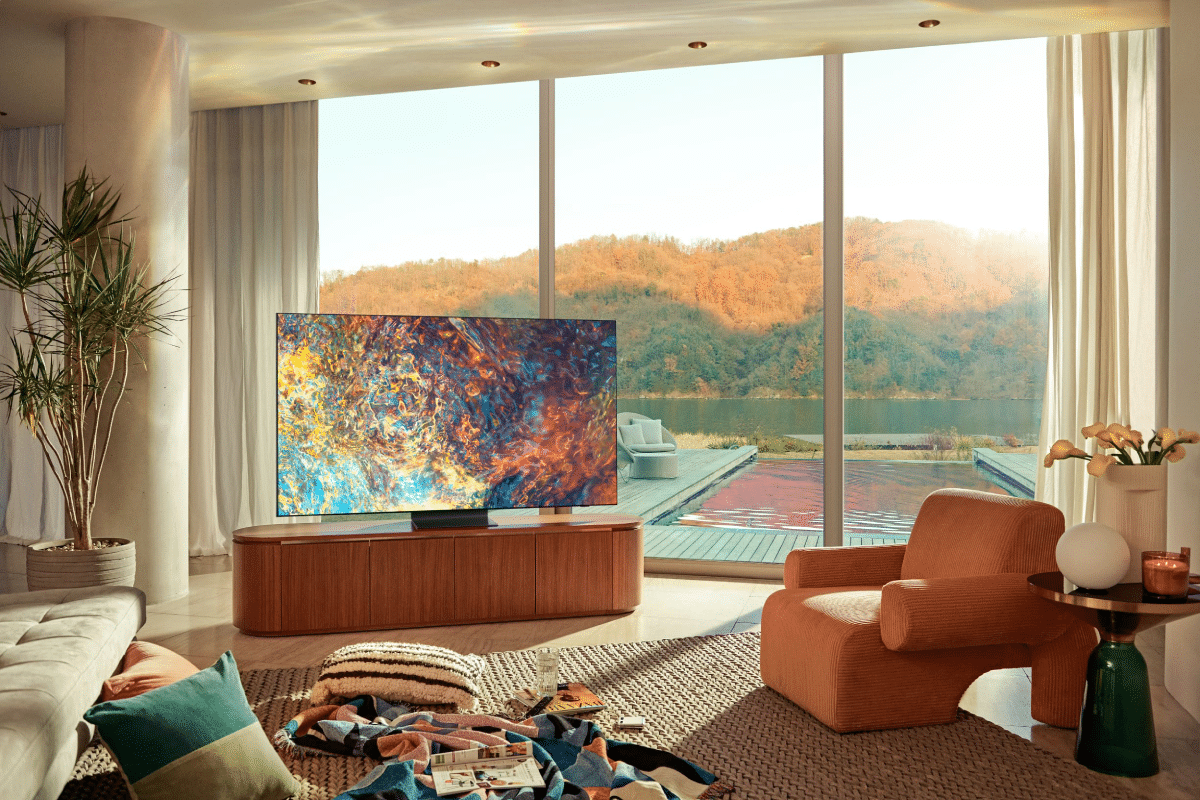 Samsung 2021 Soundbar Lineup
Samsung sound in 2021 is all about True Dolby Atmos & DTS:X with 11.1.4ch surround sound. Accessible for the first time through its flagship Q-Series Soundbars, Samsung is seriously stepping things up audio-wise. Bringing you a total of 11 channels, one subwoofer channel and four up-firing channels of audio, it knocks your old man's 5.1 hi-fi setup out of the water.
Australians appreciate high-quality audio as part of their visual experience, and the 2021 line-up showcases Samsung's commitment to innovation with new audio advancements that raise the bar in sound quality," said Hass Mahdi.
"Offering the ultimate immersive audio experience at home, the Q950A, engineered by Samsung's Audio Lab, is the perfect match for our new Neo QLED range providing Dolby Atmos Rear Speakers, Spacefit Sound+ and Samsung's Q-Symphony," continued Mahdi.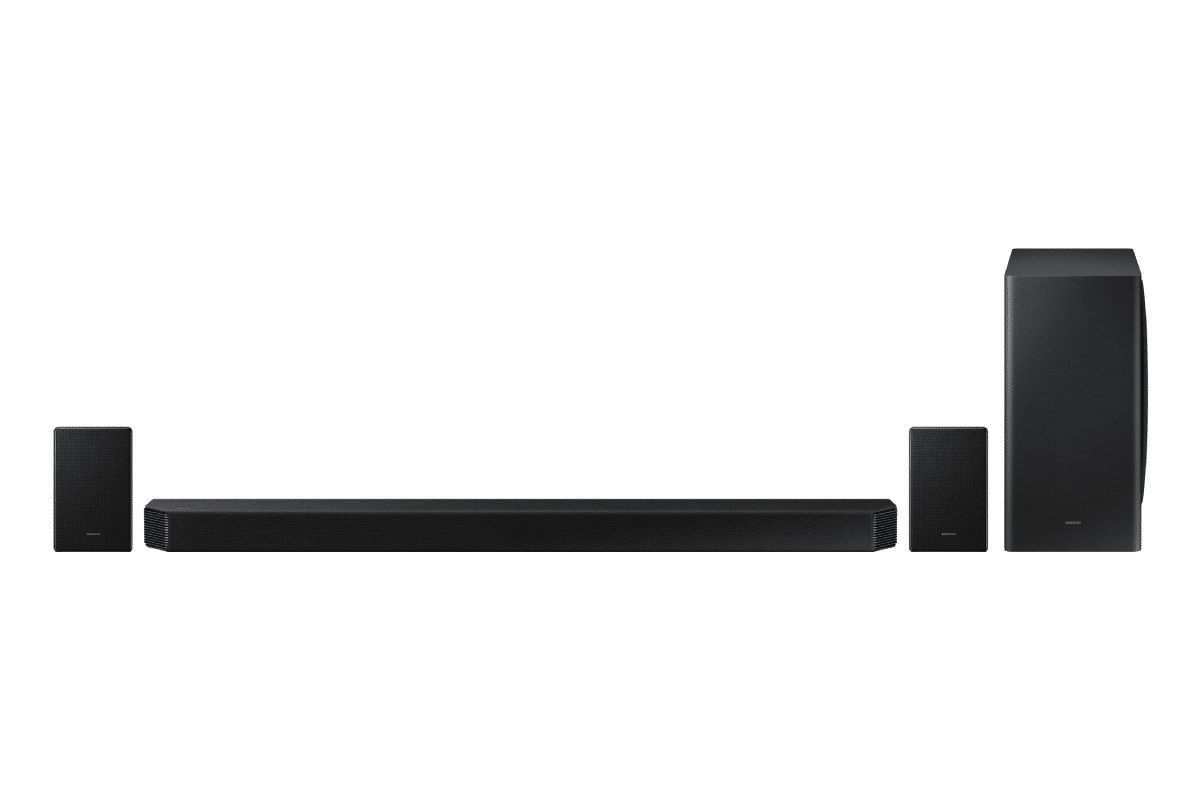 Redefining sound once again, Samsung improves on its revolutionary Q-Symphony feature, first introduced in 2020, uniquely allowing both your Samsung TV and Soundbar to "operate simultaneously for better surround effect without muting TV speakers." Coupled with SpaceFit Sound+, users can tailor their hi-fi setup to ensure optimisation and total sound collaboration. Something that Mahdi believes is a crucial factor sought after by Australians.
As for the rest of the lineup, Samsung soundbars (Q700 and above) will also support third-party connectivity features, including AirPlay 2 and built-in Chromecast ability. The more accessible (a polite word for affordable) A-Series soundbars bring a new Bass Boost Mode feature for amplifying bass levels. And the upgraded S-Series soundbars feature a dedicated centre speaker and side-firing Horn Speakers for a more distinctive sound signature during music and movie playback.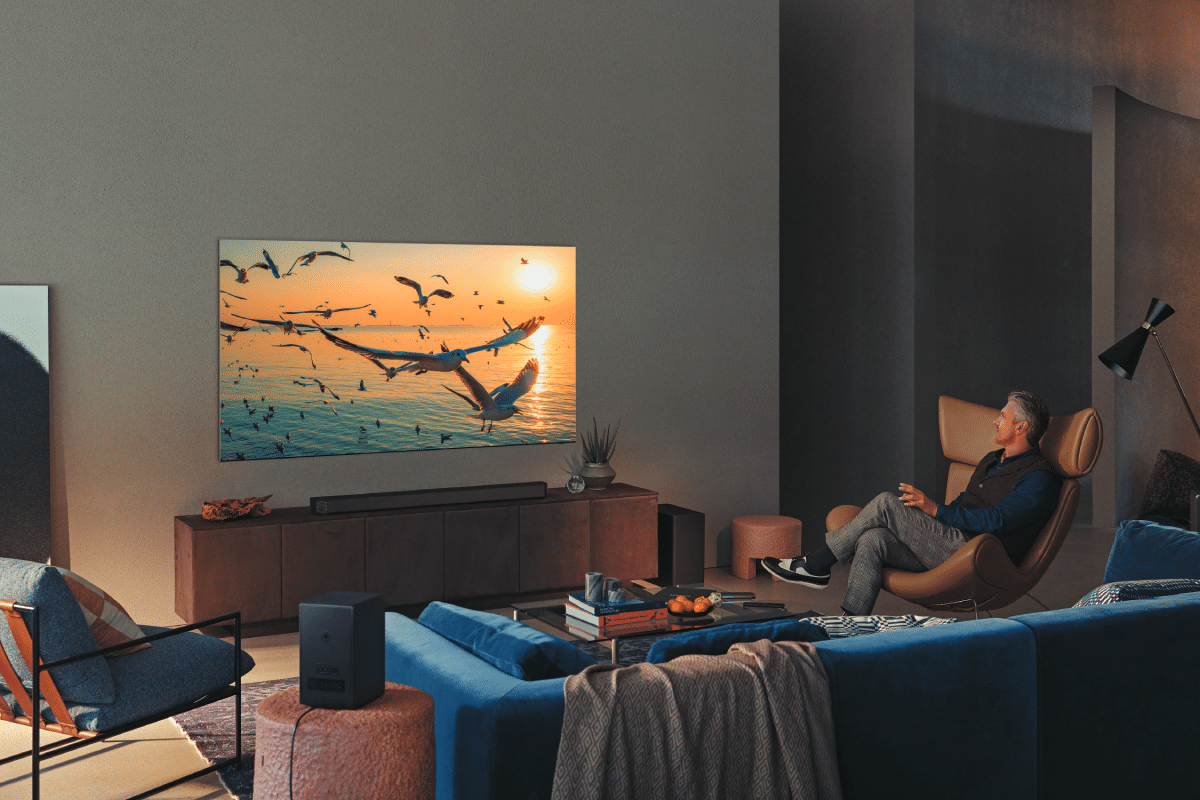 Samsung 2021 Lifestyle
On a lighter note, Samsung is also continuing to innovate on new ways consumers can experience content, art and stunning design in 2021. Satisfying us aesthetically over the years with The Frame, The Sero, The Serif, The Premiere and the outdoor Terrace, Samsung upgrades The Frame alongside new design forms and software updates across the range. Slimming down the profile and offering new bezel options, The Frame is even more gorgeous than before. And with The Art Store now offering 1,400 pieces from world-renowned galleries, your in-home art gallery just got even fancier.
"As the lifestyles, viewing habits, and home entertainment demands of Australians evolve, so to do the features and technology across our Samsung TV lineup. With near-endless options for customisation, Samsung's lifestyle TV portfolio continues to redefine the category, how a TV can be used and incorporated beautifully into a home," explains Hass Mahdi.
In addition to all this incredible home theatre tech, Samsung is also making innovations in sustainability. Samsung's eco-packaging solution will be brought to all TV products, alongside a brand new sustainable solar-powered TV remote, partially constructed from recycled plastic.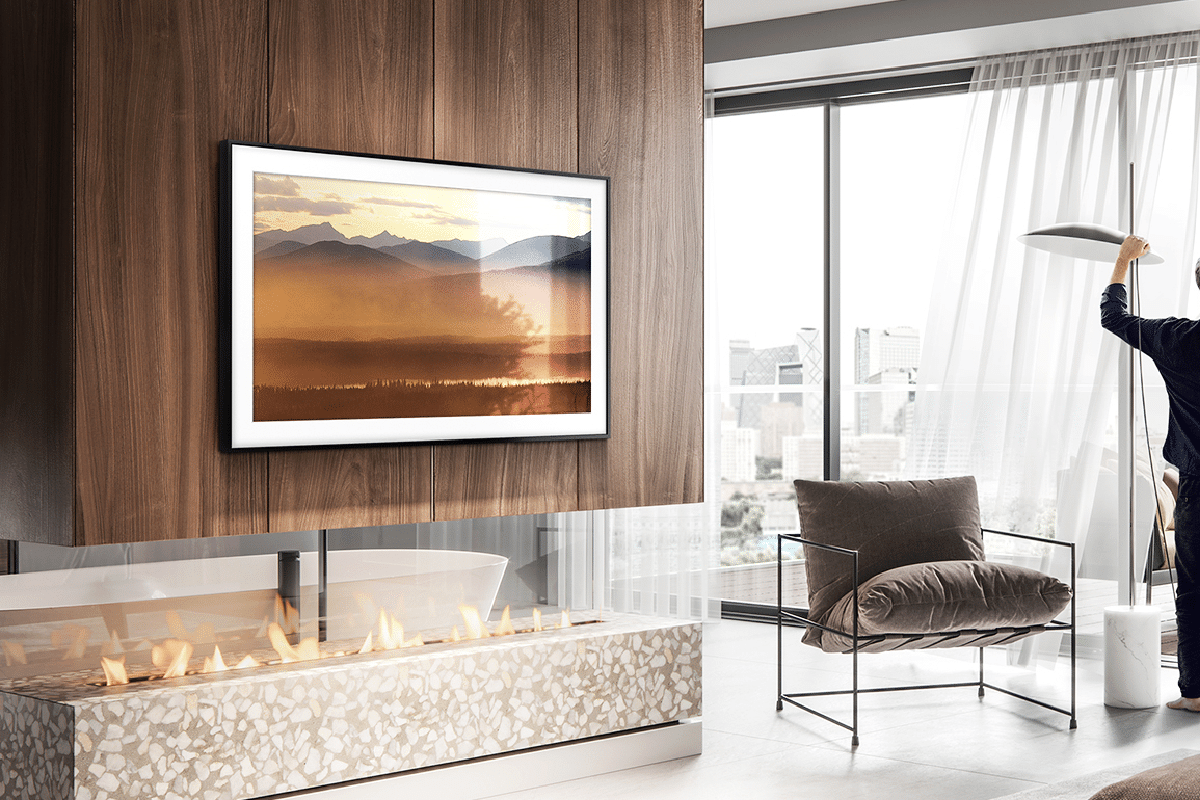 You'll Also Like:
Samsung's Insane 2021 Neo QLED TVs are Slimmer, Sharper and Sexier
Samsung Unveils Astonishing 110-inch MicroLED TV Worth $200,000
Go All-Out with Samsung's New Premiere 4K Projector