10 Best Men's Fashion Stores in Byron Bay
Byron Bay fashion is something else. Best known for its spectacular beaches, chilled vibes, and vibrant culture, the region is home to a host of exotic shopping experiences. From contemporary concept stores to unique local shops, the offerings here are effortlessly 'Byron'. Whether it's dressing for the beach or for a night on the town, this beautiful coastal town has you covered. Let's check out the best men's fashion stores in Byron Bay.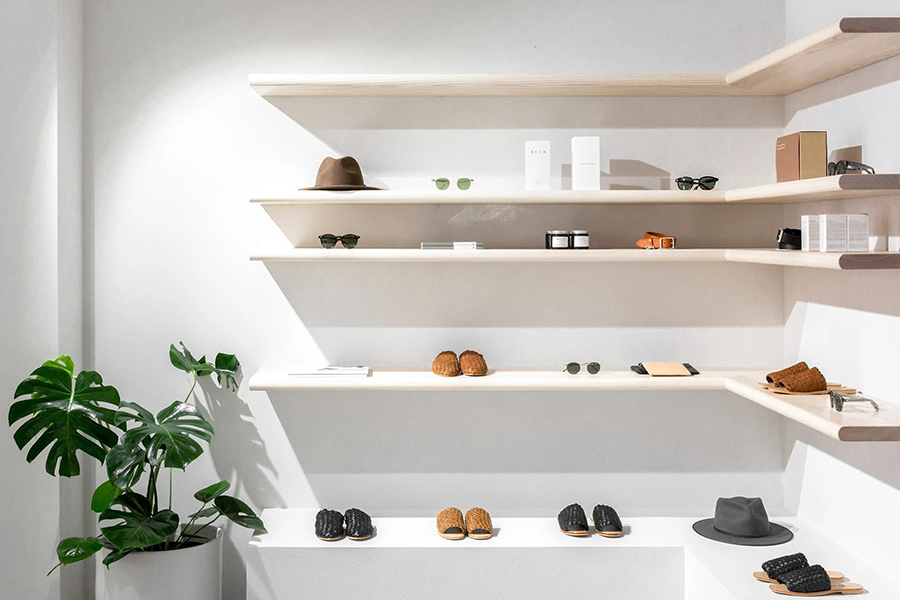 1. Assembly Label
Situated in the heart of Byron Bay, right next to the ocean you will find Assembly Label, a cool, modern boutique, specialising in all things lifestyle and fashion. Not sure what to choose? The retail store team has you covered, Assembly Label has a selection of the latest seasonal styles alongside a core collection of everyday wardrobe staples, so there's something here for everyone. Top pick: opt for a versatile and comfy denim jean, to accompany the minimal coastal lifestyle.. just roll them up for walks on the beach!
Address: 28 Jonson St, Byron Bay NSW 2481
Phone: (02) 6694 3091
Hours: Mon – Sat: 9:30am – 5:30pm, Sun: 10am- 4pm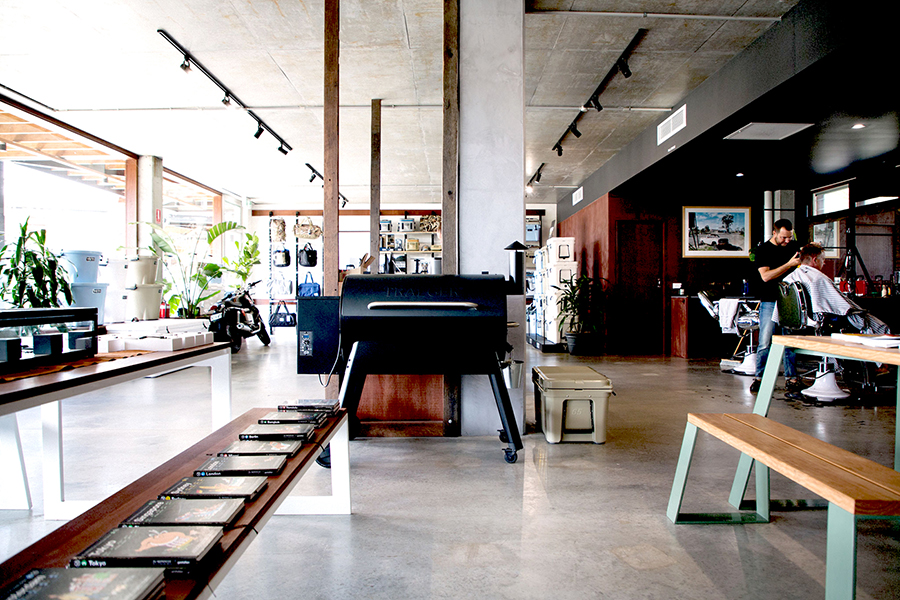 2. Mr. Simple
More than just your average clothes store, 'The Department of Simple Things' is a menswear concept store with a unique flair. Situated on the picturesque Bayshore Drive, Mr. Simple is a haven for all things cool (and hot!), housing an eclectic collection of motorbikes, skateboards, hot sauces, and also an in-store barbershop! Here you'll find so many rad brands, including Yeti, Salt & Steel, and Herschel Supply Co. They also have their own menswear range, constructed with premium and sustainable fabrics. The Mr. Simple range keeps its logos and branding to a minimum, focusing on cut, fabric, and quality in their designs, which is perfect for showcasing your own personal style.
Address: Suite 39/41/248 Bayshore Dr, Byron Bay NSW 2481
Phone: (02) 8215 0723
Hours: Mon – Fri: 8:30am – 4pm, Sat: 9am – 4pm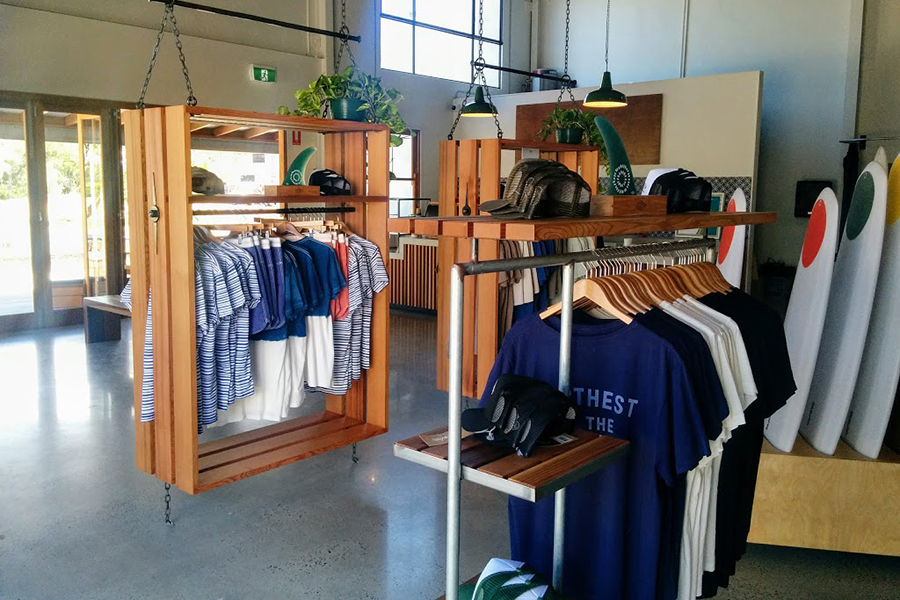 3. McTavish
Situated within an old heritage cottage, McTavish showcases a spectacular collection of handmade surfboards alongside its own brand of men's clothing and accessories in the heart of Byron Bay. This striking space is more than just a fashion store, they host exhibitions, sell amazing art prints, and is a great place to hire a surfboard too. McTavish (founded by Bob McTavish in 1962), is one of the region's most well-loved brands, producing a range of T-shirts inspired by surfing and the local culture of Byron Bay. The brand has long been associated with the more social side of surf culture and after-hours their car park is often converted to a party venue, where the team can meet members of the public and chat over a cold beer, or three, from the neighbouring brewery, Stone & Wood.
---
Featured Video from Man of Many
---
Address: 91 Centennial Cct, Byron Bay NSW 2481
Phone: (02) 6680 8807
Hours: Mon – Fri: 7am – 5pm, Sat: 7am – 2pm, Sun: 10am – 2pm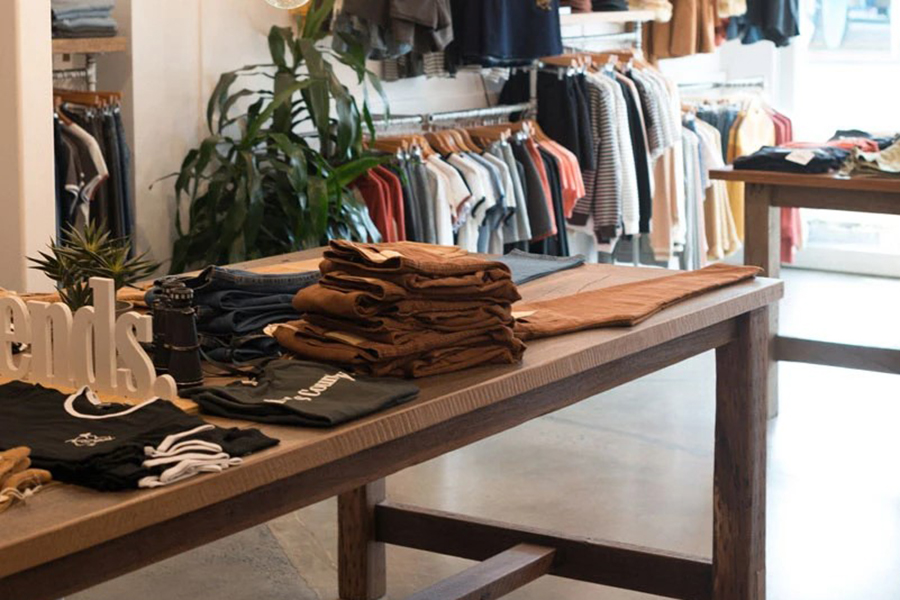 4. Afends
Born in 2006, local Byron Bay brand Afends believes in sustainability through innovation, action, and creating a positive change. They seamlessly mix hardcore punk with the culture of surf and skate, resulting in bold screen printed T-shirts and eye-catching designs. The brand is driven by social impact and care for the environment, injecting the Byron Bay spirit and lifestyle values into their stores, which you can now find worldwide. Afends are proud to use no single-use plastic, receipts are sent digitally to customers and in January 2021, they are even releasing their first 100 per cent eco-friendly range, and they say after that… they are never going back.
Address: 2/6 Lawson St, Byron Bay NSW 2481
Phone: (02) 6685 6322
Hours: Mon – Sun: 10am – 6pm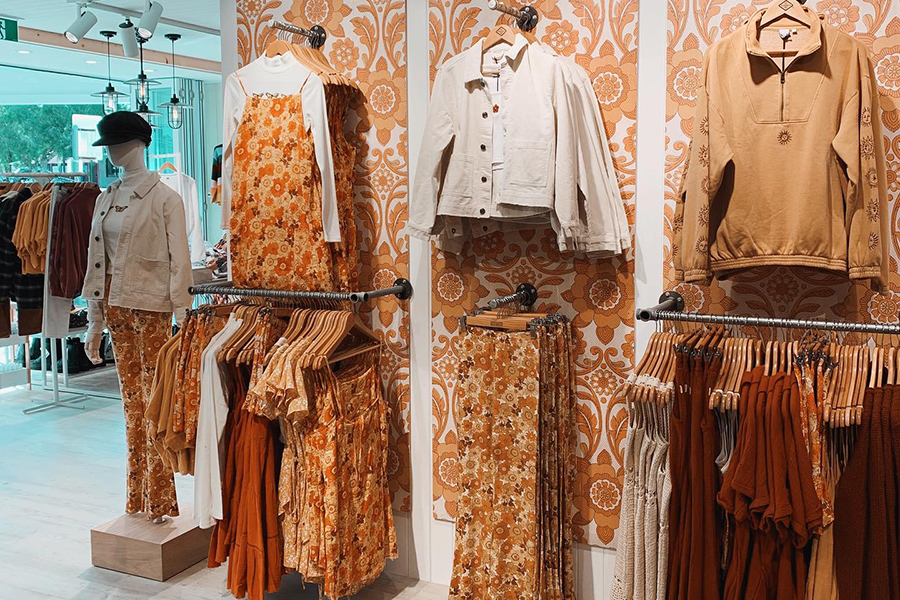 5. Ghanda
Ghanda is a street & surfwear brand, hailing from the cool, coastal town of Torquay, on the Great Ocean Road. The focus here is offering affordable basics and on-trend graphic tees that cater to all ages. You can't go anywhere in Byron without seeing one of their famous hand-printed fleece trackies or hoodies. Sustainability is also a key message here, screen printing is all done by their in-house printers, keeping manufacture local and enabling a print to order system, reducing waste. The place to be for top quality, affordable clothing, made locally with love.
Address: Shop 3/8 Lawson St, Byron Bay NSW 2481
Phone: (02) 6685 6774
Hours: Mon – Sun: 9am – 6pm
You'll also like:
20 Best Tailors and Bespoke Suit Shops in Sydney
5 Best Surf Schools in Byron Bay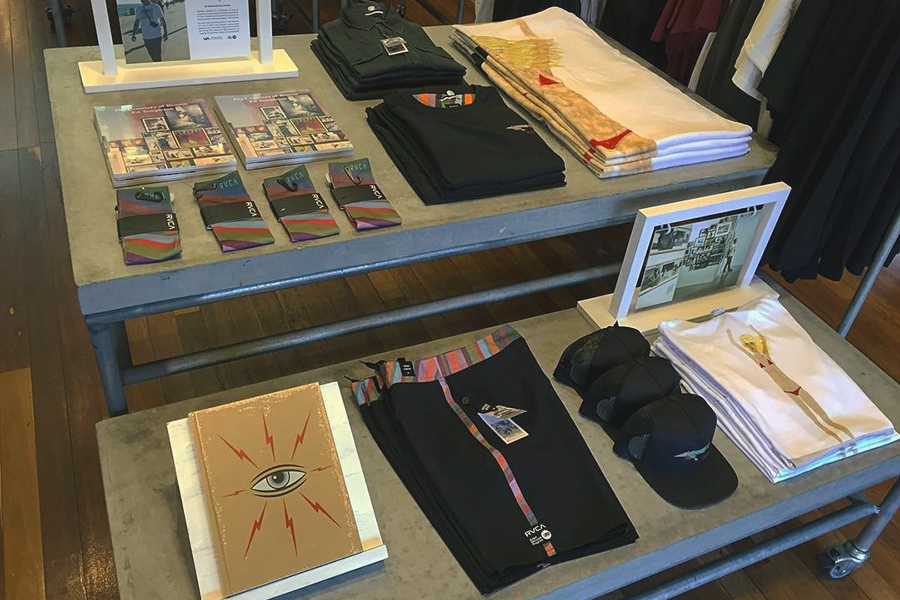 6. RVCA
RVCA (pronounced REW-KA) is a design-driven lifestyle brand, transcending the boundaries of traditional sportswear, and unaffected by seasonal trends. Inspiration comes from different subcultures, combining art, fashion, and music to create an original product that redefines the way traditional men's clothing is viewed. RVCA are their own tribe and have a huge following amongst fans of directional menswear. So if you're in town and looking for something to stand out from the crowd, head down to Jonson Street, and check out one of the best men's fashion stores that Byron Bay has to offer.
Address: 30 Jonson St, Byron Bay NSW 2481
Phone: 02 6680 9222
Hours: Mon – Sat: 9am – 5:30pm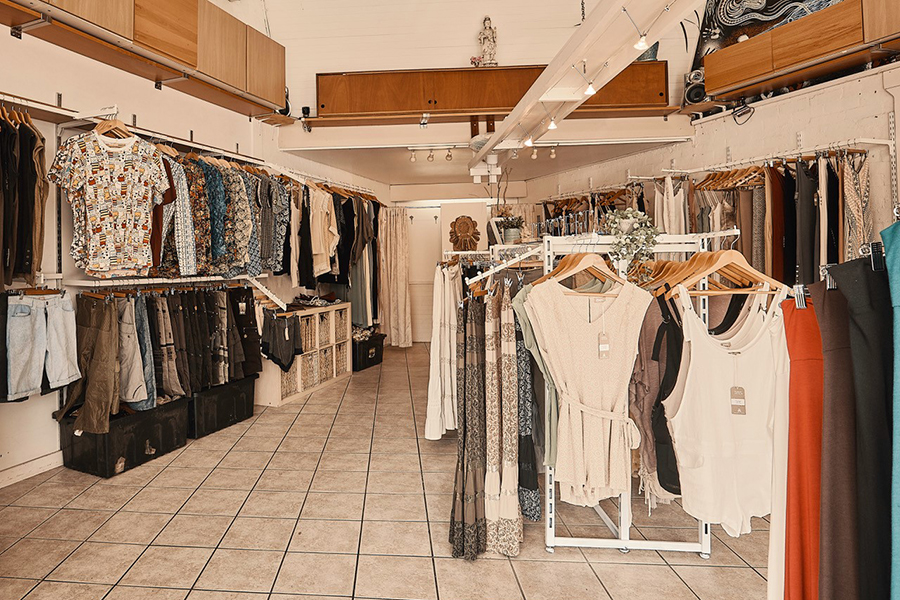 7. Etnix
Etnix is the brainchild of Andras, a free-spirited nomad who travelled the world and fell in love with Byron Bay, where he has since met his wife Niki and made his home for the last two decades. His vision was to bring together talented designers from around the world and create a fashion store that showcases a multitude of unique fashion brands, offering clothing that was not directed by industry trends and instead told its own story. The shop is on the main street but stands out due to its natural beachwear, festival-inspired clothing overflowing from the doors. You'll also find funky handmade accessories, manufactured by Andras and Niki in Bali. A must-visit store on your trip to Byron!
Address: 2/85-87 Jonson St, Byron Bay NSW 2481
Phone: (02) 6685 6687
Hours: Mon – Sun: 10am – 6pm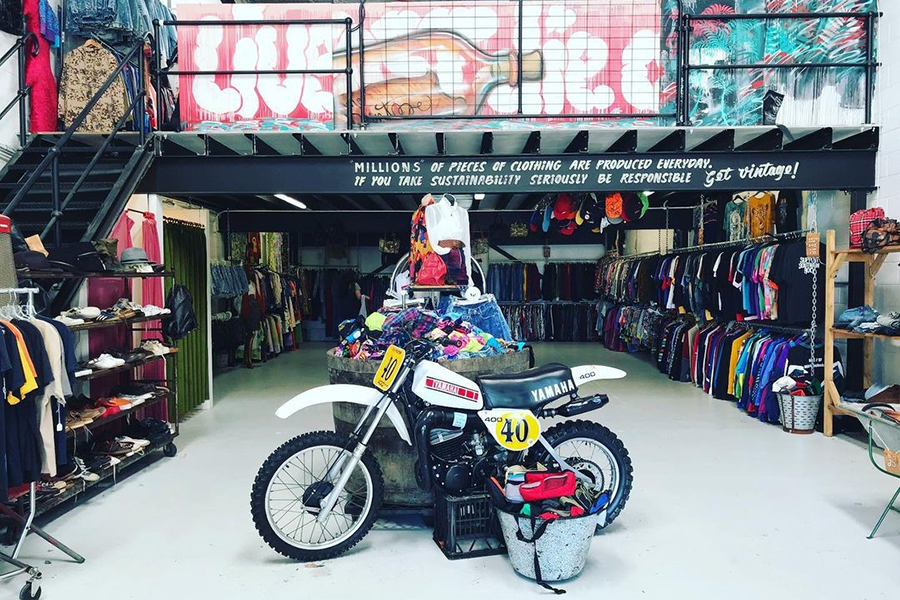 8. Mr. Vintage
Housed in a huge warehouse, vintage clothing adorns every shelf and rail as far as the eye can see. It's a real treasure trove of vintage delights and if you are looking for something that has a unique history, sustainable as well as truly one-off, a visit to Mr. Vintage is definitely in order. The menswear here is quirky and bold, their motto, life is too short to wear boring clothes. And there's absolutely no way you will find anything even slightly boring here.
Address: 3/6 Centennial Cct, Byron Bay NSW 2481
Phone: (02) 6680 8640
Hours: Mon – Fri: 10am – 4pm, Sat: 10am – 2pm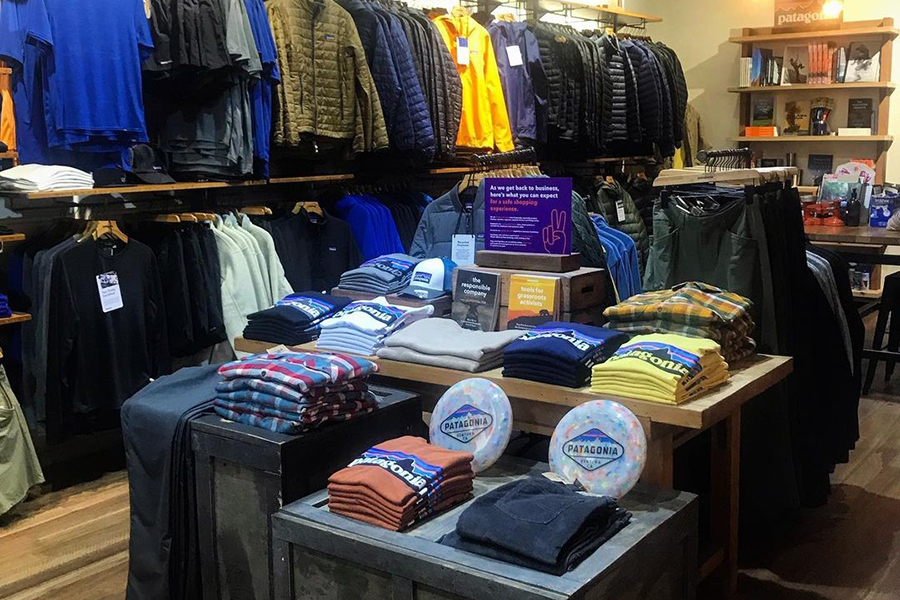 9. Patagonia
Patagonia is a brand catering to outdoor clothing, suitable for climbing, surfing, snowboarding, fishing, and trail running. The inspiration here comes from the late '60s, a time where men's sportswear mainly consisted of basic grey sweaters and pants and there was a distinct lack of bright or colourful garments in the USA. On a trip to the U.K, Patagonia's founder was surprised to see bright, bold rugby shirts and striped jerseys so he took this idea back to the U.S and Patagonia was born. The clothing is great for outdoor sports and wet and wild pursuits, so if you're looking for some activewear, this is the best men's clothing store in Byron to keep you cool, no matter the weather.
Address: Shop 1/58 Jonson St, Byron Bay NSW 2481
Phone: (02) 6685 8528
Hours: Mon – Sun: 9am – 5pm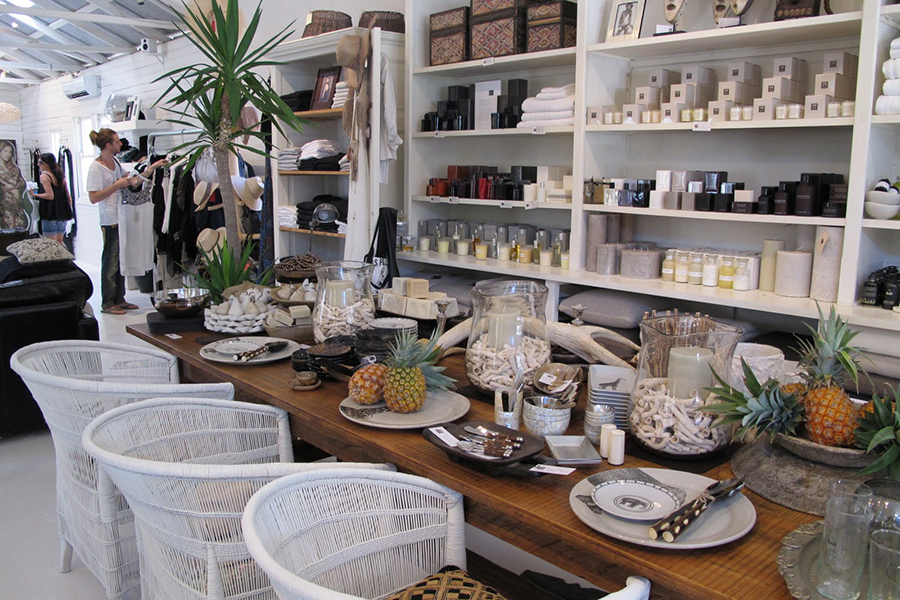 10. Island Luxe
Visiting Byron? Bring a little piece of its culture home with a trip to Island Luxe. Here you'll find a range of high-end clothing, shoes, and accessories. The store has been carefully curated and is stocked with individual and one-off pieces created by local and international designers and artisans. Island Luxe is in a league of its own, a real feast for the senses with its backdrop of exotic music and the textures of natural fabrics, from hemp to organic cotton. This is Byron Bay at its most authentic and it's by far one of the best men's fashion stores in the region for one-off finds.
Address: 62 Byron St, Bangalow NSW 2479
Phone: (02) 6687 1605
Hours: Mon – Sun: 10am – 5pm
You'll also like:
20 Best Tailors and Bespoke Suit Shops in Sydney
5 Best Surf Schools in Byron Bay
General FAQ's
Are there any good men's fashion stores in Byron Bay?
Byron Bay is home to lots of great men's fashion stores, from quirky local stores to vintage warehouses and contemporary menswear outlets, there are so many options to explore. You can find some great one-off finds in Byron too
Is there an Assembly Label in Byron Bay?
In the heart of Byron, by the beach, at 28 Jonson St, you'll find the Assembly Label concept store. Here you will find a variety of men's fashion clothing, grooming, and lifestyle products.
What clothes should I wear in Byron Bay?
Safe to safe, Byron Bay is a coastal town, so bathers, thongs and an open, flowing shirt are ideal pieces for your trip to the beach-region.
---
Featured Video from Man of Many