Kanye West Finally Gives Us a Look at the Yeezy 451
Sneakerheads rejoice. After a surprise Sunday Service at Paris Fashion Week, Kanye West has offered a rare glimpse at the new Adidas Yeezy 451 sneakers.
You'll also like:
Sneaker News #32 – New Balance And Casablancas Team for Another Showstopper
Nike Adapt BB 2.0's 'Power Laces' Advances the Already Advanced
Jennifer Lopez 1999 'InStyle Magazine' Cover Sneakers Have Eshays Thirsting
.@KanyeWest making sure he avoided that puddle and kept his Yeezy 451s clean ?
?: carina IG (H/T @teamkanyedaily) pic.twitter.com/vKfySLS9Kv

— Complex Sneakers (@ComplexSneakers) March 2, 2020
The futuristic footwear's final form has been under debate since July last year, when the project was first teased online. Rough sketches were shared through Kanye's Twitter, but fans wanted more. Eight months later, on a rainy Paris afternoon, they got their wish.
Stepping out from a limousine, Kanye was seen sporting the new Yeezy 451 sneakers, which have been touted as his most revolutionary to date.
Featuring a mesh upper with a sawtooth mould detail stretching from the midsole to the eyelets, the unreleased Adidas Yeezy 451 sneakers are a far departure from previous models. A more rugged exterior harshly juxtaposes the softness of former Yeezy designs,  creating an entirely new silhouette for the Kanye/Adidas collection.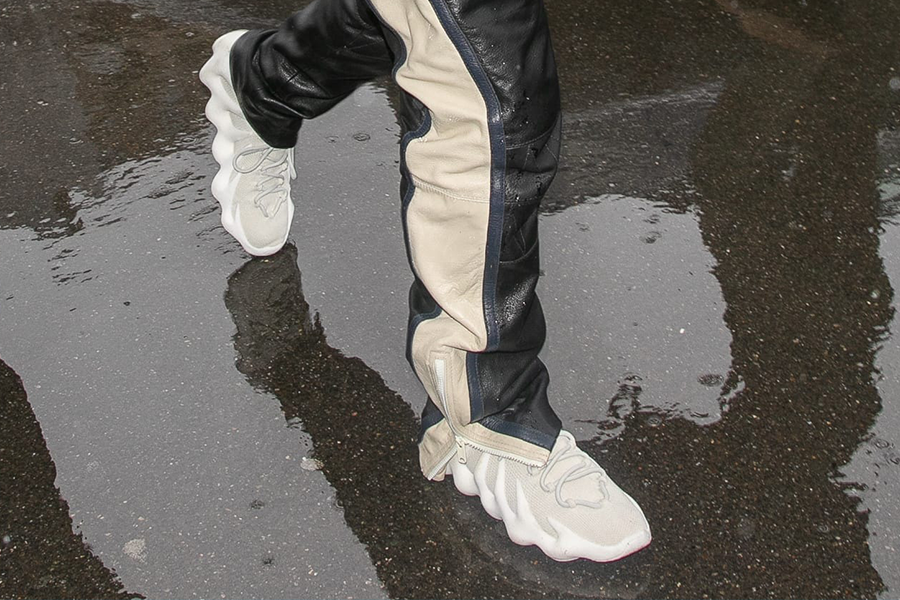 The infamous Alien Facehugger-inspired sole also makes its official debut in the Yeezy 451, despite uproar from sneaker fans online.
Sneaker fans are hopeful that the new Adidas Yeezys will feature the Boost sole they have come to love, but that is yet to be confirmed. Also up in the air is when the Yeezy 451 sneakers will hit shelves, or if they will at all, however, we're all hoping Kanye's latest showing could indicate a release is in the works.
You'll also like:
The Basement x New Balance 2002R is Unofficially Underrated
Nike Adapt BB 2.0's 'Power Laces' Advances the Already Advanced
The NBA's Biggest Sneakerhead is Selling His Collection for Charity