Sneaker News #18 – Nike Preps High-Profile Collaborations with G-Dragon and J Balvin
Welcome to Sneaker News #19. It's a big week for collaborations as nearly every shoe on this list boasts a collaboration with a musician or creative collective. Nike is creating plenty of hype this week by teaming up with South Korean force G-Dragon and Latin music superstar J Balvin. Meanwhile, adidas continues its hot streak with Kanye West's Yeezy brand and Pharrell's Human Made collection. There are also hot drops from New Balance and Converse.
You'll also like:
Sneaker News #18 – Nike Goes Sweet with the 'Strawberry Lemonade' Air Max 1
Sneaker News #17 – Nike and adidas Get into the Halloween Spirit
Sneaker News #16 – Converse, New Balance & adidas All Prep High-Profile Collabs

Nike Air Force 1 Low x PEACEMINUSONE 'Para-noise'
South Korean artist and cultural force G-Dragon has got a supremely creative take on the Nike Air Force 1 Low. On first look, it looks like a regular Air Force 1 in a white colourway with a black swoosh. Over time though, the shoe changes. The white paint will wear away to reveal a G-Dragon design. To find out what it is you're just going to have to join the likely huge crowd to cop. It's available on 25th November through Nike.

Nike x J Balvin Air Jordan 1
Latin superstar J Balvin has collaborated with everyone from McDonald's to Guess this year but now he's teamed with Jordan for a shoe that's going to sell out in seconds. His take on the Air Jordan 1 is a typically colourful affair with a number of daring details. Few people mess with the iconic Air Jordan 1 silhouette. Balvin pays no mind to its history though, taking the liberty of giving it different shapes on the upper and also replacing the Jumpman logo on the left foot tongue tag. The eighth December is the drop date and Nike is currently listing Supply store in Sydney as a retailer.

Air Jordan 4 'Fire Red'
The Air Jordan 4 silhouette debuted back in 1989 in three colourways. One of those was the 'Fire Red' which has never reappeared since then. That's all about to change with the colourway getting a revival that sneakerheads have been waiting years for. The sneaker purists will be happy to know that the shoe remains largely unchanged. It even comes in its original 1989 packaging. Get ready to fight for them on 28th November over at Nike.

adidas Human Made Nizza Hi Shoes
Pharrell has been rolling out adidas collaborations at a speedy pace recently. He generally takes on the NMD or Superstar but this time around he's taking on an archival style with the Nizza Hi. Tapping into vintage basketball stylings, it boasts an off-white colourway with a few choice specifics including a rubber outsole with hearts and a zip down the side. It's due to hit adidas on 24th November alongside a lengthy range of new Human Made shoes.

adidas Tyshawn x Thrasher Shoes
Nike has been blitzing it of late with its skateboarding shoes, the Dunk in particular, but now adidas is stepping up too. adidas Skateboarding is teaming up with US skater Tyshawn Jones and Thrasher Magazine for a comfortable, sturdy shoe. Arriving in a cloud white colourway, it's ready for wear and tear with a reinforced toe and padded collar. There's also moulded sock liner for a little more cushion. Cop the shoes over at adidas on 27th November.

New Balance 327 KAWHAI 'Seismic Moment'
The 327 will go down as one of 2020's most sought-after silhouettes. It's seen collaborations with Levis and Casablancas but now it's turning its attention to the court. The KAWHAI Swismic Moment is a collab with LA Clippers star Kawhi Leonard. It comes in a basketball shoe he debuted during the 2020 NBA All-Star Game and the 327 pays homage to that with a similar colour scheme. It's available to buy now from New Balance.

Yeezy Boost 380 'Onyx'
Few years have seen such an onslaught of Yeezy shoes like 2020 has. Similar to the other 380 colourways, the ONYX is an earthy shoe with a black and brown patterned prime knit upper. It also features a Boost mid-sole and a gum outsole ensuring that they're as snug as all the Yeezy sneakers that have come before them. Yeezy Supply and adidas will make the 'Onyx' available from 28th November.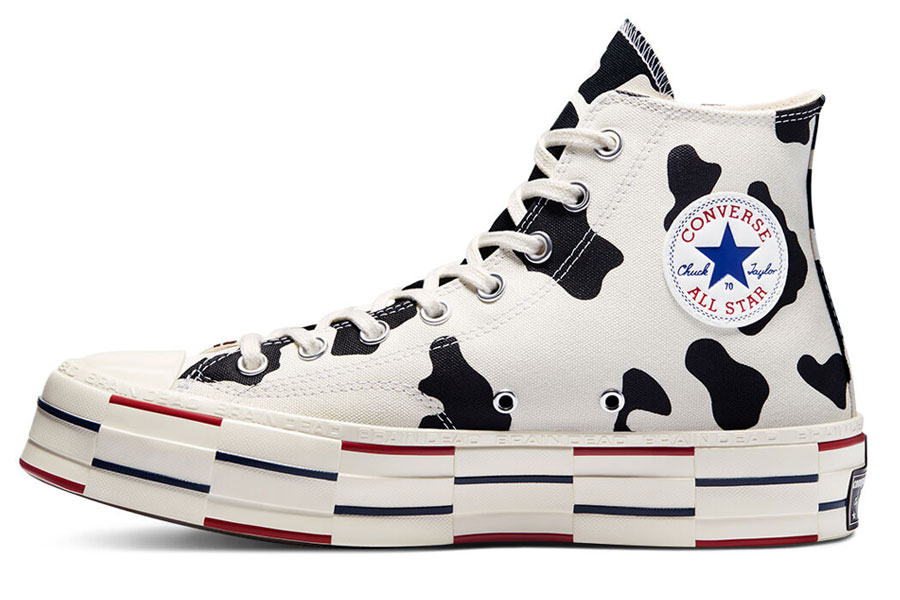 Converse x Brain Dead Chuck 70 Hi
The Chuck 70 is one of the most iconic silhouettes of all time. It's always a risk to mess with it but it's paid off for LA Collective Brain Dead who have unveiled their disruptive take on it. The mismatched cow print upper is the hero of the shoe but the thick sole with a split Converse logo on the heel is just as eye-catching. They're available now and a few sizes remain on Converse as well as retailers like Supply Store.
You'll also like:
Sneaker News #18 – Nike Goes Sweet with the 'Strawberry Lemonade' Air Max 1
Sneaker News #17 – Nike and adidas Get into the Halloween Spirit
Sneaker News #16 – Converse, New Balance & adidas All Prep High-Profile Collabs