The Wind Up – Watch News #19
In this instalment of our regular Wind Up, we follow suit with the ever-evolving world of The Wind Up – Watch News #80. We take a look at a bizarre combination of alcohol and watchmaking, we break down the brand new Panerai Luminor and we spend a bit of time checking out the incredible Jacob & Co. Astronomia. So like always, grab a coffee, kick back and enjoy!
You'll also like:
The Wind Up – Watch News #18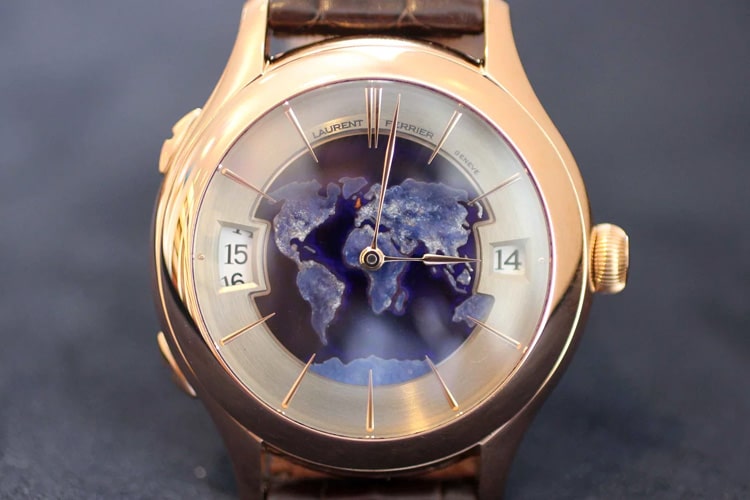 Laurent Ferrier Galet Traveller Globe Night Blue Limited Edition
Passion and love for watchmaking aside, Laurent Ferrier makes damn good watches. From their famous micro-rotor to their deceiving tourbillon, their timepieces are notoriously beautiful and carry an element of subtlety that's unfortunately lost amongst a lot of other watchmakers. The Galet Traveller Globe Night Blue has been produced for London's only LF distributer, William & Son. The 41mm 18k rose gold variation of the Galet Traveller is unique in that in place of the UK's geographic position, a gold leaf has been applied to indicate its location on the blue enamel dial. Beyond the aesthetic change, the Galet Traveller is typical Ferrier. Gorgeous dial details, a traditionally shaped case, wonderful leaf-shaped hands and the remarkable LF 230.1 automatic calibre, which employs my most favourite micro-rotor movement of all time. Limited to only five pieces and costing well over $100,000AUD (thanks to our crappy dollar..), it's going to be a highly collectable piece in the coming years.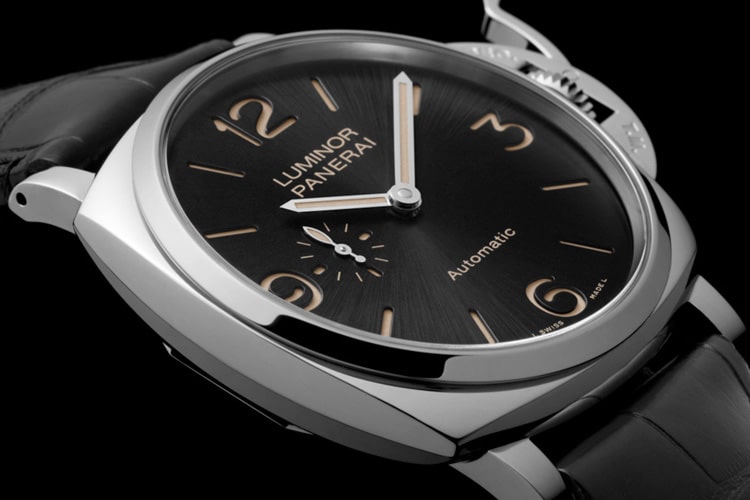 Panerai Luminor Due Automatic
Now as most of you know, I'm not the biggest Panerai fan. I think that their case design, while tried and tested yes, is pretty boring and doesn't leave much to the imagination. But the newest piece from Panerai, the Luminor Due is a gorgeous piece of machinery and one that is definitely deserving of my attention, deserving or not! I've chosen to talk about the Automatic version of the piece, as opposed to the manually wound calibre purely for the fact that I adore the micro-rotor automatic calibre P.4000. Besides the LF 230.1 from Laurent Ferrier, this is one of the best micro-rotor movements, period. But aside from its technical beauty, the watch itself is a stunner. The dial has a kind of sun-burst pattern applied to it which looks beautiful, especially when its offset by the patina'd colour hands and hour numbers/numeral batons. It comes in either steel or red gold, with a massive price hike for the precious metal option. Manually wound or automatic? Steel or gold? I'd pick the automatic in steel without regret. Well done, Panerai.
---
Featured Video from Man of Many
---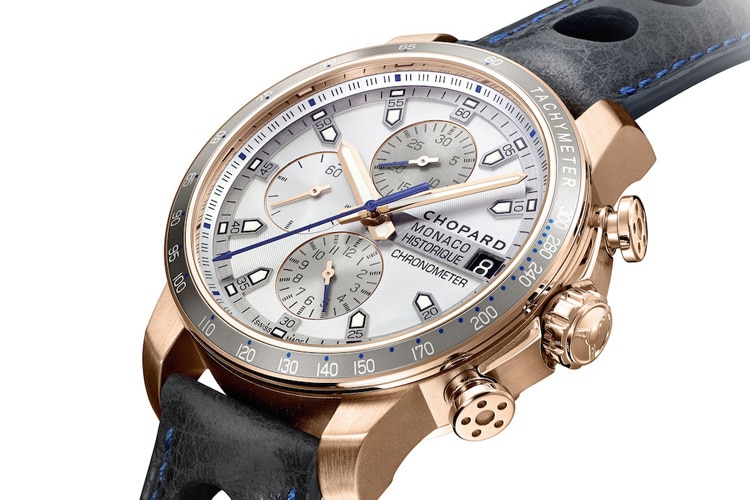 Chopard Grand Prix De Monaco Historique 2016 Race Edition
In collaboration with the 10th Grand Prix de Monaco Historique event, Chopard has released the 2016 version of their Grand Prix De Monaco Historique timepiece. So obviously inspired by vintage racing car designs, the watch pays homage to not just motorcar racing of a bygone era, but also introduces new-age watchmaking technology in keeping with the times. Offered in either steel and titanium or 18k rose gold, the 44.5mm wide piece is sure to cause a stir either way. Its bold look, piston-shaped pushers, slim-line bezel and sub-dial resemblance to a racing car's dashboard all contribute to the timepiece's overall aesthetic appeal and vintage feel. The hand colours (orange for the steel/titanium version, blue for the rose gold version) offset beautifully against their respective case metals and really enforce the racing pedigree that the watch represents. Both versions employ the COSC certified workhorse calibre ETA 7750 finished by Chopard, giving the wearer about 2 day's worth of power reserve. Limited to 500 pieces of the steel/titanium version and only 100 of the red gold, it's a beautifully made watch that isn't tacky and looks great no matter the occasion.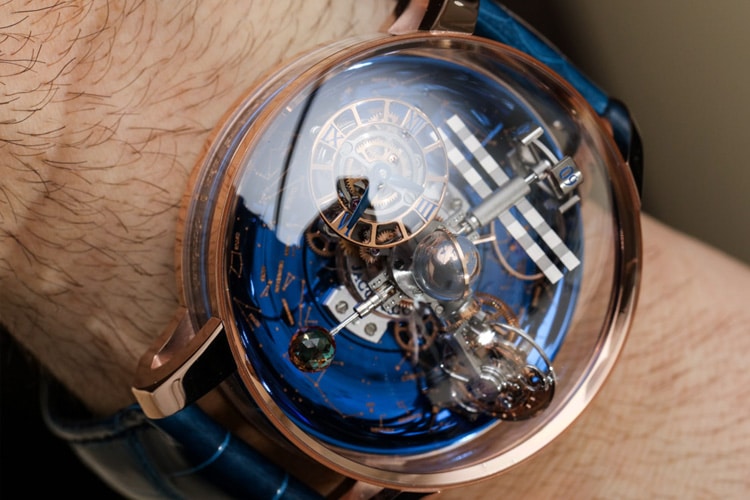 Jacob & Co. Astronomia Sky Celestial Panorama Gravitational Triple Axis Tourbillon
Aside from having one of the most incredible "dials" in the world of horology, the Astronomia Sky Celestial Panorama Gravitational Triple Axis Tourbillon also carries with it the longest name. So I'm just going to call it Dave. Before we start, let me give you Dave's dimensions. It's about 47mm in diameter and sits at about 25mm high. Yep, it has presence, to say the least. Okay, so it isn't going to be the most functional timepiece you've ever bought, but rest assured its probably the most unique. Now I know it looks complex (and don't get me wrong, it is), but it still tells you the time. Beyond that, it'll tell you the month, whether its day or night, what zodiac it is and impressively a year indicator. The year indicator is shown by the rotating watch face, which literally makes a full rotation once a year. And the movement? Its called the JCAM11, made of almost 400 parts with a power reserve of 60 hours, which means you have to keep it on a winder. Priced similar to that of a decent sized apartment in Sydney's CBD, it means that only the uber-rich will be able to get their hands on one of the eighteen limited edition pieces. Its truly remarkable what mechanics can achieve with computer-assisted intervention.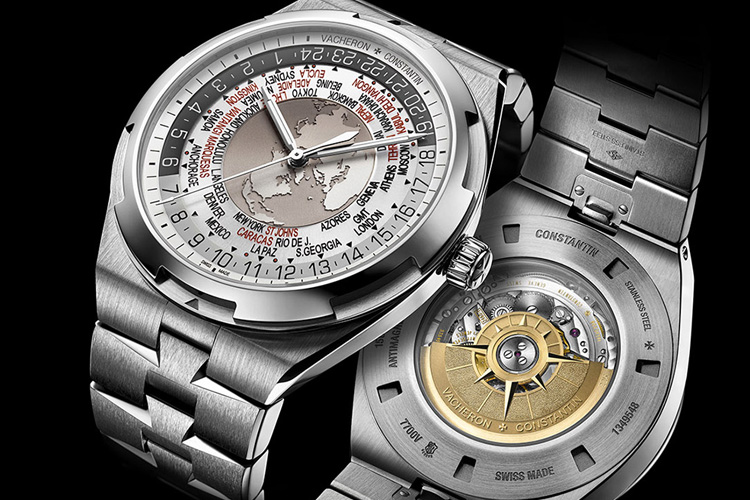 Vacheron Constantin Overseas World Time 7700V
I've looked at Vacheron's Overseas collection as a bit of a play on the Royal Oak's dimensions and proportions. I thought it a straight up copy of the Oak's shape and purpose. But as sure as the Sun rising tomorrow, my opinion is likely to change. And that it has with the World Time 7700V. Slightly more elegant than the Royal Oak (who's status can be defined as a supreme daily-beater), the Overseas World Time is a beautiful watch well deserving of the world's collective attention. The world time indicator has been cleverly applied, and has been done so with busying up an other gorgeous dial. Its busy enough to know the watch means business, but also simple enough to use so that even the most unattached watch enthusiast can use it. The piece comes with either a blue, brown or silver dial, all on a steel case, and all looking superb. Turn the piece over and you'll be able to see through the sapphire caseback the beautiful automatic calibre 2460WT. Now I'm not the biggest advocate of automatic movements, as I think the rotor obscures the heart of the movement. But in this case, the rotor has been finished impeccably and fits the construct of the watch perfectly. A very beautiful watch, but expect to pay a premium for VC's desired branding!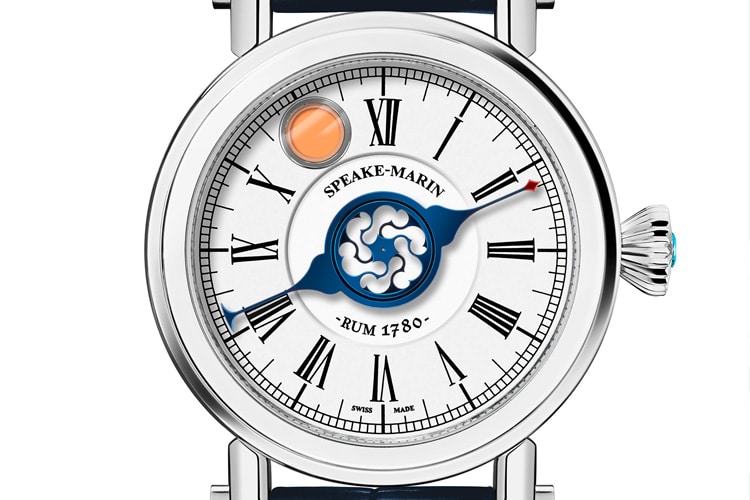 Speake-Marin Rum Watch
What do you get when you combine a drop of 236-year-old Harewood rum with one of the most unique dial layouts from an independent watchmaker? You get the Speake-Marin Rum Watch, duh! Beyond the rum-drop at 11 o'clock, the watch is typical Speake-Marin functionality. A lacking seconds hand encourages the wearer to focus on the finer details of the piece. From the rum-drop, to the oddly shaped hours and seconds hands, to the centre hand cluster in blued steel, its all fine watchmaking. Turn the watch over and you get Speake-Marin's fantastic rotor popping into view from a weirdly small caseback window. The accentuated lugs and prominent crown finished off the visceral uniqueness. Made in either titanium or red gold, the watch is going to really only mean something to those that either have family origins in the Royal Navy (of which the piece was made in mind of), or that want to be as different as can be. Either way, bottoms up!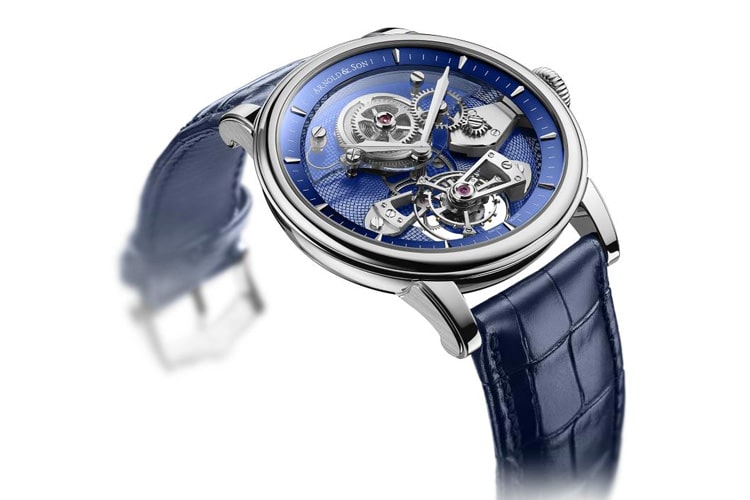 Arnold and Son TES Blue Tourbillon
The Arnold and Son TES Tourbillon combines an inverted tourbillon calibre with a brilliant blue guilloche dial pattern to create a visual spectacle that will intrigue and astound. The tourbillon, located at 6 o'clock, is seemingly suspending in mid-air due to it hovering over an open-cut portion of the dial. The rest of the calibre A&S8100 sits on the dial happily exposed, delighting even the stubbornest of watch lovers. Beyond the technical beauty that is the TES Tourbillon, the advent and usage of blue is a bit sickly. I understand that its got the word "blue" in its model name, but the overexposure of the blue from the dial to the leather strap is a bit of an overkill. The movement is decorated beautifully and the dial has been finished meticulously, but if you're not an addict to all things blue, then parting ways with close to $200,000AUD of your hard-earned moolah might not be your cup of tea. If you love blue and have the dosh, go for it. If not, might I suggest the red gold variation?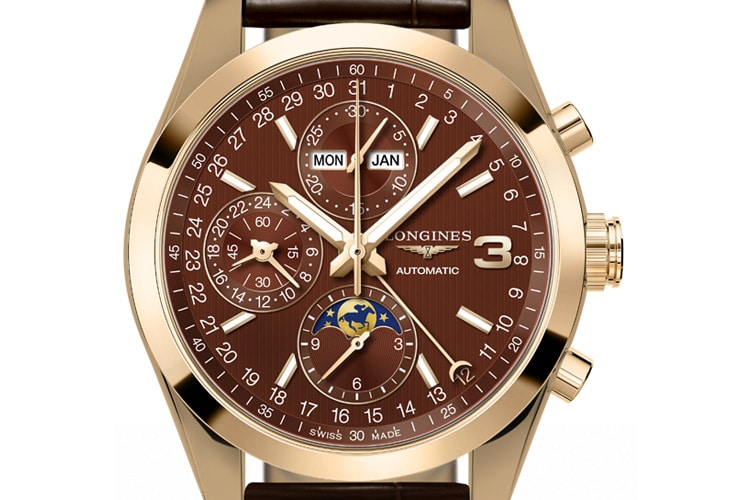 Longines Conquest Classic Triple Crown Limited Edition
Out of all the watches I've featured in this article, the Longines Conquest Classic is the one I'd be most interested in looking at in the next couple of years. And why, you may ask? Well, look at the dial. The dial, as it stands, is a gorgeous oaky brown, and with time I'm going to assume that it'll turn a beautiful light brown with hints of golden patina across it. The hands too will age wonderfully, and as long as the 18k rose gold case is kept free of abrasions and kept from the dreaded polish-service, it took will age equally as beautiful. Be that as it may, investing close to $20,000AUD for a timepiece that you think will look better with age is pretty silly, so what it'd give you now is a wonderfully busy dial that is both informative and readable, a timeless case design that will sit comfortably on your wrist, and an ETA-based automatic calibre 678 that will keep on ticking long after you've stopped wearing it. Maybe the perfect combination between old and new, dress and casual, the Conquest Classic is the watch for all of us vintage lovers out there.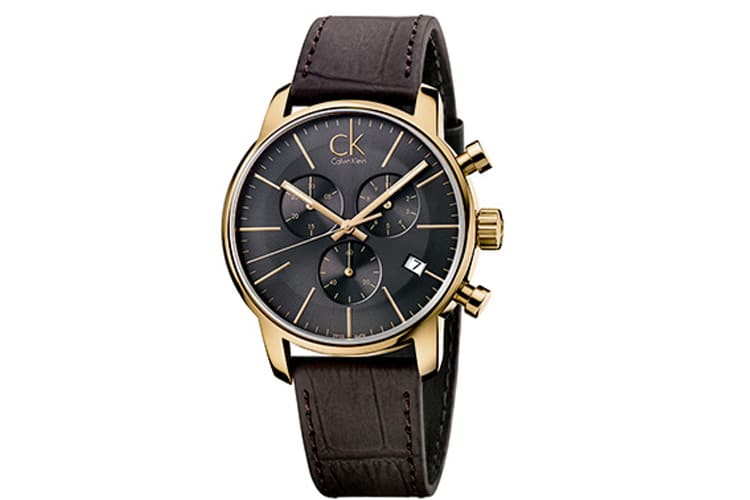 Calvin Klein City
As stated on the CK website, the City is elegant and functional. And on the odd occasion, disregarding movement quality is acceptable when a watch looks as good as this one. A typical Quartz chronograph piece is something that a lot of people will purchase. They purchase it for the simple fact that it looks good on their wrist, and there is nothing wrong with that. The City combines contemporary styling with a simple dial layout that is in-keeping with the typical chronograph dial design, but also decorated enough to differentiate itself from the hoard of Quartz chronographs. The exposed pushers and crown emphasise size but without making the timepiece a beast, and the addition of the date window is a welcome functional extra. Beyond the timepiece's obvious aesthetic appeal, its versatility and overall wearability is a big plus for me. Its understated and quiet, but still presents itself with enough virility and poise to have a presence on your wrist.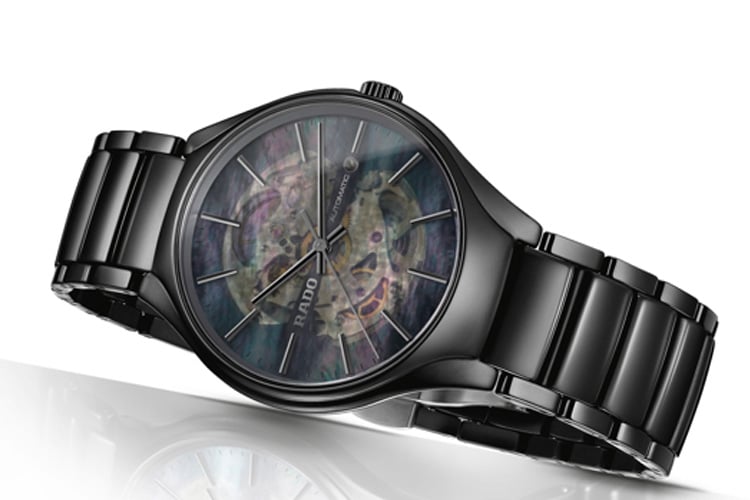 Rado True Open Heart
I truly believe Rado are paving the way to the future of watchmaking with the True Open Heart piece. It's a watch that combines lightness, elegance, wearability and comfort to great effect, without threatening the foundations of its design. Integrating a mother-of-pearl dial is a bit of a hit and miss practice. With Rado luckily, it's a hit. And with that translucency you're able to see the inner workings of the piece's movement, which is always fun. When I talk positively about a watch, its because I'd wear it. Its as simple as that. And with the True Open Heart (available in matte black or polished white – I'd choose the black variation_=), that ode still rings true. The True Open Heart is a play on the senses and is both interesting enough to wear as a special piece, and as strong enough to wear comfortably as an everyday watch. And at only $3,050AUD, it really is accessible to the majority of watch interest fellas. Its fun, its different, and its sure to cause a stir. If you have the chance, get it!
---
You'll also like:
The Wind Up – Watch News #18
The Wind Up – Watch News #17
The Wind Up – Watch News #16
---
---
Featured Video from Man of Many