The Wind Up – Watch News #23
Welcome to the next instalment of The Wind Up, where we take you on a journey (albeit, a short one) through the latest offerings the wonderful world of watches has to offer us. From the absurd to the practical, from the inconceivably expensive to the relatively affordable, we have it all. So take a break from your monotonous routine and enjoy the horological delights we have in store for you.
You may also like:
The Wind Up – Watch News #20
The Wind Up – Watch News #22

Laurent Ferrier Galet Square Vintage 1 Limited Edition
Made by Laurent Ferrier for the Chicago retailer, Swiss FineTiming, we have the Galet Square Vintage 1 Limited Edition. It's a play between vintage dial design and contemporary movement architecture that defines this piece as a medium between those wonderful horological domains. The dial features an outer chapter ring and an inner chapter ring, with the later being applied as opposed to inscribed into the dial, as are the Arabic hour markers. The hour hand is shaped like an arrow, while the minute hand is slender and sword-like. At 6 o'clock you have a beautiful little seconds sub-dial register with circular engraving and an inscribed seconds counter chapter ring. The brushed finish of the dial complements the darkness of the inner chapter ring and hour markers, while the addition of the blue outer chapter ring hints adds another level of aesthetic that I think does wonders for the appeal of the piece, at least on a visceral level. The brushed steel case is shaped like a cushion, which admittedly I'm not a fan of, but it reflects the dial design and as such a round or square case simply would not look the part. Turning the piece over and you'll be confronted with the insanely gorgeous FBN Calibre 229.01, combining a gold micro-rotor, natural escapement and the outstanding finishing techniques you're likely to find on any LF piece. A superb timepiece that is really very understated, but at the time carries with it enormous levels of quality and pedigree.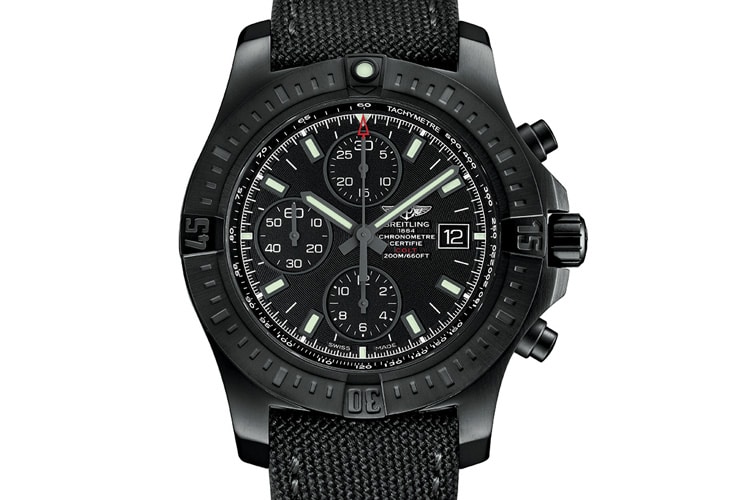 Breitling Colt Chronograph Automatic Blacksteel
If you follow me on Instagram (@haulogerie), then you would've seen my recent post of when I was invited to visit the Breitling boutique in Sydney City. There I was able to get some hands on tie (albeit, not enough!!) with the Colt Chronograph Automatic Blacksteel, and hot-damn was it amazing. Its no secret that I love blacked out watches. The Tudor Black Bay Dark may very well be my first "proper" watch (unless something else catches my eye – ahem, Breitling). And this piece really needs to be seen in the flesh to appreciate its dark beauty. The case, first and foremost, is a masterpiece. From its angles, to its size, from its colour to is heft, it is simply flawless, and from what I saw in the Breitling boutique it really is one of the most comfortable cases they offer. The dial combines the typical chronograph functions – seconds, minutes and hours; while the main time-telling function of the piece is easily differentiated. Add the date-window at 3 o'clock and you have a superb daily wearer. The addition of the red hints on the chronograph's seconds hand tip and the Colt name inscribed in red adds another visual dimension to the watch, as does the heavy luming adorning the hour markers and hour/minute hands. Under the hood you have the impressive Breitling caliber 13, an automatic powerhouse with 25 jewels that will tick on for a couple days. A beautiful piece from a brand that has caught my attention (positively that is).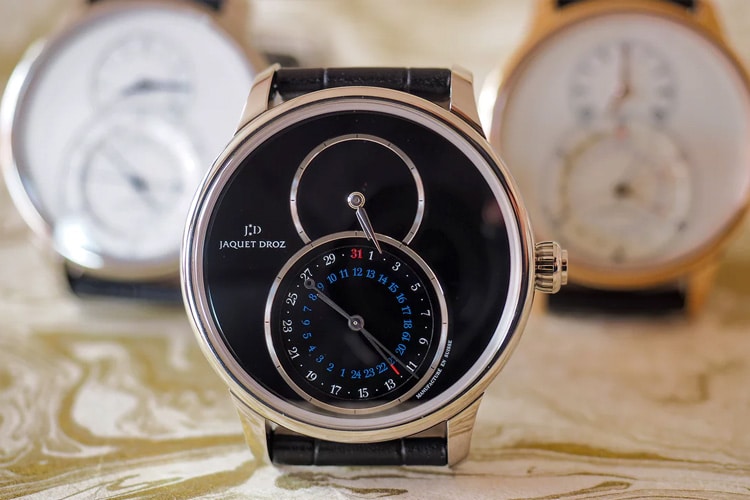 Jaquet Droz Grande Seconde Dual Time
Jaquet Droz's distinctive dial design is one of the reasons why I always pay attention to any news coming out from their small atelier. When they release watches its like my ears perk up, similar of that to a rabbit hearing something in the dead of the night. I can't help it, and almost always I'm glad to heard it. New from JD is the Grande Seconde Dual Time, available in three different versions, with my favourite being the steel case/onyx dial variant. Let's talk about aesthetics, because that's the first thing that will get your attention. Not the sound of it precariously ticking away, or the feel of the case on your wrist. No, its going to be its visceral features. Its simple, that much we can see. We have an uncluttered dial with ample real estate that some may find boring, while others (myself included) will find it to be respectful to the art of "holding back". It's a wonderful concept that few manufacturers can pull off, and when they do, respect their art! It all looks very delicate, from the hands to the slim bezel to the lugs, everything is respectfully withdrawn and uncomplicated. Then you turn it over and you see a small window into its beating heart. JD could've had a full-sized caseback window, but again they've opted to hold back on the theatrics and let us see a very small part of the automatic JD 2663H24. Even the rotor looks like a veil, with slits to see specific parts of the movement. Uncluttered, uncrowned and supremely well executed, can you now see Jaquet Droz's appeal?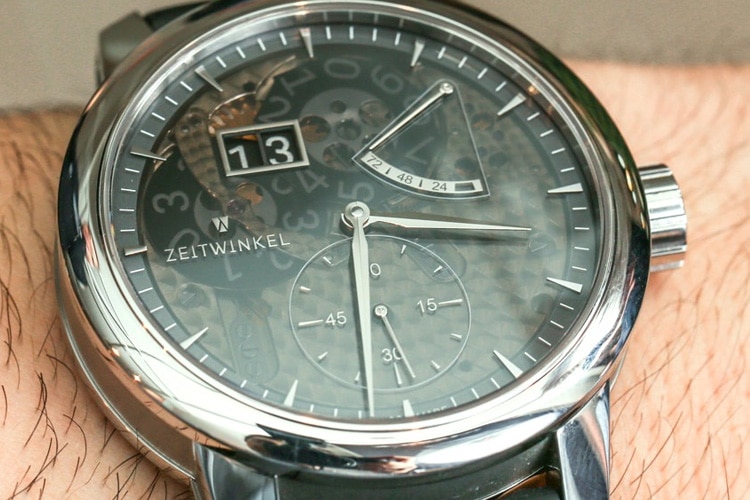 Zeitwinkel 273° Saphir Fumé
Not something you're going to see everyday, and really a cross between full blown skeletonisation and abstained part-dial inversion, the Zeitwinkel 273° Saphir Fumé incorporates a unique way of jazzing up a watch's dial. Fumé dials are not the easiest thing to manufacture, so when a watchmaker decides to use one then it usually is worth your time to have a look at. Being able to somewhat see what's happening in the engine of your watch without having to turn it around is a very cool concept that I love exploring. Skeleton watches are cool, but they lack a certain intrigue and mystery. Everything is exposed and out in the open, but with a fumé dial it's a tad more interesting. Moving on from the dial, Zeitwinkel have opted to use their in-house caliber ZW 0103 movement that is wonderfully decorated and commands a power reserve of 72 hours. It's priced quite high, considering the brand isn't too well known, but for the supposed connoisseur it would be a viable option to add to their collection.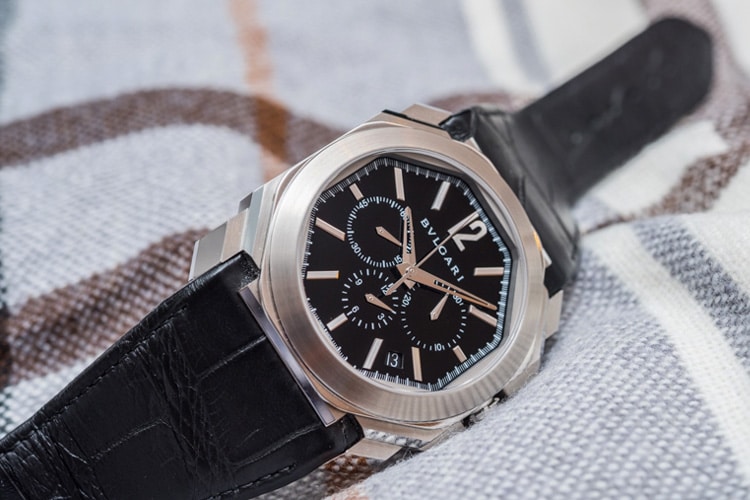 Bulgari Octo Velocissimo Chronograph
Ever since I discovered their super thin minute repeater, I've become more and more fond of Bulgari and their Octo range. The Octo Velocissimo Chronograph is another one of those pieces that have caught my attention with its ostentatious and "out there" case design. The dial is as typical chronograph-esque as it can get. Hour and minute hand, with a sub-dial at 9 o'clock showing you the seconds passing by in real-time, while the chronograph functions lay at 3 and 6 o'clock, with the sweeping centre-seconds hand doing the time-recording for the piece. At 4:30 you have a date-window which adds to its appeal as an everyday watch. It's a well balanced dial that's complemented well by the case, pushers and crown. But, the overly large lugs play with its front-facing appeal and therein lies its shortcoming. Powered by the everlasting automatic caliber BVL 328, it's the kind of watch you buy when you've exhausted all other options.

Piaget Polo S
Brand new from Piaget is the Polo S, an entry level time-telling beauty that has the collective horological world divided. Some call it blasphemy. Others scream that Piaget have copied Patek's Nautilus and Aquanaut shapes and turned it into this amalgamation. One thing is for sure though, its caught everyone's attention. Sure, its dial and case is reminiscent of the Nautilus/Aquanaut, but so what? Are you seriously going to avoid it like a plague because of those similarities? It's a different watch, through and through. Similar yes, but highly different. Why? I'll let you work that one out on your own. So now I'll speak objectively. Its beautiful, its versatile, and it's a great entry-level piece into a brand that is so freakin' overlooked it annoys me. Available in either a white, blue or black dial; any of which would suit me just fine, it's a step in a very different direction for Piaget. I once looked at them as a sideline brand. A brand that's happy to play on the fringes and not get too involved. But this piece has really shown the world that Piaget has the guts to bring it to the powerhouses. Add an in-house automatic caliber 1110P and you have a serious bit of kit. Want a high end luxury sports watch but can't see the point in spending over $20,000? Get this.

Girard-Perregaux 1957 Gyromatic
Sun-burst gold dial: check. Well sized steel case: check. Vintage styling: check. Classically uncomplicated: check. New from GP, and in celebration of their 225th birthday, the 1957 Gyromatic is a modern rendition of a classic piece that really defines GP and their longstanding legacy. The gold sun-burst dial sits fantastically against the mirror-polished steel case, as do the hour markers and hands. The addition of the date window is unnecessary, and if I'm being really critical (and I am), it breaks up a beautiful dial. At 40mm wide, its in keeping with today's size demands, but isn't overly large. The piece looks beautiful from the top, and its profile is no different. Sitting less than one centimeter in height, it will wear wonderfully, and the addition of the "GP" on the crown adds a nice little touch of nostalgia to the piece. Powered by the in-house caliber GP03300-0130 automatic movement visible through the sapphire back, you're likely to get about two days' worth of time-telling when fully wound. Limited to only 225 pieces, which probably explains its ballooning price-tag, it will surely sell fast. I'm more interested, however, in its used sale price which I'll be sure to follow over the next couple of years.

Louis Vuitton Voyager GMT
Brand new from LV is the Voyager GMT available in steel or 18k pink gold. Designed for the modern era of watchmaking, the Voyager GMT is as polarising as it is different. Its taken some time for me to come around and appreciate its different aesthetic, but I'm a fan and I can appreciate what LV are trying to do. Designed and making a GMT that is different enough to be noticed but practical enough to be used is difficult. Take any normal GMT. You normally have all the functions stemming from the centre-point of the watch. Some watches have a sub-dial. But regardless of their method, they more often than not are easy to use and easy to read. So combining different with functional is a hard task, and for that at the very least I take my hat off to LV. Your current timezone's time is reflected as per normal in the centre-point of the piece, while the GMT's position is reflected by a sliding disc at 6 o'clock. It's a cool way of differentiating GMT and normal time, and it really breaks up the monotony of that market space. It's a simple concept executed quite differently. A niche piece who's target market I'm yet to understand.
You may also like:
The Wind Up – Watch News #20
The Wind Up – Watch News #22