21 Best Outdoor Restaurants in Sydney
There's no better time of year in this beautiful country, especially in Sydney, for some alfresco dining. The warm days and nights and Sydney's  food scene are like a match made in heaven for kicking back with some tasty treats and a view. It's a melting pot of delicious cuisines and world class chefs, and what better way to enjoy all the different flavours then by the warm outside atmosphere of Sydney's rooftops, balconies and beaches. Take a look at our list of the 21 best outdoor restaurants Sydney has to offer.
You'll also like:
10 Best Specialty Coffee Shops & Cafes in Sydney
The Cut Bar and Grill: More Than Just a Steakhouse
Australia's Best Restaurants Revealed in 2019 Good Food Guide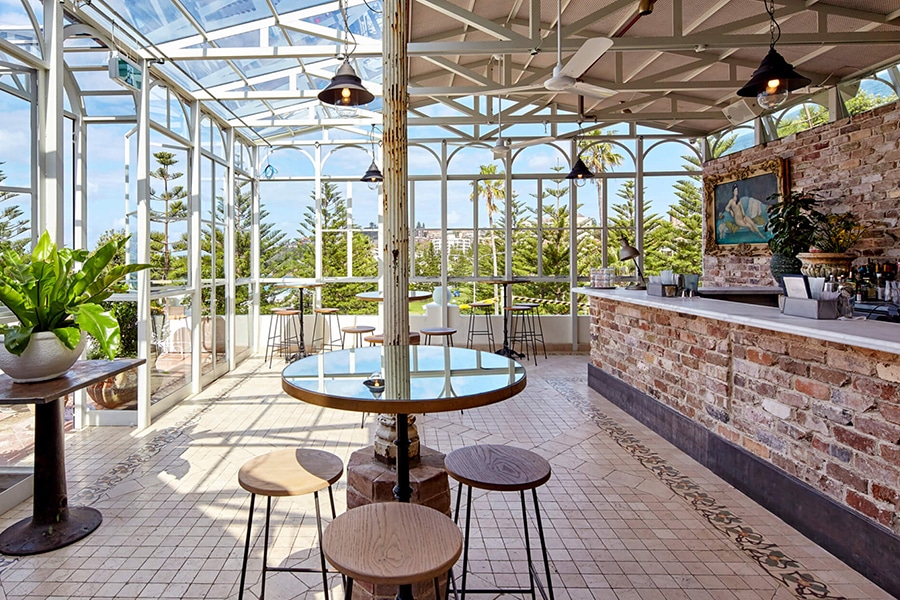 1. Coogee Pavilion
Known locally as 'The Pav', you'll find Coogee Pavilion is one of the best outdoor dining restaurants Sydney has got on offer. The menu features a focus on seafood from lobster rolls, sashimi and oysters. The Pavs' rooftop area is one of the best outdoor dining areas to enjoy the delicious menu and take in the beautiful sea views.
Address: 169 Dolphin Street, Coogee NSW 2034
Phone: +61 2 9114 7321
Hours: Sun-Thu 7:30am-12am, Fri-Sat 7:30am-3am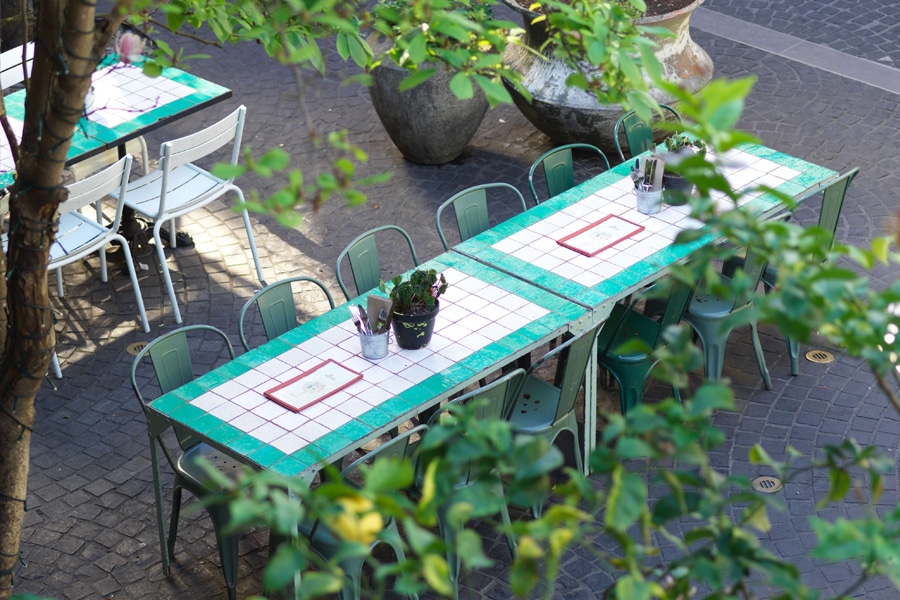 2. The Beresford Hotel
The Beresford Hotel is something quite special. Their outdoor garden area at night looks like something from a fairy tale, from the overgrown green wall and light lanterns littered throughout it's a great place to experience outdoor dining in Sydney.  Its menu is full of the best kind of carbs like wood fired pizzas and delicious homemade pasta. Best of all you can bring your furry friend along with you. The Beresford has one of the prettiest garden restaurants Sydney has to offer.
Address: 354 Bourke Street, Surry Hills NSW 2010
Phone: +61 2 9114 7328
Hours: Mon-Tue 12pm-12am, Wed-Sun 12pm-1am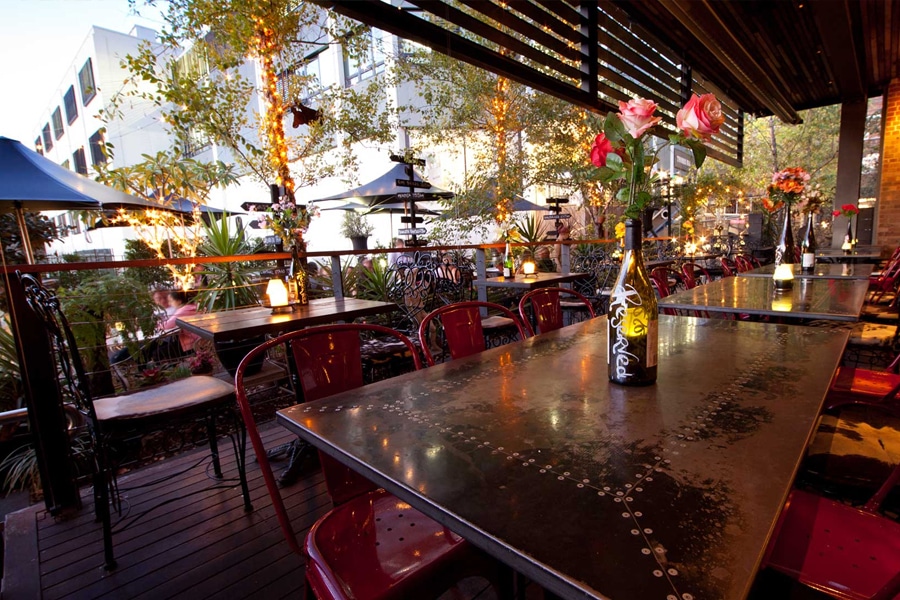 3. The Winery
If wine is your thing, the look no further than The Winery. Set in a fairy light garden oasis, The Winery offers over 30 different types of wine to taste while soaking up the outdoor atmosphere. Head there at lunch time on a Saturday or Sunday and take advantage of 'Bottomless Bellinis' which includes 3 courses and 3 hours of bottomless Bellinis!
Address: 250a Crown Street, Surry Hills NSW 2010
Phone: +61 2 8322 2007
Hours: Mon-Sun 12pm-12am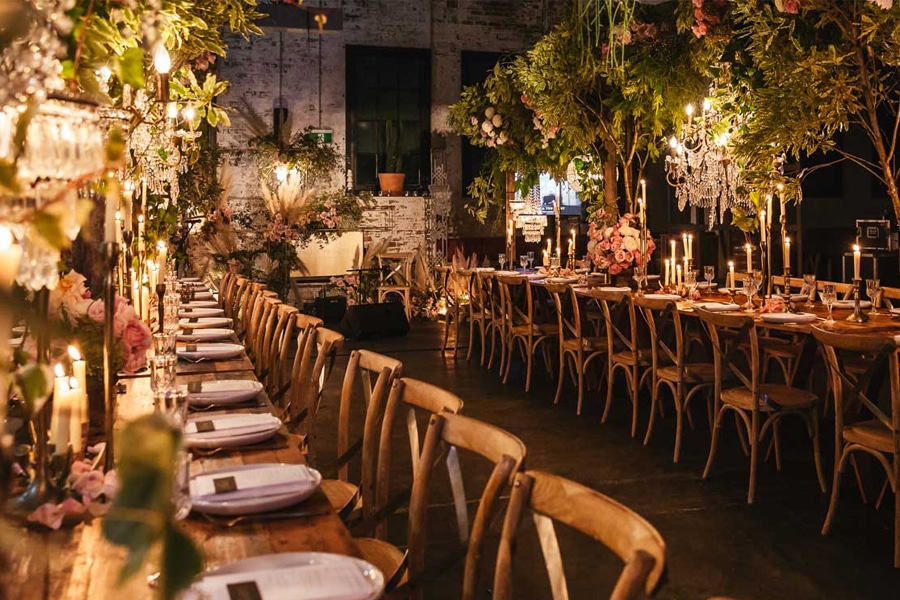 4. Three Blue Ducks
Three Blue Ducks are all about outdoor dining. You can choose from 2 outdoor spaces, The Deck or The Garden. If you're after a more intimate small gathering then the deck is for you. It's got a beverage station and is perfect for a pre-dinner drink. The garden is brimming with olive trees, twinkling lights and fragrant herbs and offers the ultimate experience in outdoor dining Sydney's got to offer.
Address: 1/85 Dunning Ave, Rosebery NSW 2018
Phone: +61 2 9389 0010
Hours: Tue 7:30am-2:30pm, Wed-Sat 7:30am-9pm, Sun 7:30am-3pm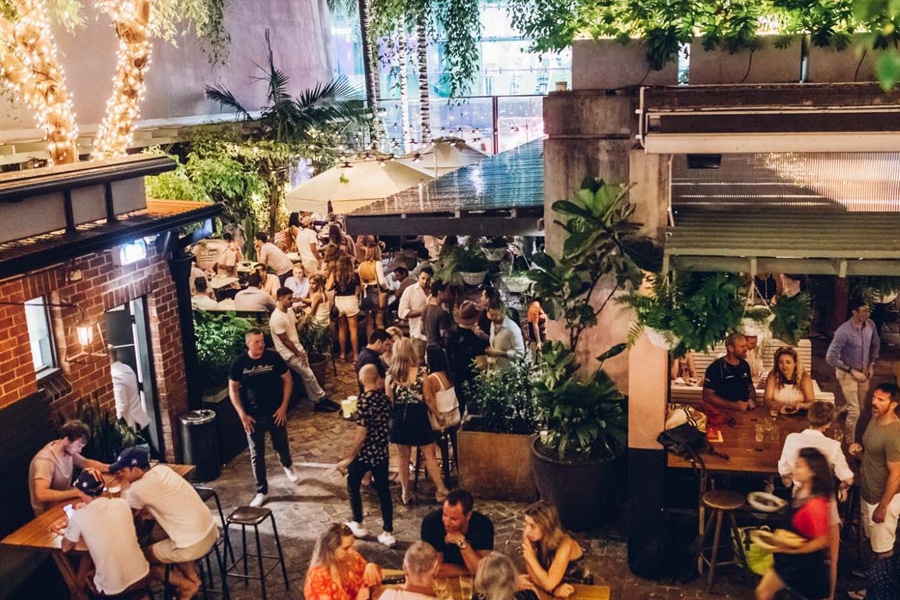 5. The Golden Sheaf
Escape from city life to The Golden Sheaf's outdoor oasis. The leafy beer garden is a welcome reprieve from the city and offers a fantastic outdoor dining area for enjoying a crisp beer and a bite to eat. Bring your pet with you and settle under the giant oak tree at one of the best outdoor restaurants Sydney has to offer.
Address: 429 New South Head Road, Double Bay NSW 2026
Phone: +61 2 9327 5877
Hours: Mon-Wed 10am-1am, Thu-Sat 10am-2am, Sun 10am-12am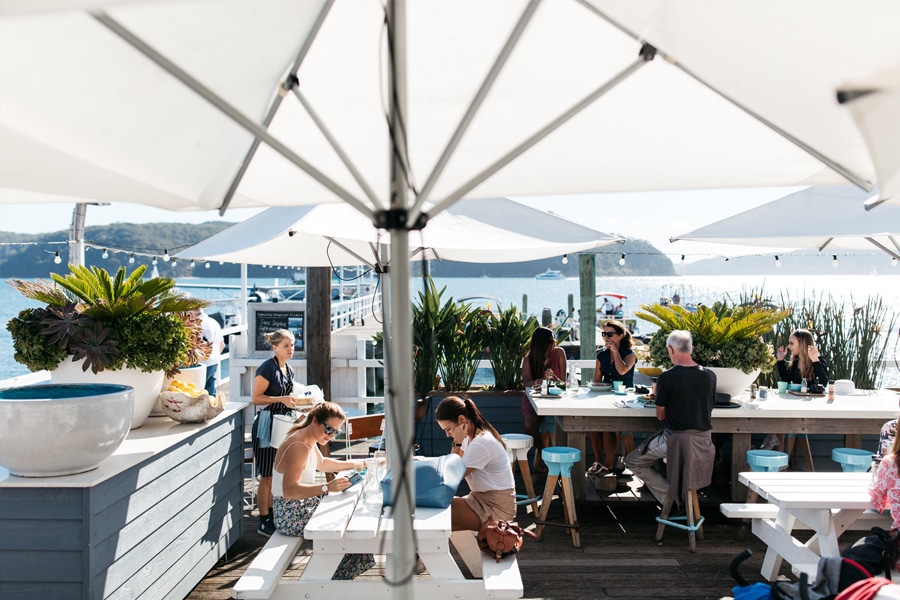 6. The Boathouse Palm Beach
On a sunny summer day, what better place to be then by the waterside. The Boathouse Palm Beach offers a quintessential taste of Australia with spectacular beach views. You'll feel like you're on holiday eating here at one of the best outdoor dining restaurants Sydney has to offer.
Address: Governor Phillip Park, Palm Beach NSW 2108
Phone: +61 2 9974 5440
Hours: Mon-Sun 7am-4pm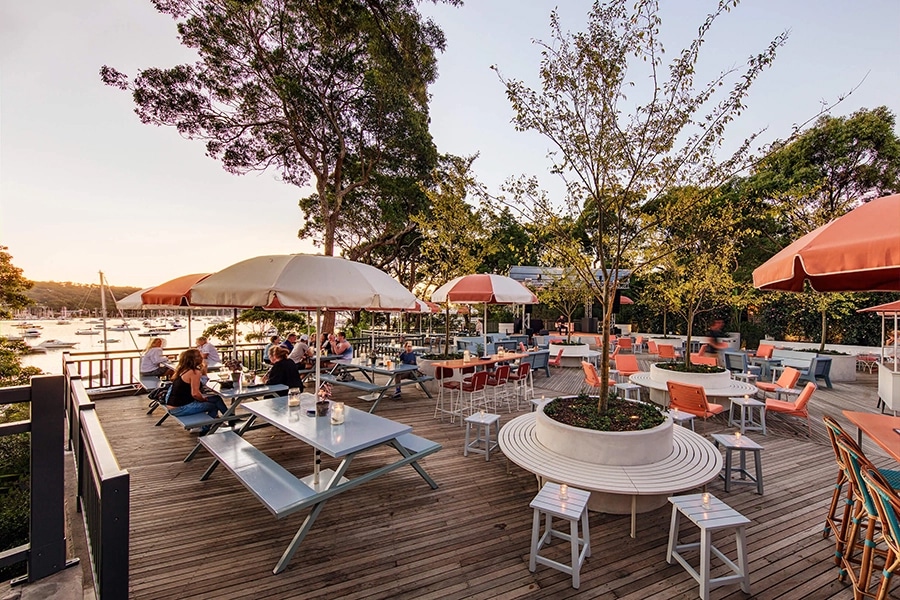 7. The Newport
With its waterfront location, there couldn't be a prettier spot to eat alfresco or in the open air than The Newport. Patrons can choose from the alfresco marketplace of cuisines, then settle in the huge communal deck surrounded by lovely green gardens. Don't forget your four legged friend because this place is dog friendly.
Address: 2 Kalinya Street, Newport NSW 2106
Phone: +61 2 9114 7337
Hours: Mon-Fri 9:30am-12am, Sat 9am-12am, Sun 9am-11pm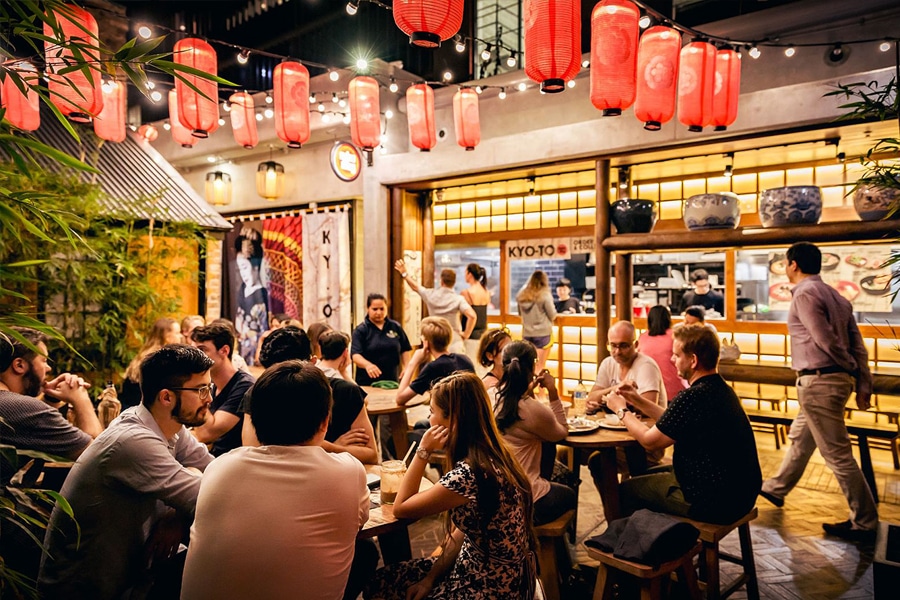 8. Spice Alley
Take your pick of cuisine at Sydney's Spice Alley. It's tucked just behind the Kensington Street Laneway and features was of the best open air courtyards in Sydney. You can sample cuisines from almost any corner of the globe here, from Cantonese to fusion French. It's one of the best spots for some outdoor lunch Sydney's got to offer.
Address: Kensington Street, Chippendale NSW 2008
Phone: +61 2 9281 0822
Hours: Sun-Wed 11am-9:30pm, Thu-Sat 11am-10pm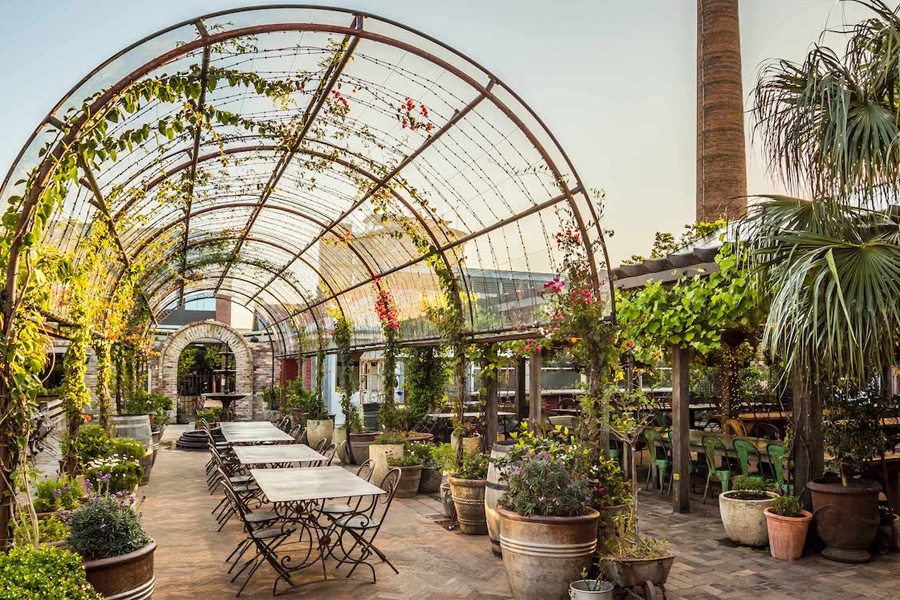 9. The Grounds of Alexandria
For the ultimate experience in outdoor dining, you can't pass up The Grounds of Alexandria. It's a beautiful heritage listed open warehouse spilling out onto a sprawling courtyard, serving up sustainable specialty coffee and produce.
Address: 2 Huntley Street, Alexandria NSW 2015
Phone: +61 2 9699 2225
Hours: Mon-Thu 7am-9pm, Fri 7am-10pm, Sat 7:30am-10pm, Sun 7:30am-9pm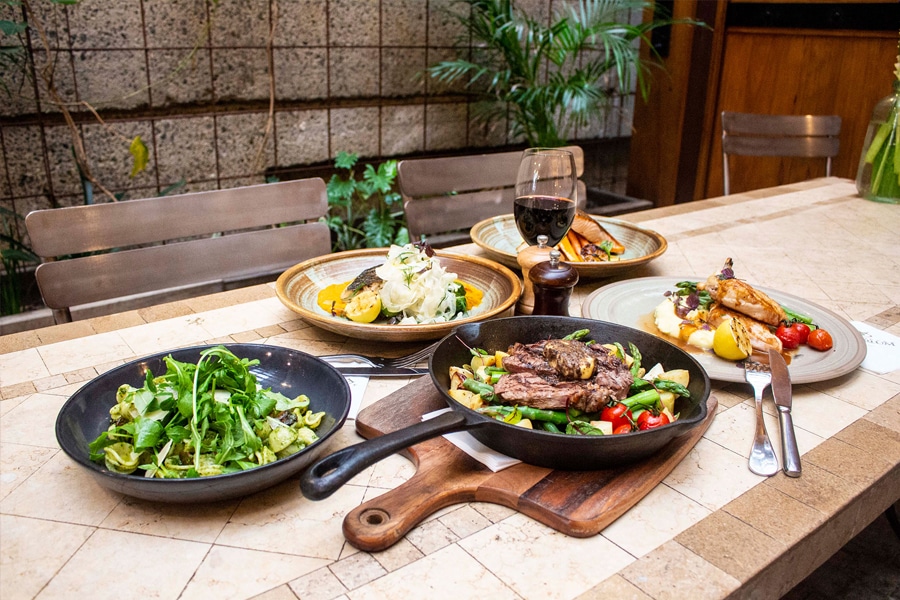 10. The Emporium Parramatta
The Emporium in Parramatta offers up a slice of the Mediterranean, not just the menu but also the venue. It has a real Italian vibe, with handmade table tops from Venice and an outdoor dining area full of greenery and rustic vibes. Try the cured meats all the way from Italy, France and England or the slow cooked beef short rib with maple paprika glaze.
Address: 51 Phillip St, Parramatta NSW 2150
Phone: +61 2 9687 1955
Hours: Mon 7am-4pm, Tue-Fri 7am-10pm, Sat 8:30am-10pm, Sun 8:30am-5pm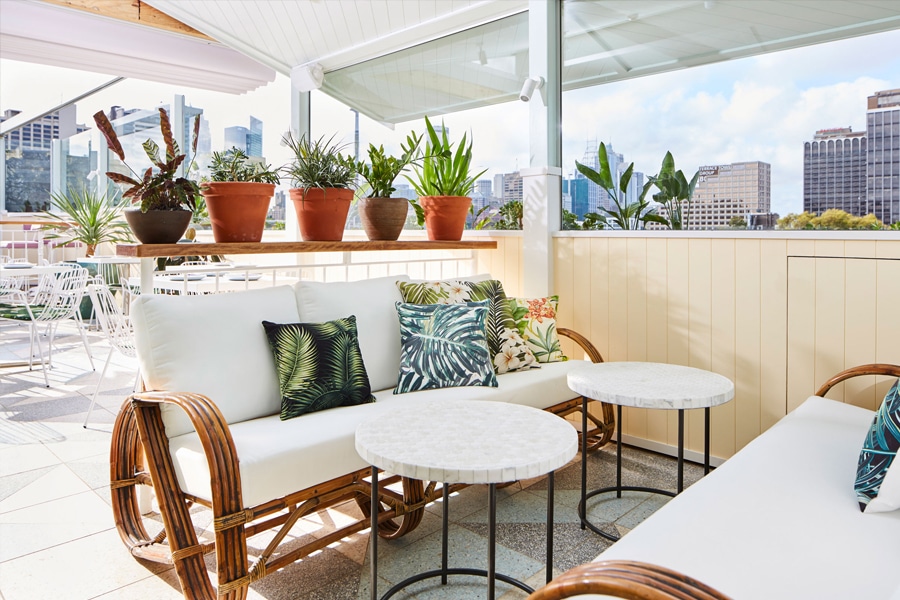 11. East Village
Head up to the terrace rooftop at East Village Sydney for a real treat. With city skyline views in the heart of Darlinghurst and the tropical theme rooftop, it'll make you feel like you're on a mini holiday. The menu on the rooftop is designed to be shared so it's the perfect spot for a summer afternoon with a few friends.
Address: 234 Palmer Street, Darlinghurst NSW 2010
Phone: +61 431 622 944
Hours: Sun-Fri 11am-12am, Sat 11am-10pm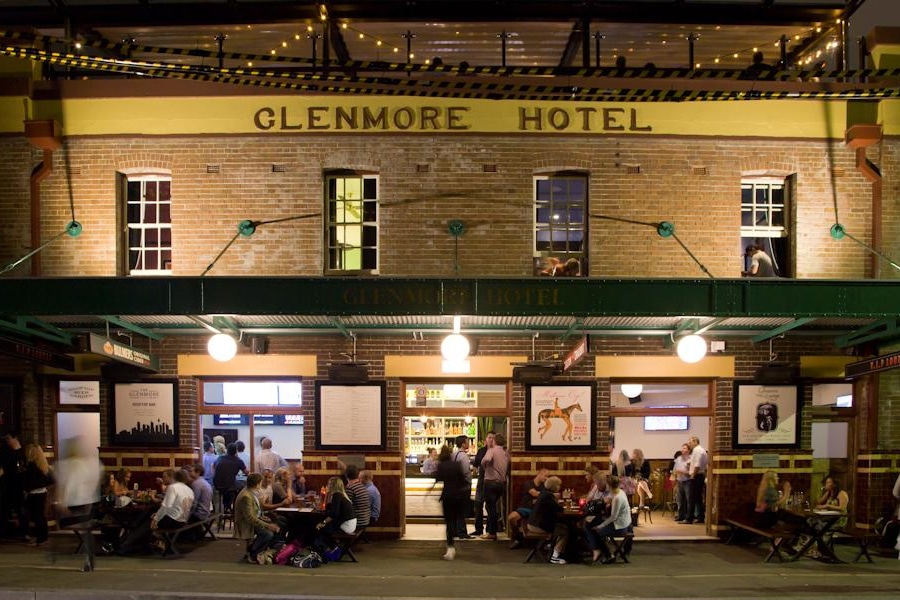 12. Glenmore Hotel
The Glenmore rooftop area has you covered in rain, hail or shine with its retractable roof and scenic setting. The views are what really make this one of the best in outdoor dining Sydney has on offer. It's got views of the Harbour Bridge and the twinkling lights of the CBD.
Address: 96 Cumberland Street, The Rocks NSW 2000
Phone: +61 2 9247 4794
Hours: Sun-Thu 11am-12am, Fri-Sat 11am-1am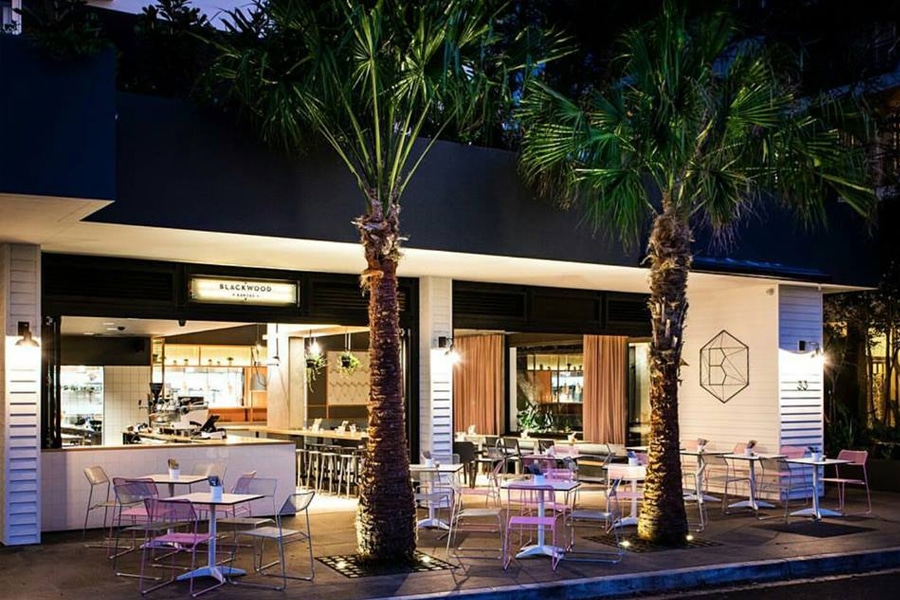 13. Blackwood Pantry
The perfect beachside location, Blackwood Pantry keeps it light and casual. This whole place flows from inside to the outside sitting area. Pop down for breakfast with classics like French toast or lunch with a chicken salad. Dine outside in the beautiful beachy weather and grab a drink straight from the tap.
Address: 533 Surf Lane, Cronulla NSW 2230
Phone: +61 2 9544 4857
Hours: Mon-Sun 7am-3pm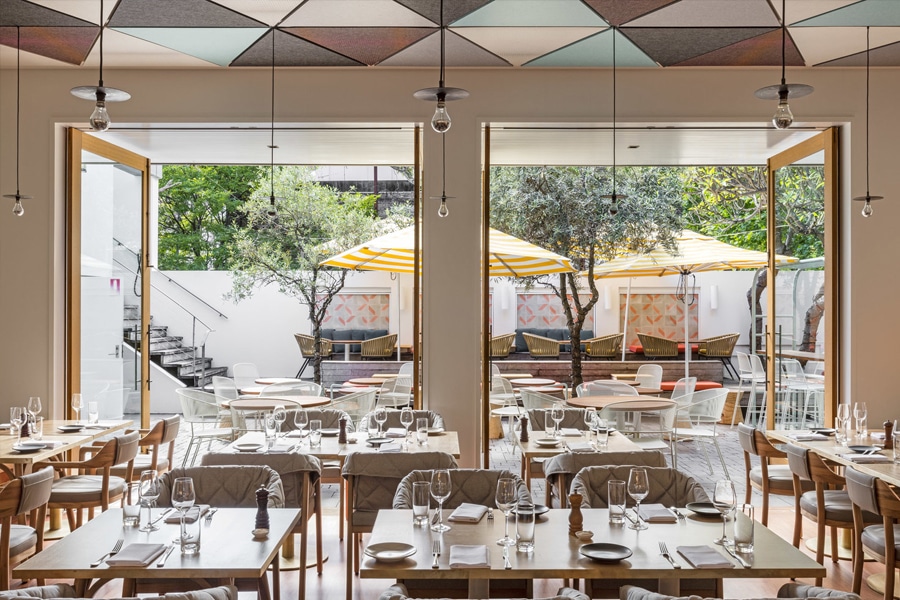 14. The Tilbury
Italian inspired cuisine is the main focus on the menu at The Tilbury. You'll find local produce turned into delicious dishes, like ricotta gnocchi with garlic prawns and buttermilk panna cotta. But best of all. It has one of the best beer gardens in Sydney. It's light and breezy with plenty of greenery to help you relax and enjoy a long lunch.
Address: 12-18 Nicholson Street, Woolloomooloo NSW 2011
Phone: +61 2 9368 1955
Hours: Sun-Thu 11am-10pm, Fri-Sat 11am-12am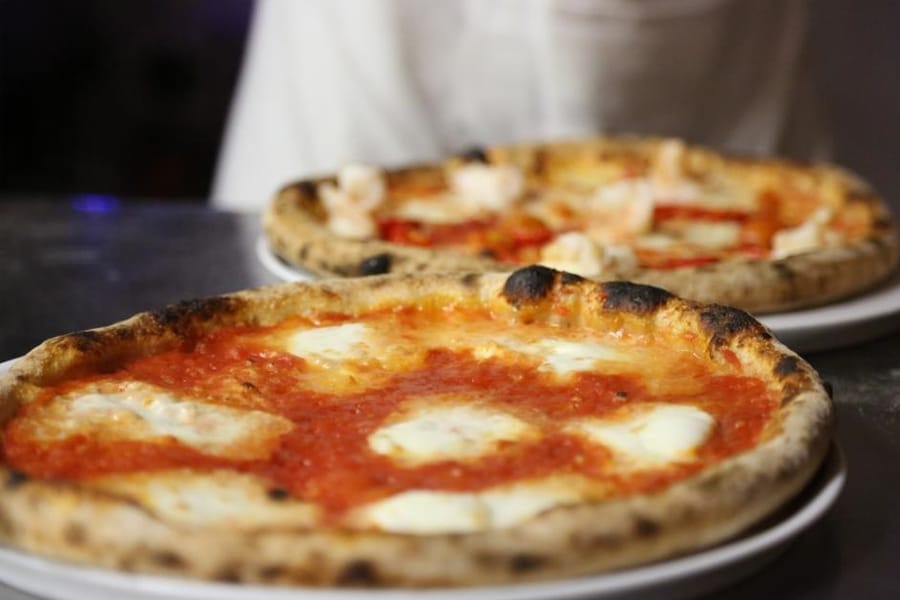 15. Vacanza Pizzeria
What could be better than sitting in the open air, a glass of wine and some heavenly pizza? This authentic Italian restaurant is a local favourite, and you'll often find queues out the door, a testament to its popularity and quality. Good news, Vacanza Pizzeria is BYO.
Address: 414 Bourke Street, Surry Hills NSW 2010
Phone: +61 2 8964 6414
Hours: Mon-Thu 5:30pm-11pm, Fri-Sat 12pm-3:30pm & 5:30pm-11pm, Sun 12pm-3pm & 5:30pm-10pm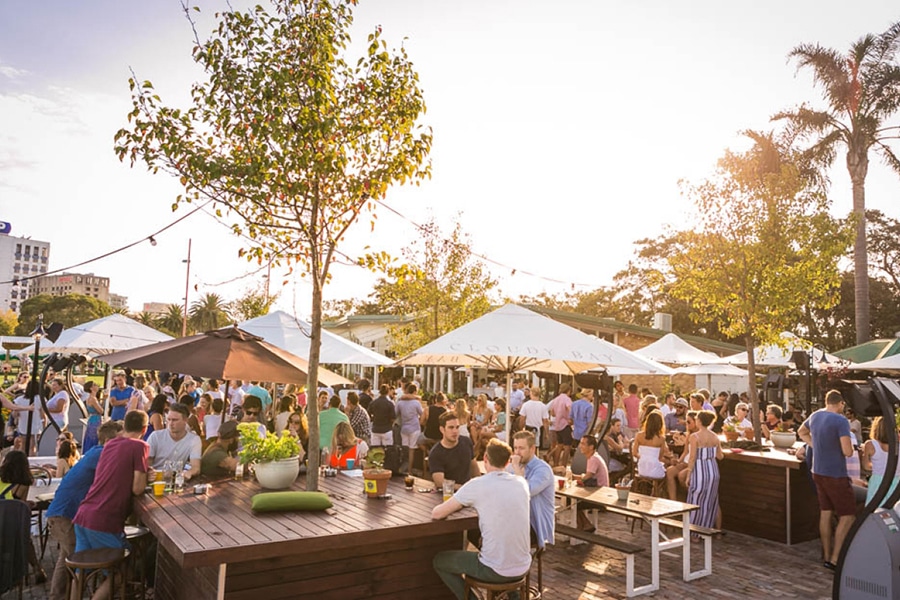 16. The Greens North Sydney
Perfect on a sunny afternoon surrounded by palm trees and views of the harbour, The Greens North Sydney is a great place to grab a drink or two and a bite to eat. It was refurbished back in 2014 and has gone from strength to strength since then. Relaxed, breezy and spacious with a killer menu to boot, it's one of the best outdoor restaurants Sydney has to offer.
Address: 50 Ridge Street, North Sydney NSW 2060
Phone: +61 2 9245 3099
Hours: Mon-Thu 11:30am-10pm, Fri 11:30am-12am, Sat 9am-12am, Sun 9am-10pm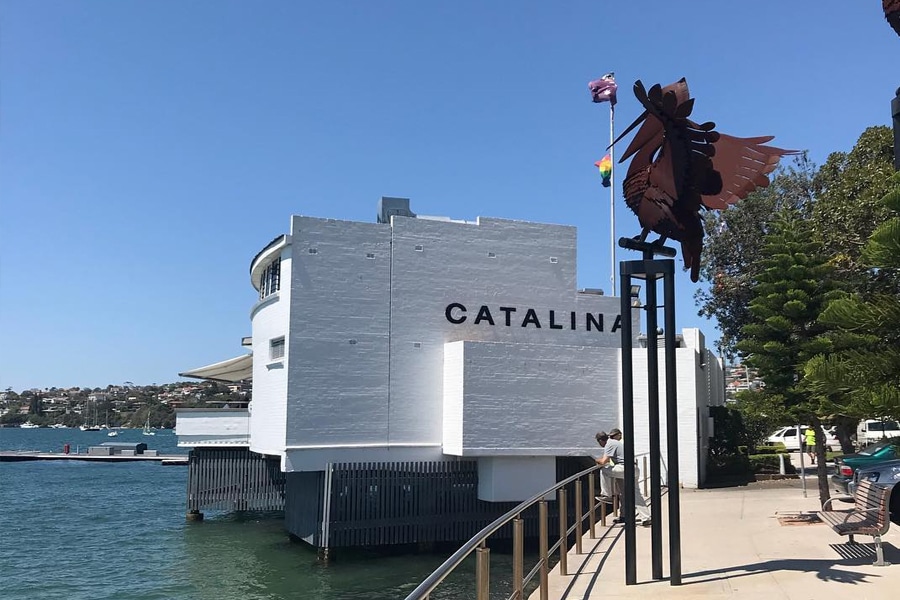 17. Catalina
A bit pricey, we can admit, but oh so worthy. Catalina's menu is impressive as hell and known to be frequented by some high profile clientele. It sits literally on the water with spectacular views of the city and Rose Bay. If you're lucky enough to snag some prime seats on the balcony in the afternoon, you'll be treated to a picturesque sunset over Sydney's skyline.
Address: Lyne Park, Rose Bay NSW 2029
Phone: +61 2 9371 0555
Hours: Mon-Sat 12pm-10pm, Sun 12pm-5pm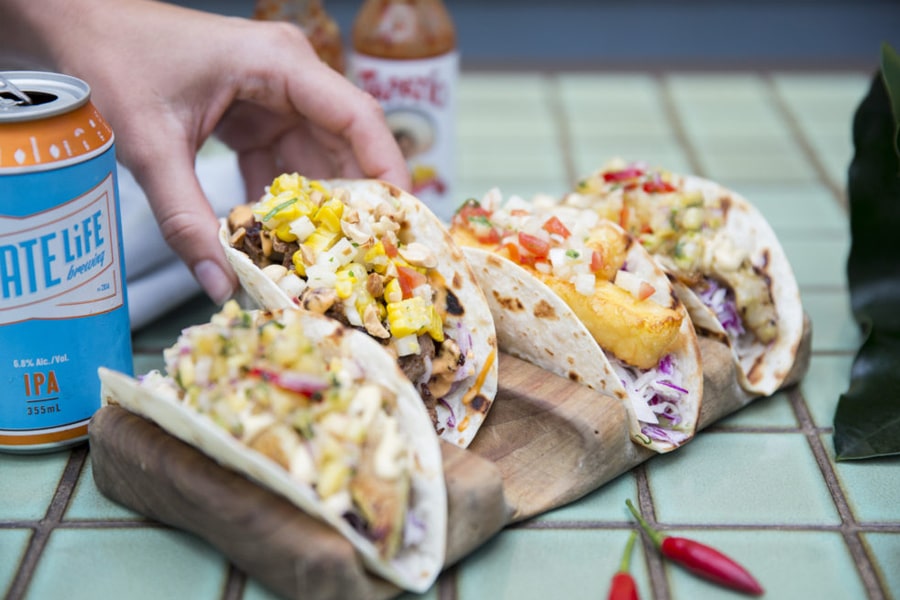 18. SoCal
For a bit of Golden State ambience, head to SoCal. It's everything you'd expect from a restaurant tryingto invoke the spirit of California. It's got the laid back surf vibe, a menu that includes share style street food, and one of the best spots for outdoor dining Sydney has to offer. Check it out from Wednesday to Sunday for their bottomless rosé lunches.
Address: 1 Young Street, Neutral Bay NSW 2089
Phone: +61 2 9239 5888
Hours: Mon-Fri 11:30am-12am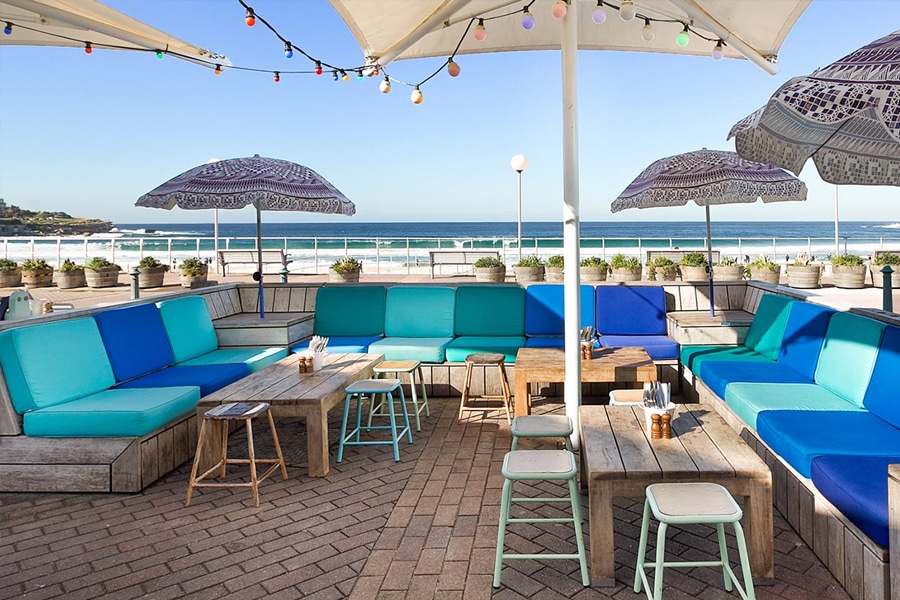 19. The Bucket List Bondi
The Bucket List Bondi features a sprawling outdoor area where you can dine alfresco in the open air. Complete with 2 fully stocked bars and a DJ booth, you're sure to find a nice place to relax and soak up the outdoor dining vibes at this little treasure by the beach.
Address: Bondi Pavilion, Shop 1 Queen Elizabeth Drive, Bondi Beach NSW 2026
Phone: +61 2 9365 4122
Hours: Mon-Sun 11am-12am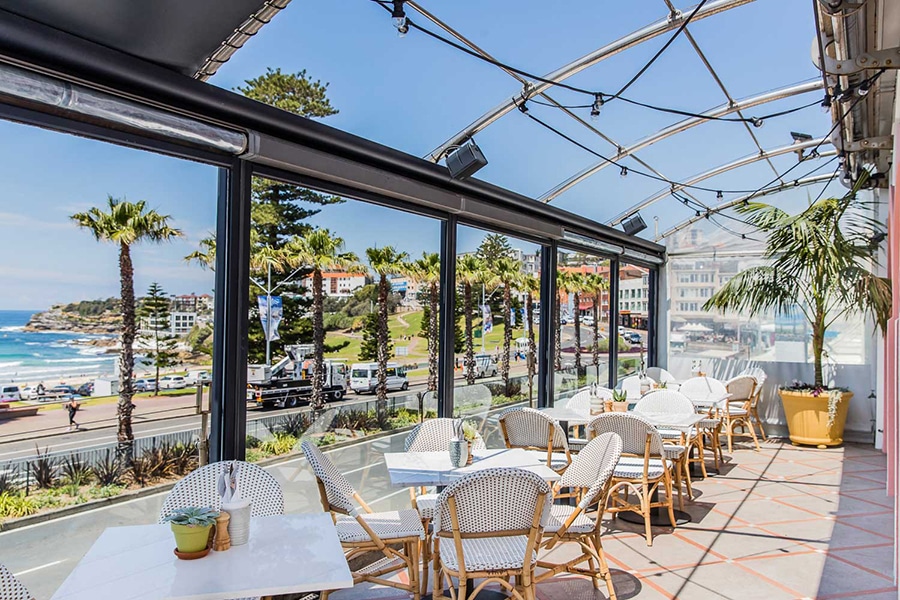 20. Hotel Ravesis
Hotel Ravesis at the heart of Sydney's Bondi Beach, stands apart from the rest with its art deco appearance and flamingo pink colour scheme. The beachside bar and wrap around terraces offer a great place for some outdoor dining and some pretty special ocean views of sunny Bondi beach.
Address: 118 Campbell Parade, Bondi Beach NSW 2026
Phone: +61 2 9365 4422
Hours: Mon-Sat 10am-1am, Sun 10am-12am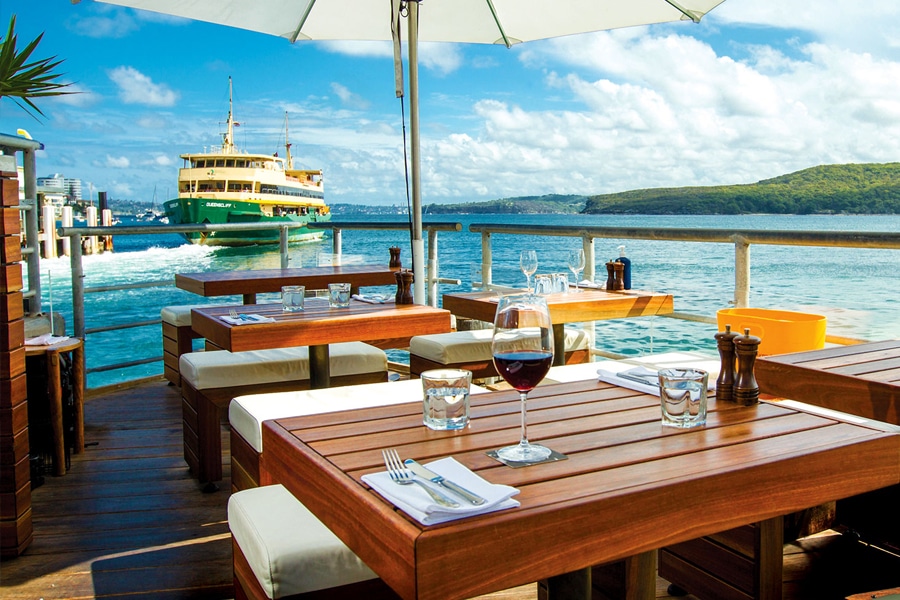 21. Hugos Manly
Get down to Manly Wharf for an unforgettable outdoor dining experience in one of Sydney's most scenic waterfront areas. Hugos Manly serves up contemporary Italian cuisine and delicious cocktails by an award winning team. Don't forget to book ahead if you want a seat on the deck overlooking the water.
Address: Shop 1 Manly Wharf, East Esplanade, Manly NSW 2095
Phone: +61 2 8116 8555
Hours: Mon-Fri 12pm-10pm, Sat-Sun 11:30am-12am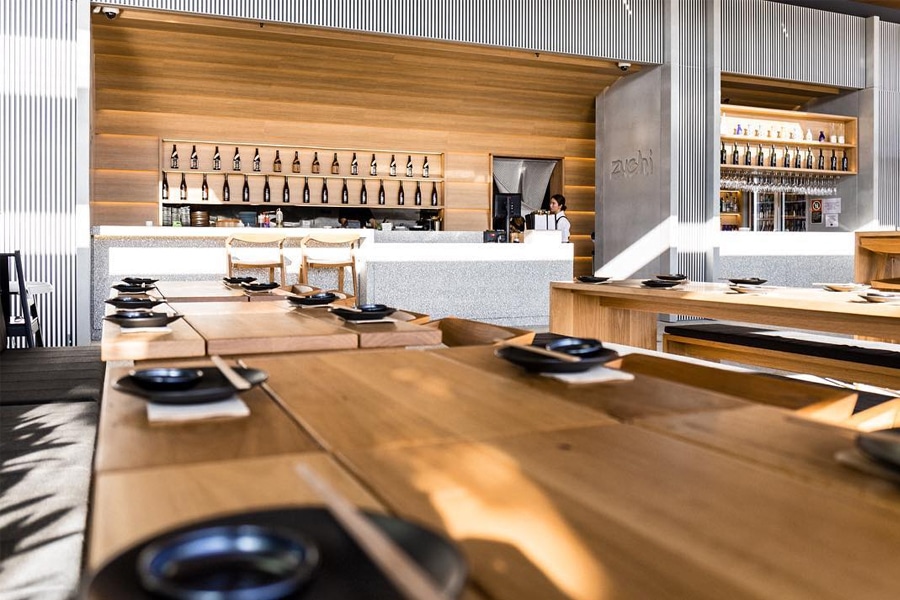 22. The Canteen Barangaroo
The Canteen at Barangaroo is a wonderful communal area that embraces outdoor dining. It's a social outdoor space serving up all kinds of international cuisines. From Ipoh Town serving up Malaysian style street food to Georgie Boy's Coffee Co, offering baguettes and sandwiches, you'll find something that takes your fancy.
Address: 200 Barangaroo Avenue, Sydney NSW 2000
Phone: +61 2 9299 9087
Hours: Sun-Mon 7am-3pm, Tue-Wed 7am-8:30pm, Thu-Fri 7am-9:30pm, Sat 8am-9:30pm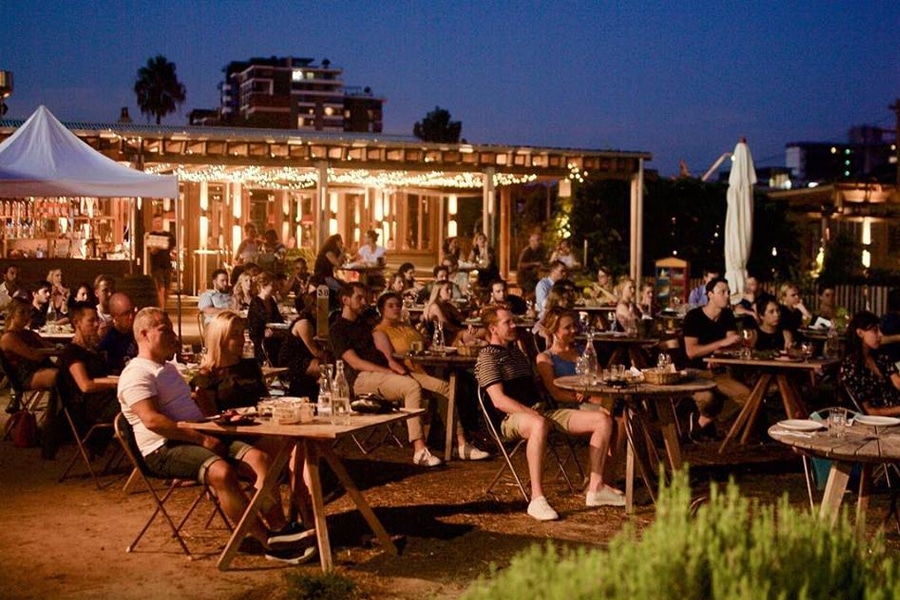 23. Acre Eatery
Acre Eatery farm to table restaurant is not only great for its outdoor dining atmosphere, but also its embracement of providing a sustainable menu with a focus on seasonality and traceability. Take a seat on the outdoor wraparound deck or take a lounge of the lawn complete with comfy rugs and oversized umbrellas. It's even got its own urban farm and edible garden surrounding the grounds. The Acre Eatery is one of the best outdoor restaurants Sydney has to offer.
Address: 31a Mallett Street, Camperdown NSW 2050
Phone: +61 2 9194 3100
Hours: Wed-Sat 8am-10pm, Sun 8am-5pm
You'll also like:
14 Best Ramen Joints in Sydney
Is Your Ubereats Driver Eating Your Food?
14 Best Fish and Chip Shops in Sydney to Dine in or Takeaway
Have you subscribed to Man of Many? You can also follow us on Facebook, Twitter, and Instagram.