30 Best Pubs in Sydney (Food, Beer, Events…)
Scour through this comprehensive list of the best pubs in Sydney to find the next spot for your arvo bevvy. Whether you're after the nearest pub food in Sydney or the best Irish pub in Sydney, we've got you covered.
Everyone loves pubs for their laid back atmosphere, affordably priced drinks and the convenient round-the-corner locations. And the best thing is that any time can be pub time – lunch time on a Friday (or hell a Monday), Tuesday evening for trivia, Saturday arvo bevvies with your mates or a Sunday sesh.
When it comes to finding the best pub food, Sydney has a lot to offer. Regardless of if you just visit your local or knock off the whole list, these 30 best pubs in Sydney (in no particular order) will be sure to help you out for your next wind down beverage.
You'll also like:
20 Best Rooftop Bars in Sydney
21 Best Burger Shops in Sydney
10 Best Whisky Bars in Sydney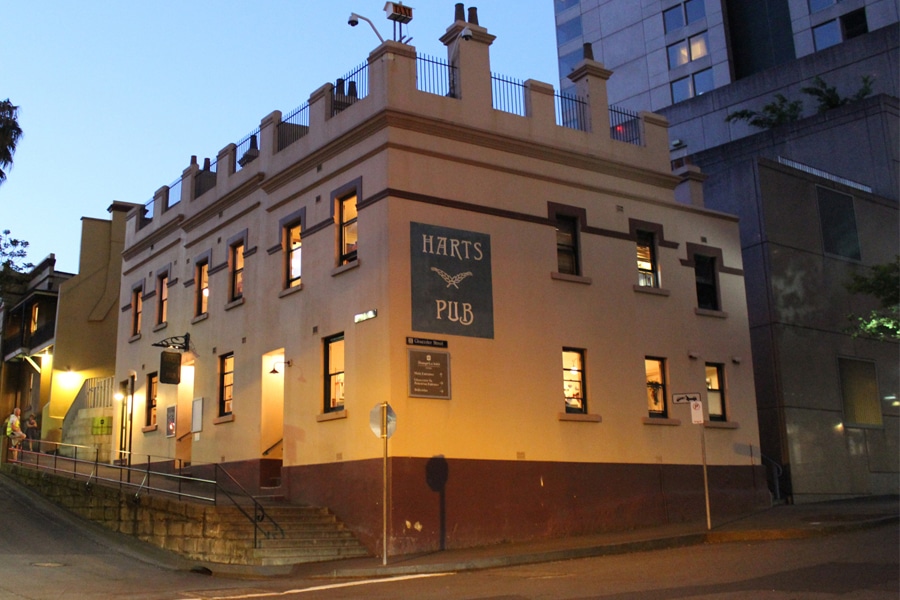 1. Harts Pub
Ideally located in the heart of the rocks, this heritage-listed establishment offers some of the best pub lunch in Sydney. The chicken wings at Harts Pub are well-renowned across the city, as is their friendly staff and superior selection of hand-crafted beers. Harts is one of the best pubs Sydney CBD has to offer.
Cnr Essex and Gloucester Street, The Rocks NSW 2000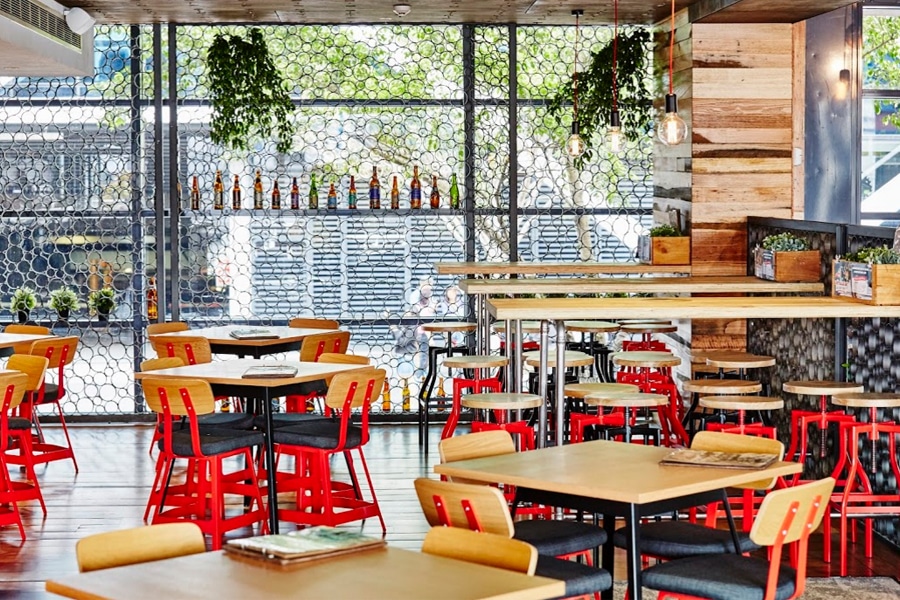 2. Beer DeLuxe
The name of this pub is pretty self-explanatory – enjoy a beer in a deluxe setting. Beer Deluxe proudly claim that everything they do, they do for beer. Head to one of Sydney's best pubs at King Street Wharf for some incredible live music, over 150 international craft beers, alfresco dining and stunning harbour views.
9 Lime Street, Sydney NSW 2000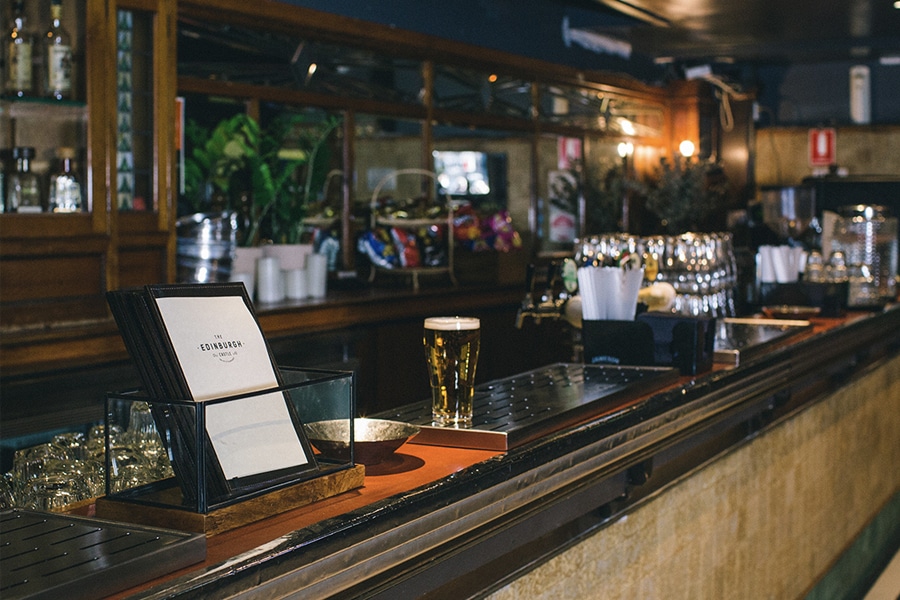 3. Edinburgh Castle Hotel
The Edinburgh Castle Hotel has been filling Sydney bellies since 1885. Paying tribute to its rich history – it was once known as Henry Lawson's chosen writing nook – while also being a pioneer in the Sydney pub scene, 'The Eddy' offers everything you love in a Sydney CBD pub.
294 Pitt Street, Sydney NSW 2000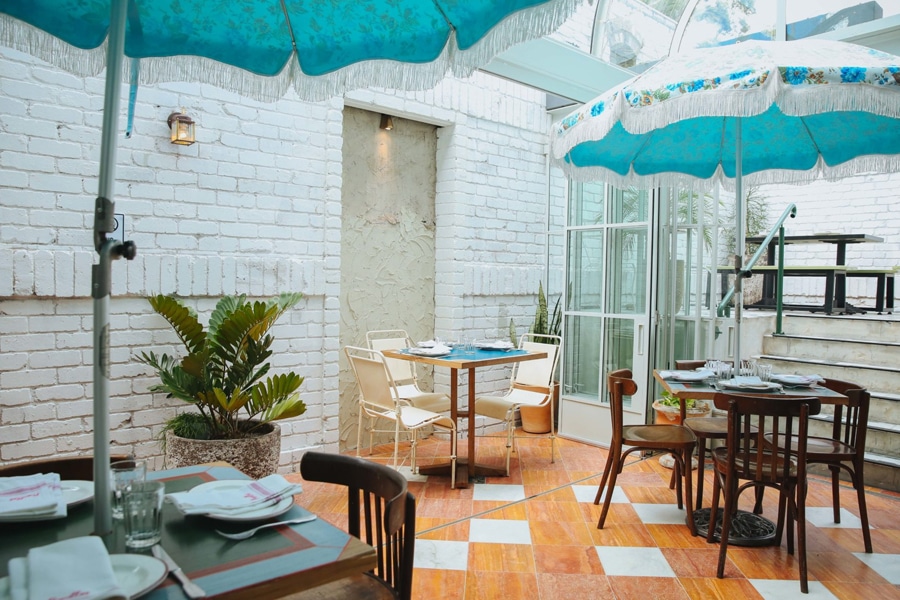 4. The Imperial Hotel
The go-to LGBTQIA+ pub in Sydney has had a facelift and is back, more raucous than ever. The Imperial Hotel Erskineville has been a Sydney icon and institution since 1983. They invite you to drink and dine at the ground floor restaurant, Priscillas, drag and dance at the weekend disco in the Basement and divulge your senses in Italian food, convivial cocktails and views at their new rooftop.
35 Erskineville Road, Erskineville NSW 2043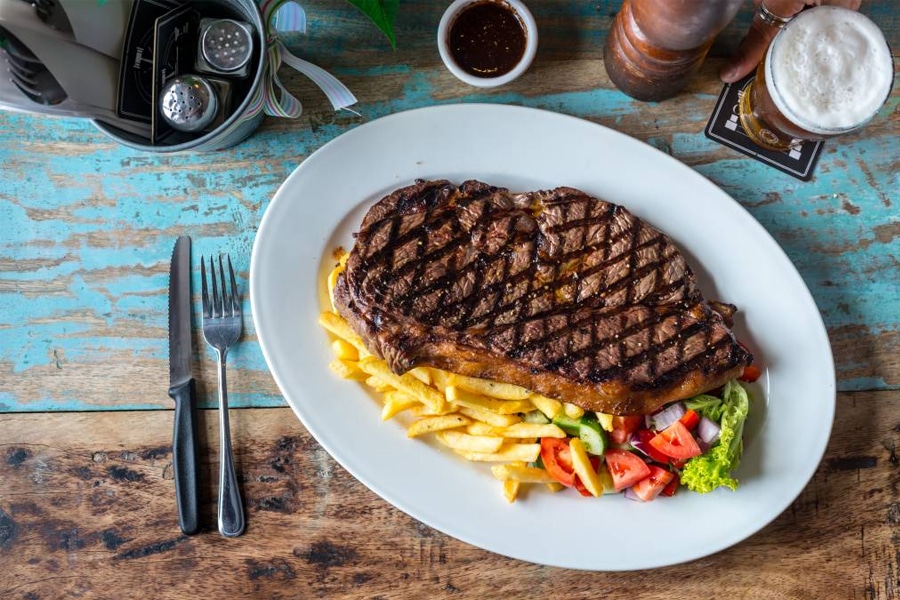 5. The Courthouse Hotel
Newtown is well known for its decent offering of of the best pubs in Sydney. The Courthouse Hotel is a staple for locals on account of its leafy courtyard, great selection of beers and food and friendly staff. The Courty is the ideal spot for a Saturday afternoon beer with your mates.
202 Australia Street, Newtown NSW 2042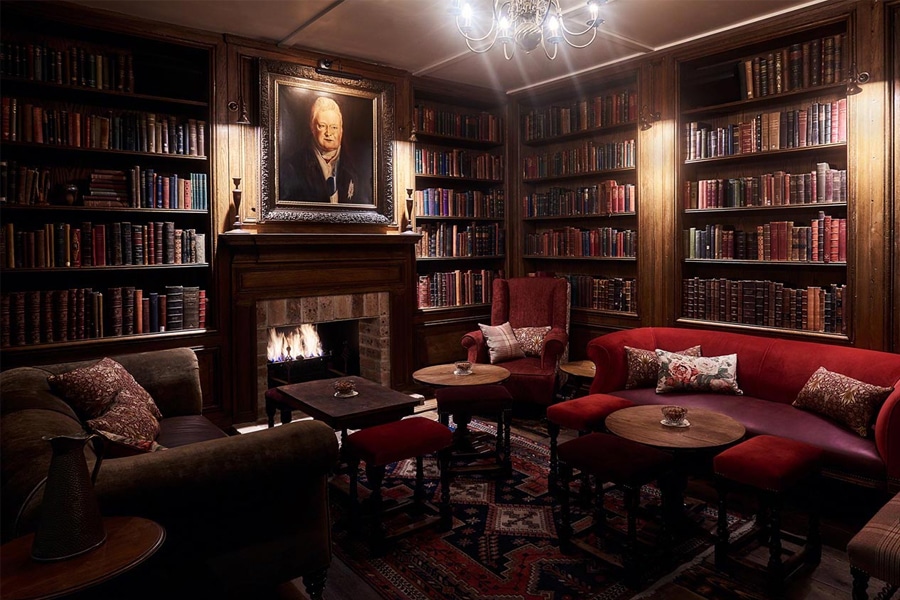 6. The Duke of Clarence
Immerse yourself in this 18th Century inspired London tavern with cocktails, cask ales and distinctly British eats. The Victorian-era tavern, The Duke of Clarence provides a characteristically British experience from the heart of Sydney, easily making it one of the best pubs in Sydney.
Laneway, 152-156 Clarence Street, Sydney NSW 2000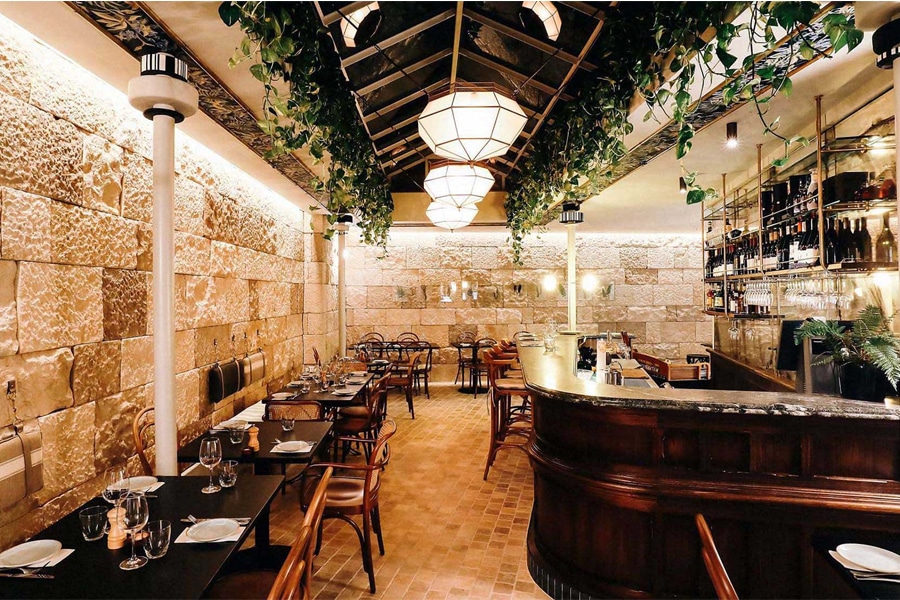 7. The Lord Dudley
As one of the best Sydney pubs- easily it's most loved old English pub – The Lord Dudley has a loyal following of local clientele for a reason. Great beers, varied and delicious dining options, friendly staff, fireplaces, boardgames and an ambient garden restaurant are just the start of the many draw cards of this fine establishment.
236 Jersey Roard, Woollahra NSW 2025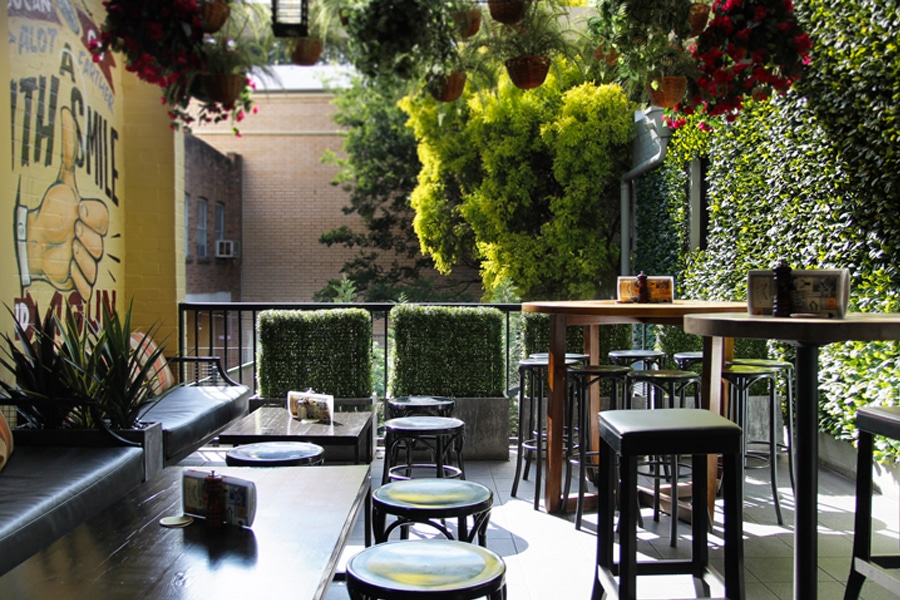 8. Dove and Olive
Just a stone's throw from the nearby Central station, there's no reason not to check out the Dove and Olive. They have a comprehensively delicious American-inspired menu (claiming the best pub food in Sydney) to add to an ambient setting for a drink or five.
156 Devonshire Street, Surry Hills NSW 2010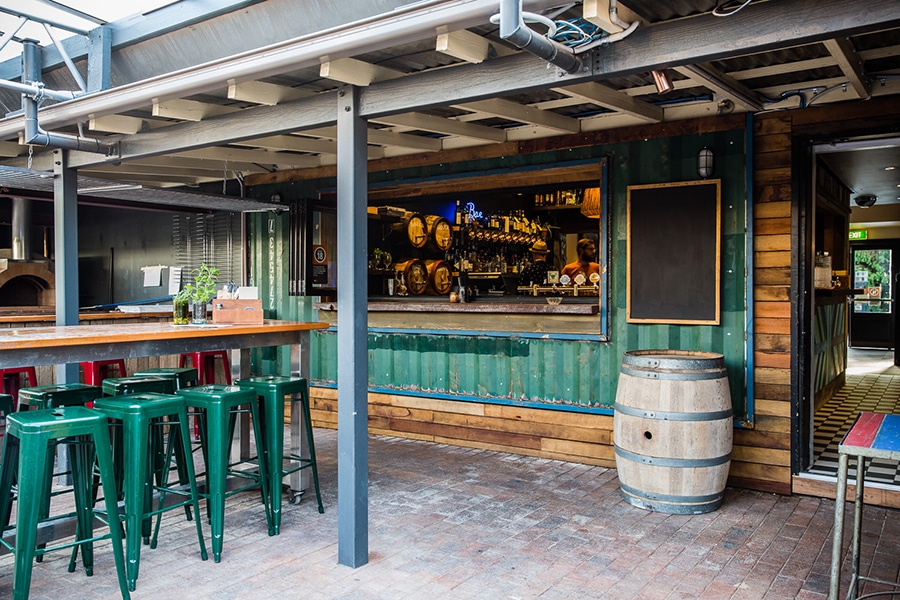 9. Public House Petersham
With a lovely outdoor beer garden, pool table, and to-die-for handmade pizzas, Public House Petersham should be your Inner West go-to. They also have a range of house-made seasonal food with vegan and veggo options and rotating craft beers that always keep the belly happy. This beloved pub in Inner West Sydney want it to be a cultural hub for locals.
292 Stanmore Road, Petersham NSW 2049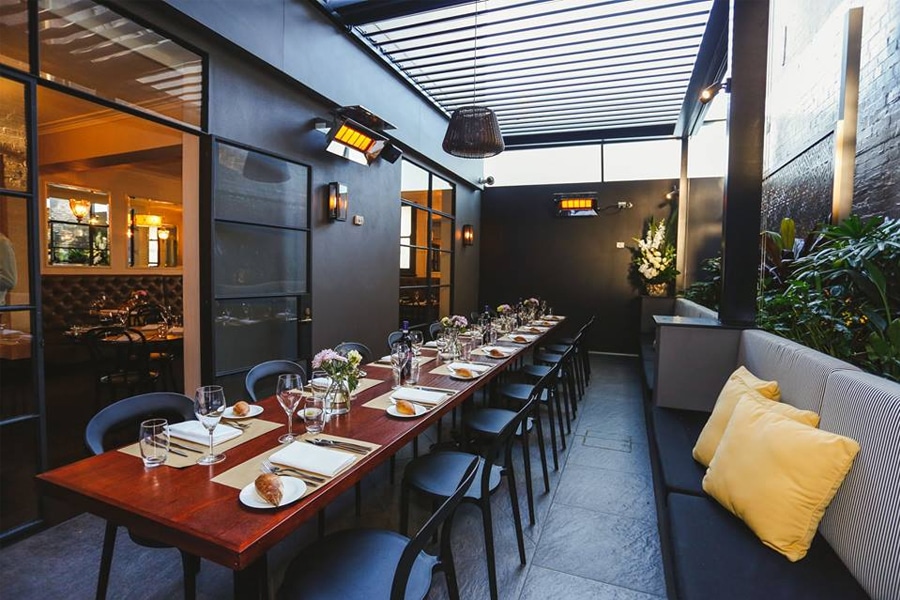 10. The Welcome Hotel
Rozelle has become a hotbed of trendy bars, cafes and restaurants and lays claim to one of the best pubs in Sydney. If you're after a laid-back vibe with Italian cuisine, a leafy beer garden terrace and a stellar range of craft beers and wine options, The Welcome Hotel is your answer.
91 Evans Street, Rozelle NSW 2039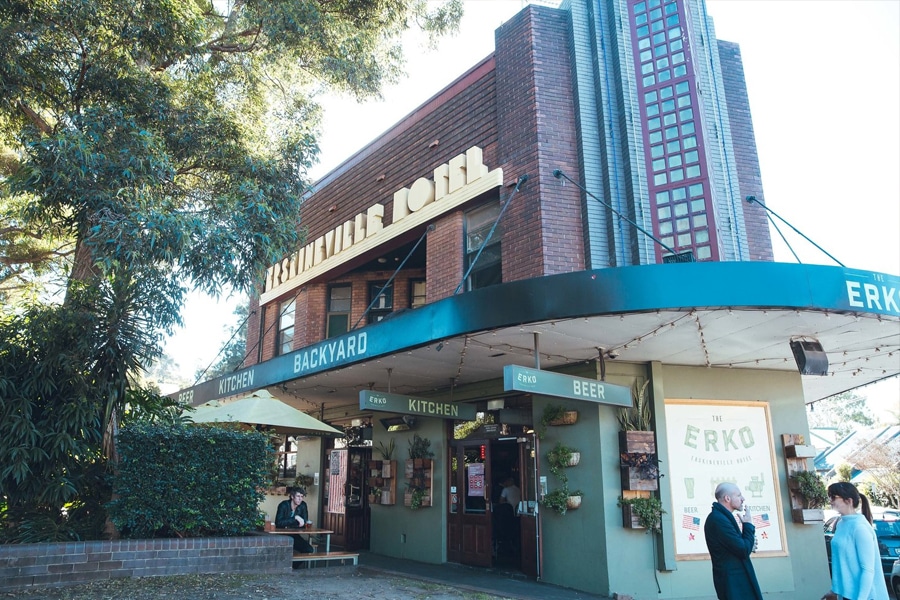 11. The Erko
The Erko keep locals frothin' with a huge range of awesome beers, an award-winning smokehouse and legendary vibes. Make the most of one of the best pubs in Inner West Sydney with $4.50 local schooners every weekday from 4-6pm, meat raffles, vinyl DJs, free pool on Monday and Tuesday or try out their wing challenge to make the wall of flame any day of the week.
102 Erskineville Road, Erskineville NSW 2043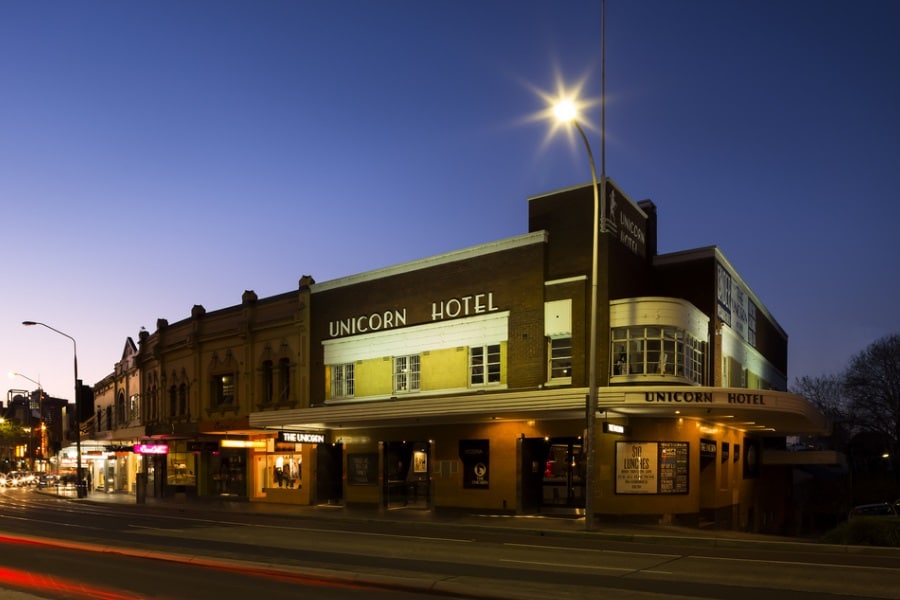 12. The Unicorn Hotel
The Unicorn Hotel doesn't try to be anything more than an ambient meeting place with great beer and nosh, and consequently one of the best pubs in Sydney. They describe themselves as a proud boiling billy of Aussie wine, beer, music, art, food and conversation.
106 Oxford Street, Paddington NSW 2021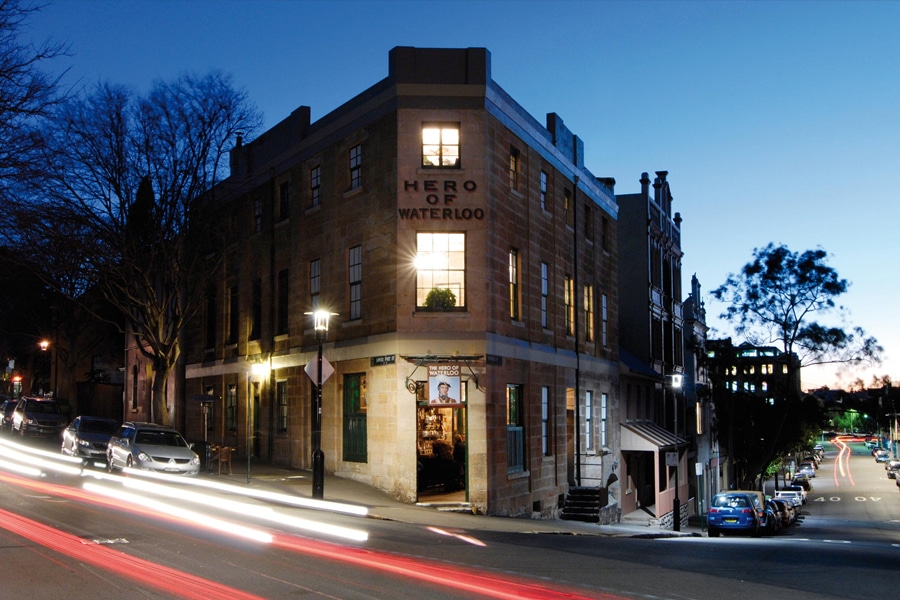 13. The Hero of Waterloo
Surround yourself with log fires and 170 year old hand-chiselled sandstone walls this Winter, not to mention some of the best wine, beer and grub the best pubs in Sydney have to offer. Soak in the historic atmosphere in the heart of the Rocks at The Hero of Waterloo.
81 Lower Fort Street, Millers Point NSW 2000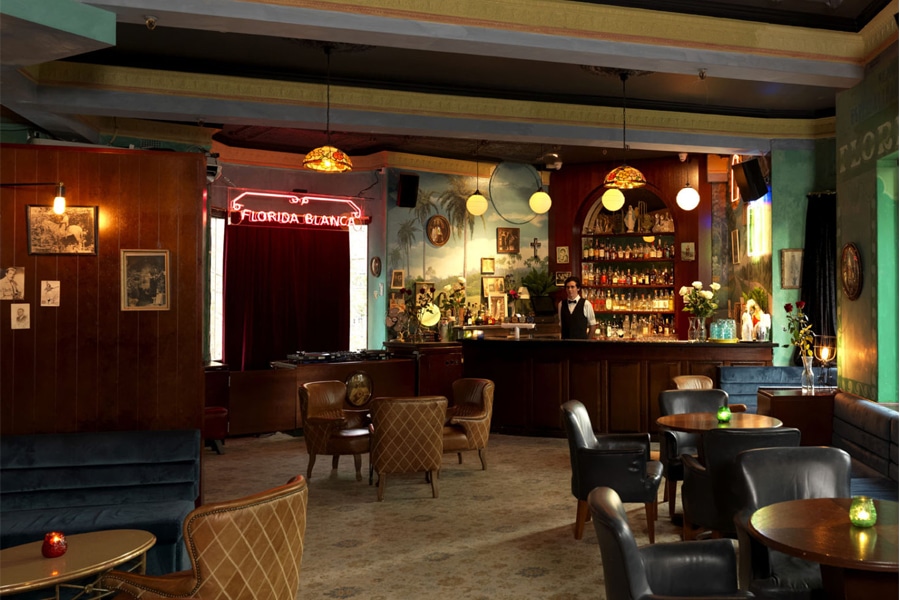 14. Harpoon Harry
A Surry Hills staple, Harpoon Harry has an incredible atmosphere with a different character and purpose in every room. It's one of the best pubs in Surry Hills, and if you haven't yet ventured inside it's colourful, leafy depths, welcome to your new local (it's right near central so if doesn't matter if you don't actually live locally).
40-44 Wentworth Avenue, Surry Hills NSW 2010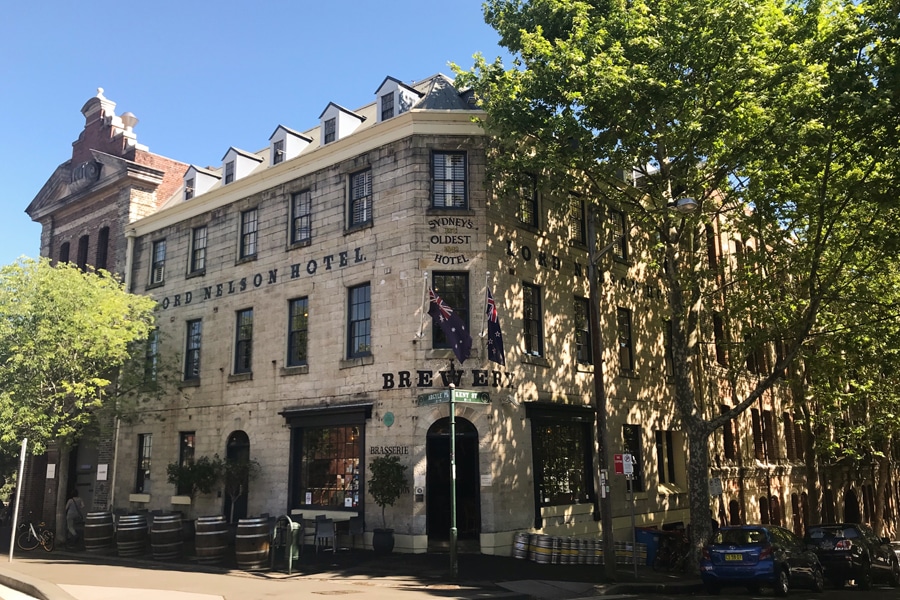 15. The Lord Nelson Brewery Hotel
The Lord Nelson Brewery Hotel is Sydney's oldest continually licensed hotel. And like the many fine wines within it's historic walls, it only gets better with age. They off plenty of award-winning beers and modern Australia cuisine, easily qualifying it as some of the best pub food in Sydney.
19 Kent Street, The Rocks NSW 2000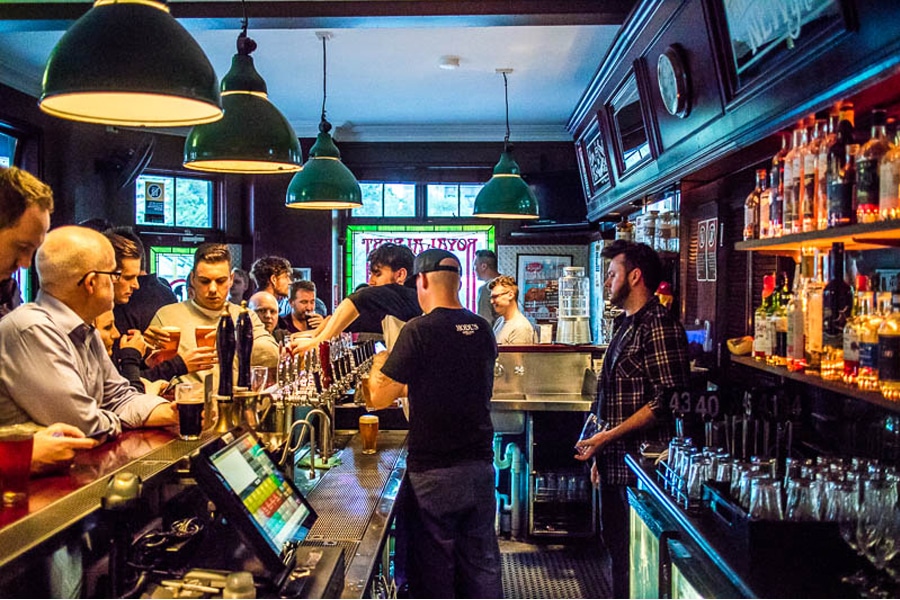 16. Royal Albert Hotel
Since serving naval officers from as early as 1927, The Royal Albert Hotel has been committed to being one of the best pubs in Surry Hills by providing the most relaxing spot to dine and drink.
140 Commonwealth Street, Surry Hills NSW 2010

17. The Newport
When it comes to pubs with views and relaxing vibes, you'd be hard pressed to top The Newport. Make a day of heading to the Northern Beaches and while you're there enjoy one of the best pub feeds in Sydney and a huge selection of drinks while being lulled by the soothing motion of the ocean.
2 Kalinya Street, Newport NSW 2106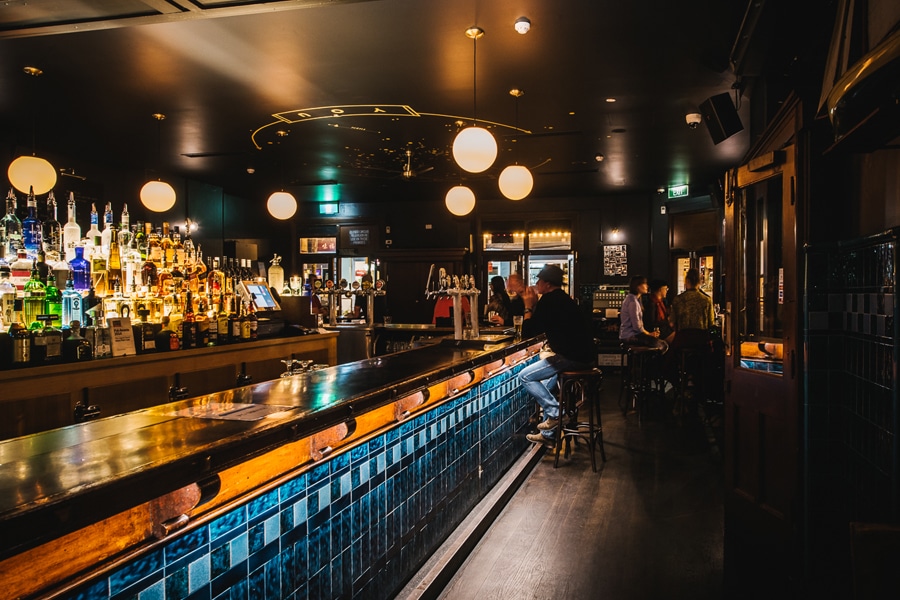 18. Green Park Hotel
This iconic Darlinghurst watering hole, Green Park Hotel, is the perfect place for a casual game of pool or an atmospheric drink with a few mates. Be sure to hit the dance floor on the weekend to catch the upbeat vibes of one of Sydney's best pubs.
360 Victoria Street, Darlinghurst NSW 2010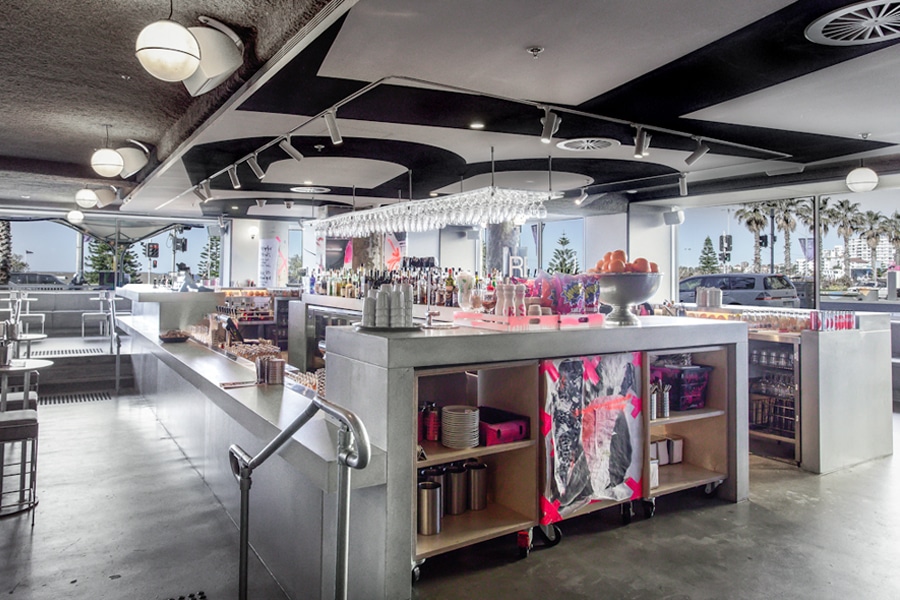 19. Bondi Beach Public Bar
No list of the best pubs in Sydney is complete without a modern day pub from the city's most iconic suburb. Bondi beach Public Bar (BBPB) taps into the energy of 1970s and 80s Australian pub culture, as well as plenty of contemporary craft beers. They also feature heaps of local art, music, events and daily happy hours (yes the plural is deliberate).
203/180 Campbell Parade, Bondi Beach NSW 2026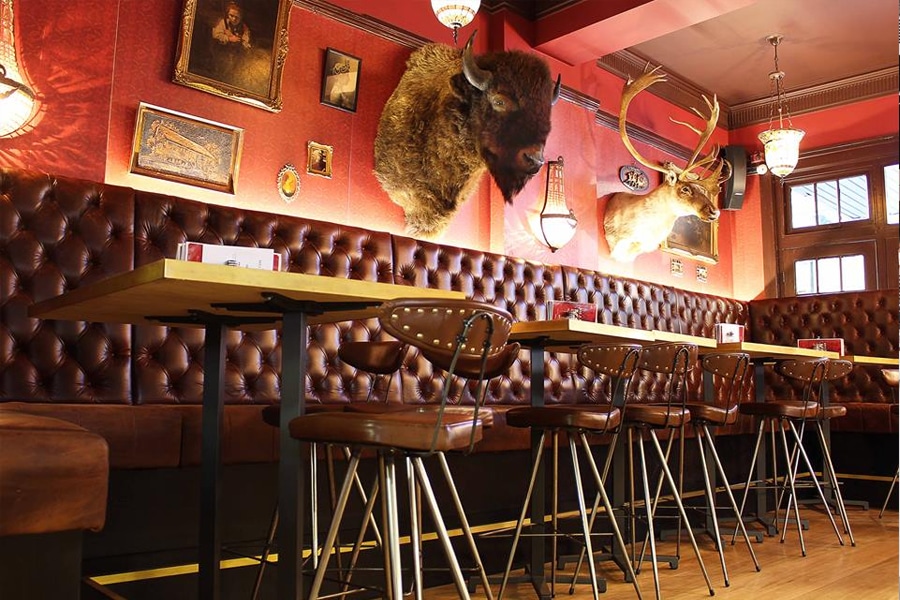 20. Keg & Brew
For the best bourbon, craft beer and southern style bites in the Sydney CBD, look no further than Keg & Brew. As one of the best pubs in Surry Hills, they have over 30 beer taps, different specials every evening and will soon be opening a new bistro, events floor and rooftop bar.
26 Foveaux Street, Surry Hills NSW 2000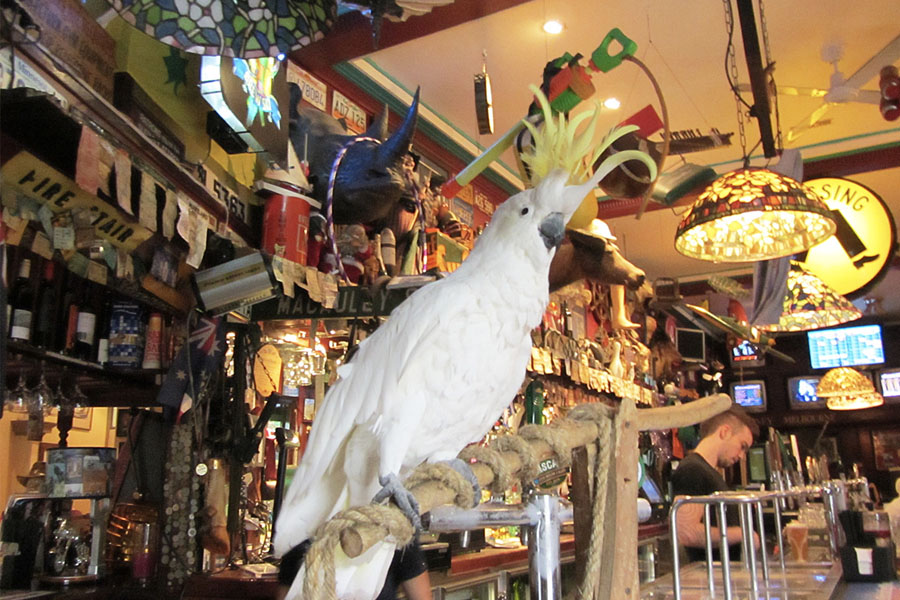 21. Friend in Hand
What looks from the outside like a museum plays host to one of the most renowned and best pubs in Sydney, The Friend in Hand. Drop in to this Glebe local for some crab racing, poetry reafing, comedy, life drawing, or just a happy hour bev from the friendly staff.
58 Cowper Street, Glebe NSW 2037
22. The Henson
The Henson is a playground for all adults to enjoy, focusing on quality, seasonality and sustainability. With a leafy beer garden and adjoining children's area, art deco bar out the back and homey front bar, it is easily one of Sydney's best pubs. And with a different deal or event on every night, you know The Henson is really there for the locals.
91 Illawarra Road, Marrickville NSW 2204
23. The Baxter Inn
This underground swillhouse has been awarded one of the world's best hidden bars three years in a row, and for good reason. The decor, drinks and dappled light of The Baxter Inn make you feel like you've been transported back to the 20s and we can guarantee you won't want to leave.
152-156 Clarence Street, Sydney NSW 2000
24. PJ O'Brien's
If you're after a lively drink in the city, you can't go past the best Irish pub in Sydney, PJ O'Brien's. It's great for an intimate date or large groups and the cheerful ambience will make any day infinitely better.
57 King Street, Sydney NSW 2000
25. Shady Pines Saloon
The Surry Hills version of Baxters, Shady Pines Saloon is another Sydney institution that never gets old, regardless of how many visits you've made. If you're showing out-of-towners around the city or trying to impress a date, don't overlook one of the best underground pubs in Sydney.
4/256 Crown Street, Darlinghurst NSW 2010
26. Lord Wolseley
A traditional and old-school pub in Sydney CBD with a bar and restaurant, The Lord Wolseley Hotel in Ultimo is the ideal drinking hole when you want the CBD location without the city price tag or swankiness.
265 Bulwara Road, Ultimo NSW 2007
27. The Lord Gladstone
The Gladdy goes off on the weekend, just like your worries will with any visit to this Sydney institution, undoubtedly one of the best pubs in Sydney CBD. Head in to The Lord Gladstone early for a quiet bevvie or save it for the end of the night if it's going to be a wilder one.
115 Regent Street, Chippendale NSW 2008
28. The Cricketers Arms Hotel
Self-recognised as a bloody good Sydney pub and by us as one of the best pubs in Surry Hills, The Cricketers Arms Hotel is the ideal place for a pre- or post- sport game rinse. But more than that, it's also a great spot for Rock n Roll bingo, free live jazz, pool comps and live local DJ's.
106 Fitzroy Street, Surry Hills NSW 2010
29. The Union Hotel
We'd forgive you for mistaking The Union Hotel for a local brewery or distillery – what with 22 taps hosting a rotating list of beers and 24 gins dominated by Aussie distillers. Their Americana-themed restaurant, Big Arties has a constantly evolving seasonal menu with the some of the best pub food in Sydey. Soak up the classic pub feel with the large benches in the front room or enjoy the light-filled cocktail lounges in the back for a more intimate dining experience.
576 King Street, Newtown NSW 2042
30. The Ramblin' Rascal Tavern
If you want to get fat and drink like a champion, Ramblin' Rascal Tavern should be your Sydney pub of choice. With Mary's burgers and fried chicken, live music on Thursdays and every type of alcoholic beverage your heart desires, this Sydney CBD pub can do no wrong.
Cnr of Park and Elizabeth Street, Sydney NSW 2000
Have you subscribed to Man of Many? You can also follow us on Facebook, Twitter, Instagram, and YouTube.
You'll also like:
20 Best Rooftop Bars in Sydney
21 Best Burger Shops in Sydney
10 Best Whisky Bars in Sydney