Terry Crews Diet and Workout Routine
Whether you want to improve your overall health or merely pick up a solid chest workout, Terry Crews makes for an excellent point of reference. As if his innate charm and talent weren't enough, the former NFL player turned actor is an absolute pillar of physical fitness. One might assume his impressive physique is the result of superior genetics, but making it look easy is part of the job. In reality, the Terry Crews workout routine is equal parts exhaustive and intense.
Yet there was a brief time in the late 1990s when that wasn't the case. Soon after retiring from the NFL, the "Brooklyn Nine-Nine" star reportedly struggled with weight gain and a poor diet. Like a fresh recruit hot off the bench, Terry Crews changed his fate through the power of discipline and dedication. He's been performing (more or less) the same workout program ever since. Let's take a look.
You'll also like:
Chris Hemsworth's Thor Diet & Workout Plan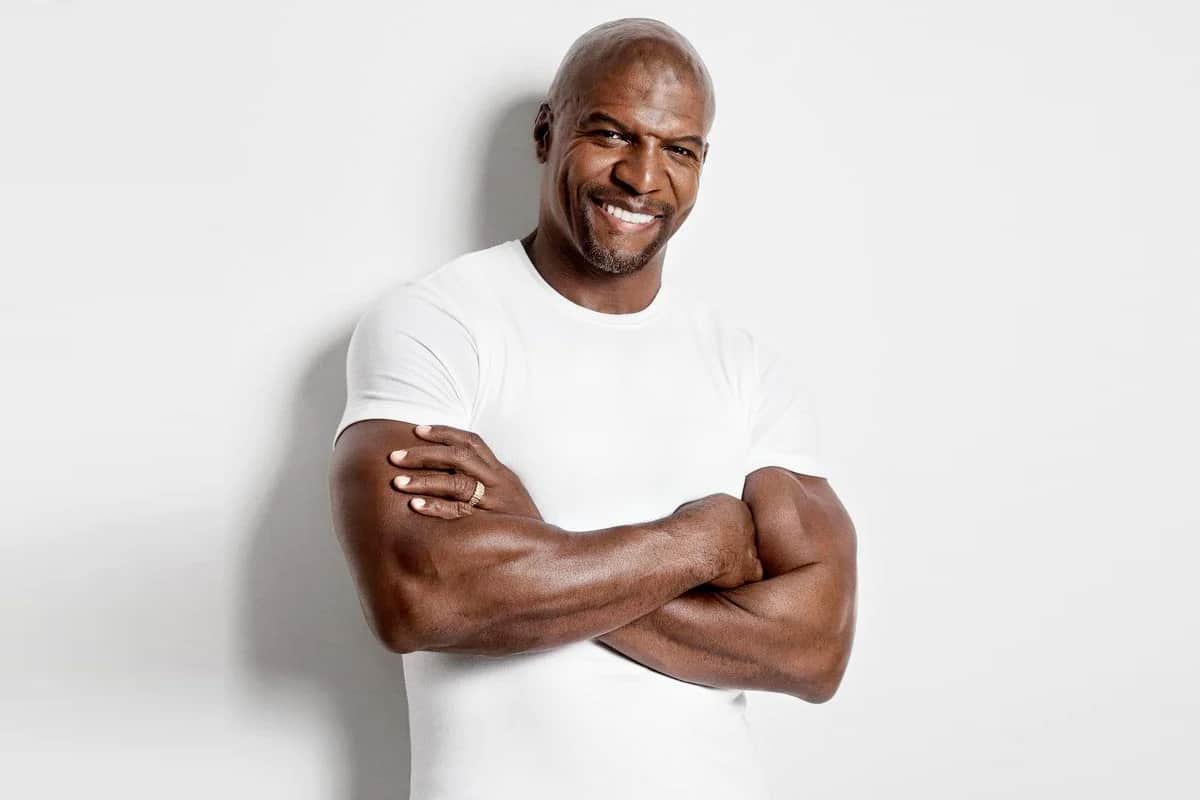 Who is Terry Crews?
Some people are born all-stars and Terry Crews may very well be one of them. However, don't take that to mean the man didn't overcome numerous struggles on his path to resounding success. One of his earliest obstacles came in the form of his own father, a reported alcoholic and serial abuser. Crews once stated that the reason he started performing chest workouts in the first place was to protect both himself and his mother.
Despite his athletic abilities, Crews demonstrated a passion for the arts from a young age. Fully firing on both cylinders, he attended the Interlochen Center for the Arts on scholarship. He then earned another scholarship to play football at Western Michigan University, where he majored in art.
As a defensive end for the WMU Broncos, Crews earned all-conference honours and won the 1988 Mid-American Conference Championship. In 1991, he was drafted in the 11th round by the LA Rams. He played with the Rams for two seasons before bouncing around the league from 1993 to 1996.
Soon after retiring from the NFL, Crews segued into acting. He scored a minor TV role in 1999 before starring in the sci-fi Schwarzenegger vehicle "The 6th Day," released in 2000. It's been steady work ever since and Crews is now synonymous with a number of iconic performances, most of which call upon his comedic chops. You can currently catch him as NYPD Lieutenant Terry Jeffords in the TV series "Brooklyn Nine-Nine."
In 2017, Terry Crews went public with a personal story of sexual harassment within the entertainment industry. He was consequently honoured as a "Silence Breaker" by Time Magazine as part of their Person of the Year award. The actor has been quite vocal about the lack of justice in the wake of his ordeal, proving yet again that his success hasn't come without struggle.
---
Featured Video from Man of Many
---
Age: 52 years
Height: 6 ft 2 inches
Weight: approximately 240 lbs
Acting career: 1999 to the present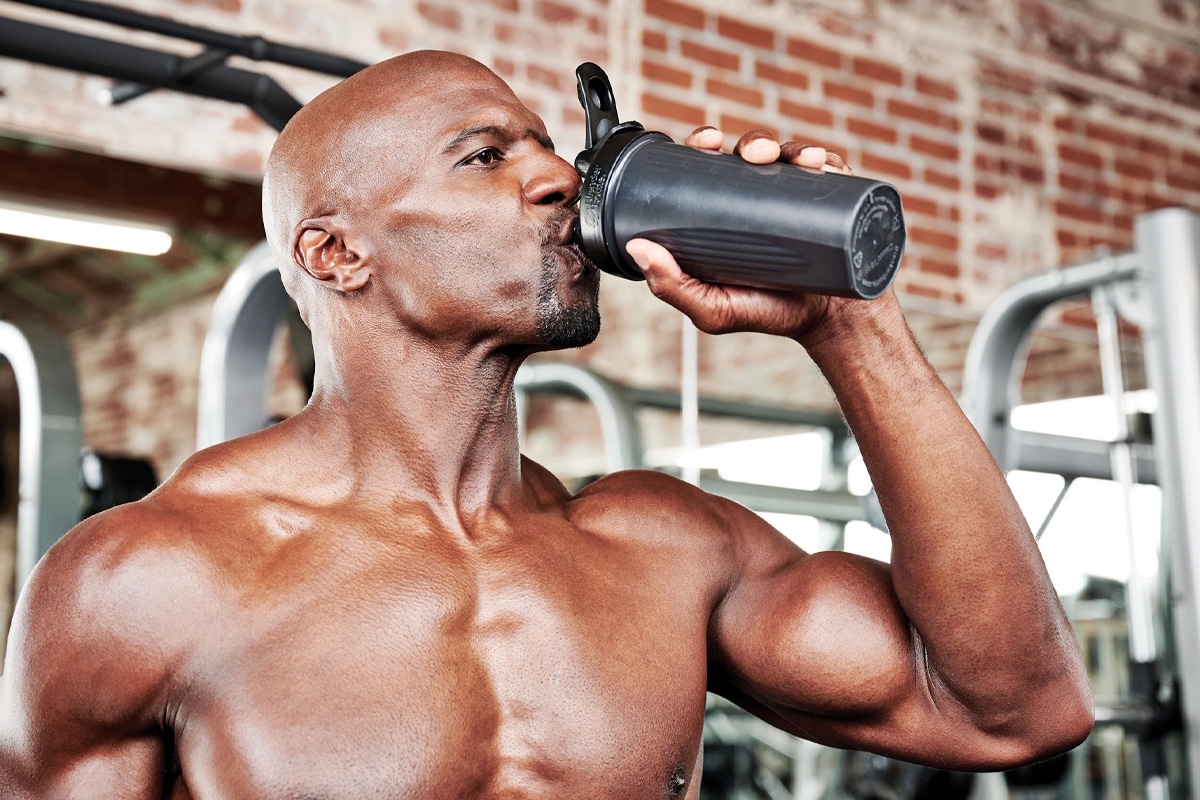 Terry Crews Diet Plan
Before adopting his current workout, Terry Crews experienced a few years of poor eating habits and subsequent weight gain. That led him to a fitness plan that he maintains to this day and with the same degree of tenacity. What may come as a surprise to some is that the actor usually trains on an empty stomach.
In a 2019 interview with Men's Health, Crews revealed that he's a practitioner of intermittent fasting. More popular now than ever before, this particular diet involves going long stretches of time—often as much as 16 hours—without eating anything at all (vitamins and certain liquids are okay).
According to Terry Crews, fasting helped put his body back on track after a short-lived rut. In describing the shift, he said, "I don't like the way I feel. I've got to change something. Let me try this…And you know what? There might be another stage where I try something else."
When asked about his diet in 2016, Crews told UK-based Coach Magazine, "Most days I'll eat my first meal at 2pm and my last meal at 10pm. I like to work out in the morning—I'm a big 'wake up, hit it, get it done' kinda guy—then eat my biggest meal in the evening…I find that restricting the times when I eat means I eat less."
He went on to explain, "For the first four or five days I was so hungry it was unbelievable, but all of a sudden my body adapted and the hunger pains went away. Now I don't eat as much, and I get full a lot faster. I also save my carbs for my evening meal."
In the same interview, Crews clarified that he fasts for six days a week. "On Sundays, I have a cheat day, where I eat whatever I want—pizza, ice cream, anything I've been thinking about during the week," he said. "It's changed my life. I've managed to maintain all my muscle and burn away all my fat. And because I'm eating more at night, my body produces more testosterone and growth hormone while I sleep—and gives me more fuel for my workout for the next morning."
During the week (i.e. when he's fasting), Terry Crews still takes in some delicious food. In a video he made for Vanity Fair, he reiterated that he goes 16 hours without eating and doesn't consume his first meal until about 2PM. His "go-to lunch" typically consists of an omelette with bacon and a salad, followed by a protein shake. He sits down for dinner with the family after 6PM, and nearly always ends the night with something sweet like a piece of cake, pudding, pie, or Pinkberry.
Here's another surprising piece of information: Crews usually wakes up as early as 4:45 AM. Yes, that means the actor is awake for over nine hours before eating his first meal. In the meantime, he supplements with both vitamins and amino acids. Specifically, he takes vitamins three times a day and keeps a shaker cup filled with water and amino acids, drinking an estimated gallon of the stuff daily.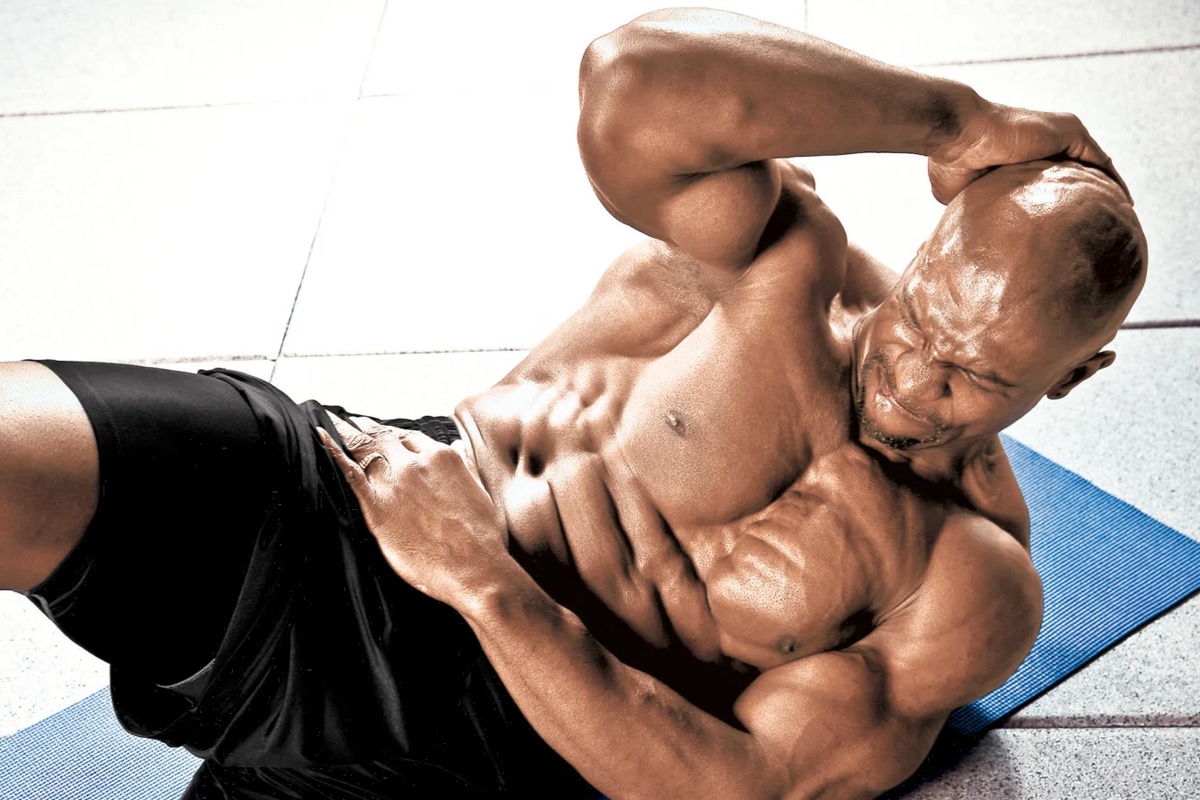 Terry Crews Workout Routine
While no stranger to the workout bench, Terry Crews is into so much more than mere strength-building. The actor has maintained the same general fitness plan for 20 years and shows no signs of changing it up. To stay the course with utmost focus, he doesn't check his phone or email before hitting the gym. Once his program begins, things get predictably intense.
Every Terry Crews workout starts with a 5-minute warm-up, after which he puts on an audiobook for the remainder of his routine. Now primed for a solid sesh, the actor performs different exercises depending on the day of the week. Here's a quick example, as per Crews himself in 2018:
Monday: Legs
Tuesday: Chest and arms
Wednesday: Stretch, abs, and cardio
Thursday: Back
Friday: Shoulders and plyometric exercises
When it's time for a quality chest workout, Terry Crews claims, "I usually do 4 sets with 10 descending repetitions. So it will go 10, 8, 6, 4, and I usually try to go as heavy as I can. But then every workout, every day, ends with a 4-mile run." He takes this same approach to pretty much every muscle group, barring the instances when he pushes himself to failure or performs one high-intensity set.
Culling from sources such as Jacked Gorilla and Men's Health (and revising in accordance with the actor's own testaments), we present the Terry Crews workout plan:
Monday: Legs
5-minute warm-up
Leg press: 4 sets at 10, 8, 6, 4 reps per set
Standing calf raises: 4 sets at 10, 8, 6, 4 reps per set
Hack squats: 4 sets at 10, 8, 6, 4 reps per set
Leg extensions: 4 sets at 10, 8, 6, 4 reps per set
Hanging leg raise: until failure, 30 seconds of rest between each set
4-mile run
Tuesday: Chest and Arms
5-minute warm-up
Push-ups
Incline bench press: 4 sets at 10, 8, 6, 4 reps per set
Barbell bench press: 4 sets at 10, 8, 6, 4 reps per set
Pull-ups: 4 sets at 25, 18, 15, 10-12 reps per set
Dumbbell curls: 4 sets at 10, 8, 6, 4 reps per set
Bicep curl 21s: 4 sets at 7 reps per set
Pushup and dip supersets: 3 sets until technical failure with a little break between each set
4-mile run
Wednesday: Stretch, Abs, and Cardio
5-minute warm-up
Push-ups
Stretching exercises
Side lateral raise: 1 set of 10 reps
Reverse flyes: 1 set of 10 reps
Hanging leg raise: until failure, 30 seconds of rest between each set
Crunches: until failure, 30 seconds of rest between each set
4-mile run
Thursday – Back
5-minute warm-up
Barbell deadlift: 4 sets at 10, 8, 6, 4 reps per set
Pull-ups: 4 sets at 10, 8, 6, 4 reps per set
Side to side chin-ups: 1 set per side at 6 reps per set, and 1 set in the middle at 3 reps
Reverse-grip bent-over rows: 4 sets at 10, 8, 6, 4 reps per set
Smith machine bent-over rows: 4 sets at 10, 8, 6, 4 reps per set
Seated cable rows: 4 sets at 10, 8, 6, 4 reps per set
4-mile run
Friday – Shoulders and Plyometrics
5-minute warm-up
Upright barbell row: 1 set of 5-6 reps
Power clean: 1 set of 5-6 reps
Romanian deadlift: 1 set of 6 reps
Front dumbbell raise: 1 set of 10 reps
Arnold dumbbell raise: 1 set of 10 reps
plyometrics
4-mile run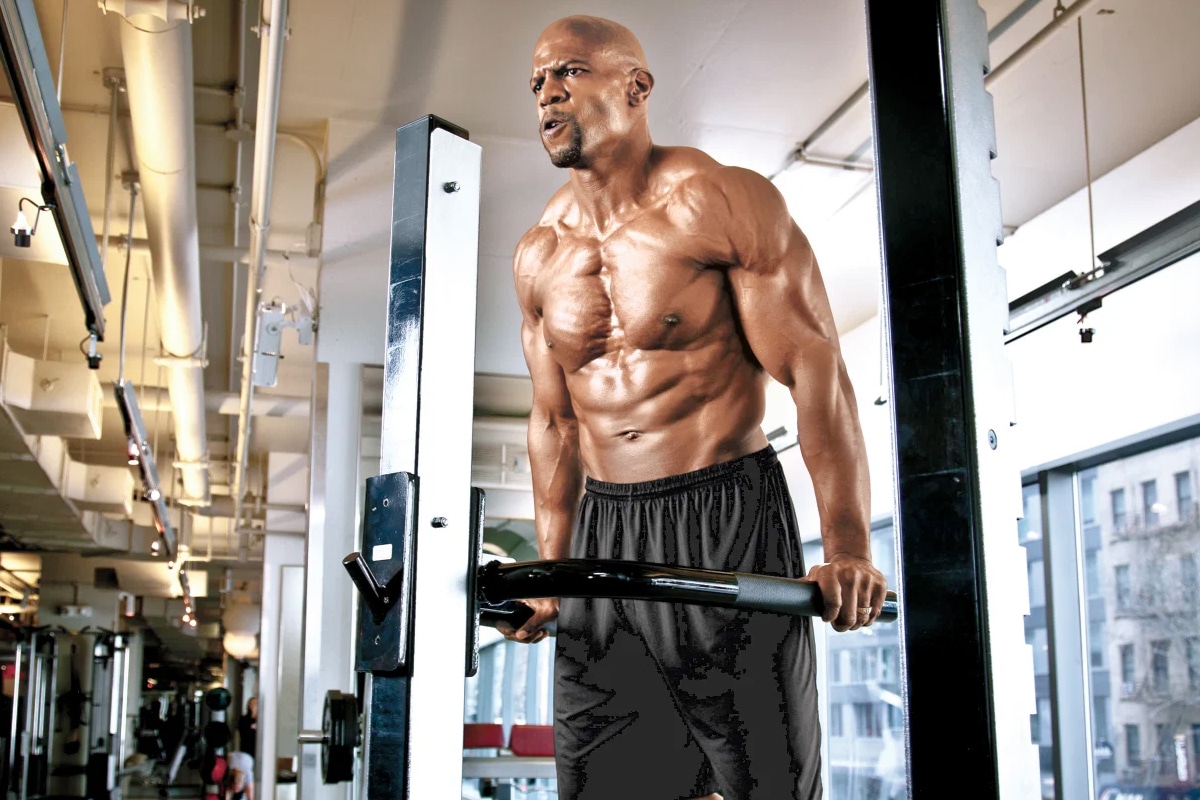 You'll also like:
Arnold Schwarzenegger's Diet and Workout Plan
Zac Efron's 'Baywatch' Diet and Workout Plan
Brad Pitt's 'Fight Club' Diet & Workout Plan
General FAQ
What is Terry Crews chest workout?
Terry Crews tends to perform 4 sets of heavy lifting with descending repetitions of 10, 8, 6, and 4. He's been known to perform the following chest and bicep exercises: incline bench press, barbell bench press, pull-ups, dumbell curls, bicep curl 21s, pushup and dip supersets, and more.
How much does Terry Crews bench?
According to one source, Crews can bench up to 475 pounds. When working out, he'll perform incline bench presses starting at 175 pounds, adding weight and lowering reps with each subsequent set.
How tall is Terry Crews?
Former NFL player turned actor Terry Crews is 6 feet and 2 inches tall.
What is Terry Crews age?
Terry Crews was born in Flint, MI, in 1968. He is currently 52 years old.
---
Featured Video from Man of Many