15 Best Meat Pies in Sydney
The humble meat pie is the quintessential icon of Australian cuisine and in homage to the legendary pastry, we offer this list of the 15 best meat pies in Sydney. Each pie featured here is crafted with love and dedication by some of the finest pastry wizards around. With winter setting in what better way to ward off the inevitable chills with a piping hot pie? Beef, chicken, lamb or veggies. Tomato sauce or no tomato sauce. Knife and fork at the dinner table, straight out of the paper bag on the beach, or the no-remorse full-charge 3 am attack whilst viciously hammered – no matter how you take them, you'll find the best pies in Sydney here.
Never one to discriminate and forever the crowd-pleaser there's always a pie for everyone and every occasion.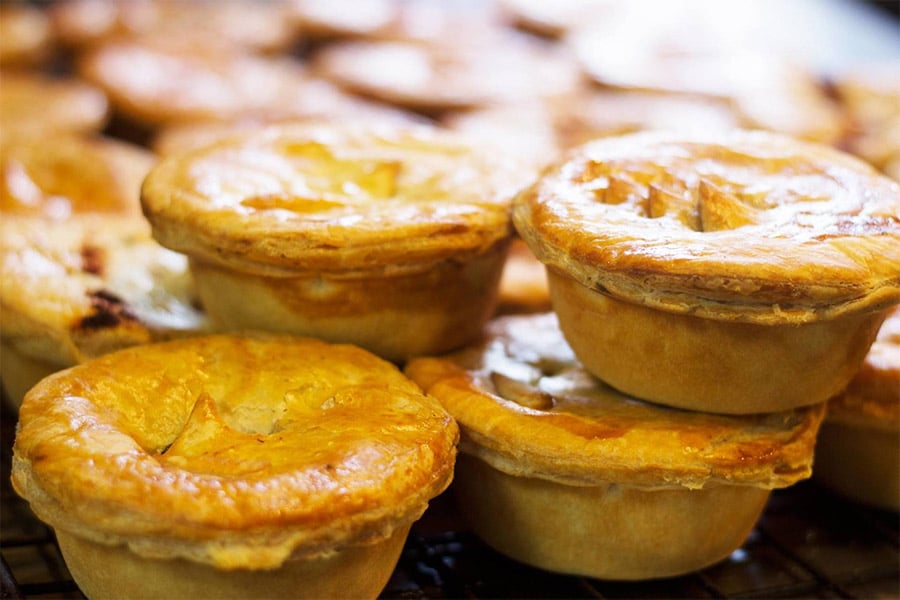 1. The Pie Tin
A Newtown favourite, The Pie Tin's fridges and ovens are constantly chock-a-block with delicious, artisanal pies. The offerings here are rotational depending on what's fresh and in-season, and each pie is handcrafted in-house and baked daily. Pair a beef brisket with a Bavarian lager, a chicken and leek with a chardonnay, or a coconut crème with a cappuccino – whatever you're yearning for, The Pie Tin's got the solution. The Pie Tin may be the place to eat the best pie in Sydney.
Address: 1A Brown St, Newtown
Phone: (02) 9519 7880
Hours: Mon-Wed 10am-8pm, Thu-Sat 10am-10pm, Sun 11am-6pm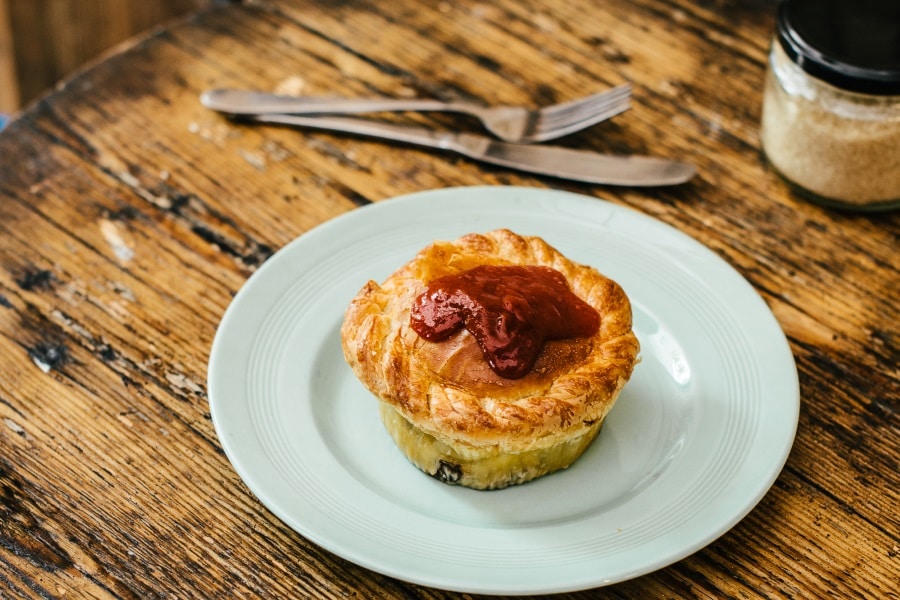 2. Infinity Bakery
Hand-layered, organic ingredients and real butter – and that's just the pastry. What the folks at Infinity Bakery pack inside their pies elevates them from merely some of the best meat pies in Sydney to truly exceptional creations. Always demanding the best ingredients and never shy to mix it up, the aromas drifting from the whitewashed walls of the flagship store in Paddington attract pastry lovers from miles around.
Address: 274 Victoria Street, Darlinghurst
Phone: (02) 9380 4320
Hours: Mon-Sun 5:30am-6pm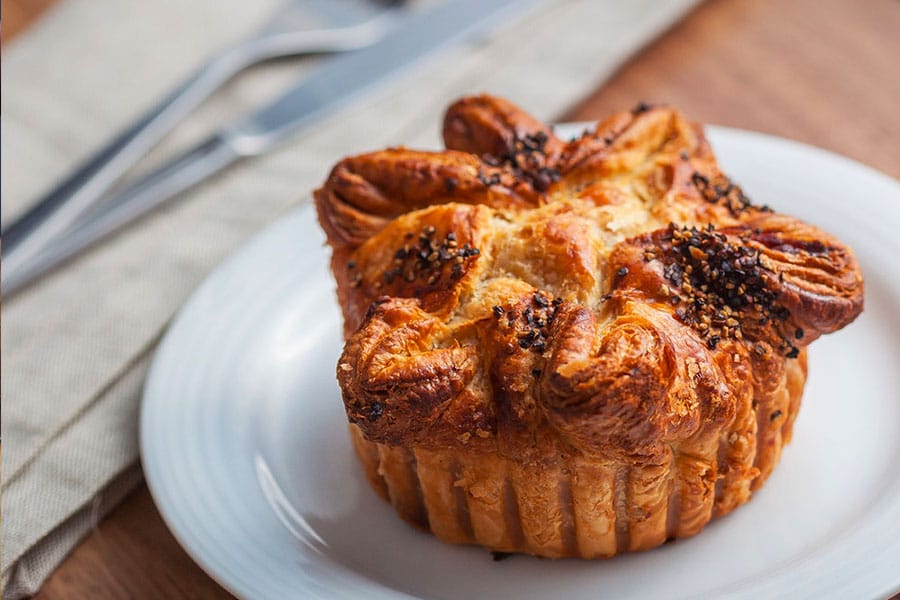 3. Black Star Pastry
Black Star Pastry has long been keeping pie-lovers weak at the knees with their lamb shank & red wine pie, often toted as Sydney's most exalted pastry offering. Yet some other members of the Black Star royal pie family – notably the kangaroo and the beer & brisket – have recently made moves to come from behind and snatch the crown for their own. If it comes to blows, we'd go to battle with these pastry titans any day.
Address: 277 Australia St, Newtown
Phone: (02) 9557 8656
Hours: Mon-Sun 7am-5:30pm
You'll also like:
31 Best Bars in Sydney for a Fun Themed Night Out
30 Best Burgers in Sydney: A Greasy Guide
15 Best Yum Cha Restaurants in Sydney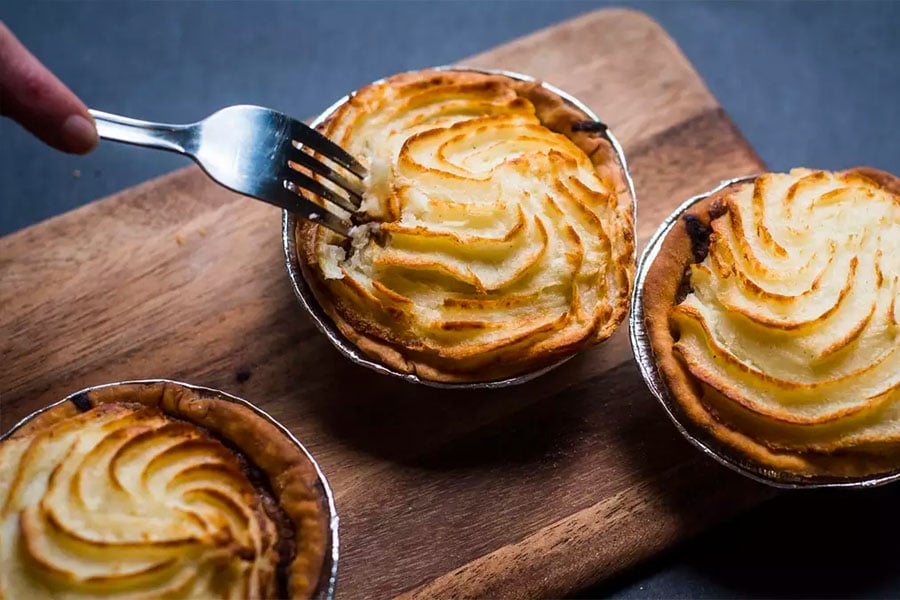 4. Bourke Street Bakery
Bourke Street Bakery has come a long way from humble origins as a rustic corner store bakery in Surry Hills. Considered one of Sydney's most iconic eateries, there are now eleven locations across the city, each remaining true to the rustic neighbourhood charm that bolstered their success. Everything is handmade with the freshest ingredients and the pies are no exception – the beef brisket, mushroom & red wine pie stands out even in this Olympian company. Bourke Street Bakery have the best meat pie Sydney has to offer.
Address: 633 Bourke St, Surry Hills NSW 2010
Phone: (02) 9699 1011
Hours: Mon-Fri 7am06pm, Sat-Sun 7am-5pm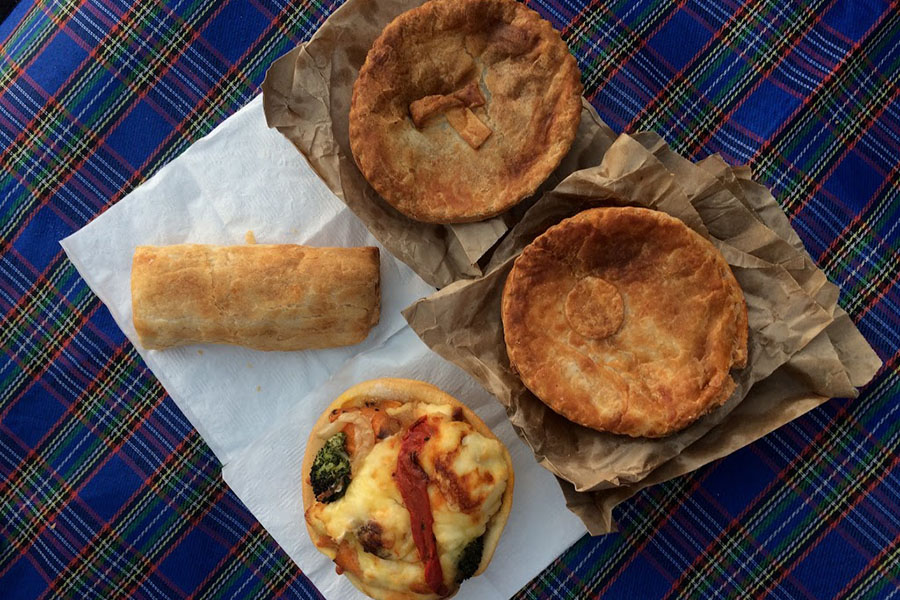 5. The Upper Crust
This culinary institution on the Northern Beaches has been refining the art of the perfect meat pie since 1948. A jaunt to Collaroy will quickly solidify your opinion of The Upper Crust as one of the best pie shops in Sydney. The menu is stacked but you'd be hard-pressed to find anyone who does the classics as well as these guys. Hook into a chunky steak if you need further convincing.
Address: 1003 Pittwater Rd, Collaroy
Phone: (02) 9971 5558
Hours: Mon-Fri 7am-5pm, Sat-Sun 7am-5:30pm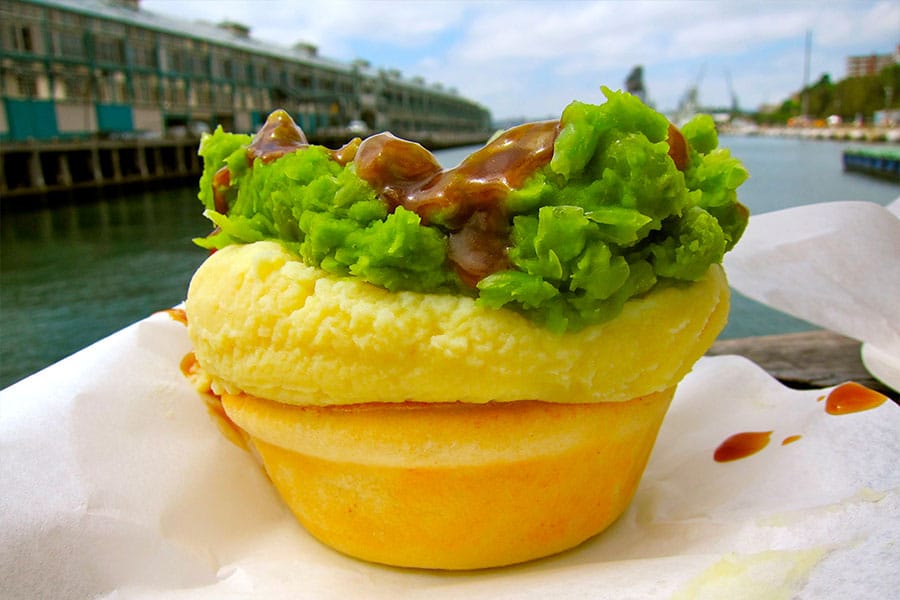 6. Harry's Cafe de Wheels
Few Aussie pie shops have made as big a splash as Harry's. The original Woolloomooloo food truck is home to Sydney's original late night feed and kept the working class fed through the depression and war years. In the 70 years since, this iconic caravan has expanded to locations across the city and still claims its signature Harry's Pie as the best meat pie in Sydney.
Address: Corner Cowper Wharf Roadway and Dowling St, Woolloomooloo
Phone: (02) 9357 3074
Hours: Mon-Thu 8:30am-1am, Fri 8:30am-2am, Sat 9am-2am, Sun 9am-1am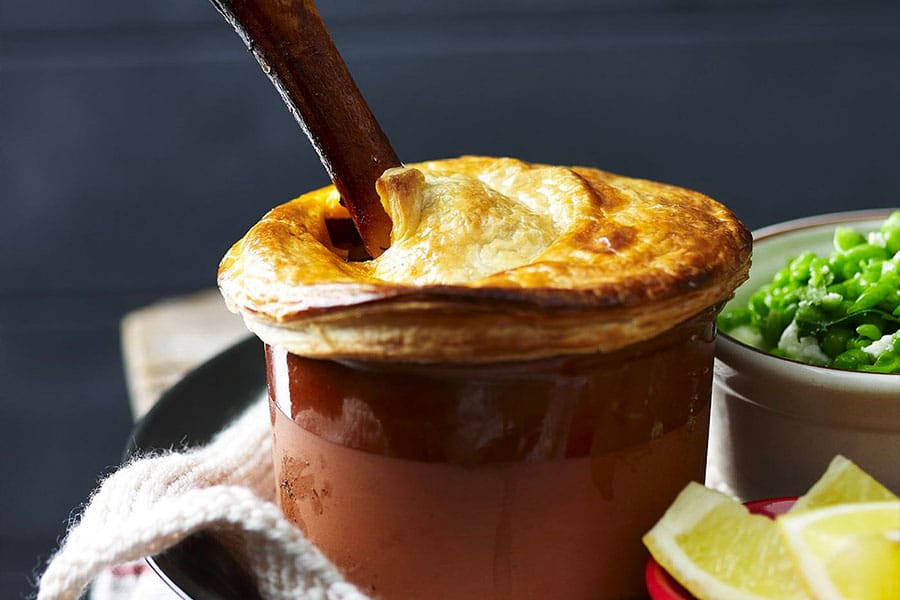 7. York 75
Sink into a Chesterfield sofa and hook into a generous meat pie at York 75, Sydney's favourite collegiate sports bar. With twenty screens to peruse, taxidermy trophies on the walls and rich mahogany furniture, it won't take long to see that this place is a big deal.
Address: 2/75 York St, Sydney
Phone: (02) 9114 7319
Hours: Mon-Tue 12pm-9pm, Wed 12pm-10pm, Thu-Fri 12pm-12am, Sat 12pm-8pm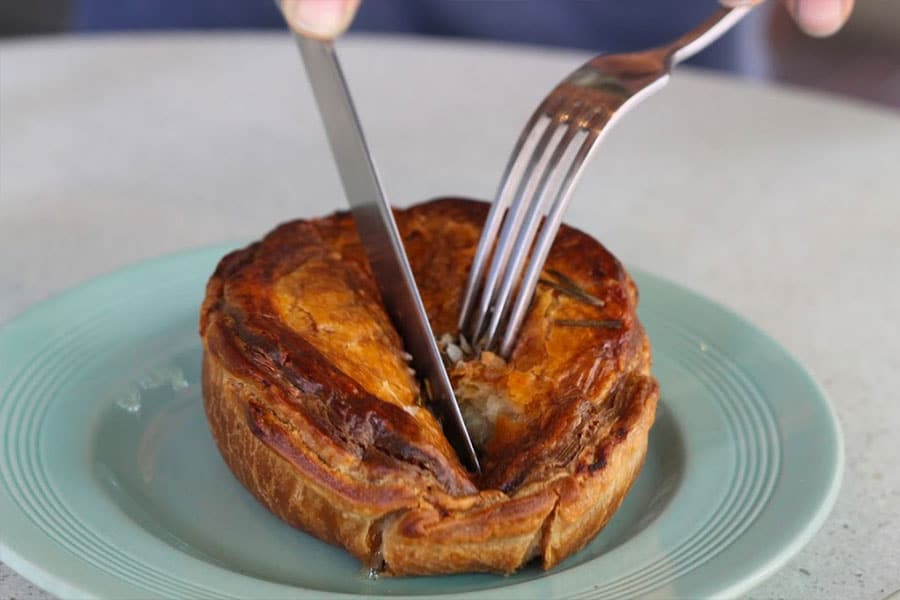 8. Flour and Stone
This inner-city bakery shimmers like a mirage on the horizon for those stranded in the doldrums of the work week. Flour and Stone offer an enormous selection of sweet goodies that somewhat overshadow the savoury offerings in terms of sheer volume. But the excellent meat pies are not to be outshone even by this enticing range of top-notch baked goods. A mid-afternoon coffee and the lamb, potato and rosemary pie on a bench in Hyde Park sounds like a pretty good deviation from the workday to us.
Address: 53 Riley St, Woolloomooloo
Phone: (02) 8068 8818
Hours: Mon-Fri 7am-4pm, Sat 8am-4pm


9. Hotel Palisade
Pull up a stool in Hotel Palisade's masterfully restored vintage public house and get a feel for Old Sydney Town as you sip on a pint of local craft beer and rip into one of the best meat pies in Sydney. Although you'll fork out a little more dough for the steak & Guinness pot pie, its tender chunks beef and rich gravy encased in flaky pastry, perched on a bed of mashed potato and topped with peas will not disappoint.
Address: 35 Bettington St, Millers Point
Phone: (02) 9018 0123
Hours: Mon-Fri 12pm-12am, Sat 11am-12am, Sun 11am-10pm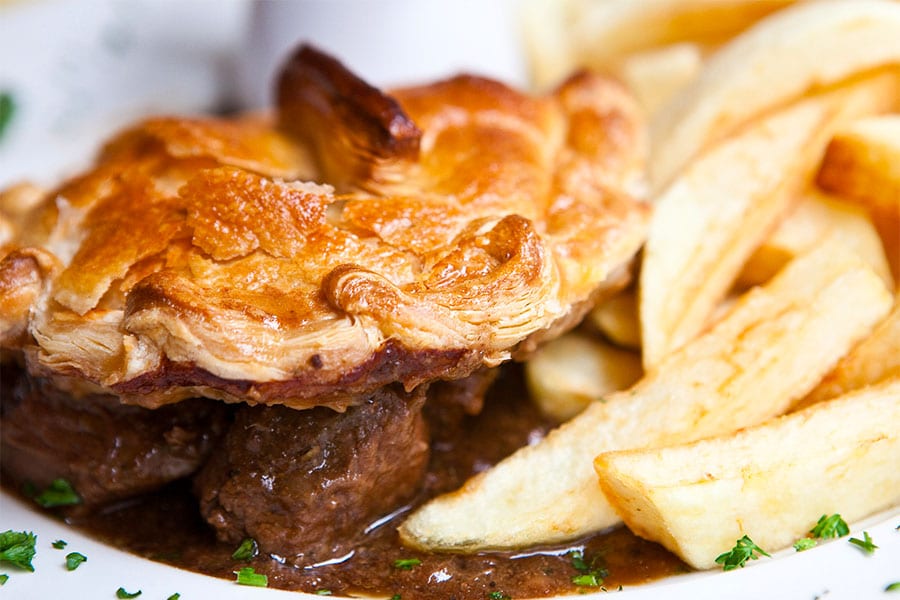 10. The SG (formerly the Spooning Goats)
What more could you ask from a Sydney pub with a dedication to sourcing Aussie booze, a name that was deemed too hard-core for the NSW liquor authority's delicate sensibilities and a fancy for Star Wars memorabilia and quirky local art? A bloody ripper meat pie, that's what – and they've got that too. Of all the reasons to visit The SG, their tasty pastries are high on that list – right behind a game of arcade Donkey Kong.
Address: 32 York St, Sydney
Phone: 0402 813 035
Hours: Tue-Fri 4pm-12am, Sat 6pm-12am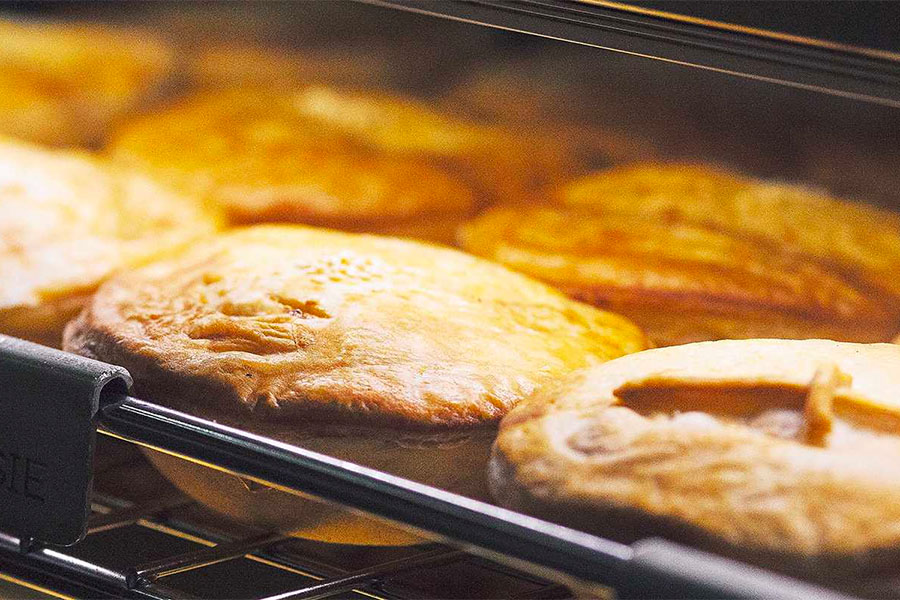 11. Glenorie Bakery
It's a big deal to claim the best meat pie in Sydney, yet Glenorie Bakery has done just that. And, they have the credentials to back it up. Their signature beef and gravy meat pie was voted no.1 in Sydney in 2007 and 2011 and heads a stellar line-up of crowd pleasers and pastry classics.
Address: 930 Old Northern Road, Glenorie
Phone: (02) 9652 2624
Hours: Mon-Fri 6am-6pm, Sat-Sun 6am-5pm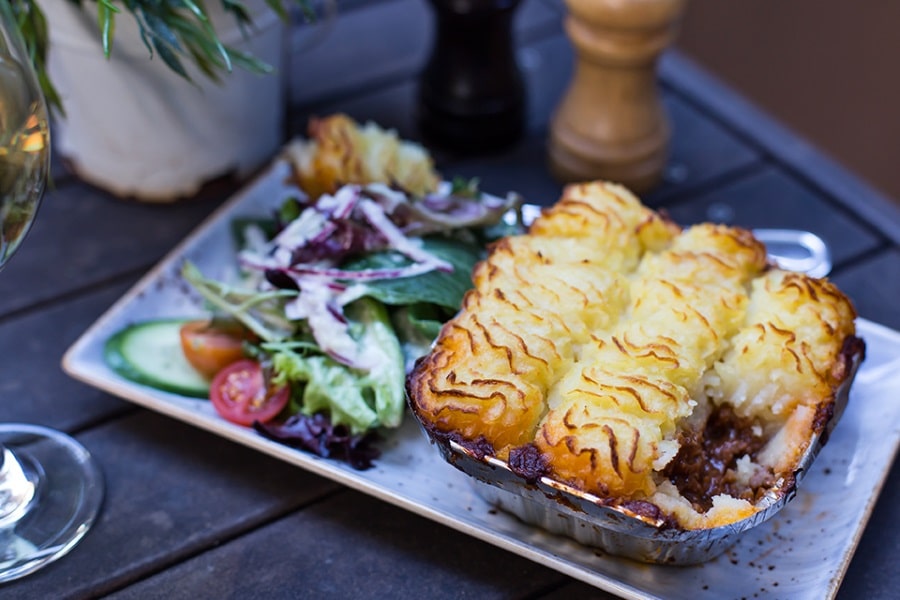 12. Rag and Famish Hotel
Famished? A hop over the harbour bridge to Rag and Famish Hotel on Sydney's North Shore is a sure-fire cure for that pie-sized hole in your appetite. A serving of salad (good for you), hot chips (that's more like it) or mash, peas & gravy (there ya go) accompany their famous crispy lid pies. Choosing between beef & Guinness, chicken & leek or cottage pie and tracking down an empty table at this busy Sydney bistro-pub will be the toughest decisions you'll face all day.
Address: 199 Miller St, North Sydney
Phone: (02) 9955 1257
Hours: Mon-Fri 10am-12am, Sat 10:30am-12am, Sun 10:30am-10pm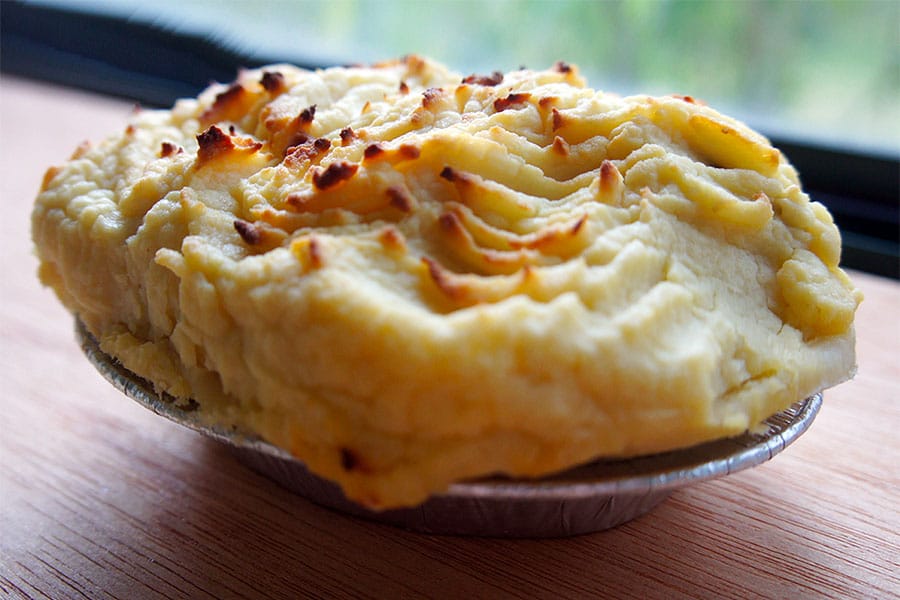 13. Pie in the Sky
Tucked into pristine bushland just outside of Sydney, Pie in the Sky Cowan is the perfect pit stop as you cruise north on the Old Pacific Highway. These no-nonsense pies are the real article. They're prepared fresh daily with locally sourced produce and pastry that's made in-house. With over 20 different beef, chicken, lamb and veggie pies to choose from, there's something to keep the whole tribe satisfied. A standout? Can't go past the beef, bacon and cheese.
Address: 1296 Pacific Hwy, Cowan
Phone: (02) 9985 7018
Hours: Mon-Fri 9am-5pm, Sat-Sun 8am-5pm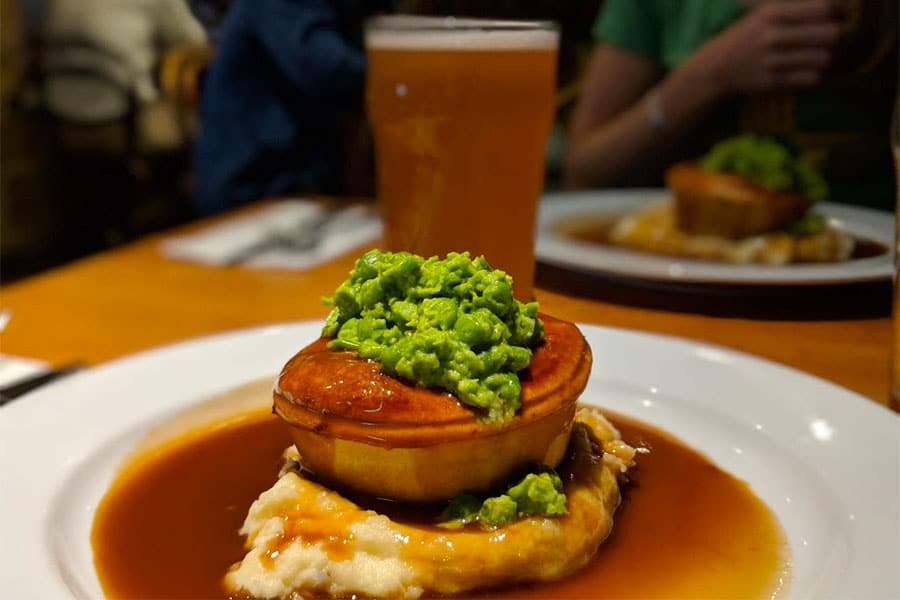 14. Lord Nelson Brewery Hotel
Sydney's oft-lauded brewpub, The Lord Nelson Brewery Hotel, serves up a helluva meat pie that pairs rather well with a cold pint of their excellent Three Sheets pale ale. There are few better places for a meal on a brisk winter's day than next to the fireplace, under the ancient ceiling beams and hand cut sandstone walls of Sydney's oldest continually licenced hotel. A setting like that, with a pie squished between mounds of mashed peas and potato and swimming in gravy and a tall beer, is hard to beat.
Address: 19 Kent St, The Rocks
Phone: (02) 9251 4044
Hours: Mon-Sat 11am-11pm, Sun 12pm-10pm

15. Hannah's Pies
If Hannah's Pies look a little familiar, chances are you've encountered them before under a different guise. These guys are the sole suppliers to Harry's Café de Wheels, so it's fair to say they have their pastry game on lockdown. Alongside this gargantuan task, they also operate a corner pie stand in Ultimo where punters can get their very own "Tiger", straight from the source.
Address: 562 Harris St, Ultimo
Phone: (02) 8346 4100
Hours: Mon-Fri 7:30am-7pm, Sat 9am-7pm, Sun 10am-6pm
You'll also like:
31 Best Bars in Sydney for a Fun Themed Night Out
30 Best Burgers in Sydney: A Greasy Guide
15 Best Yum Cha Restaurants in Sydney
General FAQ
Where's the best meat pie in Sydney?
Some of the best meat pie in Sydney can be found at The Pie Tin, Infinity Bakery, Bourke Street Bakery, The SG, Hotel Palisade, Rag and Famish Hotel, The Upper Crust, York 75, Flour and Stone, and Lord Nelson Brewery Hotel, to name a few places.
What are the ingredients for Australian meat pie?
While exact recipes will vary depending on things like chef and location, you can typically expect Australian meat pie to contain the following ingredients: egg, flour, onion, tomato sauce, shortcrust pastry shell, beef, salt, and Worcestershire sauce.
Where can I get meat pie in Sydney late at night?
Sydney's Hotel Palisade and Rag and Famish Hotel respectively serve some of the best meat pie in town. Both locales are open until midnight from Monday to Saturday and until 10pm on Sundays. The SG aka Spooning Goats is also open until midnight from Tuesday to Saturday.