Looking for the best ribs in Sydney? You've come to the right place. While ribs may be an inexpensive cut of meat compared to their showy cousins like pork loin and rib-eye, cooked correctly, there isn't a better cut of meat; tender, juicy and incredibly moreish.
And, in recent years, Sydney has emerged as a city where diners can find delicious barbecue ribs in abundance; which means rib enthusiasts don't have to look too far to find perfectly slow-cooked ribs or succulent brisket. Inspired by the great Southern states in the USA, Australian restaurants have fine-tuned the art of cooking ribs.
The good news… you no longer have to travel to the other side of the world to eat traditional Texan, Louisianna or Kansas barbecue ribs; the best ribs in the world can be found right here anywhere in the City.
Our list of the 16 Best Ribs in Sydney will help you to end your hunger and fantasy for tasty BBQ ribs.
With many specialising in traditional American grilling and smoking techniques, authenticity and accuracy to old-fashioned ribs are what these places do best. We have also thrown in a few options, from modest to fine dining, and some that have a South American or Asian spin on one of the carnivore's favourite meals.
You'll also like:
12 Best Japanese Restaurants in Sydney
15 Best Yum Cha Restaurants in Sydney
19 Best Steak Restaurants in Sydney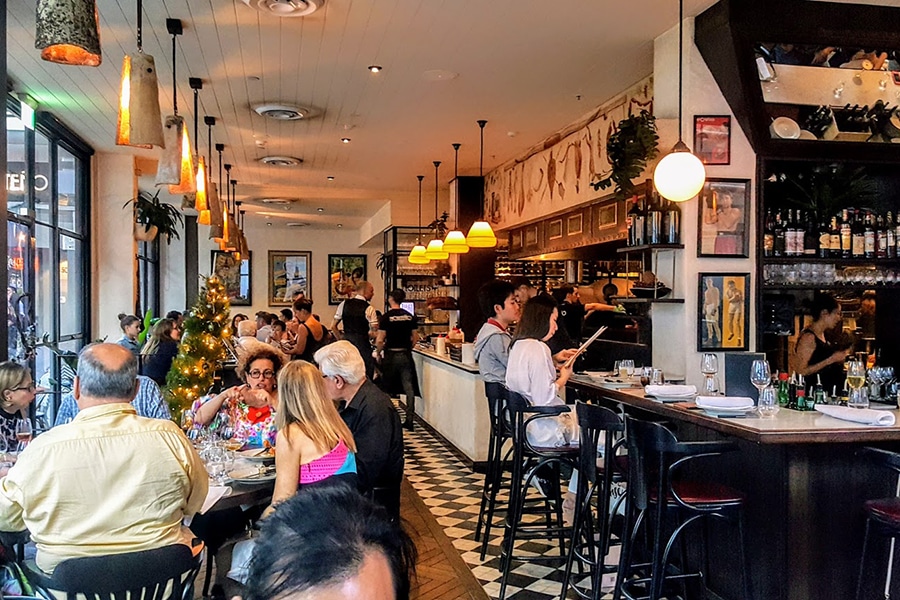 1. Porteño
When it comes to authentic South American cuisine, Porteño is ahead of the pack. Opening its doors in 2006, the team introduced Sydney to their love of Argentinian food and wine with their first restaurant Bodega It became an icon of the Sydney restaurant scene, along with the unapologetic and frenetic beats and shared meals. The grand Porteno and Gardel's Bar on Cleveland Street opened in 2010, introducing Australia to the Asado (pit of fire) and Parilla (Barbecue). In 2016, Bodega 1904 was opened in the historic Tramsheds in Forest Lodge and Porteno relocated to Holt St Surry Hills. Porteno fuses together some of the finest ribs available with traditional and spices and sauces, cooked on a traditional Parilla or Asado. Brought to you by a friendly and passionate staff, these meals are best enjoyed with a flavourful red wine. Ooh, so magnifico; a genuine contender for the best ribs in Sydney.
Address: 50 Holt Street, Surry Hills NSW 2010
Phone: +61 2 8399 1440
Trading hours: Tue-Thu & Sat 6pm-12am; Fri 12pm-4pm, 6pm-12am
2. Rockpool Bar and Grill
A Sydney Morning Herald Good Food Guide Two Hats winner from 2009-2019, Rockpool Bar and Grill, has earned its reputation as one of the finest restaurants in Australia. Located in the heart of Sydney and situated in the sensational City Mutual Building – a 1936 Emil Sodersteen-designed American-style art deco skyscraper – Rockpool offers a simple and uncomplicated dining experience. Chef Neil Perry serves up a modern Australian menu, with ingredients that are carefully sourced from only the best producers in the industry; you'll be sure to have an exquisite rack of ribs here. We encourage you also to ask the staff which wine would be best paired with your meal because the wine list here is one of the best in Australia.
Address: 66 Hunter Street, Sydney NSW 2000
Phone: +61 2 8099 7077
Trading hours: Mon-Wed 12pm-3pm, 6pm-10pm; Thu-Fri 12pm-3pm, 6pm-11pm; Sat 5:30pm-11pm; Sun 6pm-10pm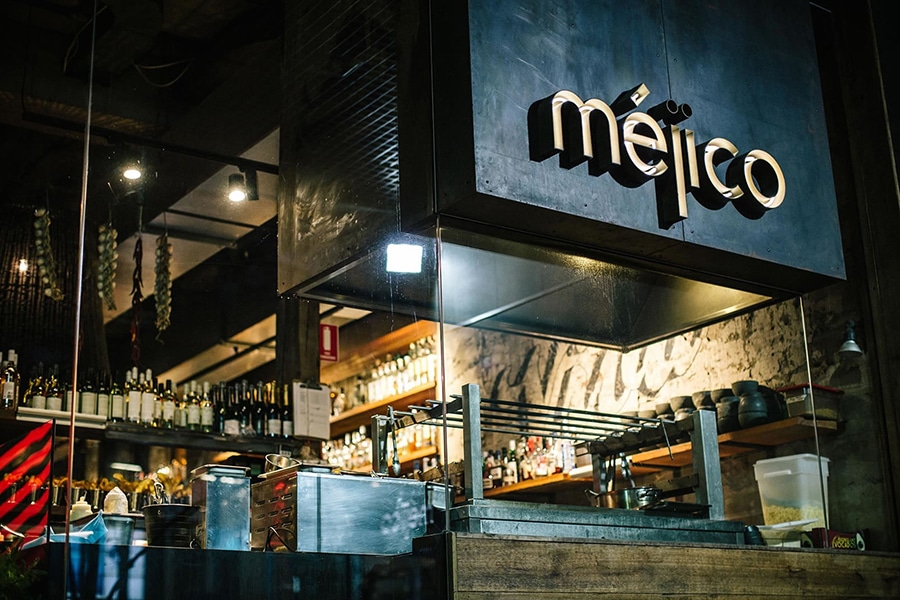 3. Méjico
From the market to the table, is the Méjico pledge, ensuring delivery of the freshest and most delicious modern and innovative Mexican food to Sydney. The restaurant is perhaps the best way you are going to experience Mexican culinarily inspired ribs outside of México. Along with freshest produce, Mejico's emphasis is on providing fiery meals, containing regional flavours and techniques. If the tantalizing grill isn't enough to draw you in, perhaps the restaurants bar offering up to 250 varieties of tequila will. Don't say we didn't warn you.
Address: 105 Pitt Street, Sydney NSW 2000
Phone: +61 2 9230 0119
Trading hours: Mon-Fri 11:30am-10:30pm, Sat 12pm-10:30pm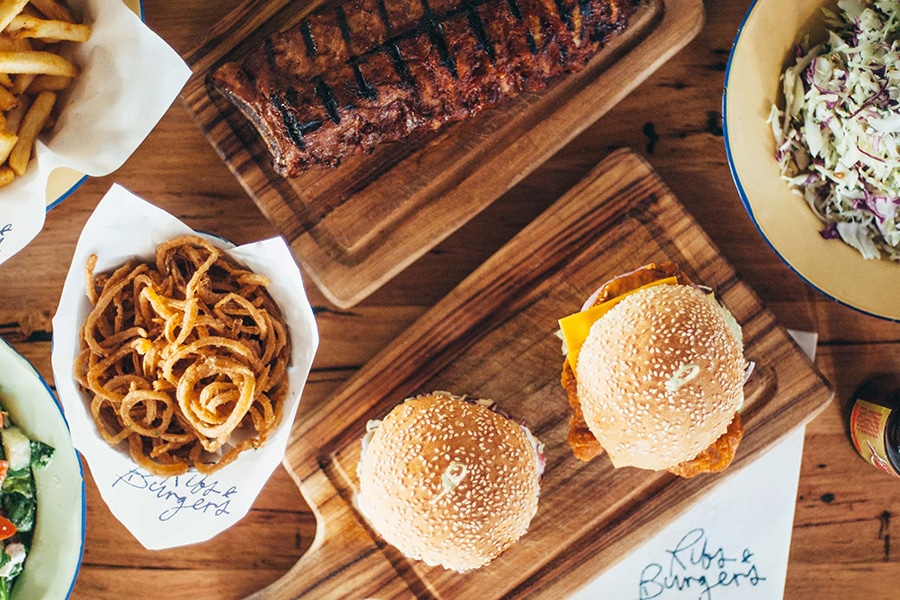 4. Ribs and Burgers
Offering customers', a warm almost home-like atmosphere in their restaurants, Ribs and Burgers focus on what they do best…Ribs and Burgers. The team has a strong background in butchery and frustrated with seeing too many rib joints improperly preparing and serving this exceptional cut of meat, Ribs and Burgers was born. It began with a simple aim, to offer boutique-style quality beef without an exorbitant price tag or lengthy waits. The sounds of the grill crackling greet patrons as they walk through the door. The aroma of succulent ribs being slow-cooked for 8 hours to ensure the meat is cooked in its own juices for a stronger natural flavour will be sure to get your mouth watering. Ribs and Burgers use a decades-old secret family recipe which brings out the best in the meat, finishing it off over a flame for the most tender ribs you've ever had.
Address: 88 George Street, Sydney NSW 2000
Phone: +61 2 9251 4488
Trading hours: Sun-Thu 11am-9:30pm, Fri-Sat 11am-10pm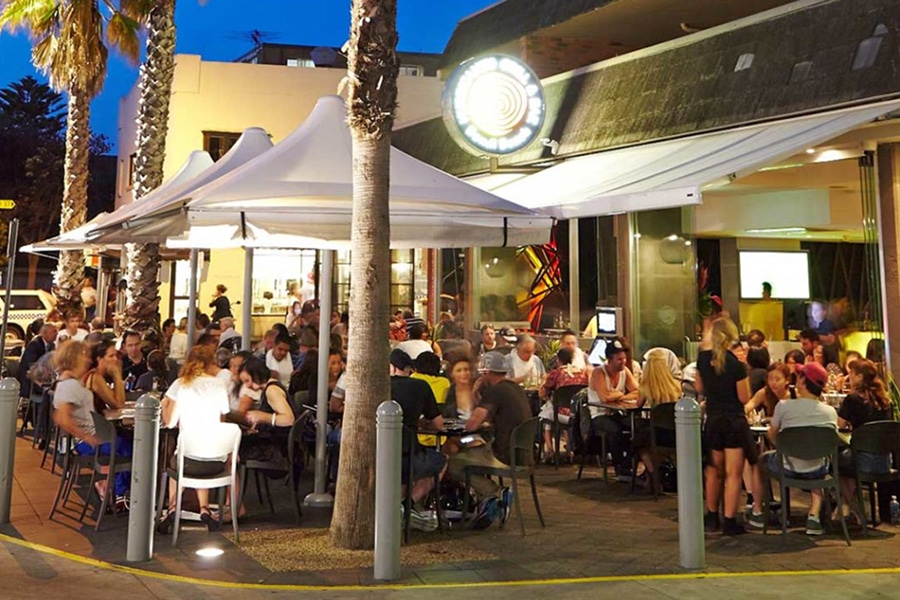 5. Hurricane's Grill
Since 1994, Hurricane's Grill has been firing up the barbecue and providing both Sydney and the world with some of the finest grilled meats known to man. Hurricane's famous ribs are grilled on an open fire in their delicious signature basting. It is served with various sides, such as chips, baked potato (with or without garlic), rice, house slaw, and sweet potato chips.  This is not the place for moderation, we wholeheartedly encourage you to enter on an empty stomach, you'll need it. The Rib platter, for instance, is a true challenge, do you accept?
Address: 130 Roscoe Street, Bondi Beach NSW 2026
Phone: +61 2 9130 7101
Trading hours: Mon-Sun 12pm-10pm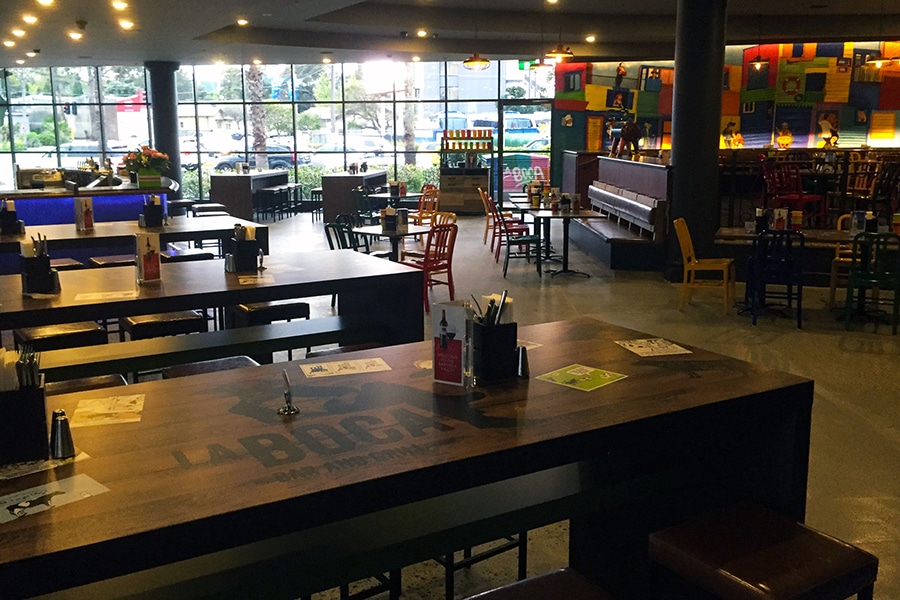 6. La Boca
Featuring the wood-fired Parilla at its heart, the traditional Asado cooking style and celebrated Argentinian flavours, La Boca (Formerly Boca restaurant, Darlinghurst) offers a sublime, vibrant culinary journey. The colourful vibe, funky murals, and great tasting wood-fired grill flavours – using Australian Red Gum and Argentinian charcoal -set the scene for a unique Argentinian dining experience in Sydney. La Boca Bar and Grill Sydney is located at Stamford Plaza Sydney Aiport hotel at Mascot.
Address: 241 O'Riordan Street, Mascot NSW 2020
Phone: +61 2 9317 1680
Trading hours: Mon-Fri 5am-10am, 12pm-10pm; Sat-Sun 5am-10:30am, 12pm-10pm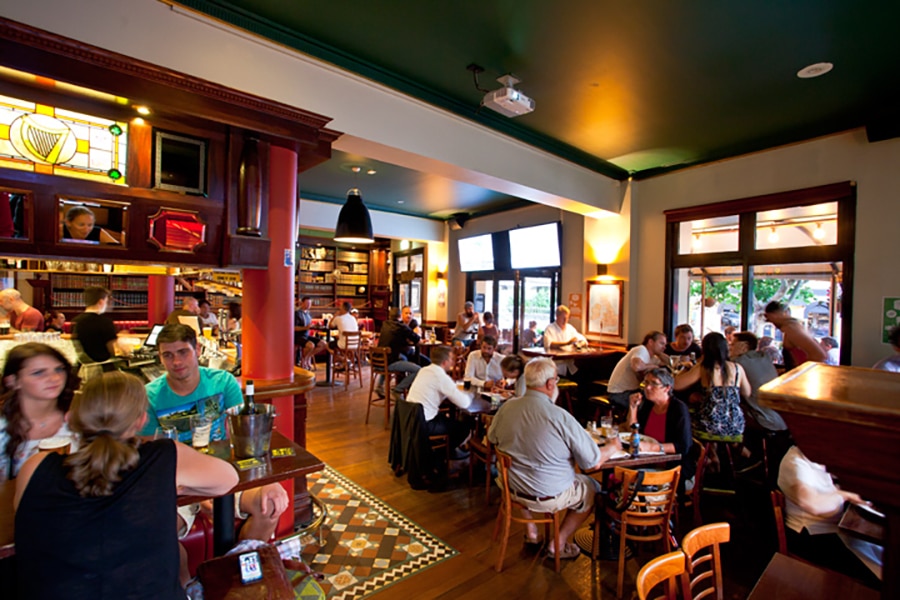 7. Trinity Bar
Since 1882, this Surry Hills staple has been a meeting place for multiple generations of food-loving Sydneysiders. With meals fit for both a king and queen, Trinity Bar prides itself not only on its menu but also on its history. Focusing on traditional pub food options, the sticky lamb ribs are a must-try for any grilling aficionado; 500g of pure heaven, drenched with honey hoisin sesame, shallots, chilli, slaw, and lemon, served with a choice of delicious sauces.
Address: 505 Crown Street, Surry Hills NSW 2010
Phone: +61 2 9319 6802
Trading hours: Mon-Sat 10am-12am, Sun 12pm-10pm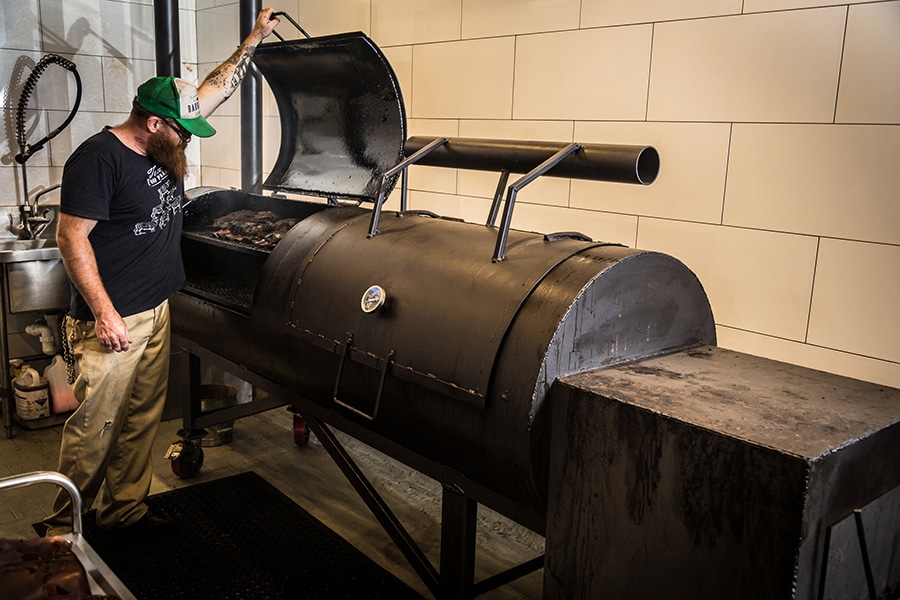 8. Bovine and Swine
Smokey taste is what sets Bovine and Swine apart from the rest; and, these restaurateurs take it very seriously. So much so that the smoking of all their meats begins at 5 am every day. Low and slow ensures that you are provided with some of the most flavourful ribs known to Sydney, just how they like it in Texas. Whether you are interested in the Bovine or Swine variety, an excellent Texas-style barbecued meal in Greater Western Sydney is certain.
Address: 95 Great Western Hwy, Emu Plains NSW 2750
Phone: +61 2 4735 1547
Trading hours: Fri-Sun 12pm-9pm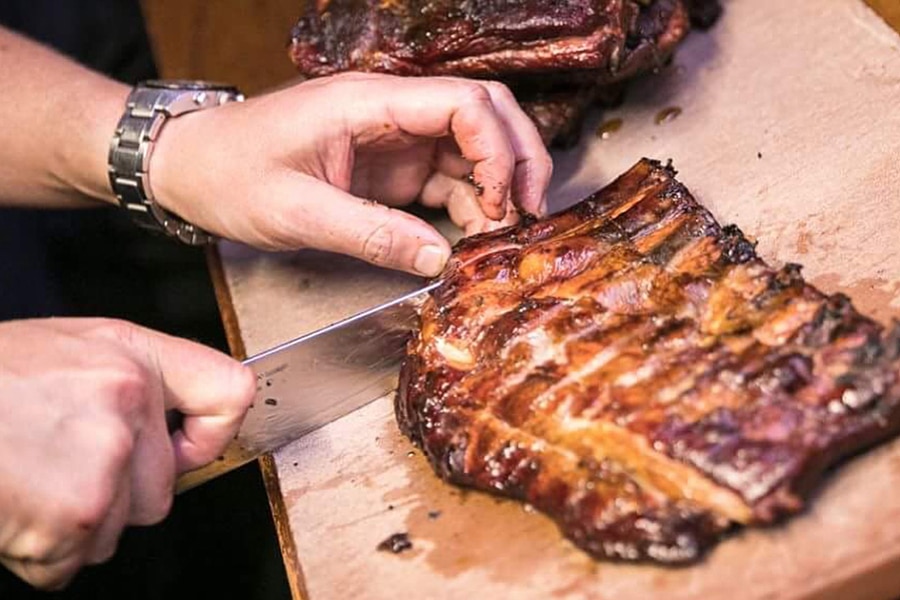 9. Surly's
Anyone who has visited Nashville in the excited states of America knows that you will be constantly in close vicinity to excellent barbecued meals. What Surly's has done is brought this same desirable style of cuisine to you. The attention to detail is so important to the staff that all its cooking is done from the Ole Hickory, a famous commercial fire-box smoker flown in straight from America. Surly's specialises in burgers and subs; but,  also serves up hearty plates of beef brisket, chicken thighs and pulled pork – all smoked in-house over wood – accompanied by an epic range of local boutique beers and a wide variety of cocktails.
Address: 182 Campbell Street, Surry Hills NSW 2010
Phone: +61 2 9331 3705
Trading hours: Mon-Thu 5pm-12am, Fri-Sat 12pm-12am, Sun 12pm-10pm

10. Vic's Meat Market
Vic's Meat Market began as a pop-up at their Vic's Quality Meat facility in Mascot and grew quickly. Today, Vic's Meat Market has a store at the Sydney Fish Market, providing customers with a unique offering. The Smokehouse Grill provides diners with meats direct from the butcher to the chef. Renown for providing some of the best meat producers in Australia, many of whom have been both nationally and internationally recognised for the quality of their produce, dedication, and innovation. Vic's smoker was custom built in Kansas, USA and is the largest custom smoker in the country. The flavours that the 2-tonne smoker produces is something that is out of this world. Holding up to 200 kilograms worth of meat and living on a diet of Ironbark, this smoker means business. Like most things, it takes time but, it's worth it.

Address: 50-60 Bank Street, Pyrmont NSW 2009
Phone: +61 2 8570 8570
Trading hours: Sun-Wed 7am-4pm, Thu 7am-7pm, Fri 7am-5pm, Sat 7am-5pm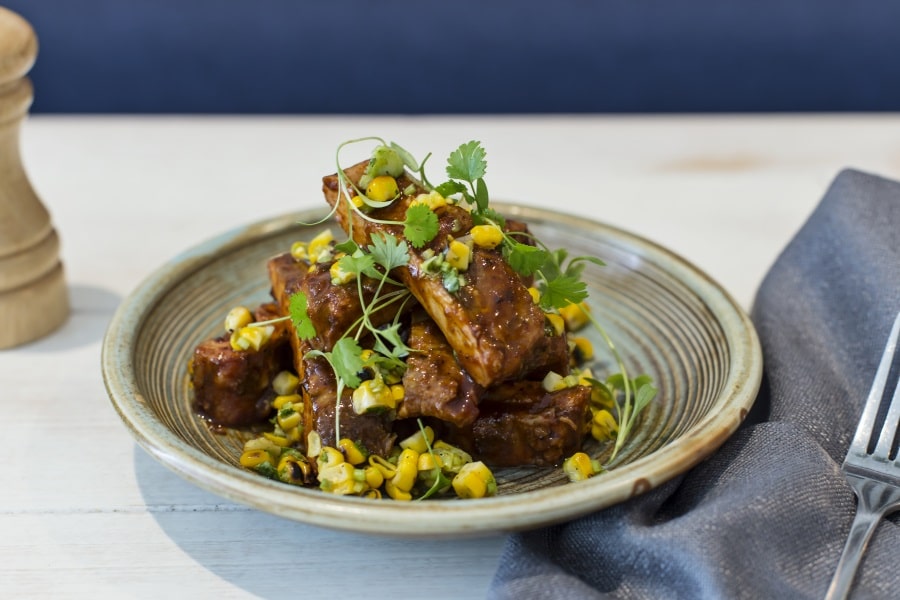 11. NOLA Smokehouse and Bar
The rich culinary history of New Orleans makes for a melting pot of cuisines including French, Spanish, Mexican, South American, and North Africa, to name a few. Rather than just focus on Cajun and Creole, the food menu at NOLA Smokehouse and Bar has its very own contemporary twist on the dishes, spices, and flavours from these countries and cuisines. With breathtaking views over Jones Bay Wharf, located in Sydney's newest precinct, Barangaroo, NOLA takes a contemporary approach to classic flavours. Paired with Southern hospitality, American Whiskeys, and wine, this is a rib restaurant in Sydney worth checking out.
Address: 100 Barangaroo Avenue, Barangaroo South, NSW 2000
Phone: +61 2 9188 3039
Trading hours: Mon-Thu 11:45am-1am, Fri 11:30am-1am, Sat 4pm-1am, Sun 11:45am-6pm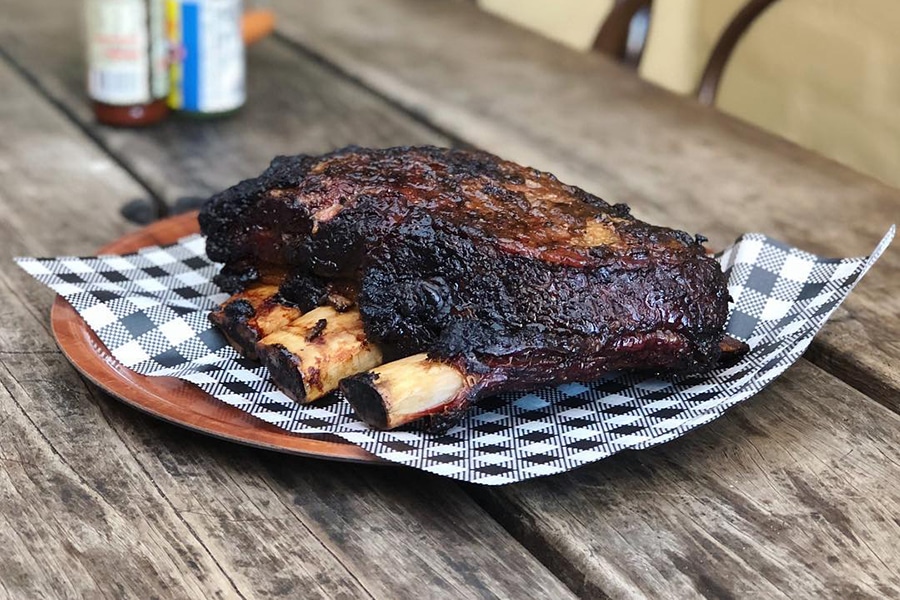 12. The Oxford Tavern
A jewel in the crown of Sydney's inner-west. When visiting The Oxford Tavern, you are met with a no-nonsense approach to cooking. With House-smoked barbecued ribs. Taking place every weekend is Black Betty's BBQ, with meats that are smoked up to 18 hours to provide optimal flavour. Additionally, a menu abounds with other Southern U.S. culinary choices and some sublime cocktails are much appreciated. The menu includes beef brisket, pulled pork, and a delicious cola glazed beef short rib served with creamy polenta with sides and a dijon and tarragon sauce.
Address: 1 New Canterbury Road, Petersham NSW 2049
Phone: +61 2 9357 5455
Trading hours: Mon-Thu 12pm-12am, Fri-Sat 12pm-3am, Sun 12pm-10pm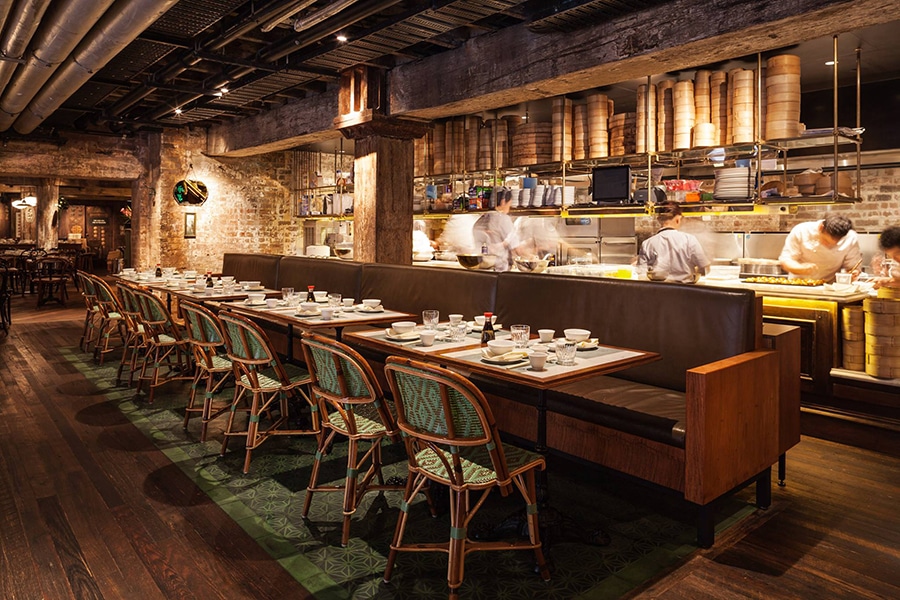 13. Mr Wong
At Mr Wong's, Cantonese-style flavour takes centre stage with all their meals, their ribs in particular. Cooked in the traditional Shandong-style – soy, chilli, and shallot dressing – the Angus short ribs are spicy and oh so memorable. We encourage you to come along to Mr Wong's to experience the Chinese spin on delicious ribs. Seating 240 diners over 2-levels, Mr Wong still maintains an intimate feel, with nooks for romantic dinners for two, mood lighting and moody jazz. Offering up a selection of up to 80 dishes, it caters to all taste buds. A genuine contender for best ribs Sydney wide.
Address: 3 Bridge Lane, Sydney NSW 2000
Phone: +61 2 9114 7317
Trading hours: Mon-Wed 12pm-3pm, 5:30pm-11pm; Thu-Fri 12pm-3pm, 5:30pm-12am; Sat 10:30am-3pm, 5:30pm-12am; Sun 10:30am-3pm, 5:30pm-10pm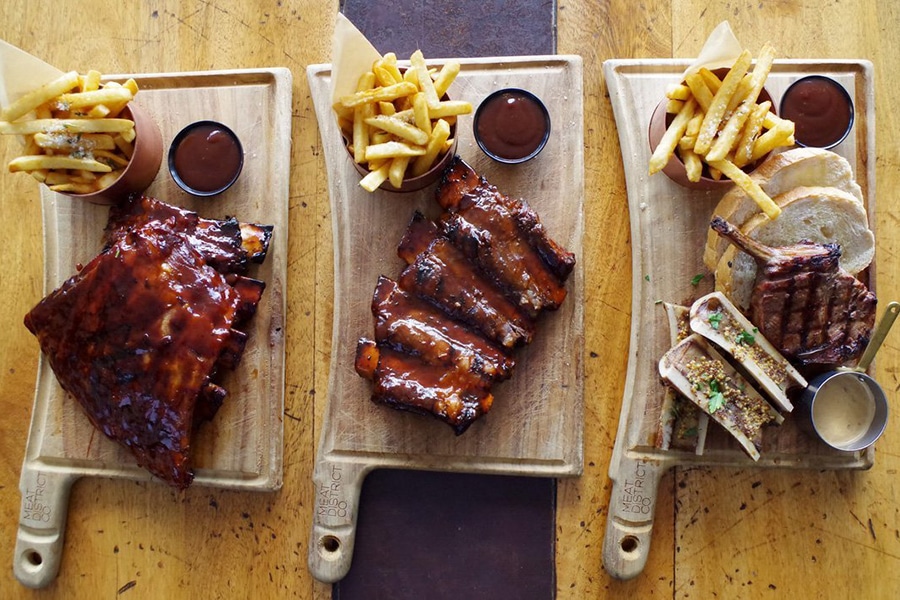 14. Meat District Co.
You know you are in for a satisfying time when you visit the Meat District Co. Providing Sydneysiders with some of the best ribs in Sydney City is no easy feat, and it is something that this establishment takes very seriously. The company tagline is "Ribs Burges Beer", and this rib restaurant in the Darling Harbour certainly delivers on their promise. All of the beef used is locally sourced, all-natural, grass-fed Australian beef, free from hormones, steroids, and antibiotics. Not only is there plenty of beers on tap and bottles, but there is also an impressive cocktail menu to boot.
Address: 11 Lime Street, Sydney NSW 2000
Phone: +61 2 9299 9762
Trading hours: Sun-Thu 11:30am-10pm, Fri-Sat 11:30am-10:30pm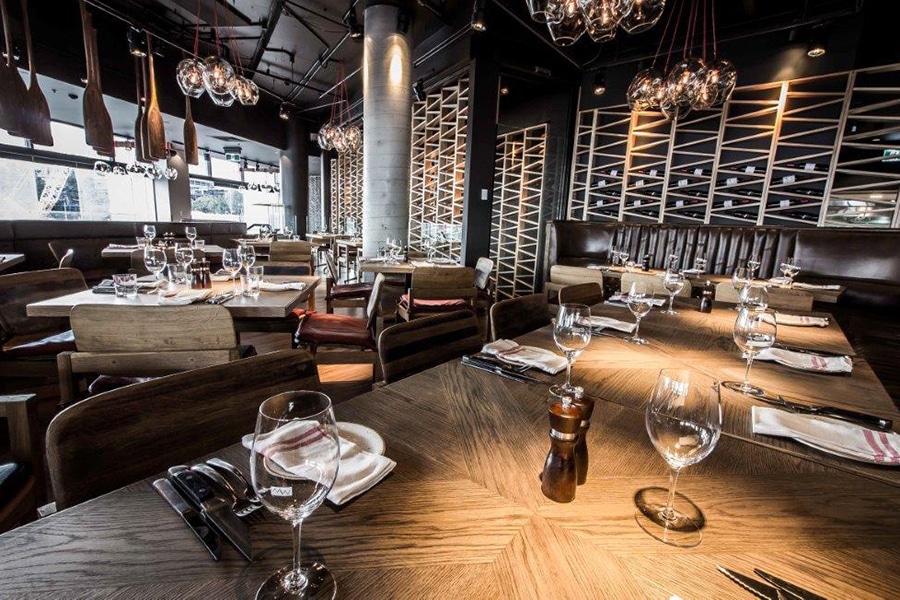 15. The Meat & Wine Co.
Serving world-class produce – including the exclusive line of Monte Beef – The Meat & Wine Co menu is designed from paddock to plate. Beef and pork ribs are slow-cooked and finished on a flaming hot char-grill with a signature, African-inspired basting. The team strives to create an esteemed and dynamic dining experience dedicated to their African heritage. Pairing with Australia's most unique wines from favourite award winners to under-rated and boutique wineries, they are sure to tantalize even the most discerning guests.
Address: r3/11 Lime St, Sydney NSW 2000
Phone: +61 2 9299 9762
Trading hours: Sun-Thu 11:30am-10pm, Fri-Sat 11:30am-10:30pm
16. Manly Grill
Located right in the heart of the famous and picturesque beachfront of Manly, Manly Grill is a local icon and renowned for serving up a sizeable rack of ribs. Whether you are interested in Beef, Pork or Lamb varieties, they've got you covered, brought to you alongside delicious sides all while you enjoy the panoramic views of the beautiful Manly Beachfront.
Address: Shop 1, 30-31 South Styne, Manly NSW 2095
Phone: +61 2 9977 0997
Trading hours: Mon-Tue 11:30am-9pm, Wed-Thu 11:30am-9:30pm, Fri-Sat 11:30am-10pm, Sun 11:30am-9:30pm
You'll also like:
12 Best Japanese Restaurants in Sydney
15 Best Yum Cha Restaurants in Sydney
19 Best Steak Restaurants in Sydney
General FAQ
What are the best store bought ribs?
You should try ALDI's Slow Cooked Smoky BBQ Pork Ribs.
What are the most tender beef ribs?
Back ribs are more tender and meaty than side ribs, but you should know they're also more expensive.