10 Best Day Trip Ideas from Melbourne
If you keen to take a day trip from Melbourne, you're in luck. From the magnificent glistening rainforests inland to the cool breeze and golden sands of Melbourne's ionic coastal beaches, Victoria really has it all. Just an hour or two from the CBD, you can immerse yourself in the traditions of historic townships, watch wild penguins and koalas in their natural habitats or treat yourself to a gastronomic journey of Victoria's local wineries, breweries, and acclaimed restaurants. Fancy a getaway? You don't need an excuse, but if you do, we have plenty. Check out our selection of the top day trip ideas from Melbourne.
You'll also like:
12 Best Glamping Spots Near Melbourne
100 Fun Things To Do in Melbourne
25 Best Camping Spots in Victoria for a Scenic Getaway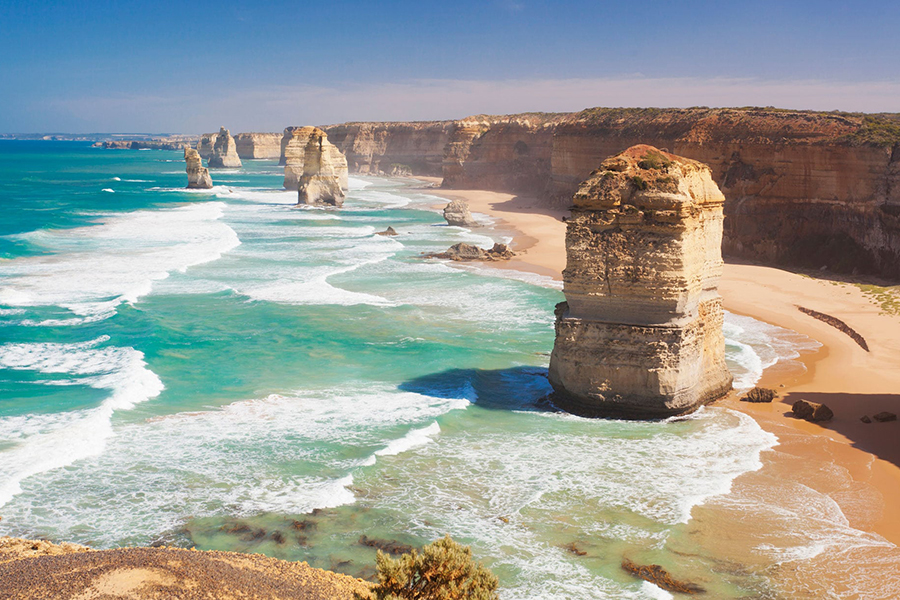 1. Great Ocean Road
Widely recognised as one of the world's most scenic coastal drives, The Great Ocean Road is home to lush rainforests, native wildlife, incredible surf breaks, and some of the region's finest gourmet food and wine. For fans of golden sands and fresh clear waters, make a stop at Lorne, Apollo Bay or Torquay (home to the Rip Curl Pro Surf Championships), then continue along the coastal path to the unmissable attractions of the 12 Apostles and Loch Ard Gorge. For those who love an adventure, head inland to the Otway National Park where you'll soon find yourself surrounded by lush ferns and dense eucalyptus forest, here you can spot koalas in the gum trees or hike down to some of the area's most beautiful waterfalls. A truly majestic trip.
Length: 243 km
West end: Princes Highway, Allansford, Victoria
East end: Surf Coast Highway, Torquay, Victoria
Former route number: State Route 100
Route number(s): B100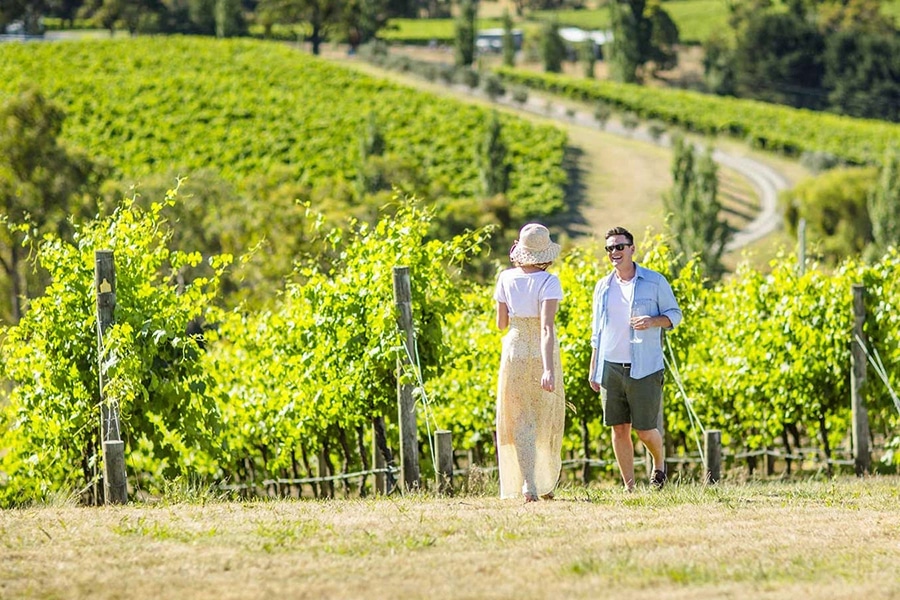 2. Yarra Valley Wine and Wildlife
The Yarra Valley may be best known for its wineries, but do not be fooled into thinking that is all this outstanding region has to offer. Animal lovers should visit Healesville Sanctuary, to see koalas, kangaroos, wombats, and a plethora of incredible native birds. For art lovers, there's the stunning TarraWarra Estate, which houses a wonderful art museum showcasing the work of lots of acclaimed Australian artists and an amazing modern restaurant, which uses produce grown by local suppliers. Of course, if wine is what you are after, you're in the right place… check out Domaine Chandon, one of Australia's top producers of sparkling wine, or Innocent Bystander for a tasting of their range of wickedly delicious local wines. If you've only got a few hours spare, heading to the Yarra Valley can be the perfect day trip out of Melbourne.
Distance from Melbourne: 25km
To do: Wineries, wildlife parks, adventure, art tours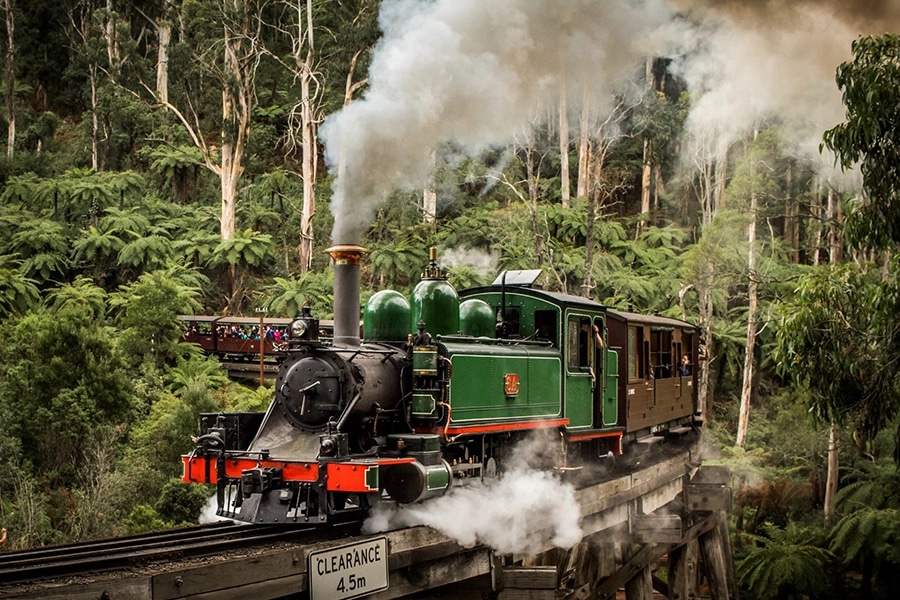 3. Dandenongs
About 40km east of Melbourne, you'll find yourself immersed in the glorious gardens and epic woodlands of the Dandenongs. The beautiful scenery and charming villages offer a perfect escape from city life. Head to the quaint historic town of Belgrave to take a trip back in time, on Puffing Billy, the 100-year-old steam train that takes you through the region's towering forests while enjoying a traditional 'Billy Tea'. Or hike through the rainforests into the Sherwood Forest and-feed native birds at Grants Picnic Ground where you can get up close to cockatoos, kookaburras and rosellas. One of the best day trips Melbourne locals can get out and enjoy.
Distance from Melbourne: 40km
To do: Hike, wildlife
Elevation: 633 m
Highest point: Mount Dandenong
Types of rock: Igneous rock, Sedimentary rock, Metamorphic rock
Mountains: Mount Dandenong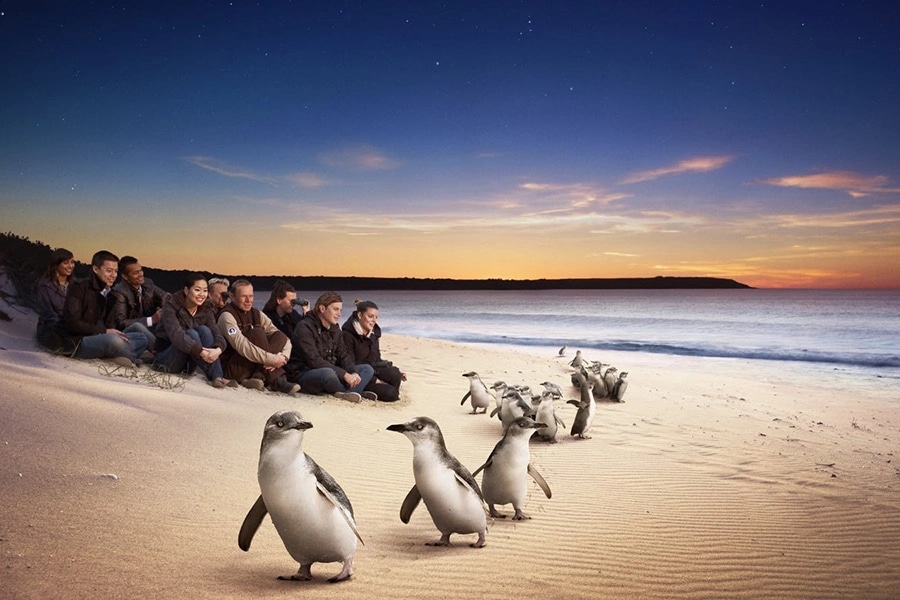 4. Phillip Island Penguin Parade
If you are a lover of wildlife, this is one of the best day trips you can do in Melbourne and certainly the most unique. Leave the city early and head towards the small fishing village of San Remo, get there before midday to watch the daily feeding of local pelicans and stingrays and maybe grab a bite to eat. From here cross the iconic bridge to Phillip Island, where you can spend the day exploring the rugged cliffs of Cape Woolamai, with its striking pink granite outcrop and golden bays of sand. The Penguin Parade will finish your day with a smile, settle in to watch hundreds of little penguins come ashore onto the beach after a day swimming at sea. This really is nature at its most exclusive and a sight you will never forget.
Distance from Melbourne: 142km
To do: Swim, wildlife, fish, food trails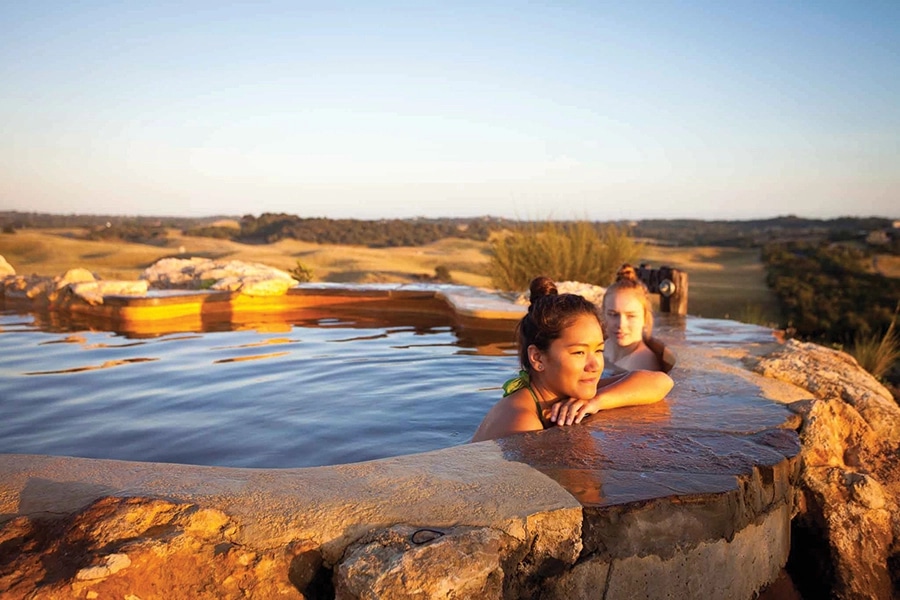 5. Mornington Peninsula
Picturesque seaside villages, superb wineries, and its incredible restaurants make the Mornington Peninsula a fantastic destination for a day trip, all year round. About a 90-minute drive from Melbourne you will reach some of Victoria's most celebrated wineries. Ten Minutes by Tractor is a great stop for wine tastings and has an acclaimed restaurant for a superb lunch. Drive down the coast for stunning views across the ocean, and paddle in the secluded bays. After all that sightseeing (or wine!) head to the Peninsula Hot Springs, to recharge and revitalise in the outdoor thermal mineral baths. Treat yourself to a relaxing massage at the onsite spa or turn your day trip into an overnight stay and book in for an incredible glamping experience, with onsite accommodation boasting private decks with views over the hot springs and even luxury en suite bathrooms!
Distance from Melbourne: 45km
To do: Camp, relax, wildlife tours, wineries, breweries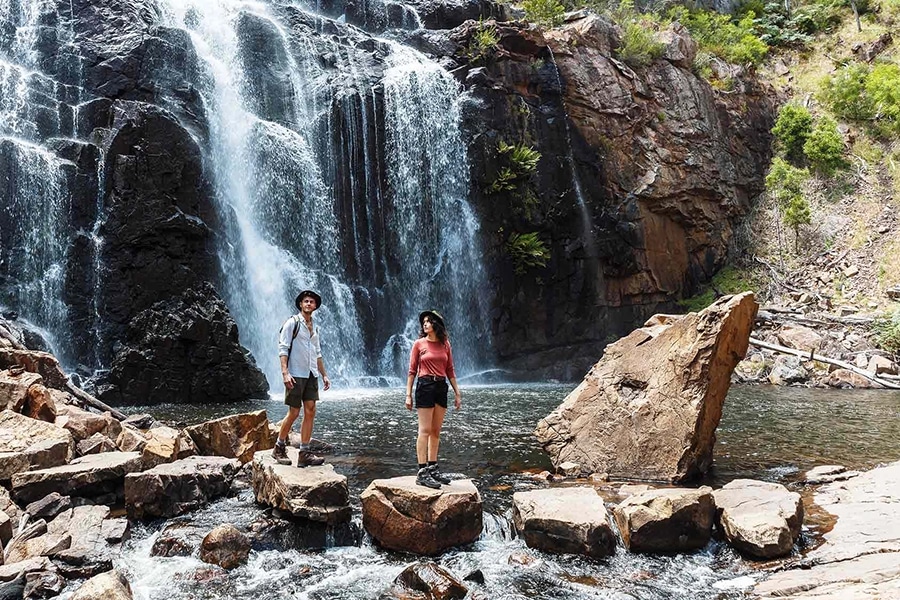 6. Grampians National Park
The Grampians National Park (locally known as "The Grampians") is a great spot for an outdoor day trip from Melbourne. Get amongst nature and visit the beautiful vistas of the many local waterfalls. Avid hikers can climb to the top of many of the region's incredible ranges and take in the breathtaking scenery from the panoramic lookouts. Want something a bit more relaxing on your day off? MacKenzie Falls is a popular spot for a less vigorous hike. Whichever route you take, wildlife is abundant in this glorious region. Kangaroos, wallabies, and echidnas all make their home in the national park, making it a wonderful day trip for nature lovers of all ages!
Distance from Melbourne: 236km
To do: Hike, camp, wildlife, swim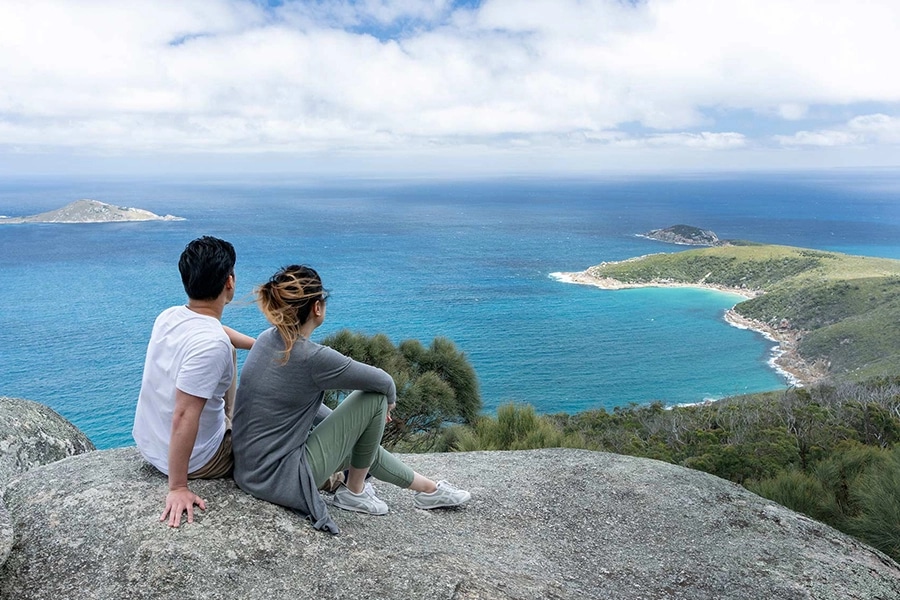 7. Wilsons Promontory National Park "The Prom"
Situated on the southernmost point of the Australian mainland, discover the spectacular scenery of pristine beaches and rugged granite peaks of Wilson's Prom. Take a guided walk through the bushland to learn all about the native flora and fauna or hike up Mt. Oberon, for a view of the coast overlooking the crystal blue waters of Tidal River. Keen on seeing what's under those clear waters of this beautiful region? Divers can discover the underwater world in the national marine park or take a walk to some of the region's best fishing and camping spots. This area is not for the faint-hearted. Strong hiking shoes, strongly recommended.
Distance from Melbourne: 220km
To do: Hike, camp, wildlife, swim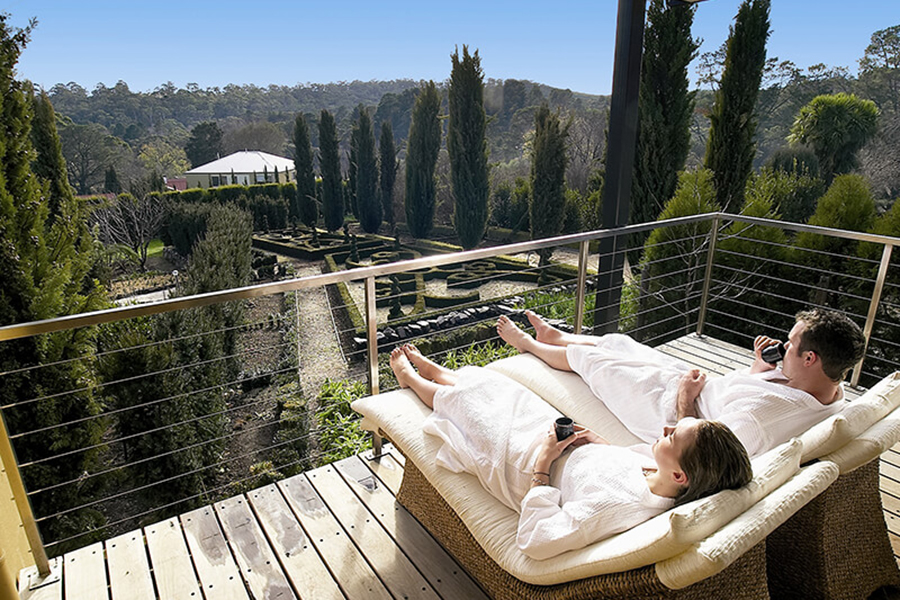 8. Daylesford Day Spas and Mineral Springs
Up in the central highlands of Victoria, you'll find the picturesque village of Daylesford. This area is well known for its bathhouses and spas and is great for sightseeing. Daylesford and its surrounding areas are home to lots of quaint shops, antique fairs and beautiful historic buildings. For a romantic day trip, head to Hepburn Springs and relax with a massage or pamper package followed by lunch at the iconic Lake Houseone of Australia's best regional restaurants overlooking a beautiful lake, offering a gourmet tasting menu of incredible dishes made from local, seasonal produce.
Distance from Melbourne: 115km
To do: Relax, food trails, antiques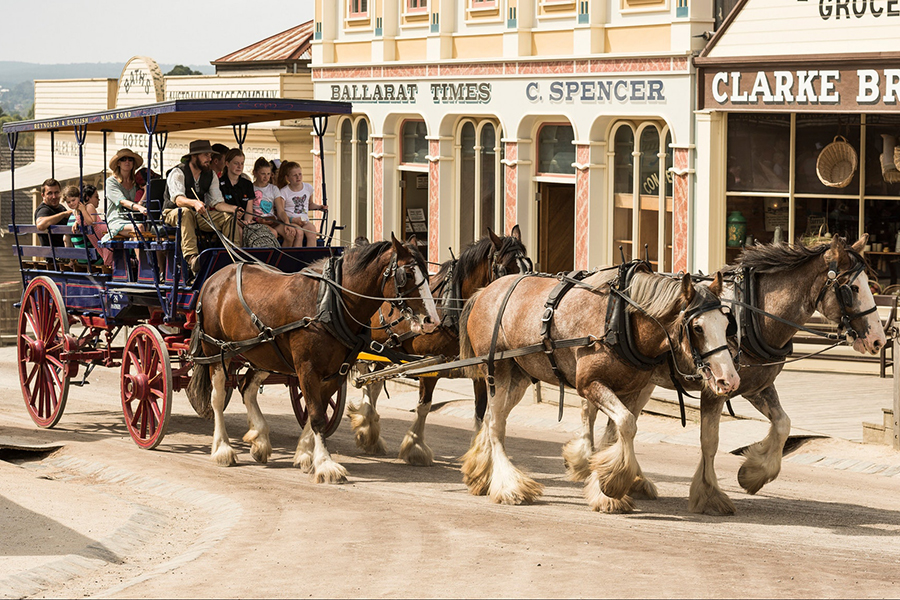 9. Ballarat
The town of Ballarat was the epicentre of the Australian gold rush of the 1850s and here you can experience those exciting gold rush days in a purpose-built living museum. Sovereign Hill has been recreated as an old gold-mining town, with Victorian-era houses and shops. Watch goldsmiths and local artisans at work or tour an underground mine and pan for gold. Other highlights of this historic area, include the Ballarat Art Gallery showcasing the works of local gold rush artists and the stunning 40-acre Ballarat Botanical Gardens on the banks of the picturesque Lake Wendouree.
Distance from Melbourne: 102km
To do: Antiques, shopping, wineries, breweries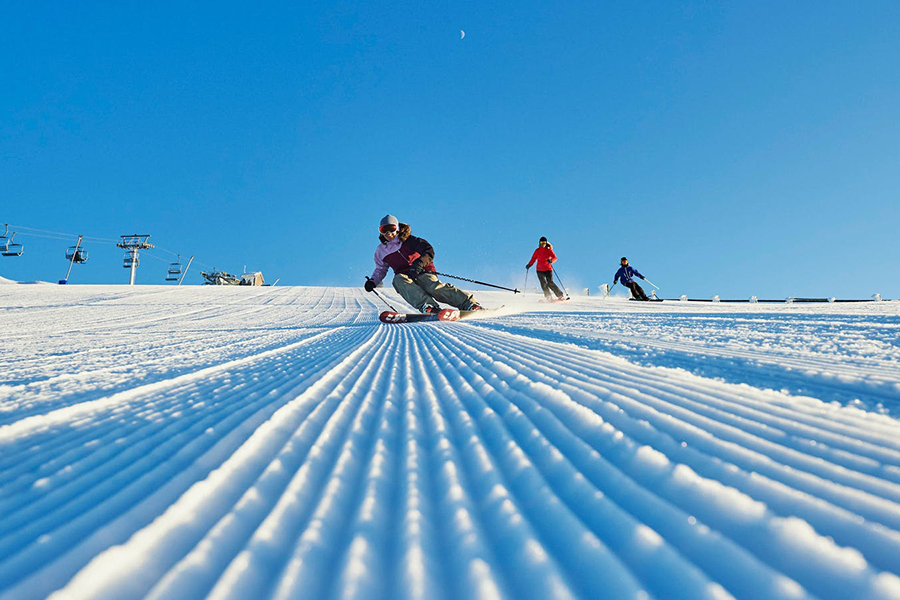 10. Mount Buller
Looking for a wintertime city escape? In Melbourne the fun does not stop, when the cooler weather sets in. Visit Mt. Buller and enjoy outdoor pursuits from June through to September (depending on snowfall). Every year thousands of avid skiers and boarders hit the slopes and enjoy the thrill of being out of the city and onto the crispy white, snowy pistes. Novice skiers fear not, the resort offers plenty of runs for beginners and intermediates, and for non-skiers, you can hang out in the local village, full of spas, shops, and toboggan parks.
Distance from Melbourne: 257km
To do: Ski, snowboard, relax, food trails
You'll also like:
12 Best Glamping Spots Near Melbourne
100 Fun Things To Do in Melbourne
25 Best Camping Spots in Victoria for a Scenic Getaway
General FAQs
Are there any fun day trips from Melbourne?
For adventure lovers, there are many fun day trips from Melbourne. Head to the Otways to see koalas in their natural habitat and be amongst nature at Otway fly treetop adventures.
Where are some good places to visit near Melbourne?
For winery tours and amazing restaurants, visit the Mornington Peninsula or the Yarra Valley. If you prefer bushwalking and hikes check out The Grampians for some beautiful scenery and some of the region's most iconic panoramic lookouts.
What's the best day trip from Melbourne?
The Great Ocean Road is the most popular day trip from Melbourne, for locals and tourists alike. Surf on one of Australia's most iconic beaches, visit the awe-inspiring 12 Apostles or kick back and relax at some of the region's local breweries and distilleries.