Evel Knievel's Record-Breaking Motorcycle is Up For Auction
Daredevil stunts and motorcycle jumps wouldn't be where they are today if not for Evel Knievel. Over the course of his career, Knievel captured the imagination and respect of fans the world over. Toward the end of his career in the late 1970s, Knievel cashed in on his fame to star in an action movie titled Viva Knievel! As you might expect, the film showcased Knievel doing what he did best—riding, or perhaps flying, a motorcycle through crazy stunts. The bike used in the film, the Stratocycle, is up for sale through Heritage Auctions, giving you the chance to own a part of daredevil and motorcycle history.
You'll also like:
Harley-Davidson's New Sportster S is Born to Be (a Little) Wild
Gulf Liveried Ducati 750SS Cafe Racer Lives Up to Its Colours
Droog Moto V2 Urban Fighter is a Kawasaki Z 900 on Steroids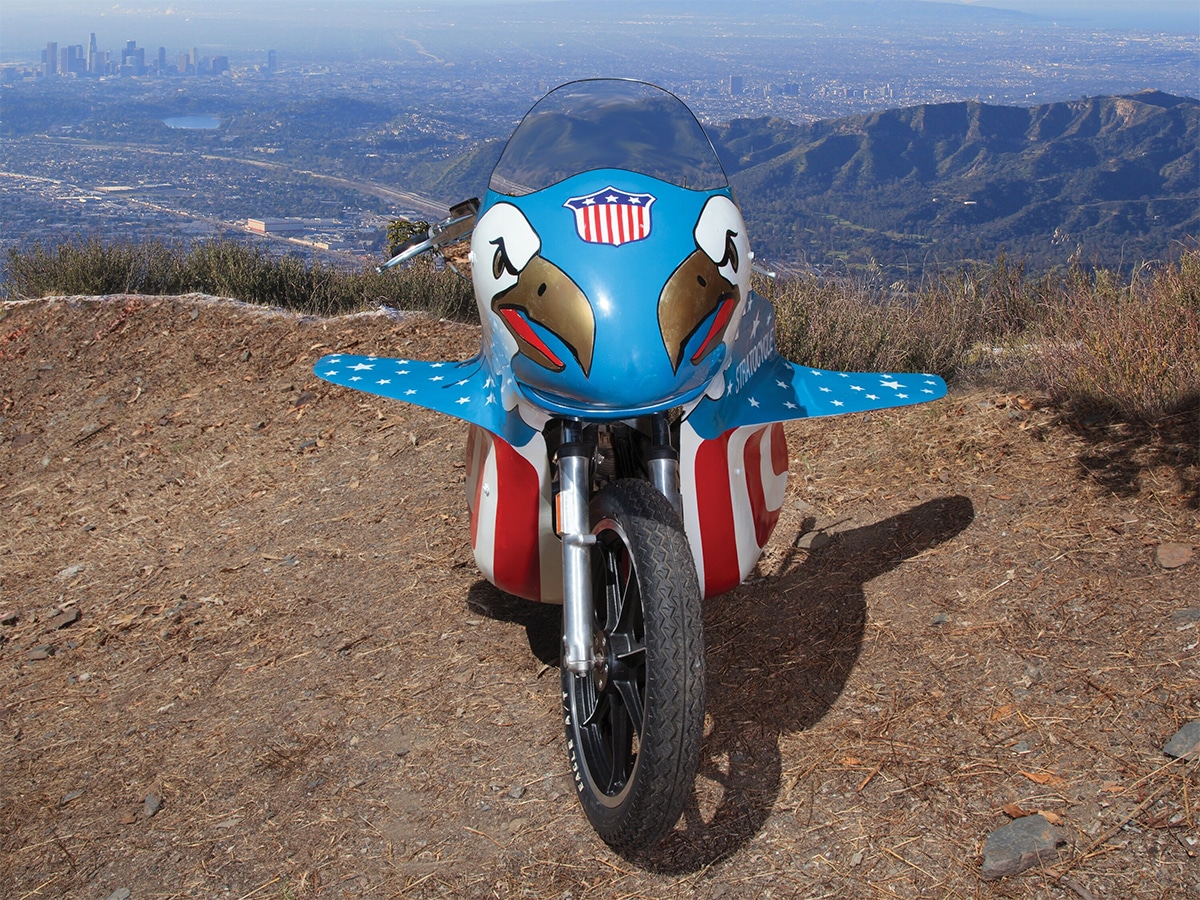 The bike was built by Bud Ekins for the film using a modified 1976 Harley XLCH Sportster 1000, which was sold to Warner Brothers Inc. to the Rich Budelier Company. The bike features custom-made fiberglass fairing and even comes with built-in wings and an aircraft-inspired tail. The exhausts are rocket shaped, and the whole affair is painted in red, white, and blue, with an Eagle paint scheme.
With all the modifications, the bike measures 96 inches long, 60 inches wide, and 54 inches tall. Knievel rode the bike throughout the film, most notably in a scene where he breaks his mechanic friend, who was played by Gene Kelly, out of a mental hospital. The Stratocycle was so unique, and its entrance so dramatic, that Ideal Toy Company created a toy version of the bike, which went on to become the most valuable and collectable Evel Knievel toy ever.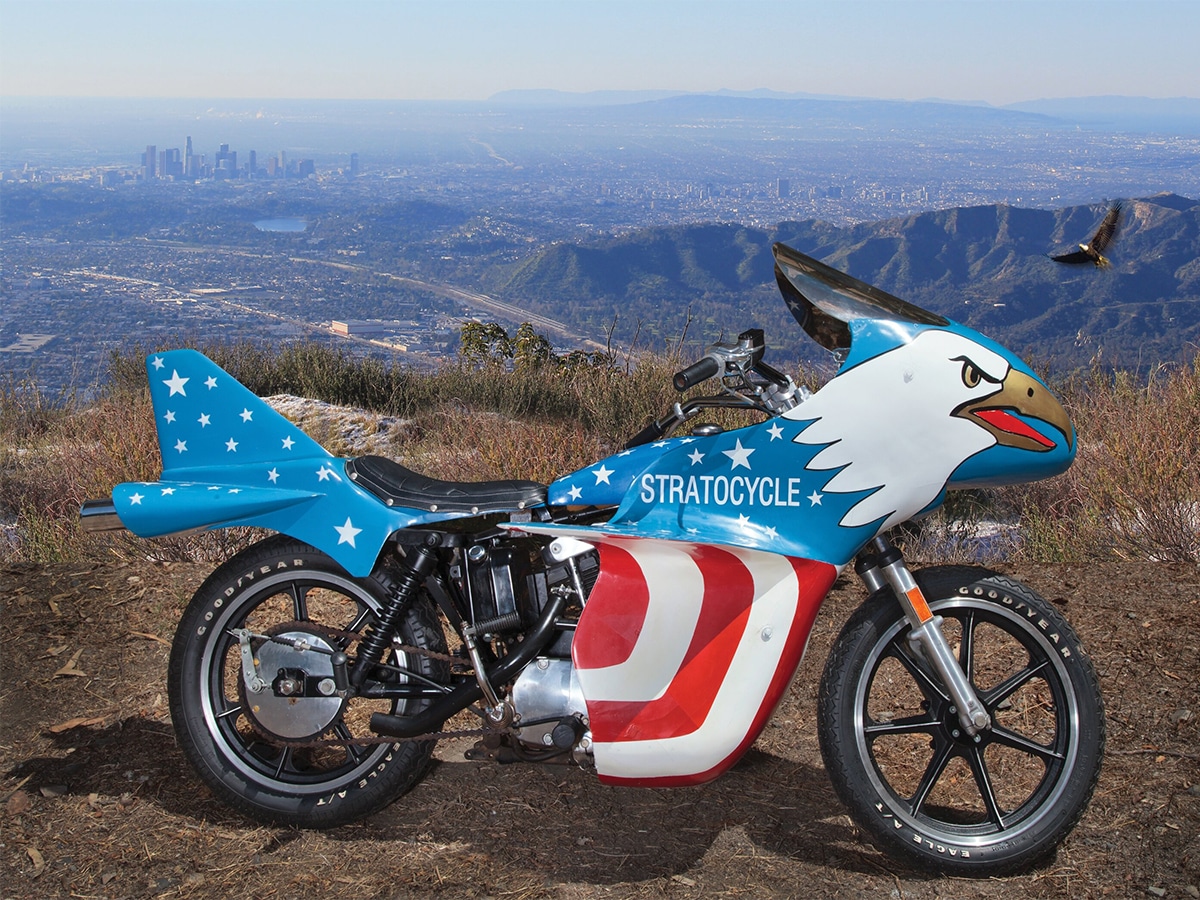 Out of all the bikes that Evel Knievel rode and used in film, the Stratocycle is the only one known to have reached the auction block. The bike has had to undergo some cosmetic restoration, including replacing the Plexiglass windscreen and the alloy wheels. And if you're wondering about the provenance, the Stratocycle comes with plenty of proof, including the original California registration card, the original invoice from Harley-Davidson, and a note saying that it was "to be sold for $500." You won't get that price now—the buy now price is $125,000.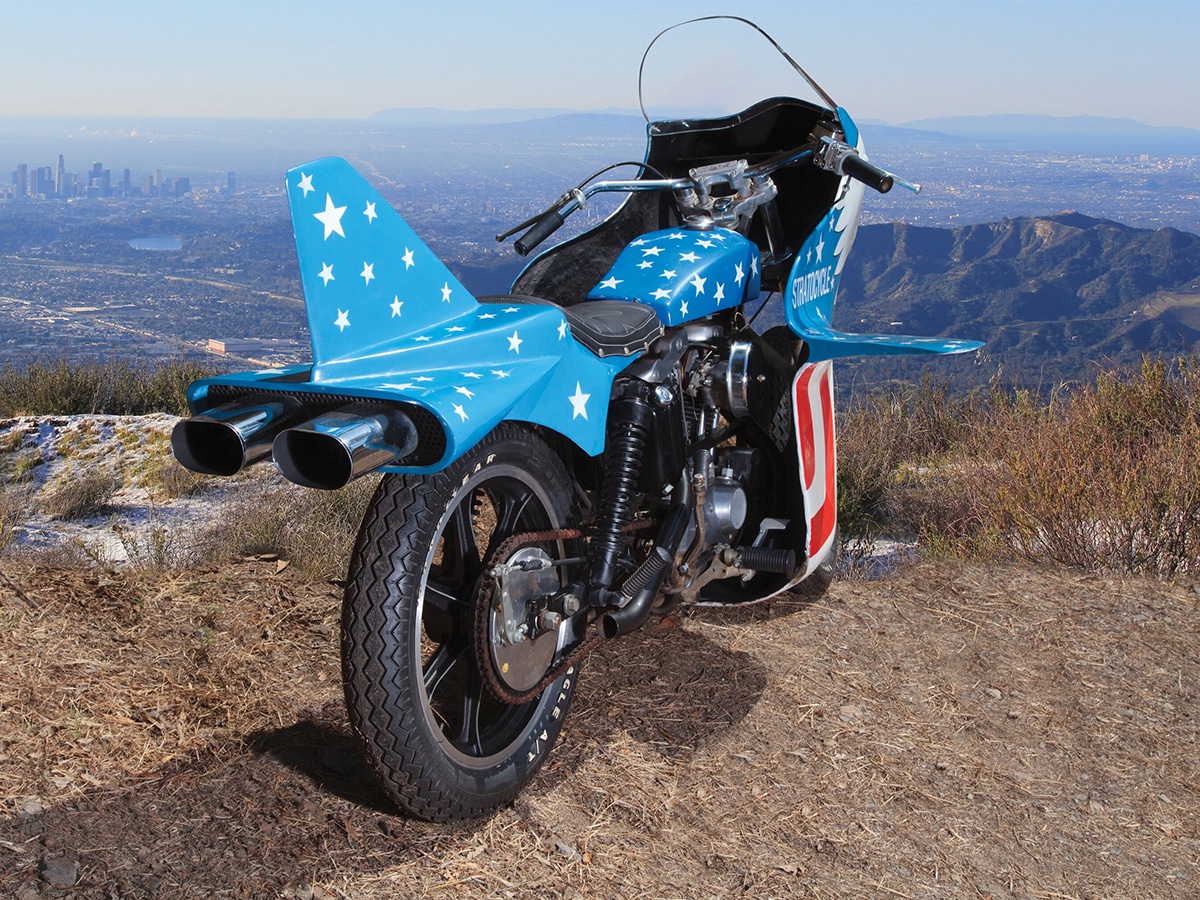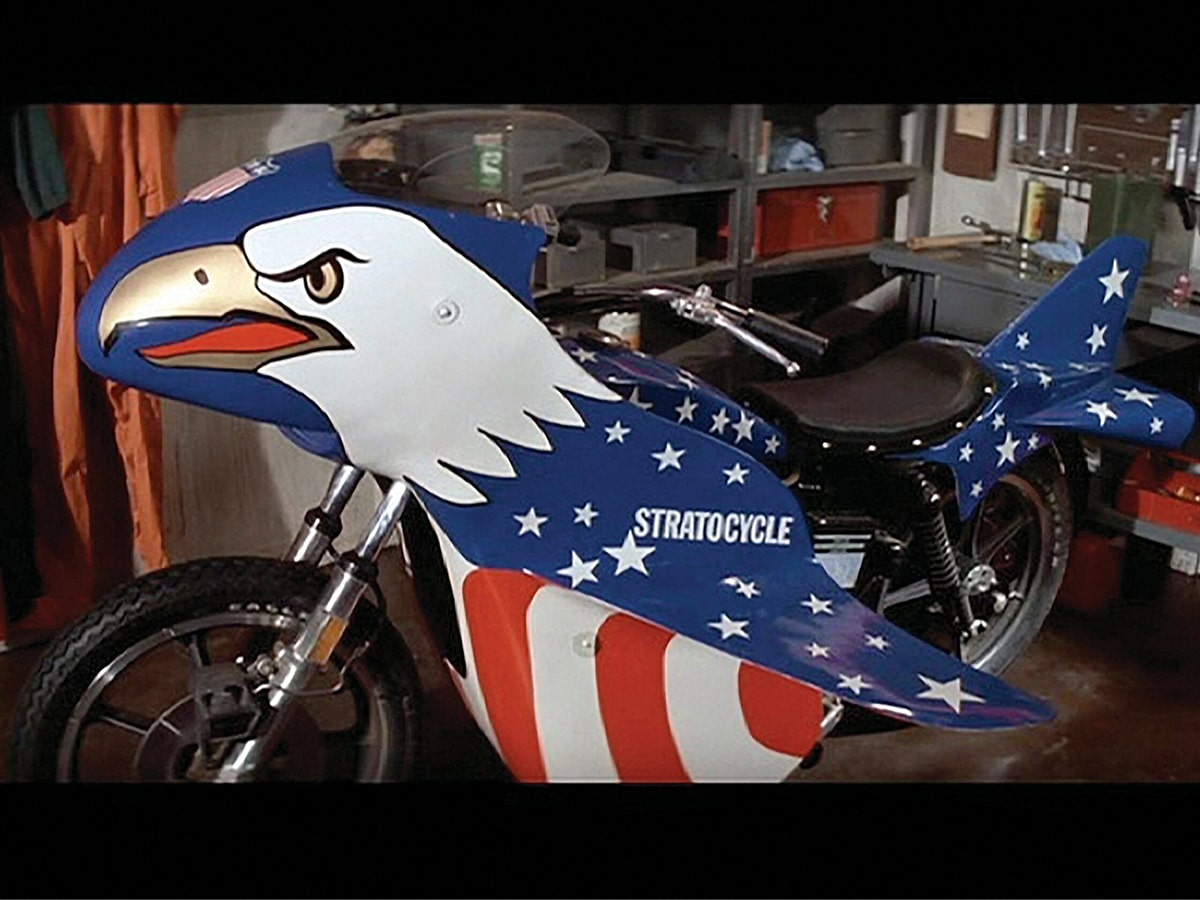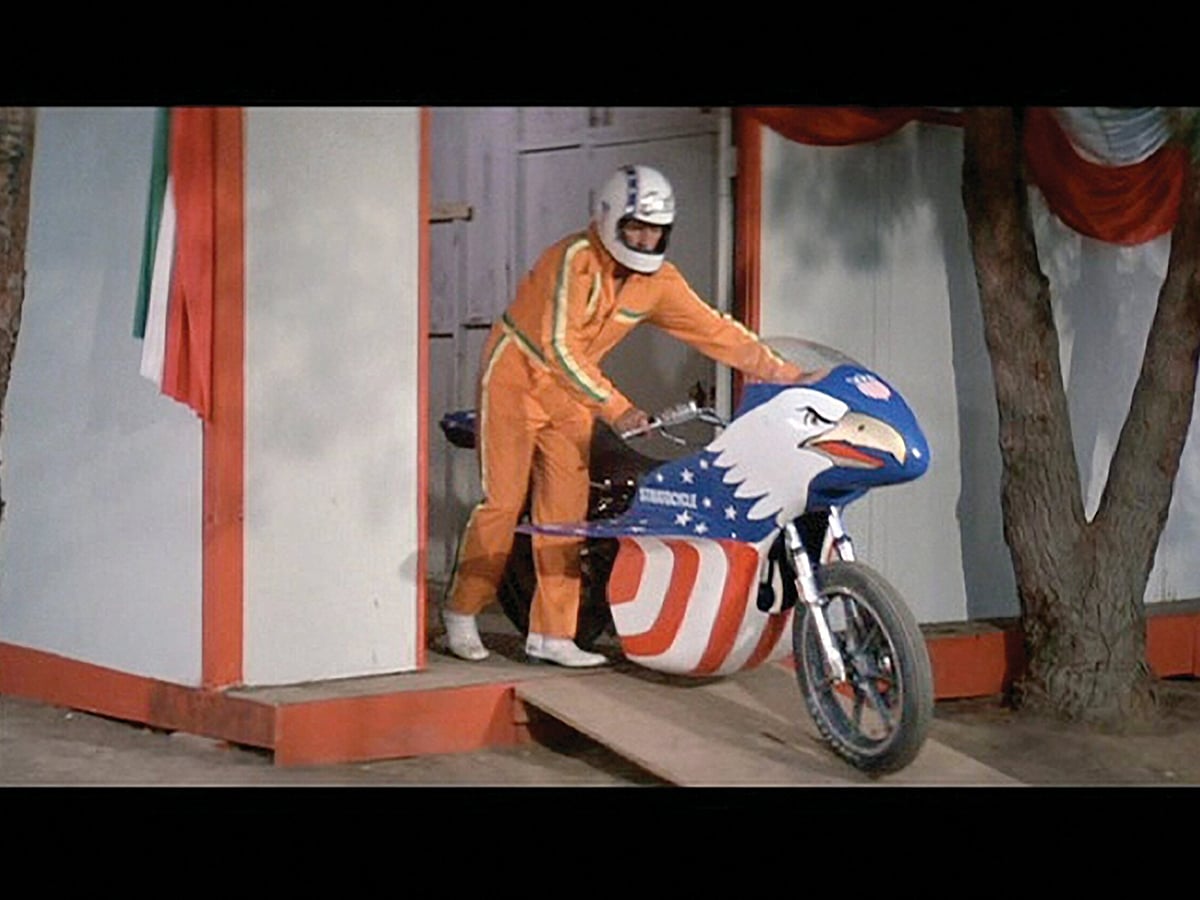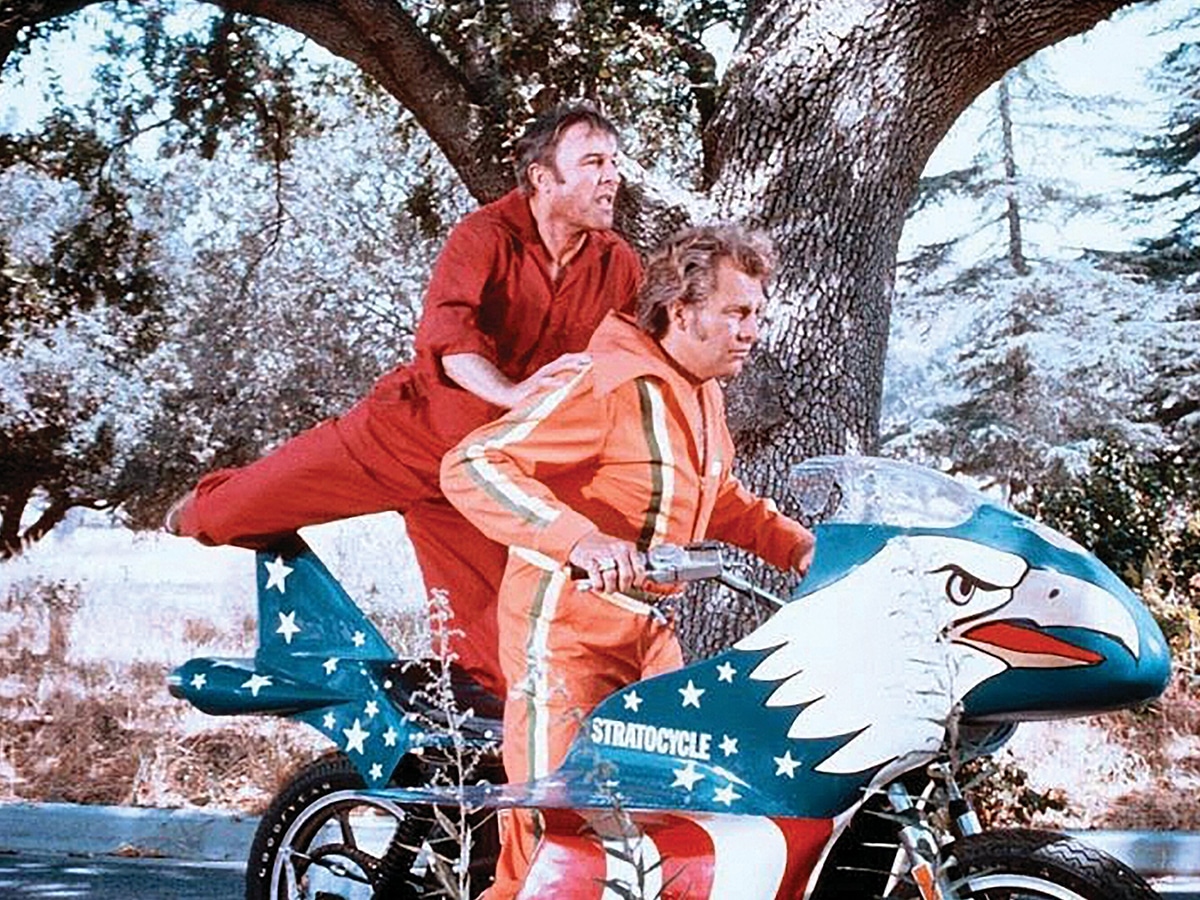 You'll also like:
Harley-Davidson's New Sportster S is Born to Be (a Little) Wild
Gulf Liveried Ducati 750SS Cafe Racer Lives Up to Its Colours
Droog Moto V2 Urban Fighter is a Kawasaki Z 900 on Steroids