We Shot Zombies in VR at Sydney's New Zero Latency
Virtual reality has made waves throughout the gaming and technology world with experiences that take the adventure beyond the constraints of reality. The world's largest free-roam Virtual Reality (VR) entertainment network Zero Latency VR has opened the doors to Sydney's first virtual reality venue.
Zero Latency VR opened the world's first free-roam VR entertainment venue in 2015 and has grown into the largest free-roam virtual reality entertainment network on the planet today. We were given the chance to try out the state-of-the-art technology and see what all the hype is really about.
You'll also like:
Backbone Turns Your Smartphone into a Mobile Gaming Platform
21 Best Gaming Headsets for the Next-Gen Experience
15 Best Gifts for Gamers – for Every Gaming Enthusiast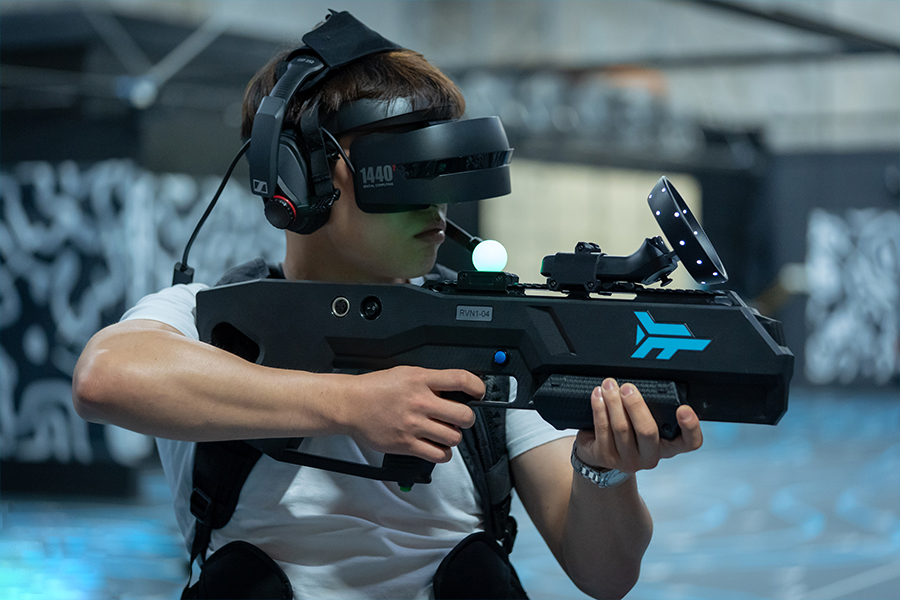 How Does It Work?
If you haven't experienced virtual reality yet, you're in for the ride of your life with Zero Latency VR. Once you're given the rundown of how you change weapons, reload, and navigate the virtual environment, you'll strap on a VR headset, a backpack (which tracks movement) and a controller to interact with the virtual world.
During the experience, you will navigate a virtual environment of your choice by moving around the 200-square-metre play space. You might think moving around without eyes and ears is a recipe for disaster, but don't worry, the software is on your side to keep everything in check. While you move around the software keeps an eye on you, warning you if you get too close to others and pausing the game if you get too close to a wall.
The majority of the games at Zero Latency VR are co-operative, which means you'll have to work together to survive and defeat the game. You can see each other in the virtual world and you can communicate with your friends via the built-in microphones and speakers in your headset.
What Games Can You Play?
There are currently two games you can enjoy at Zero Latency VR, and a third exciting game on its way for 2021. The games have a focus on team-building where the aim isn't to shoot each other. Instead, you must work together to make it out alive and find the answers you're looking for.
We started our session with Singularity, a great showcase of the kind of technology Zero Latency VR is capable of. We then moved onto two games of Undead Arena, a shorter game that utilises all the technology of Singularity and boils it down into a fast-paced survival shooter. The games are beyond immersive, so check out our thoughts of each below.
---
Featured Video from Man of Many
---
Singularity
Singularity was the first game we tried, and for many of us, this was the first time we experienced virtual reality. In this game, you'll immerse yourself in a science fiction shooter, where you're stranded on a space station in the depths of space. The aim of the game is to eliminate as many robots as you can while you navigate the space station's narrow corridors and zero-gravity environments.
Some of these environments make for great heart-stopping moments that trick your mind into thinking you're on the verge of falling into the depths of space. The feeling of full immersion into a virtual environment is the highlight of Singularity. This game is a great introduction into the world of VR and showcases the true potential of Zero Latency VR's innovative technology. This game is a must-try, you will feel like you've really gone out of this world after experiencing Singularity.
Players: 1-8 Players
Game time: 30mins approx.
For ages: 13+
Game type: Co-operative shooter
Weapons: Scatter (shot-gun), Pulse (assault rifle), Beam, and Rail Gun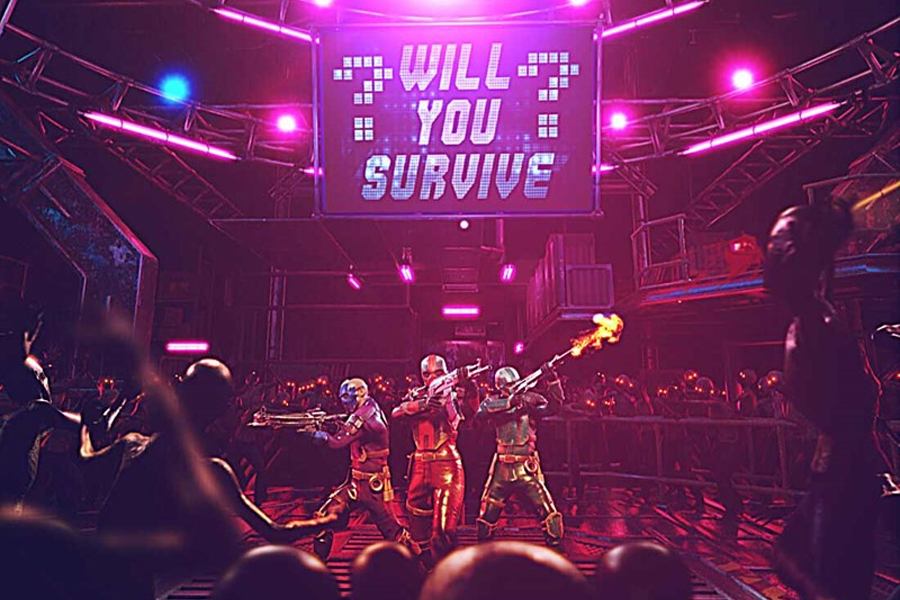 Undead Arena
Next came Undead Arena where you become the stars of a post-apocalyptic game show in an '80s-retro world. The aim of this game is to survive. Many of us had experienced Zombie style game modes on game consoles, but let us be the first to tell you, you haven't experienced anything as fun-packed and immersive as Undead Arena.
In this game mode, you will fight your way up a multi-level arena to the enjoyment of a crowd hungry for mayhem, and the amusement of a wildly enthusiastic game show host. As a team, we had the most fun playing this game thanks to its fast-paced action and team orientated style. In this game, you will move around the space shooting at the zombies as they come at you from every angle, and you can afford to be a bit more competitive as you fight for a place on the leaderboard.
Players: 1-8 Players
Game time: 15mins approx.
For ages: 13+
Game type: Co-operative shooter
Weapons: Assault rifle, shotgun and crossbow
Far Cry VR (coming 2021)
Far Cry VR looks to blend the immersion of Singularity and the fast-paced action of Undead Arena. We are very excited to try Far Cry VR when it releases in 2021, so be on the lookout for a comprehensive review as we move into the new year. In the meantime, check out the trailer via the link below.
Players: 1-8 Players
Game time: 30mins approx.
For ages: TBA
Game type: Co-operative shooter
Final Thoughts
We aren't going to mess around here, we went into Zero Latency VR with high hopes, and to say our expectations were exceeded would be an understatement. The immersion of Singularity and the fast-paced action of Undead Arena really opened our eyes to the capabilities of virtual reality. Whether you're looking for something to do with family and friends on a weekend, or something different for the work Christmas party, a session in Zero Latency VR is a great team builder that is approachable for all types of people, gamer or not.
Zero Latency VR is located at 219 O'Riordan Street, Mascot. Zero Latency VR Sydney will allow you to explore VR experiences with up to seven friends. Customers can book tickets now with prices starting at $59 (Tuesday – Thursday) and $69 (Friday – Sunday).
How the PS5 DualSense Controller Changes the Game
You'll also like:
Backbone Turns Your Smartphone into a Mobile Gaming Platform
21 Best Gaming Headsets for the Next-Gen Experience
15 Best Gifts for Gamers – for Every Gaming Enthusiast
---
Featured Video from Man of Many