These 'Between Two Ferns' Bloopers Are A Must Watch
For the past dozen years or so, Zach Galifianakis has been bringing celebrities into a studio where they sit with the comedian between two ferns and have an interview. The show typically only runs for around three to six minutes, but in that time barbs and insults fly. Produced by Comedy Bang! Bang! and originally hosted by Funny or Die, the show has seen 22 episodes and one special, with guests ranging from Brad Pitt to Barack Obama. It only makes sense that in the course of the show's history there would be a few bloopers, and those bloopers are perhaps even funnier than the show itself.
You'll also like:
132 Best Dad Jokes, Ranked by Cringe/Pun Level
31 Best ASMR Artists: The Top Channels on Youtube
37 Hilarious COVID-19 Pick-Up Lines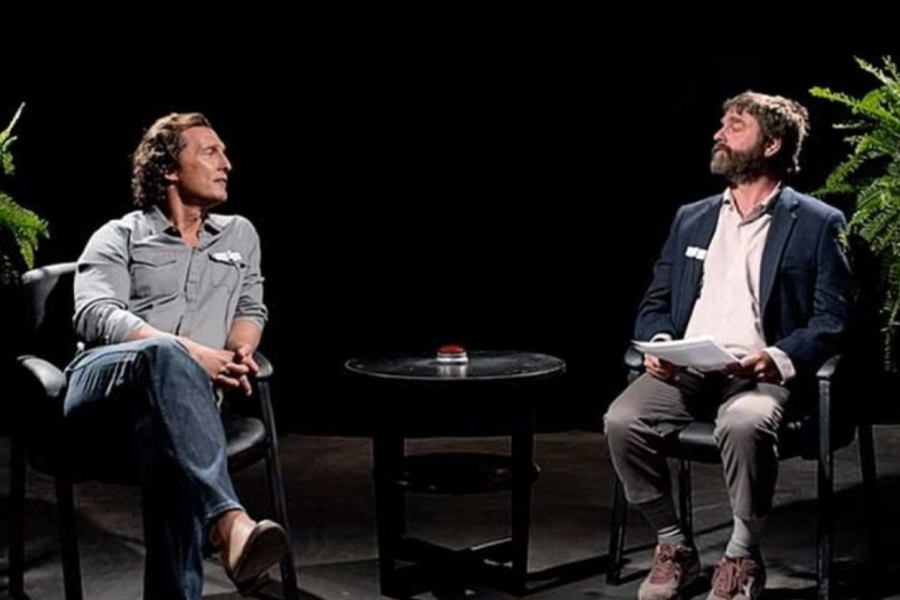 Always the master of awkwardness, Galifianakis maintains an almost antagonistic demeanour, but in the bloopers you can see the true Zach come through, even commenting at one point in the bloopers that one of the questions is "so mean." What makes the show funny—aside from Galifianakis—is the questions that are asked. They are often bizarre, frequently inappropriate, and usually insulting. In the bloopers videos, you can see that even Galifianakis is taken off guard by many of the questions and isn't able to keep in control.
In an interview on ABC News Now, Galifianakis explained the show. "The sycophantic way that Hollywood machine runs—it's fun to make fun of it. That's how Between Two Ferns started." Guests are never forewarned about what will happen, which is evident in their reactions both in the show and in the bloopers. "They agree to come," says Galifianakis. "There is no discussion beforehand…It just happens, no real prep, no organisation whatsoever." The comedian continues, stating, "Inappropriateness is really fun to me…That is kind of the take on Between Two Ferns—inappropriate humour." The show is even more interesting after watching the bloopers and seeing just how much fun both Galifianakis and his guests are having, especially when Zach comments, "It's amazing that this is even a thing."
You'll also like:
132 Best Dad Jokes, Ranked by Cringe/Pun Level
Televangelist Claims to Have Destroyed COVID-19 with the 'Wind of God'
37 Hilarious COVID-19 Pick-Up Lines
---
Featured Video from Man of Many
---
---
Featured Video from Man of Many