Kanye's $1.8m 'Grammy Worn' Yeezys Destroy World Record for Sneaker Sale
A pair of Air Yeezy 1 prototypes worn by Kanye West during his performance at the grammy's in 2008 sold for an earth-shattering $1.8m at a Sotheby auction overnight. The sale marks the highest publicly recorded price for a sneaker sale ever and is also the first pair of sneakers to top $1m. Beating the previous record, held by game-worn (shattered backboard) Jordan 1's by $1.2m ($615,000).
You'll also like:
Exquisite LeBron James Rookie Card Fetches $1.72 Million at Record Auction
Sneaker News #33 – Nike & Sacai's Eye-Catching 'Blazer Low'
This $6.6 Million Mickey Mantle Baseball Card is Now the Most Expensive Ever Sold

He was already the coolest man on earth, but it might've been Kanye West's most emotional and memorable performance ever when he jumped on the Grammys stage to perform Hey Mama and Stronger. The performance set a precedent for the rest of the artist's historical career. Not only because of his unbelievable performance, but because of the sneakers he wore on his feet.
"Last night i saw you in my dreams now I can't wait to go to sleep" damn…"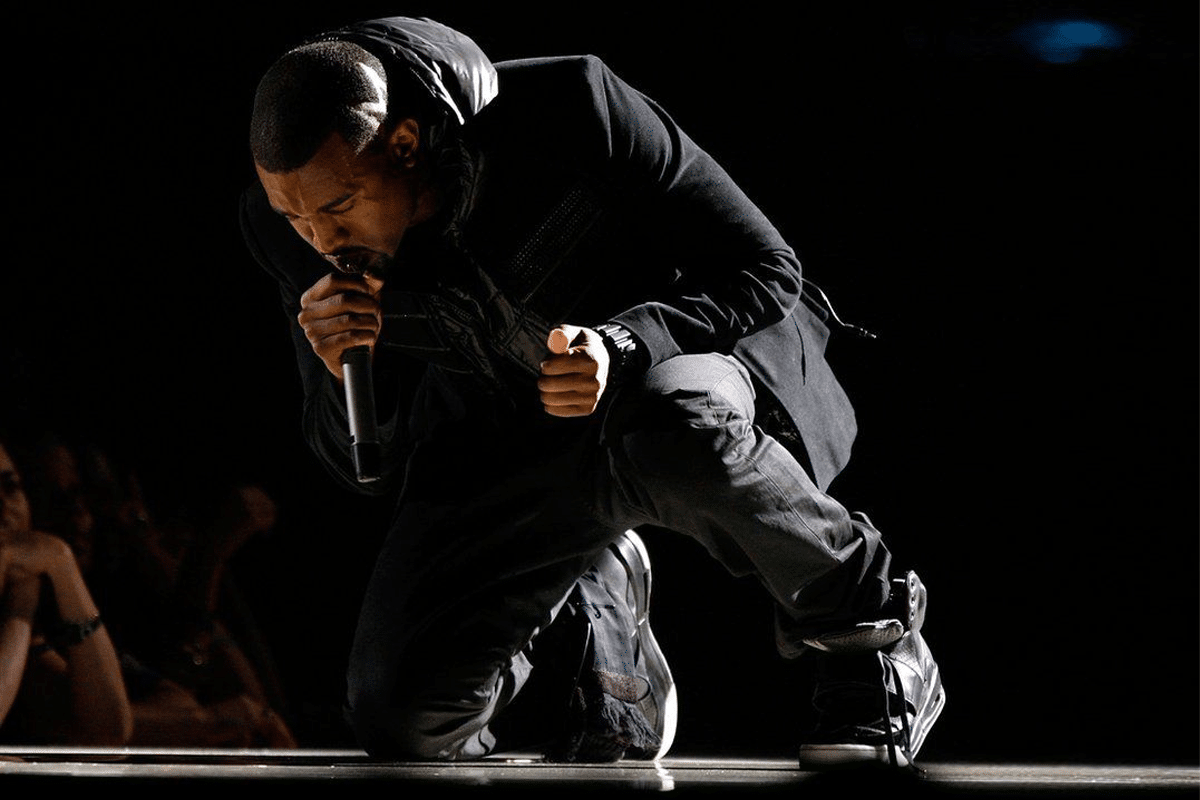 Word on the street swirled for well over a year. The rumour was that Kanye had a Nike sneaker coming, but what that meant was a complete mystery. Was it going to be a mere colourway, or had the brands collide to produce something special? It didn't take long for fans to find out.
On the evening of February 10, 2008, Nike and Kanye debuted the Air Yeezy 1. Promptly sending the sneaker culture into a frenzy with one of the biggest sneaker unveilings in history. In doing so, Kanye set the tone for a sneaker empire that can only be challenged by one, Michael Jordan.
One of the most important moments in sneaker history, the performance positioned Kanye as a titan of the fashion industry. And today, the multibillion-dollar adidas Yeezy brand is an industry magnate positioning Kanye as a certified billionaire.
Kanye's 'Grammy-Worn' Air Yeezy 1's were bought by sneaker marketplace RARES, which is selling shares in the original shoes.
Kanye 2008 Grammy Wins
Best Rap Song: Good Life
Best Rap Album: Graduation
Best Rap Performance by a Duo or Group: Southside (with Common)
Best Rap Solo Performance: Stronger
You'll also like:
Exquisite LeBron James Rookie Card Fetches $1.72 Million at Record Auction
The Original Nike Moon Shoes are Up For $100,000
This $6.6 Million Mickey Mantle Baseball Card is Now the Most Expensive Ever Sold