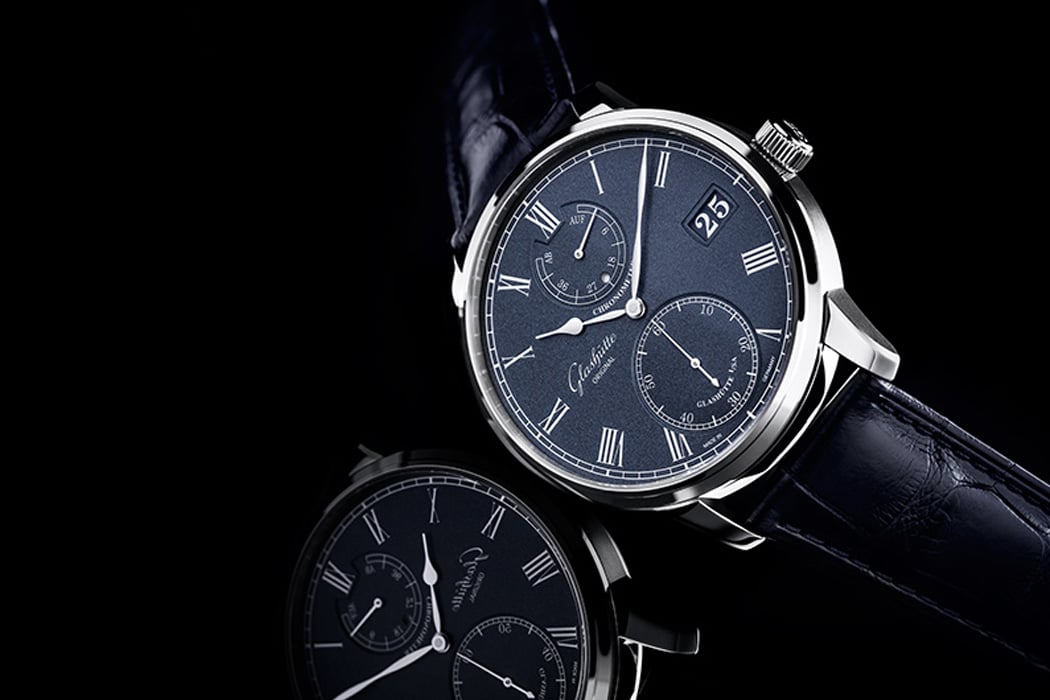 We have a big job to do here and that's to bring you the latest and greatest of the watch world. In this instalment of The Wind Up, we have the all too familiar (but still wonderful) faces of the Swiss watchmaking domain, as well as a German I thought to throw in there to spice things up. So as always gents, sit back, relax, and enjoy!
---
You may also like:
---

Breitling Colt Skyracer
New from Breitling is the Colt Skyracer, a nifty little piece of tech that has just opened the door for a lot of would-be buyers who have since been put off by high prices to enter the prestigious "Swiss-made" market. This watch is three things to me. First is it's a pretty good looking piece. The darkened everything ticks every aesthetically inclined box of mine. I love the Breitlight case (which is claimed to be 5.8 times lighter than steel, yet significantly harder), which looks industrial and aggressive. The added red hints on the seconds hand tip and the inscribed insignia on the dial looks great too. Bar the oversized hour numerals, I think we have a real winner here. The second is the movement. Quartz, yes. But it's ten times as accurate, its COSC certified and it's got a badass name: SuperQuartz. And thirdly, the completely down to earth, fully justifiable price of… Wait for it… Under $3,000 good old Aussie dollars. Nice.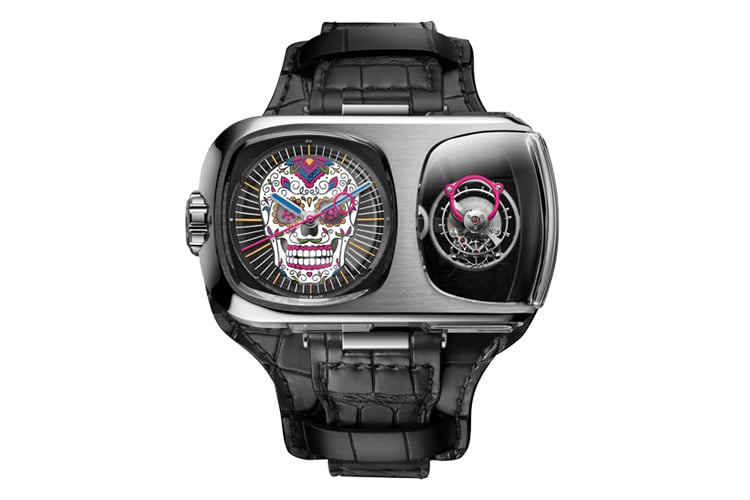 Angelus U10 Tourbillon Calavera
Angelus is one of the more intriguing brands to come out of the woodwork lately. Historically, it's a brand that's been made infamous because of their "manually wound chronographs". Not saying anything bad about them, in fact they're some of the most beautiful in the world, but sometimes resurging brands try to re-do their masterpieces in a not so successful fashion. Not Angelus. They've created a lineup of some of the most outrageously beautiful and exquisite watches. The U10 Tourbillon Calavera, as if already not insane enough, incorporates the typical styling of the U10 with added aesthetic touches. First, on the "dial", you have the Mexican skull depicting the celebration of the Day of the Dead, or Dîa de los Muertos. It's been beautifully coloured and contrasts wonderfully well with the added pink component in the tourbillon cage. It's a fun addition to a watch that already demands so much attention.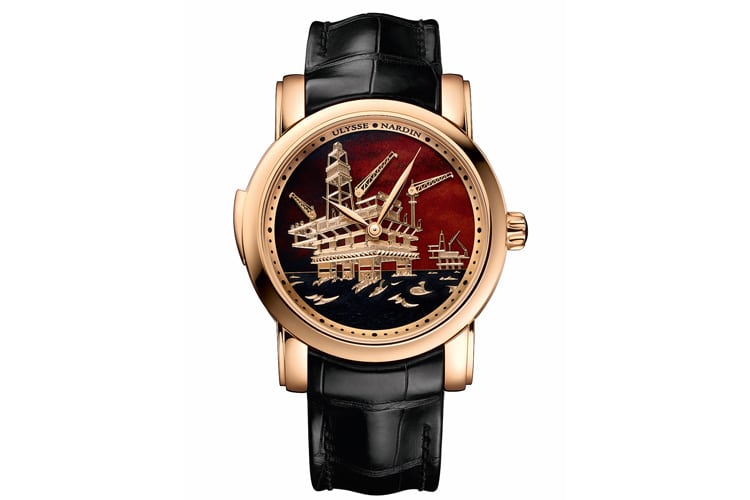 Ulysse Nardin North Sea Minute Repeater
In tribute to industry and progression, Ulysse Nardin have created the North Sea Minute Repeater, a super fine watchmaking masterpiece that combines traditional artisanship with forward thinking. The dial is actually a combination of champlevé enamel and 18-carat gold in the form of an offshore oil drilling rig. The attention to detail on this piece is astounding, and you'd be forgiven if you forgot that its technical prowess was anything less than amazing. It's a minute repeater, which means that it's one of the most complicated movements in the world, period. True haute horlogerie stuff. Flick the switch on the left side of the piece, and your visual feast becomes a harmonious symphony, echoing the hours, quarter hours and minutes. Watch carefully too, because those seemingly motionless cranes will move in sync to the tiny gongs in the movement. Incredible.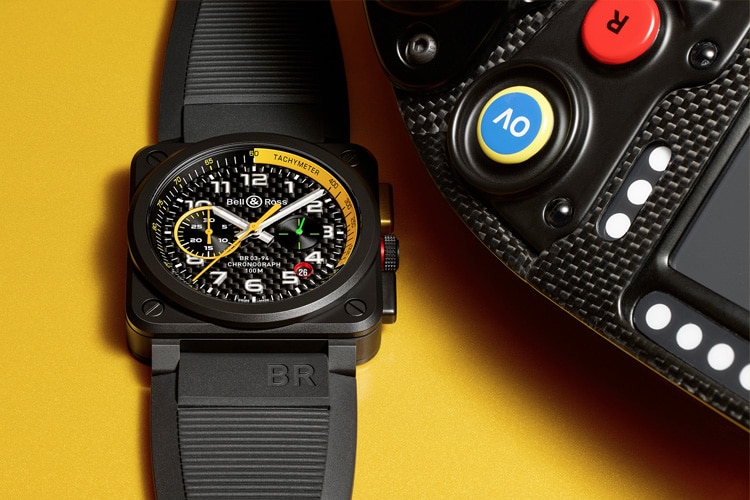 Bell & Ross BR03 RS17
High performance racing meets high performance watchmaking in the form of Bell & Ross's latest and greatest, the BR03 RS17. In collaboration with renowned car manufacturer Renault, Bell & Ross have released an ultra sporty timepiece. The essence of Bell & Ross, for me, is their aesthetic design; being the square case, chunky strap and overall masculine style. The BR03 RS17 only acts to extend Bell & Ross' instantly identifiable design. With touches of yellow, green and red against a carbon fibre-like dial, this looks less like a watch and more like the dashboard of a really fast car. Like F1 fast. The case is big and prominent, but because the strap is almost as wide as the watch itself, it doesn't seem overly large. It's a dynamic watch that certainly won't appeal to everyone, but I know a few Renault enthusiasts out there who'd be very interested in this one.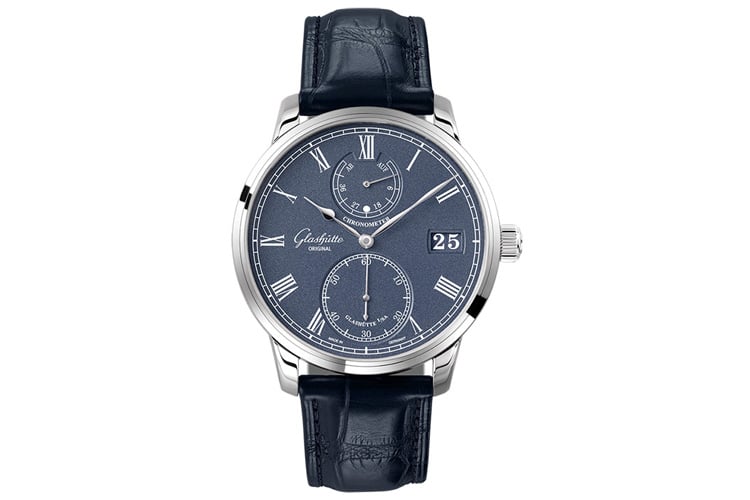 Glashütte Original Senator Chronometer
Everything about this piece is gorgeous. From the grainy textured dial to the slimline Roman numeral hour indicators, it's all just pristine. A power reserve indicator at 12 o'clock that's offset by a sub-seconds dial at 6 o'clock, the watch appears to be perfectly balanced from the outset. The dynamics of the dial could really have won me over, but then you look at the movement, and this thing is on a whole other level. Even though the mainplate covers a good three-quarters of the actual movement, what you can see otherwise is just supreme finishing. Everything has been attended to by hand, and the engraving on the balance cock is something else altogether. While many may draw similarities to Lange, this should be taken only as a compliment by Glashütte, to be honest. Everything about the Senator Chronometer is enjoyable, and I look forward to seeing what they bring to the table this year.
If you enjoyed The Wind Up and would like to continue reading about watches, you can head on over to my blog, Haulogerie, where I delve a bit deeper into the wonderful world of watches.
Have you subscribed to Man of Many? You can also follow us on Facebook, Twitter, Instagram, and YouTube.
---
You may also like:
---