2019 Christmas Gift Guide – The Foodie
We don't have to know you personally to know you're friends with a bunch of foodies. That means you're in luck this holiday season, as there's an impressive spectrum of culinary gifts from which to choose. To save you time and trouble, we separated the best from the rest and put the results in one convenient place. In the following gift guide, you'll find smart thermometers, artisanal coffee makers, modular grills, and everything else a bona fide foodie might want. Get the epicurean in your life something good and you'll see a return on investment every time they invite you over for dinner. Here we go.
View All of Man of Many's 2019 Christmas Gift Guides here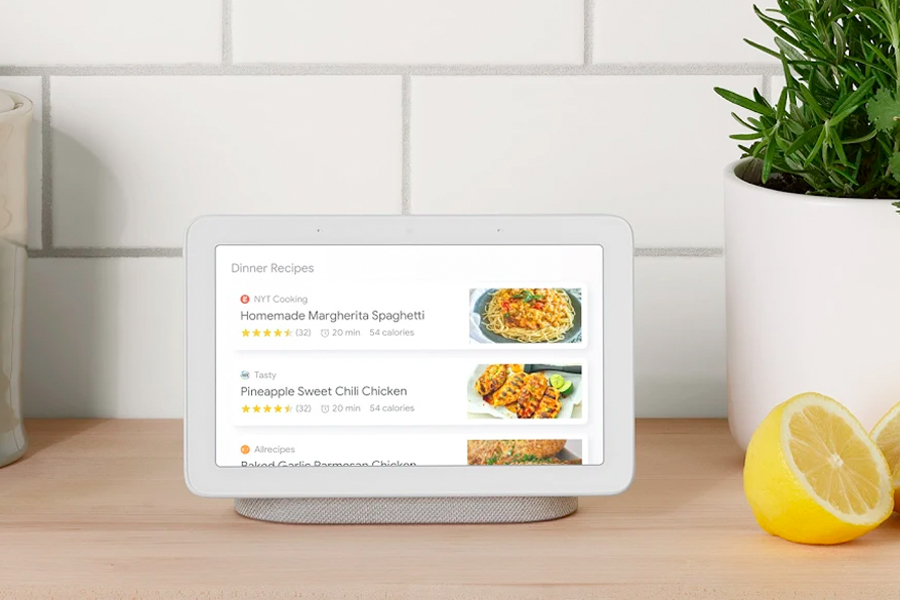 Google Nest Hub
Whether you're browsing for recipes, compiling grocery lists, checking out the hottest restaurants, listening to music while you cook, or shopping for kitchenware, the Google Nest Hub definitely has you covered. Meanwhile, that's just a sample of what this smart home controller has in store. Voice-activated, WiFi-enabled, Bluetooth-connected, and equipped with a 7" touchscreen display, it will streamline your entire life with supreme efficiency. Consider it your gateway to pretty much everything and an affordable one at that. – AU$180
Buy it here (AUS) Buy it here (US)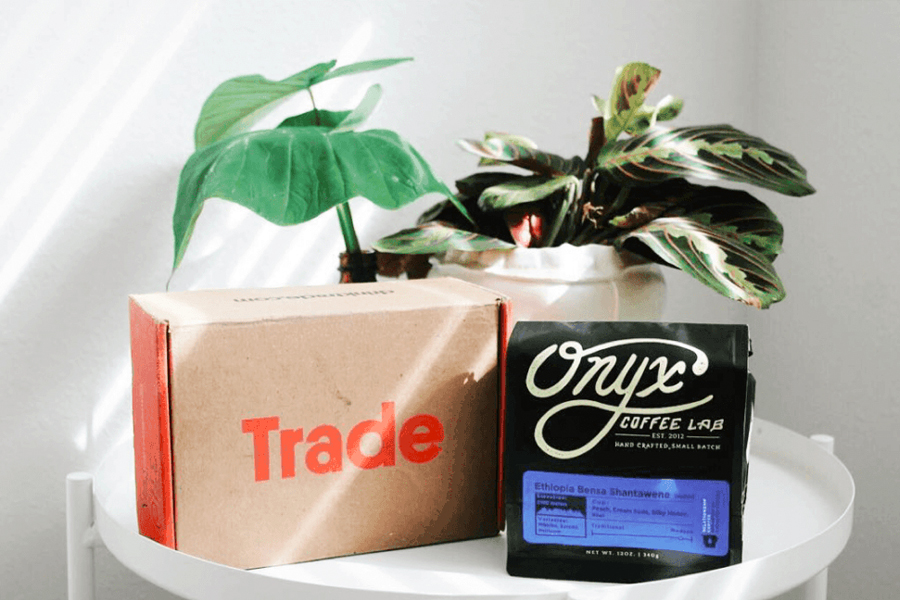 Trade Coffee Custom Subscription
We have yet to meet a food-lover who isn't also a coffee-lover and that's why our gift guide comes loaded with choice coffee-related products. Kicking things off is this extraordinary subscription service, which takes the concept of customisation to heart. Your journey begins with a series of questions to determine your brewing methods, taste preferences, and experience levels, among other things. It all paves the way for your perfect match, i.e. a bag of coffee that's delivered to your door free of charge on a regular basis. Yes, it's like a dating site that pairs you up with specific roasters. Unlike your average dating site, however, this one will never let you down.
Buy it here (AUS) Buy it here (US)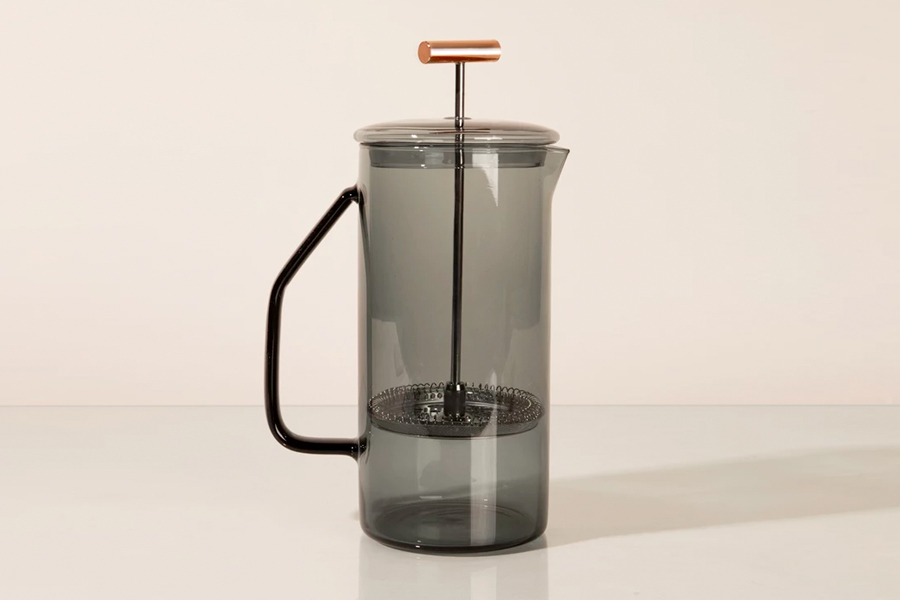 Yield Design Co. Glass French Press
While we're still on a coffee high, allow us to introduce this premium French press from Yield Design Co. Made of high-end borosilicate glass—the type of which you might find in a science lab—it can withstand extreme temperatures far better than your standard counterpart. What's more, its artisanal and minimalist aesthetic remains quite pleasing to the eye. Even if the coffee drinker in your life already has a French press, this one will make for a veritable upgrade.
Buy it here (AUS) Buy it here (US)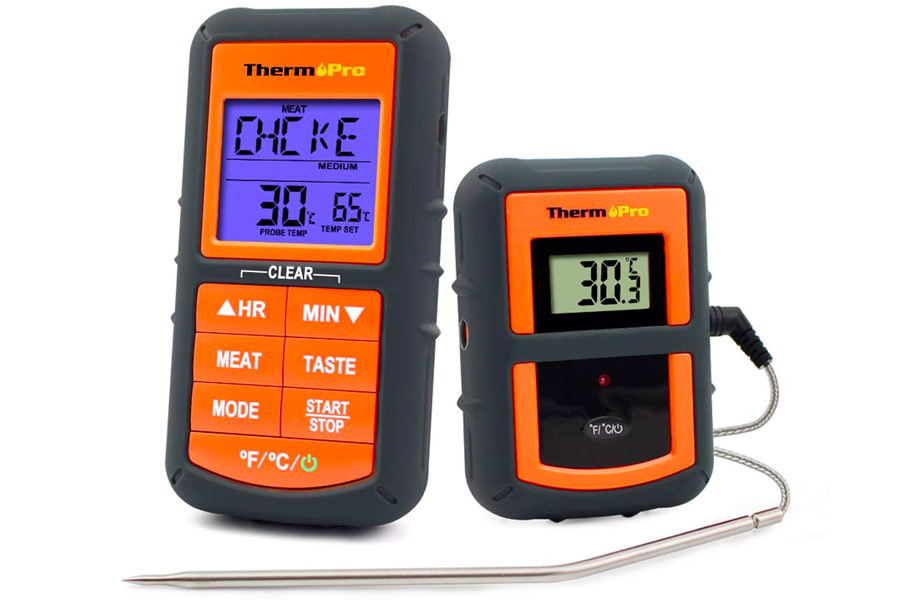 ThermoPro TP-07 Wireless Remote Digital Cooking Turkey Food Meat Thermometer
Delivering major functionality at an unbeatable price, ThermaPro's wireless meat thermometer is a pro indeed. Its food-grade stainless steel probe features a step-down tip design for quick and accurate readouts, sending notifications to a wireless receiver over distances of up to 300 feet. Bringing those notifications to life is a Smart LCD Backlit Screen, which assigns different colours to different temps. The only way your food will be anything less than perfect is if you fall asleep on the job. This is handy tech done right. – AU$36
Buy it here (AUS) Buy it here (US)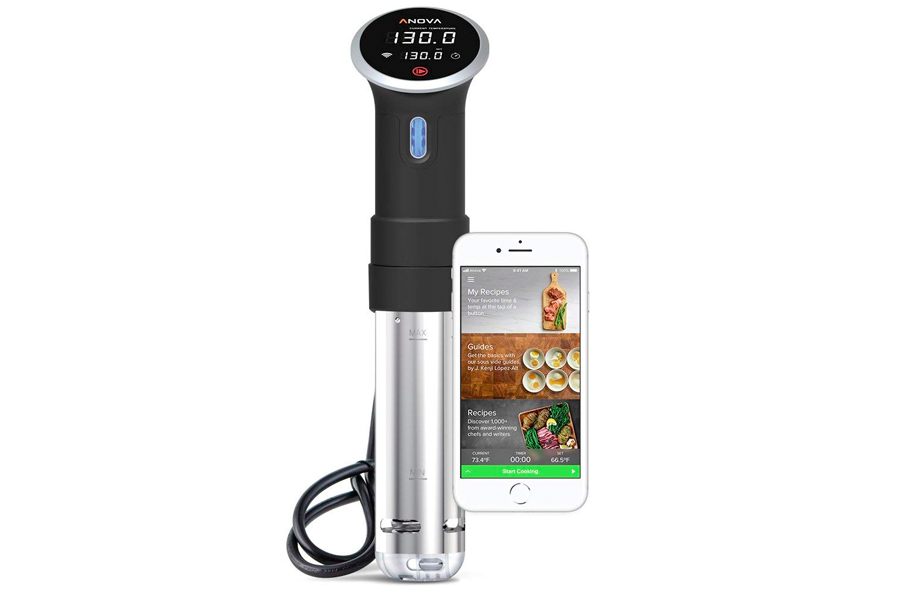 Anova Culinary Sous Vide Nano
On the higher end of the precision cooking spectrum is this futuristic gizmo from Anova Culinary. Equipped with built-in WiFi and an adjustable clamp, it serves up to 12 people and fits on any type of cooking pot. To use, attach it to any water-filled pot, put your food in a sealable bag, and set the time and temperature. The gadget will then heat and circulate the water, cooking the food with exacting precision. Expect maximum juiciness, tenderness, and flavour every time and with no exceptions. Making a great thing that much greater, you can control and monitor the gadget by way of an app on your smartphone. – AU$249
Buy it here (AUS) Buy it here (US)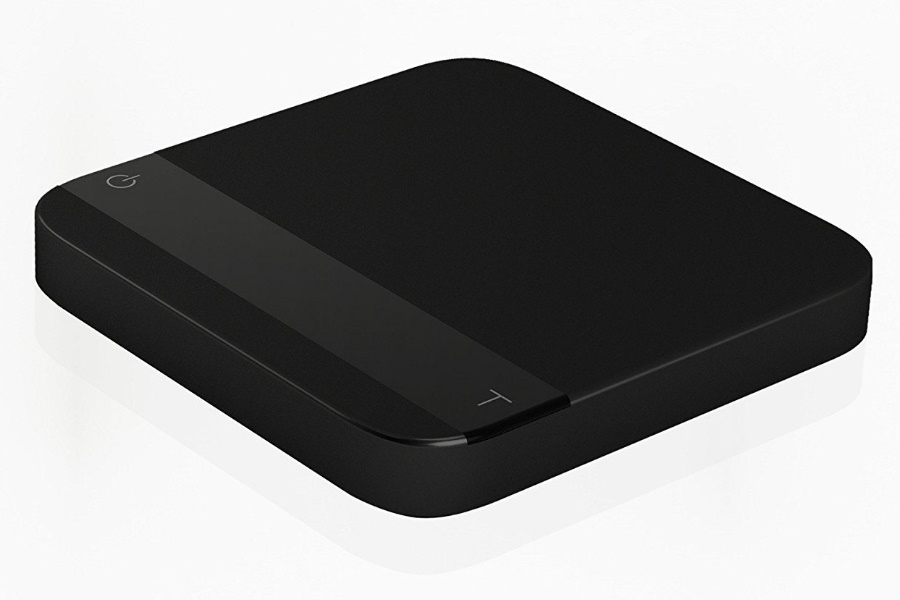 Acaia Scale Lunar
Aimed squarely at dedicated coffee drinkers, this stylish and durable lunar scale monitors the weight, time, and flow-rate of your grind as it brews. Made of high-quality and waterproof aluminium, it's compact enough to fit into the drip trap of a modern espresso machine. Features include a dual display, micro-USB cable, and aerial heat-resistant pad. Powered by a rechargeable battery and compatible with an adjoining app, the scale will help you measure the ideal cup, thereby bringing out the nuances of your favourite morning beverage. – AU$327
Buy it here (AUS) Buy it here (US)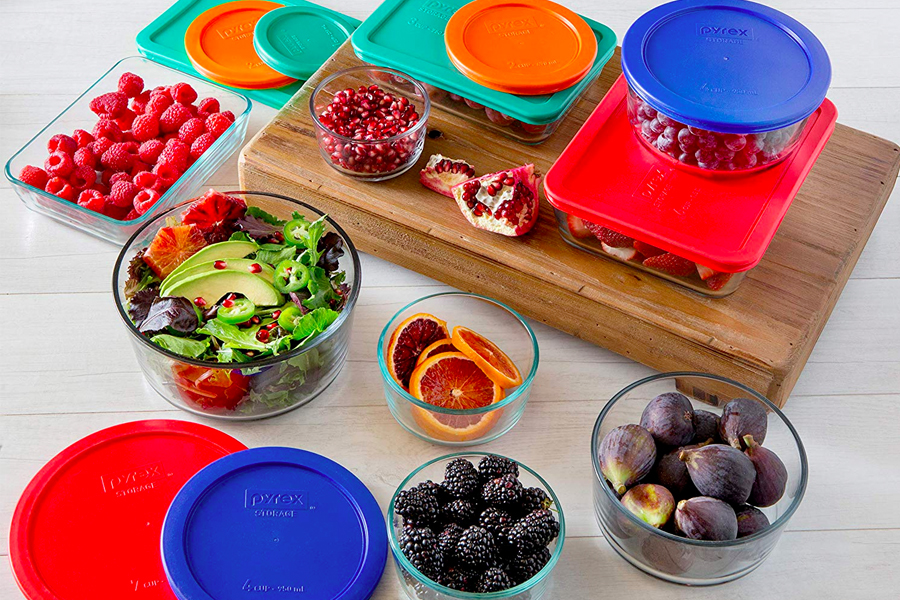 Pyrex Simply Store Meal Prep Containers
Give the gift of premium practicality by snagging this 18-piece set of storage containers. Each container is made from trusted Pyrex glass, which stays the course in microwaves, top rack dishwashers, preheated ovens, and freezers alike. The lids are tight-fitting and BPA-free and the glass is non-porous, meaning it won't absorb odours or stains. Everything is also easy to stack, making organisation a breeze. Sure, it's not exciting, but it might be just what the foodie in your life needs. – AU$60
Buy it here (AUS) Buy it here (US)
Lodge Blacklock Cast Iron Cookware
Forged from high-quality cast iron, this acclaimed and affordable skillet delivers superior heat retention and truly balanced cooking on the stove or over the campfire. It comes pre-seasoned with vegetable oil for an easy-release finish, which only improves over time. Use the two handles (one of which is made of dishwasher-safe red silicone) for heavy lifting and the subtle side lips for pouring. Wash by hand using a mild soap or no soap at all. – AU$33
Buy it here (AUS) Buy it here (US)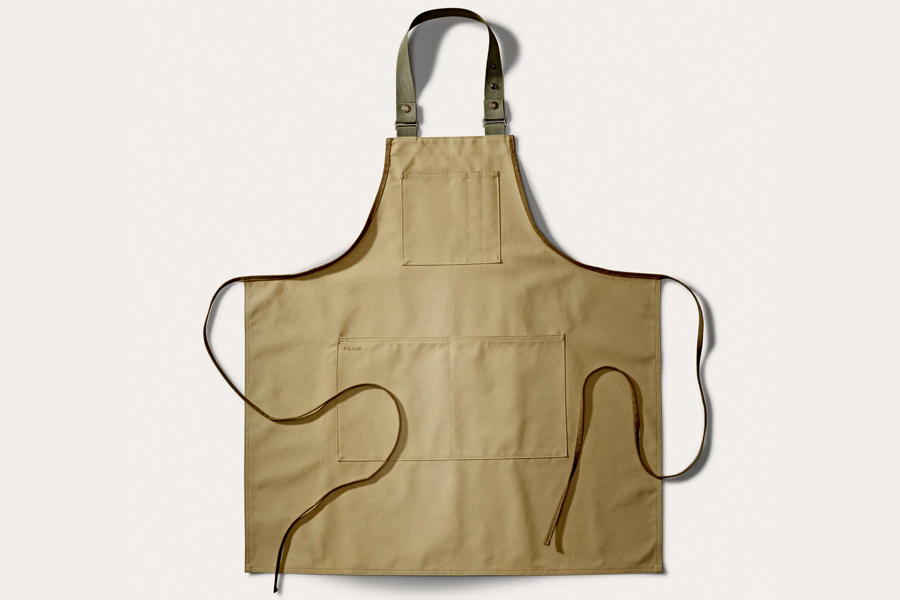 Filson Tin Cloth Apron
Sure, you can pick up some cheesy and dated apron for your favourite foodie or you can get him something timeless instead. We say you go with the latter, which is why we're recommending this handsome apron from Filson. Crafted from antique tin cloth with an oil finish, waist tie closure, and adjustable nylon webbing neck strap, it touts a rugged aesthetic along with plenty of pocket space. Protective, machine-washable, and comfortable, it makes for an instant classic and the perfect gift. 
Buy it here (AUS) Buy it here (US)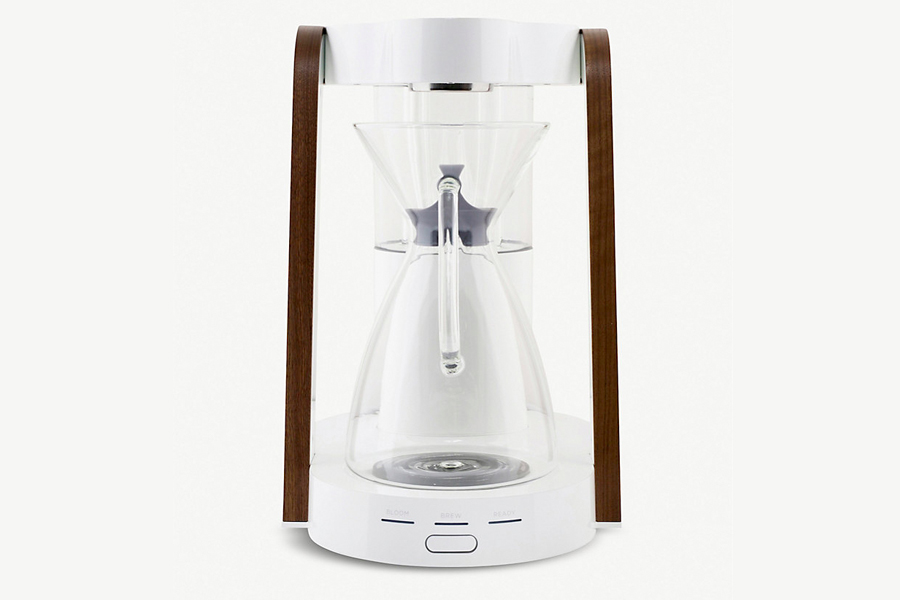 Ratio Eight Coffee Maker
With its BPA-free water tank, walnut frame, and hand-blown borosilicate glass carafe, this artisanal coffee maker quickly transcends your standard fare. The brand's own wash and microfiber towel are also part of the package, as are Chemex paper filters. At the mere touch of a button, the coffee maker employs the pour-over method favoured by your local barista, tracking water levels and temperature on its way to the perfect cup. All the while, its strikingly modern design will enhance any surrounding decor. If you want to really knock someone's socks off this holiday season, here's one way to do it. – AU$965
Buy it here (AUS) Buy it here (US)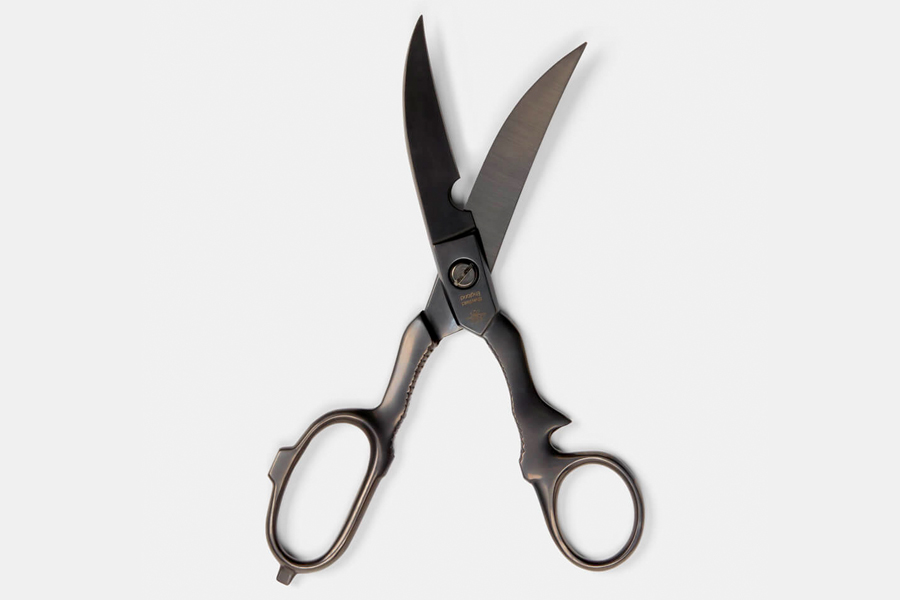 Best Made Ceramic Kitchen Shears
Made in England by William Whitley and Sons, these top-quality kitchen shears are truly built to last. Constructed from 420 stainless steel, they also feature durable Tetrabond coating, the kind of which is used in the aerospace and tech industries. Needless to say, this product can definitely take a licking and keep on ticking. Meanwhile, the dual-purpose blades are divided between micro-serrated and ultra-sharp. Layering in even more functionality, the product also works as a nutcracker, bottle opener, bone notcher, and lid opener. Put it all together and you're looking at the ultimate kitchen tool.
Buy it here (AUS) Buy it here (US)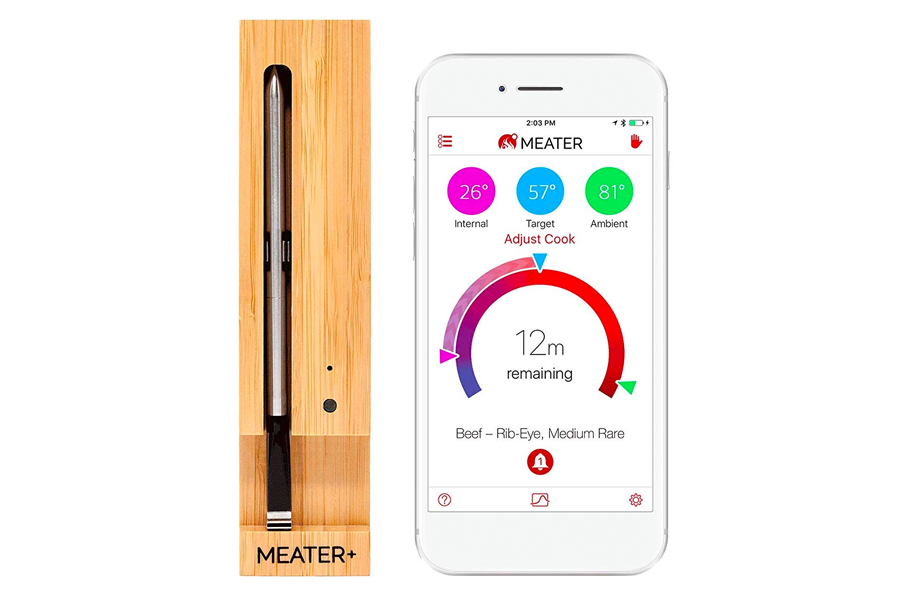 Meater+ Smart Thermometer
New, improved, and ready to roast, the Meater+ Smart Thermometer delivers an extended Bluetooth range of 50 metres. Thanks to a full suite of connectivity features, the gadget allows you to monitor your cooking progress on a phone, tablet, Alexa-equipped device, or computer, respectively using Bluetooth, WiFi, or its own Cloud network. With dual sensors and a powerful probe, it can simultaneously record internal temperatures of up to 100 Celsius and external temperatures of up to 275 Celsius. Use the product's advanced estimator algorithm to plan the perfect meal and don't forget to customise your notifications. This is one resource that no food-lover would argue with. – AU$320
Buy it here (AUS) Buy it here (US)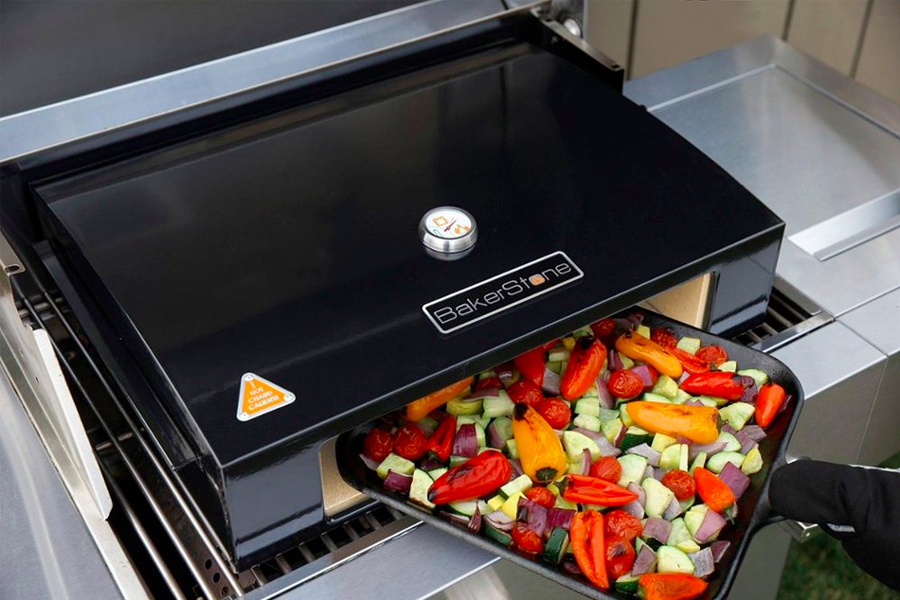 Bakerstone Pizza Oven Box
Speaking of things that no one would argue with: who's down for some pizza!? Enter this amazing product from Bakerstone, which turns your gas grill into a makeshift pizza oven. Wrapping enameled steel over a full ceramic baking chamber with double-walled ceiling, it can cook 14" pizzas, bake bread and cookies, and even roast other foods like meat, fish, and veggies. Its proprietary design accommodates most larger gas grills and full-sized charcoal grills, raising temperatures to those of an actual wood-fired pizza oven. We're getting hungry just thinking about it!
Buy it here (AUS) Buy it here (US)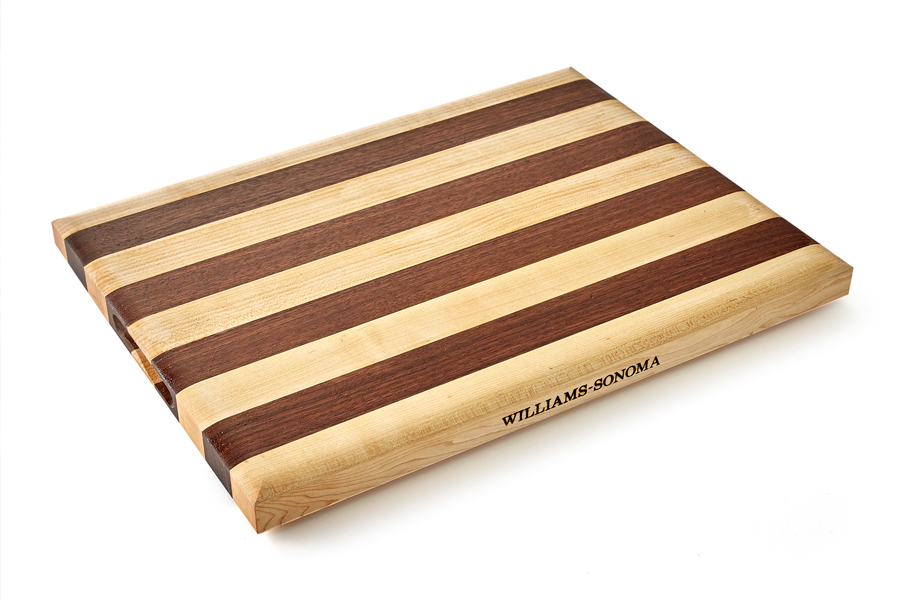 William Sonoma Striped Cutting Board
William Sonoma makes some of the best kitchenware in the world and this striped cutting board is no exception. Interweaving sustainably-harvested walnut and locally-sourced maple, it delivers ample blade protection, natural markings, and brilliant colour contrast. Because the wood is oriented along the grain, this signature board remains highly resistant to stains, water, and warping. Flip it over and you get an eye-catching serving piece, which begs to be loaded up with breads, meats, and cheeses. Rounding out its charms are sturdy hand grips for easy lifting.
Buy it here (AUS) Buy it here (US)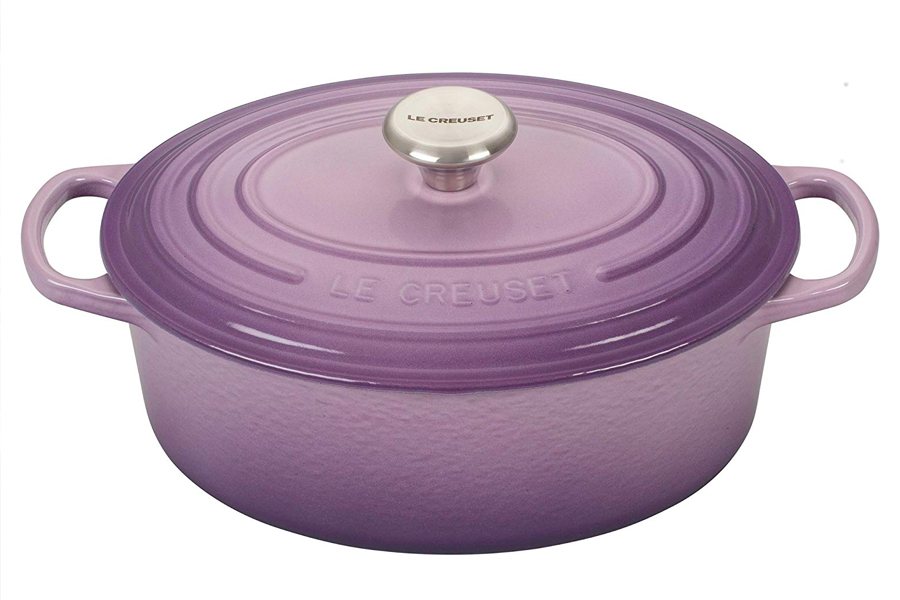 Le Creuset Cast Iron Dutch Oven
Cast individually in sand molds and then hand-inspected by French artisans, this classic Dutch oven is good for a full swath of culinary creations. On the inside is non-reactive sand-coloured enamel, which achieves superior heat retention and requires no seasoning. On the outside is a chip-resistant exterior in a unique Provence colour that's lifted straight out of the lavender fields of Southern France. Also featured are ergonomic handles and knobs, as well as built-in lid stabilisers. It's all dishwasher safe and ready for action. – AU$327
Buy it here (AUS) Buy it here (US)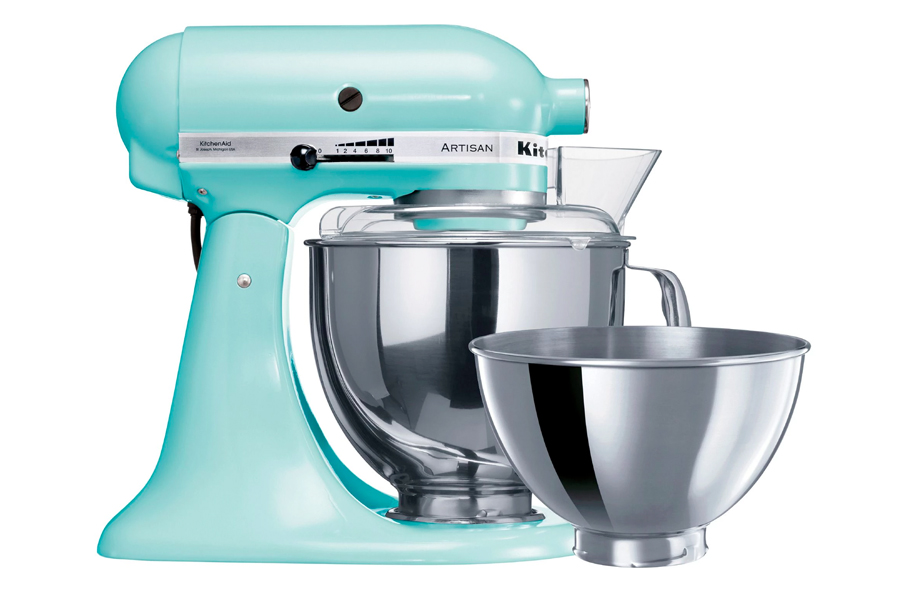 Kitchenaid Artisan Series Stand Mixer
Domestic stand mixers don't get any better than this one from Kitchenaid. Featuring 10 speed options and a tilt-head design, it provides impeccable bowl coverage while mixing every ingredient to powerful perfection. At the heart of its full-metal body is a 300W energy efficient motor, which propels the "planetary mixing action." Two mixing bowls with ergonomic handles are included with purchase, as are a flat beater, stainless steel wire whisk, dough hook, and pouring shield. Get one for the food lover in your life and see where it takes him. – AU$750
Buy it here (AUS) Buy it here (US)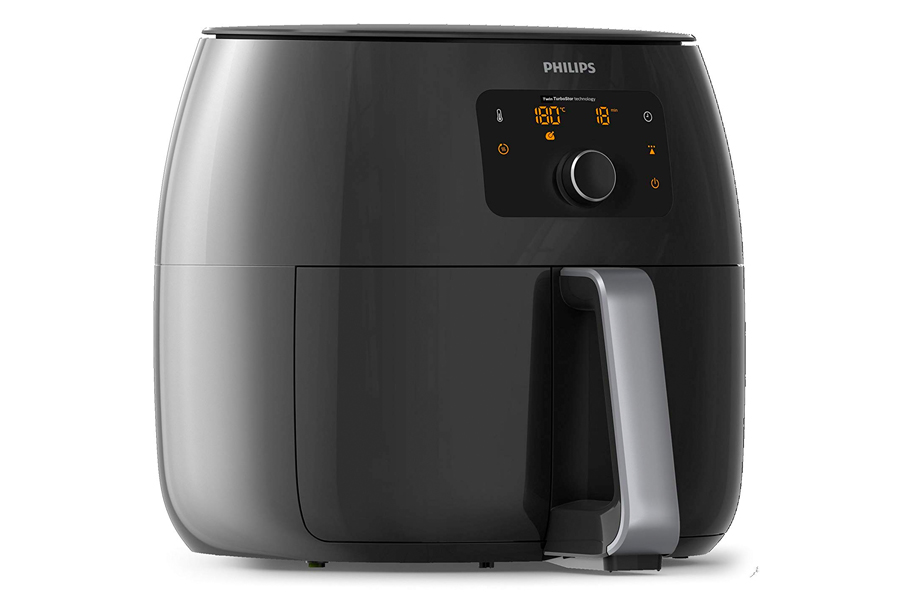 Philips Premium Digital Airfryer XXL
Why go to a restaurant when you can pick up the Premium Digital Airfryer XXL from Philips instead? Effortlessly user-friendly, it allows you to fry, bake, grill, and roast all your favourite foods at home. True to its XXL signifier, this futuristic appliance can fit a whole chicken or 1.4 kg of fries, while TwinTurbo technology removes excess fat. The end result is delicious deep fried food, minus up to 90% of the fat. That's all joined by a QuickClean basket with non-stick mesh, which cleans up in 90 seconds flat. The foodie in your life will love it. – AU$499
Buy it here (AUS) Buy it here (US)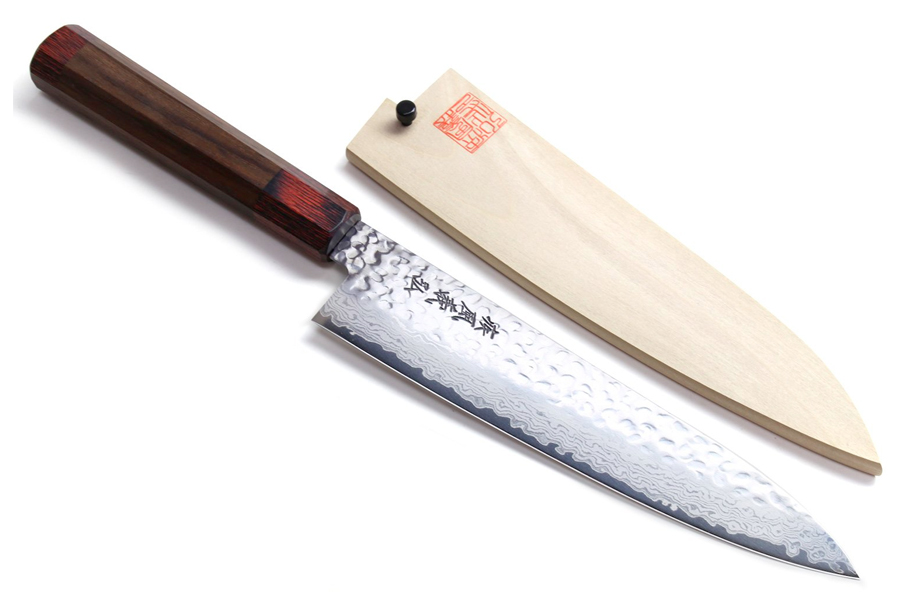 Yoshihiro VG10 16 Layer Hammered Damascus Gyuto Japanese Chefs Knife
Crafted in the Damascus tradition, this best-selling Gyuto knife combines 46 layers of premium steel with a VG-10 core. Its curved blade with extended tip rocks back and forth in a smooth and seamless motion, quickly chopping its way through a variety of ingredients. One look at the glimmering hammered texture of the blade and the hand-made Octagonal handle and you're already drooling with desire. Give one to your favourite chef and watch as it becomes the most beloved tool in his arsenal. – AU$370
Buy it here (AUS) Buy it here (US)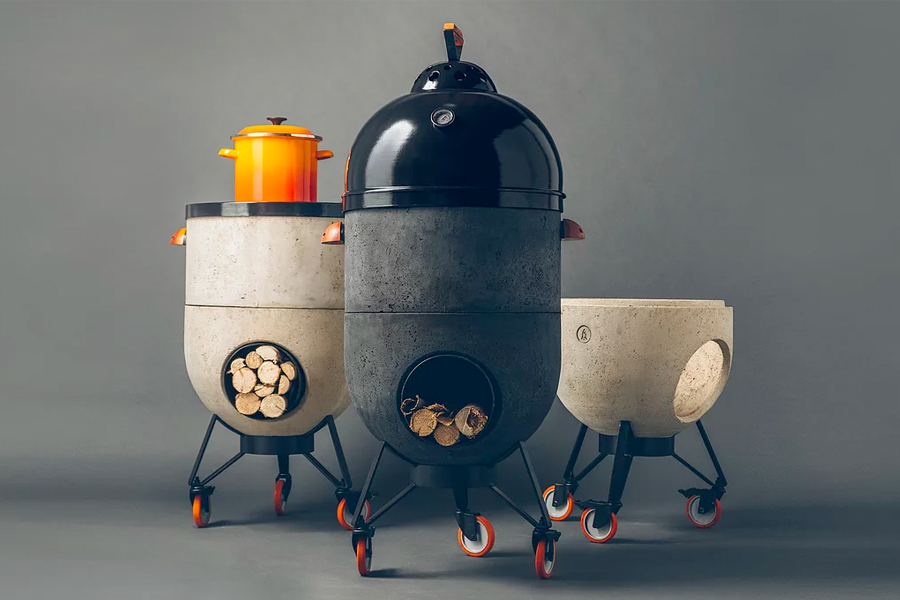 Noori Modular Grill
Between its epic functionality and unique Volcano finish, Noori's modular grill is the stuff that culinary dreams are made of. It can be used as either a wood stove, wood oven, barbecue, fireplace, or pizza oven. Even when it's just sitting there, this wondrous creation is guaranteed to draw all sorts of envious eyeballs. If you have the cash to spare and a generous spirit, you've just found the perfect holiday gift. – AU$5,990
Buy it here (AUS) Buy it here (US)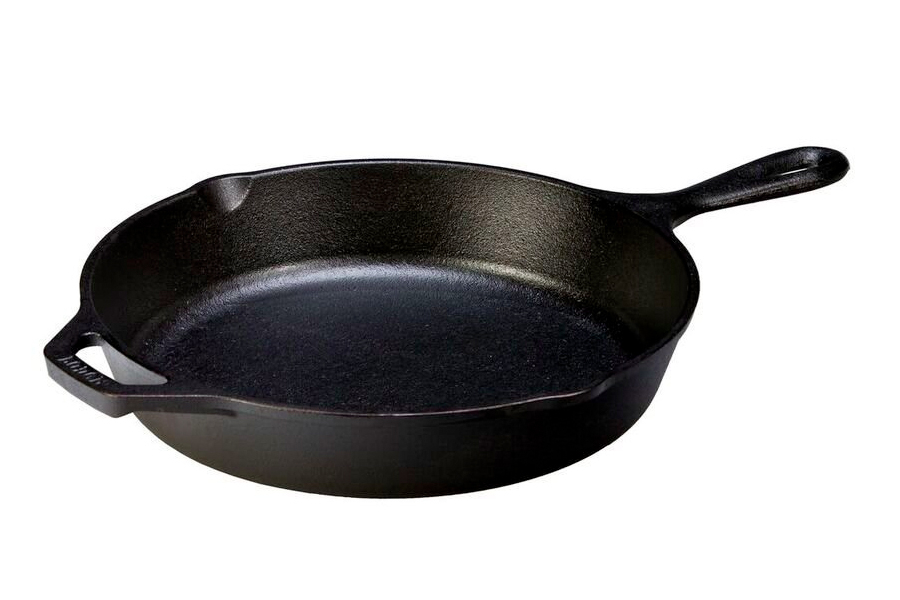 Lodge Cast Iron Skillet
American brand Lodge has been churning out this high-grade skillet since 1952, and some of those original models might still be in working condition. That's a testament to the power of premium cast iron, which delivers brilliant heat retention, even distribution, and genuine durability. Pre-seasoned and ready for your stove, oven, grill, or campfire, this classic cookware will generate literal decades of use. – AU$54
Buy it here (AUS) Buy it here (US)