9 Best American BBQ Restaurants in Sydney
From southern hospitality to Lynyrd Skynyrd, from To Kill a Mockingbird to Oprah; the Southern United States is known for some heavy-hitting and instantly recognisable cultural exports. Yet among all southern traditions, their legendary barbecue may just top them all.
The low and slow (in a big ole smoker) methodology is renown the world over for producing the most succulent and flavoursome meat you're ever likely to eat. If you're looking to experience the joy of American BBQ, Sydney has plenty to offer.
The Pitmasters behind these top Sydney barbecue restaurants decided the gen-u-ine American BBQ experience was simply too good to leave in the south. And thank goodness they did. So, y'all better buckle up; we're talking about 9 of the best American BBQ restaurants in Sydney.
You'll also like:
12 Best Korean BBQ Restaurants in Sydney
20 Best Vegan Restaurants in Sydney
30 Best Burgers in Sydney: A Greasy Guide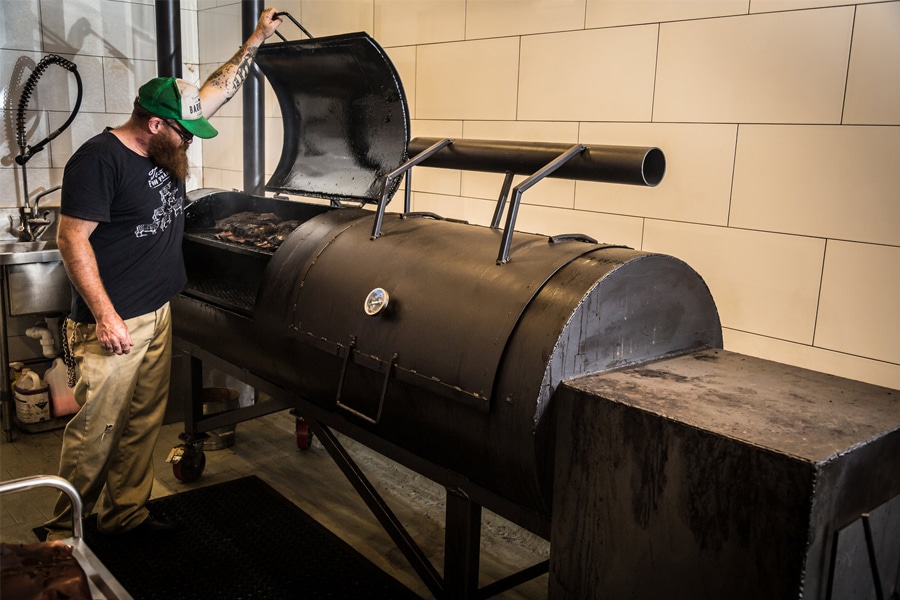 1. Bovine & Swine
A culinary voyage to the Lone Star State convinced Bovine & Swine Head Pitmaster Wes Griffith the low and slow ethos of American BBQ deserved a place in Australian cuisine. All the meat at this barbeque joint is smoked with Iron Bark, bestowing a uniquely Australian flavour and texture to each cut. If Wes can go to Texas to bring you the best American BBQ has to offer, then you can make the trip out to Emu Plains for this brilliant brisket. It'd be rude not to.
Address: 95 Great Western Highway, Emu Plains, Sydney NSW 2750
Phone: +61 2 4735 1547
Hours: Fri-Sun 12pm-9pm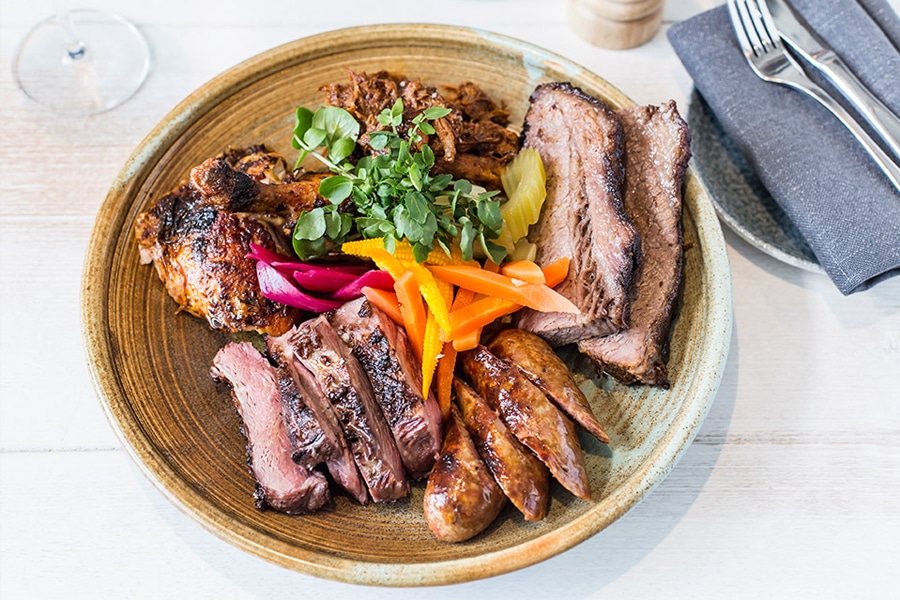 2. NOLA Smokehouse & Bar
What's in a name? For the folks at NOLA Smokehouse and Bar, a top American BBQ restaurant in Sydney, it's more than a tribute to one of the most culturally diverse cities in the US. It's an inspiration, a guiding philosophy. Each dish is infused with their contemporary spin on iconic vintage New Orleans, Louisiana flavours, at once paying tribute and transcending classic Cajun, Creole, and soul food staples. If the BBQ menu proves too broad, you can let the Pitmaster choose for you—and be sure to pair your BBQ fare with an American whiskey from the extensive and protean back bar.
Address: One International Towers, 100 Barangaroo Ave, Barangaroo, Sydney NSW 2000
Phone: +61 2 9188 3039
Hours: Mon-Thu 11:45am-1am, Fri 11:30am-1am, Sat 4pm-1am, Sun 11:45am-1am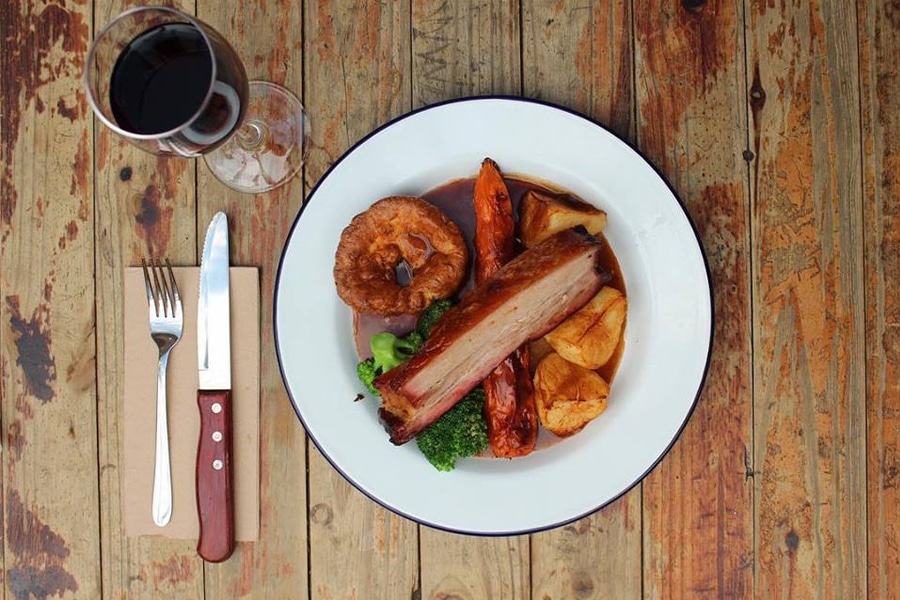 3. The Oxford Tavern
When the crew at The Oxford Tavern crank up Black Betty, the affectionately dubbed barbeque on the patio of the revamped Petersham pub, the aroma of smoked brisket & pulled pork draws BBQ lovers from all over the Inner West. New management have bestowed a new life unto this pub that was previously known for pokies, cheap drinks, and topless barmaids. Now, they've taken their rightful position as one of the best American BBQ restaurant in Sydney. They also do a vegan smokehouse on Thursdays, and keep a constant rotation of local brewers on tap.
Address: 1 New Canterbury Rd, Petersham, Sydney NSW 2049
Phone: +61 2 9357 5455
Hours: Mon-Thu 12pm-12am, Fri-Sat 12pm-3am, Sun 12pm-10pm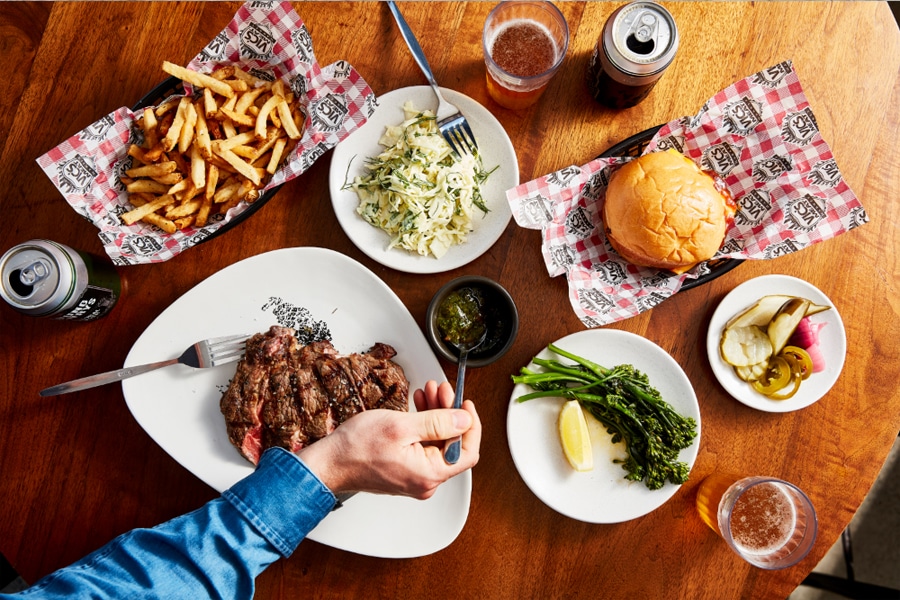 4. Vic's Meat Market
When it comes to a ripper American BBQ restaurant, Sydney has a lot of options. With over 40 years' experience sourcing the finest quality cuts in Australia, you're in good hands when dining at the smokehouse and grill at Vic's Meat Market. When the renowned butcher decided to open their iteration of an American BBQ in Sydney, they didn't cut any corners. The custom-built smoker hails from the state of Kansas and is the largest custom smoker in the country—it weighs almost 2 tonnes and is capable of smoking 200kg of meat at once.
Address: Sydney Fish Market, 50-60 Bank St, Pyrmont, Sydney NSW 2009
Phone: +61 2 8570 8570
Hours: Sun-Wed 7am-4pm, Thu 7am-7pm, Fri-Sat 7am-5pm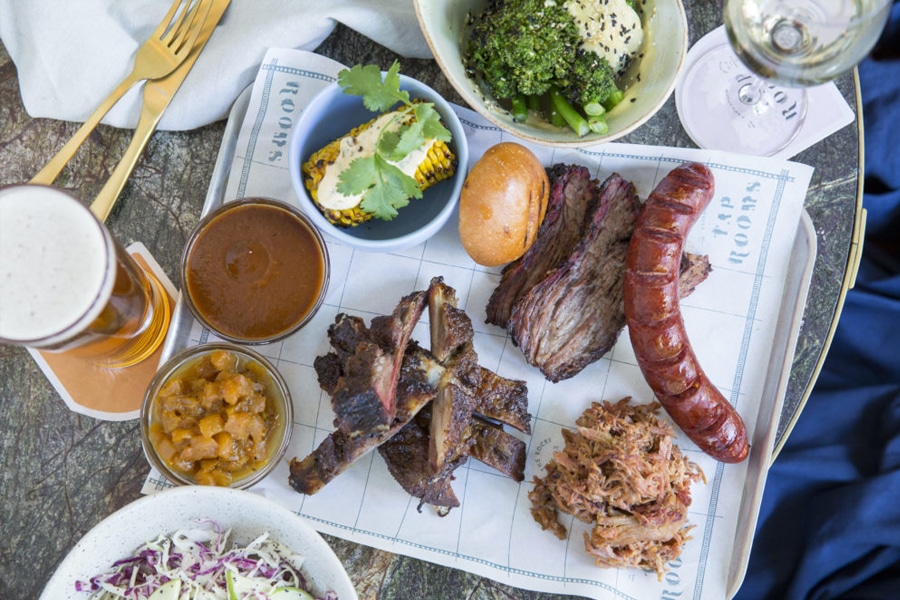 5. Endeavour Tap Rooms
A dedication to an all-Australian menu, signature beers brewed in-house, and a menu served 'feast-style' defines the smokehouse experience at Endeavour Tap Rooms. Alongside staples like brisket and pulled pork, the commitment to Aussie cuisine shines through with wild kangaroo, bush tomato, and Sydney rock oysters also getting the BBQ treatment. You'll find this American BBQ restaurant smokin' up a storm seven days a week in The Rocks.
Address: 39-41 Argyle St, The Rocks, Sydney, NSW 2000
Phone: +61 2 9241 6517
Hours: Mon-Thu 11am-11pm, Fri-Sat 11am-12am, Sun 11am-10pm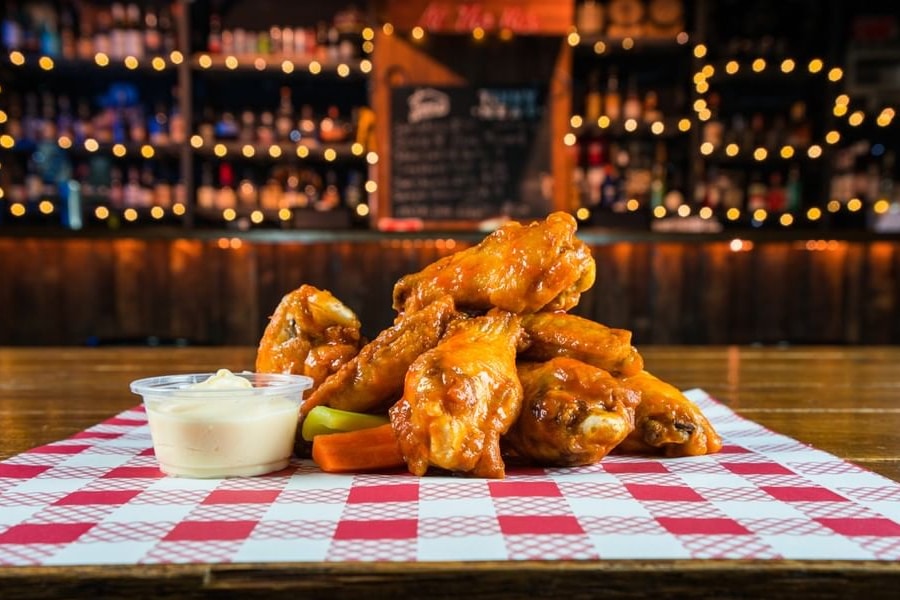 6. Surly's
Few barbecue restaurants in Sydney have got the Southern experience down like Surly's does. Their workhorse Ole Hickory pit smoker—a classic commercial grill hailing from Missouri—pumps out a steady stream of some of the most authentic American BBQ soul food in Sydney Friday to Sunday. While the beer list presents plenty of local options to accompany your barbecue supper, there's also a definite nod to American dive bar classics like Pabst Blue Ribbon, Coors, and Budweiser.
Address: 182 Campbell St, Surry Hills, Sydney NSW 2010
Phone: +61 2 9331 3705
Hours: Mon-Thu 5pm-12am, Fri-Sat 12pm-12am, Sun 12pm-10pm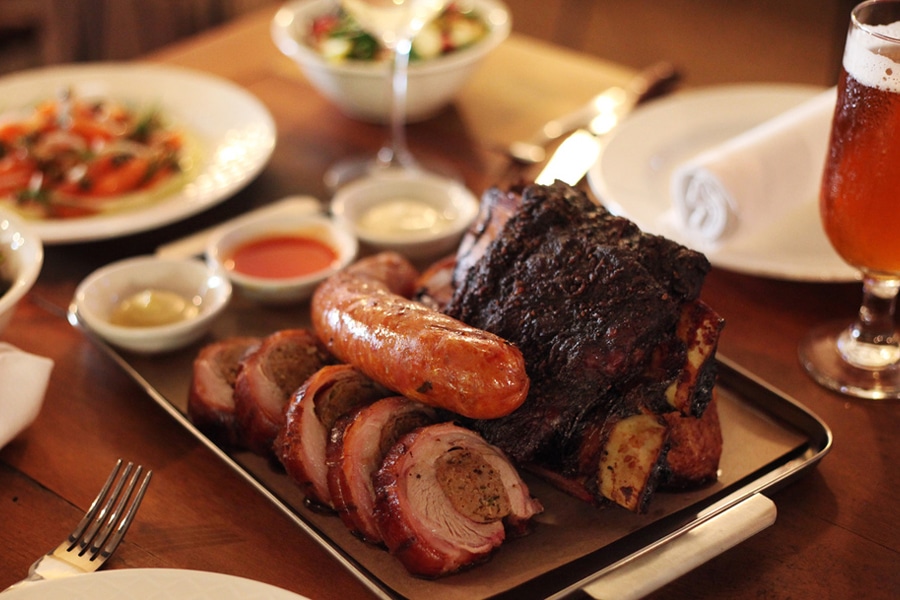 7. LP's Quality Meats
Follow your nose down the laneways of Chippendale to LP's Quality Meats, a smokehouse and bar and one of the best American BBQ restaurants in Sydney. At the heart of the kitchen sits the Southern Pride smoker, a Tennessee special, and the experienced crew aren't afraid to get experimental. The ever-changing menu prioritises devastatingly tender and smoky staples—keep an eye out for the Porchetta and the dry-aged rib eye—and features an extensive list of cold cuts and cured meats, all made in-house from scratch.
Address: Unit 1, 16 Chippen St, Chippendale, Sydney NSW 2008
Phone: +61 2 8399 0929
Hours: Tue-Sun 5pm-12am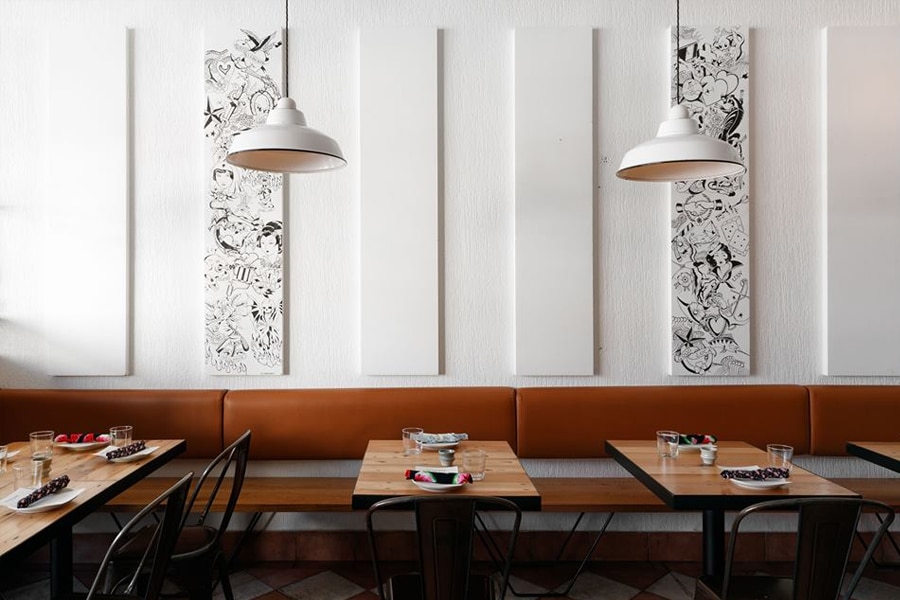 8. Hartsyard
The team behind this Newtown eatery are established masters of American cuisine and verified wizards with a charcoal grill. The crew at Hartsyard take an enticingly different approach to Southern essentials, as evident in dishes like the smoked pork jowl or the BBQ duck. For the indecisive among us, they also offer a 'chef's menu' option, a showcase of the best of the a la carte offerings.
Address: 33 Enmore Road, Newtown, Sydney NSW 2042
Phone: +61 2 8068 1473
Hours: Tue-Thu 6pm-10pm, Fri 5pm-12am, Sat 12pm-2:30pm & 5pm-12am, Sun 5pm-10pm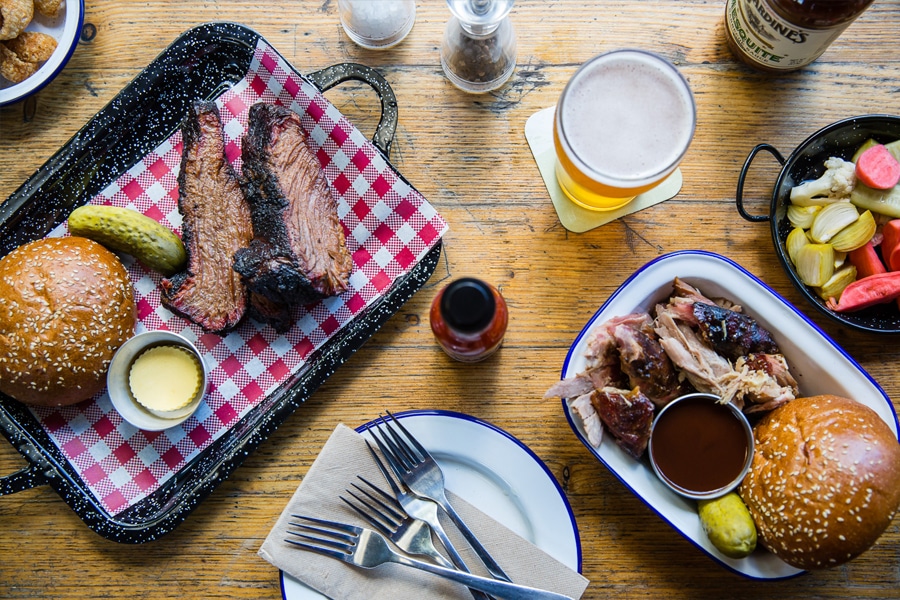 9. The Erko
The rotating daily smoker menu at The Erko means there's always something on the go for American barbecue lovers in Sydney. But on Sundays, things really heat up. On the Sabbath, The Erko pays homage to various international barbecue traditions around the world, so you can expect flavours from all over the US and the Caribbean. The Erko also like to keep it local with plenty of Sydney brewers on tap, and they're also proudly dog friendly, so bring your four-legged pals along.
Address: 102 Erskineville Rd, Erskineville, Sydney NSW 2043
Phone: +61 2 9565 1608
Hours: Mon-Sat 11am-12am, Sun 11am-10pm

General FAQ
Where is the best American BBQ near me in Sydney?
The Oxford Tavern, Lp's Quality Meats and Hartsyard are some of the best American BBQ kitchens in Sydney.
Are there any vegan smokehouses in Sydney?
Yes, The Oxford Tavern do vegan smoked meals on Thursdays.
Where is the best American BBQ brisket in Sydney?
Bovine & Swine cook one of the best American BBQ briskets in Sydney.
You'll also like:
20 Best Beer Gardens in Sydney
23 Best Outdoor Restaurants in Sydney
19 Best Steak Restaurants in Sydney