A 6 Metre Statue of Borat Has Taken Over Bondi Beach
Very Nice, High Five! Everyone's favourite Kazakhstani reporter has taken over Bondi Beach with a 6m statue delivered via helicopter in the lead up to the release of the upcoming Borat Subsequent Moviefilm on Amazon Prime Video.
You'll Also Like:
'American Horror Story' Season 10 Release Date and Trailer
The Borat 2 Trailer Has Officially Been Released
Bondi May Have an Exclusive Private Beach Just for the Rich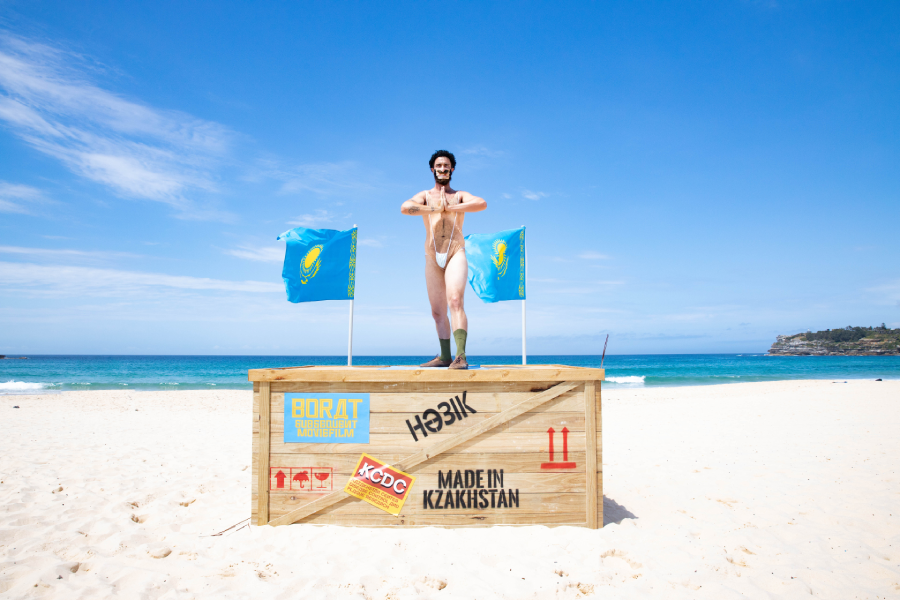 Transformed from Kaftans to Kazakhstan, Australia's most iconic beach was re-branded to Borat Beach in a mighty celebration of Sacha Baron Cohen's Borat Subsequent Moviefilm. Launching exclusively on Amazon Prime Video in Australia and in over 200 countries around the globe, fans of the original 2006 film have waited with bated breath to see what Cohen will do next.
With COVID-19 still a thing and international travel hard to come by, Borat beamed in live from Kazakhstan to address the attending media, supported by an army of maskini-clad Borat lookalikes posed by the statue and took part in a beach yoga class. That's right, the mankini has been upgraded.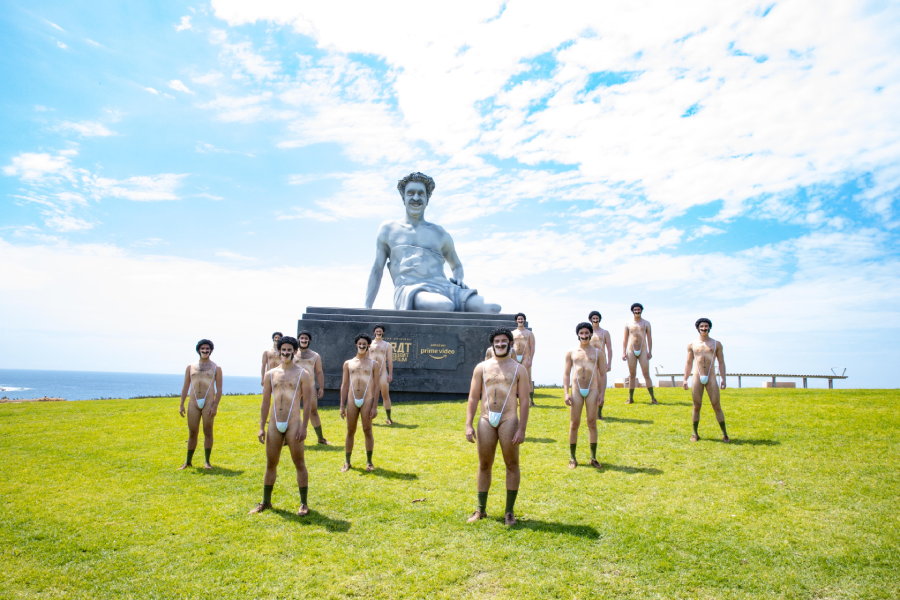 Live and in living colour, Borat told the ecstatic Australian media that it gives him great pleasure to present Australia with a "giant Borat erection" that apparently spent time in Melbourne's Hotel quarantine for 14 days. "it is free of COVID," the infallible reporter said, but warned us that it will "probably have syphilis after four of your security guards make sexytime with it."
"I have new moviefilm coming out tomorrow, I think you will enjoy it more than Rudolph Giuliani will. Or as you guys call him, Cockadile Dundee, yes?"
Upping the ante further, a Kazakhstani-military helicopter transported a 6m sculpture of the country's most famous reporter, Mr Borat Sagdiyev, clad only in the American flag at Bondi's Marks Park. Uniting the world with the delivery of a prodigious bribe to this Australia regime – instead of America – for make benefit once glorious nation of Kazakhstan, the local media compared it with the Statue of Liberty gifted by the French people to New York City over 134 years ago.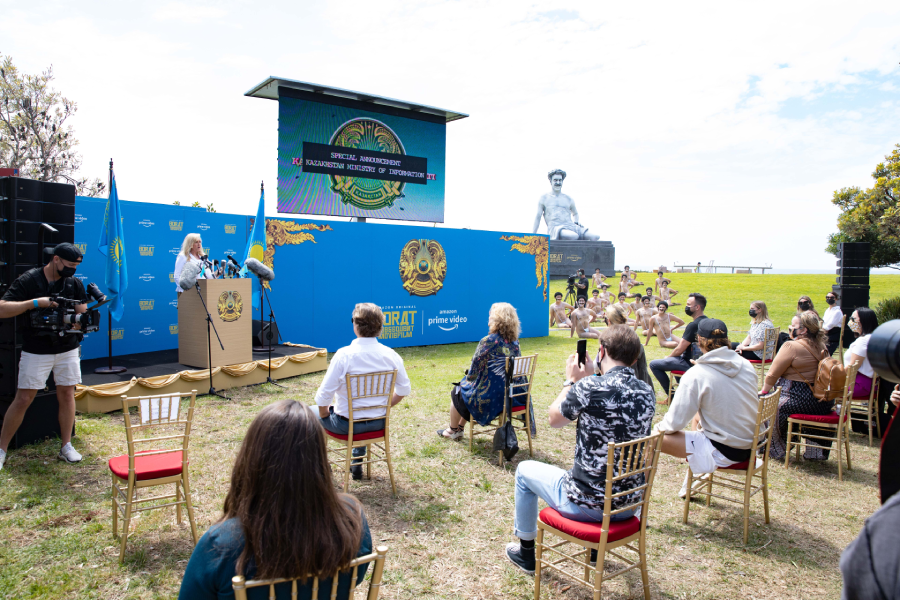 Only in Australia until 11 am on Friday 23 October, the generosity of Borat and the socially distant gift bestowed upon us helps make up for the cancelled 2020 Sculpture by the Sea festival. Instead of hand made sand sculptures, Bondi was awash with all things Kazakhstan, from flags to moustachioed Borat look-a-likes on segways. There was even a Borat-inspired socially distanced yoga class.
Get ready to laugh until your sides split open because Borat Subsequent Moviefilm officially and exclusively launches on Amazon Prime Video all over the world. Very Nice, How Much?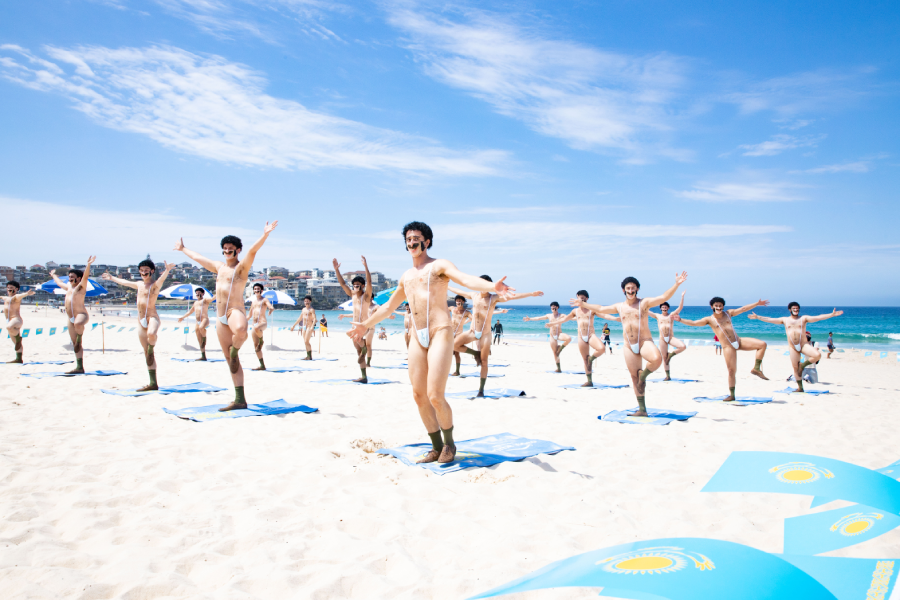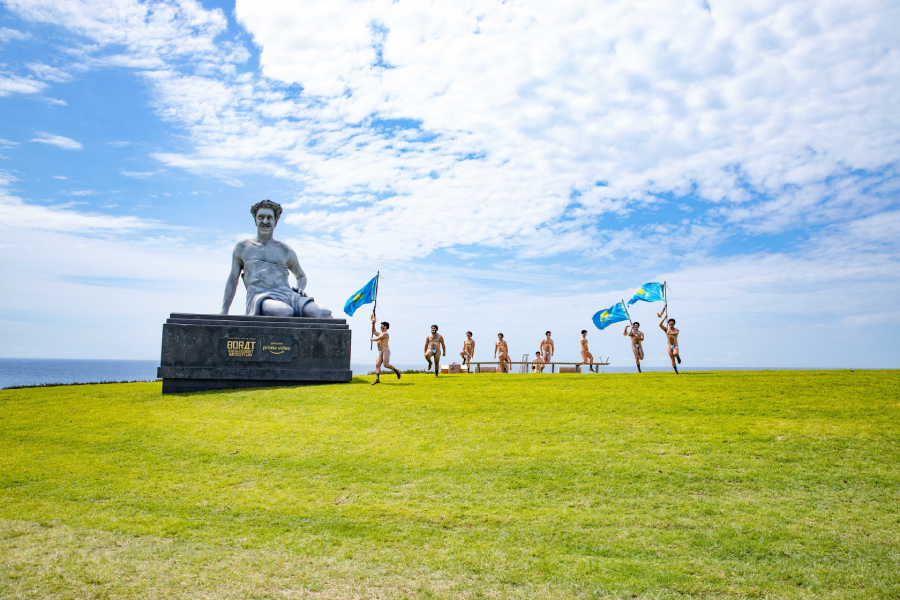 You'll Also Like:
Marvel's 'Eternals' First Trailer Brings Angelina Jolie into the MCU in the Best Possible Way
The Borat 2 Trailer Has Officially Been Released
Bondi May Have an Exclusive Private Beach Just for the Rich