Sydney is Scoring a Floating Cinema in Darling Harbour
Floating out into Darling Harbour, Sydneysiders will soon be able to participate in a cinematic experience like never before. With rowboats and a BYO boat area, whether you've got a seat or not, you can float on in and enjoy some classic Hollywood movies. And, in case you were scared of getting into the water after Jaws, there's also a cheeky matinee showing of The Meg on Friday 4 December.
Experience a floating cinema experience thanks to Mov'in Boat with four unique ways to watch movies under the stars at Darling Harbour.
You'll Also Like:
Ben Affleck's Chaotic 'Batman' Workout & Diet Plan
Jaeger-LeCoultre and MR PORTER's Ultra-Thin Spy Watch is Fit for a Kingsman
Sydney Suburb Introduces Environmental Sensors that Track Your Health and Fitness
You might remember these guys from such cinematic events as the Mov'in Bed Outdoor bed cinema in 2016 or the Mov'in Car Drive-in cinema from earlier this year. Launched in response to the ongoing pandemic, the team behind the country's first COVID-19-compliant event is turning their attention to the harbour.
Described as an experience like no other, Sydneysiders will float on Cockle Bay's waters, between the ICC and Darling Harbour Marina atop a spectacular 1000 sqm floating platform. With 40 rowboats on offer and 75 summer lounge beds to choose from, if you don't have your own boat or can't afford the VIP treatment, there's a floating experience for everyone.
There are four different ways to enjoy this floating cinematic experience, you can either jump in a rowboat, bring your own boat, layout on a summer day bed atop Mov'in Boat floating pontoons or enter the Star VIP Area, complete with a private table, umbrellas, butler service, your own queen day bed, complimentary soft drinks, popcorn and access to the Star's exclusive VIP Bar. If you're a fan of decadence and luxury, we reckon that's a pretty darn good deal for AUD$149.90 for two people and AUD$169.90 for three people.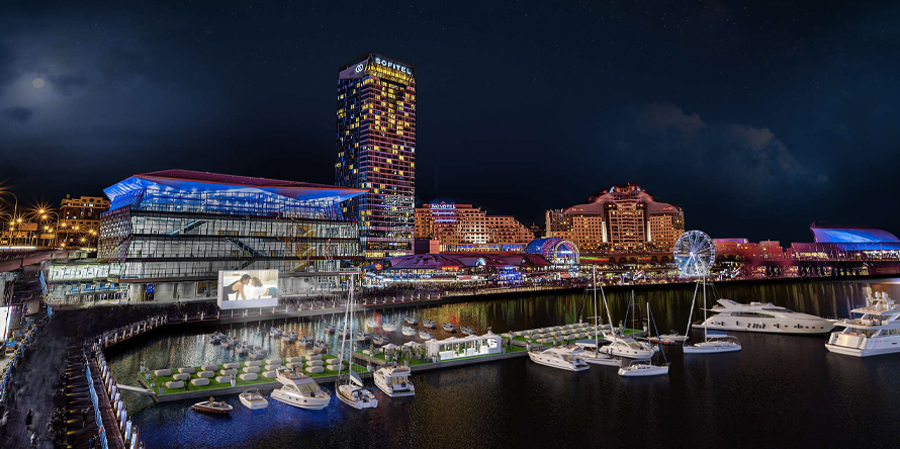 Since the IMAX is still under construction, the 15-metre tall 4K screen will be the largest in the state, with 30 surround speakers pumping out an immersive experience for all audience members. With tickets starting at AUD$99.90 for a two-person day bed or $119,90 per boat for up to four people, the floating cinema is a luxurious experience that is guaranteed to impress. If you have your own boat, you'll be happy to know it only costs USD$49.90 to dock your boat. Whether it's a tiny dingy or a full-sized luxury yacht, Mov'in Boat Cinema wants you in attendance.
Visit their website to book your tickets and get floating between 3 December and 21 March 2021.
You'll Also Like:
New 'Money Heist' Season 5 Trailer Prepares for All-Out War
Brutal First Billions Season 5 Trailer Reignites the Rivalry
Sydney Suburb Introduces Environmental Sensors that Track Your Health and Fitness