The Wind Up – Watch News #76
Christmas is fast approaching, and with just over a month to go until the big day, you better believe we've got our wish-lists ready and waiting. In this week' instalment of our regular watch-focused series, The Wind Up, we've got some pretty special pieces well worthy of their place on your very own Christmas wish-list. From Vacheron Constantin's award winning Historiques Triple Calendrier 1942 to a piece made in collaboration between Zenith and custom watch powerhouse Bamford, we've got it all. So, as always, sit back, relax and enjoy!
You'll also like:
The Wind Up – Watch News #75

Vacheron Constantin Historiques Triple Calendrier 1942
Vacheron Constantin's Historiques Triple Calendrier 1942 is one hell of a watch, and it recently won the Revival Prize at the Grand Prix d'Horlogerie de Genève awards. Iconic, emblematic and highly functional, the Historiques Triple Calendrier 1942 is a watch that revels in the rich history of the Vacheron Constantin atelier. From the scarab lugs to the very vintage-esque dial, the Historiques Triple Calendrier 1942 is just about as close to old-school as I'd want a modern watch to be. The Historiques Triple Calendrier 1942 combines a deliciously appealing dial palette with some super useful functions, encased in a package that can easily be worn every day. Love it or hate it, the Historiques Triple Calendrier 1942 is well deserving of its accolades.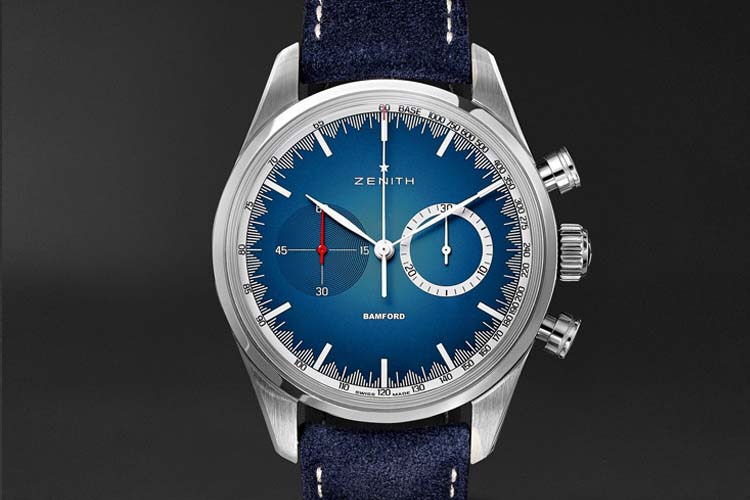 Zenith x Bamford for MR PORTER
What do you get when you combine Zenith's horological prowess with Bamford's insane ability to make the good better. And then in that crazy combo, sprinkle on top the men's fashion giant, MR PORTER. Well, you get the now sold out Zenith Chronomaster El Primero Solar Blue Limited Edition Automatic Chronograph. This is a delightfully fresh-looking watch that brings together the best of both worlds: a wonderful watchmaking heritage with a very forward-thinking, contemporary design. This is a watch that has a lot of appeal to me across the spectrum, and it's one that I seriously had no doubt would sell out. Very cool stuff.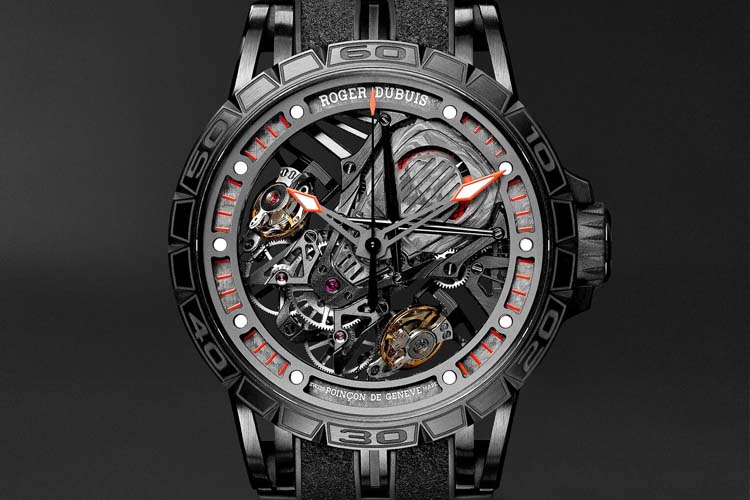 Roger Dubuis Excalibur Aventador S
The collaborative efforts between Roger Dubuis and Lamborghini, thus far, have been insane! I've long been a fan of these mash-up pieces, and the Excalibur Aventador S is the latest product to come out of their much-acclaimed partnership. Excalibur Aventador S' aesthetic is one that I absolutely cannot speak highly enough about. There aren't many watchmakers that can create a skeletonised (openworked, inverted, whatever) dial as good as Roger Dubuis can. And the Excalibur Aventador S is a wonderful representation of that fact. This is a very sporty looking watch, but be that as it may, I can easily see myself dressing it up in a suit. Not going to slide under my shirt cuff? Oh well, guess I'll just have to stare at my wrist all day. This is a very exceptional timepiece from a super contemporary brand, and it's one that I would absolutely purchases (were I a billionaire's heir).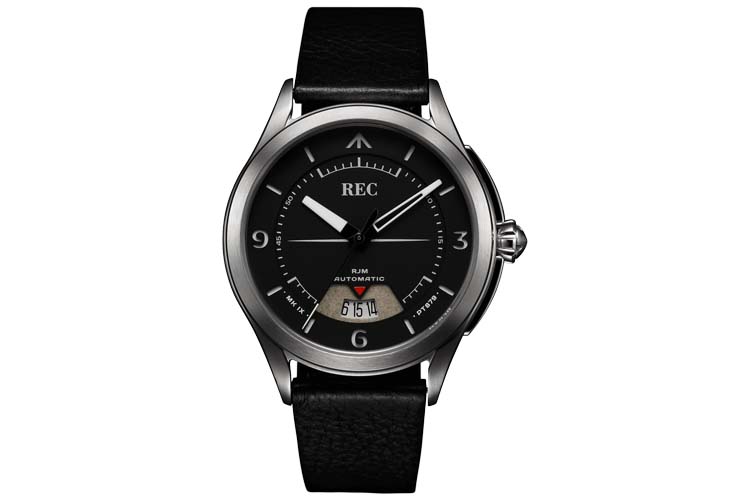 REC Watches RJM
REC Watches are no stranger to recycling used parts to create unique watches, and the RJM is the latest piece of that ever-expanding puzzle. Salvaging aluminium from PT879, the only Mark IX Spitfire aircraft to make it back to the UK after being sent to Russia as part of the historic lend-lease agreement during World War 2, the RJM is a truly unique design. The RJM is available in three different models, with each using the recycled parts of that iconic PT879 throughout the watch. Each piece will be powered by the Miyota 9015 automatic movement, featuring a rotor decoration inspired by the Spitfire's well-known metal rivet construction. REC Watches will also be donating part of the proceeds of every RJM sold towards the restorating of the PT879. Nostalgic and cool!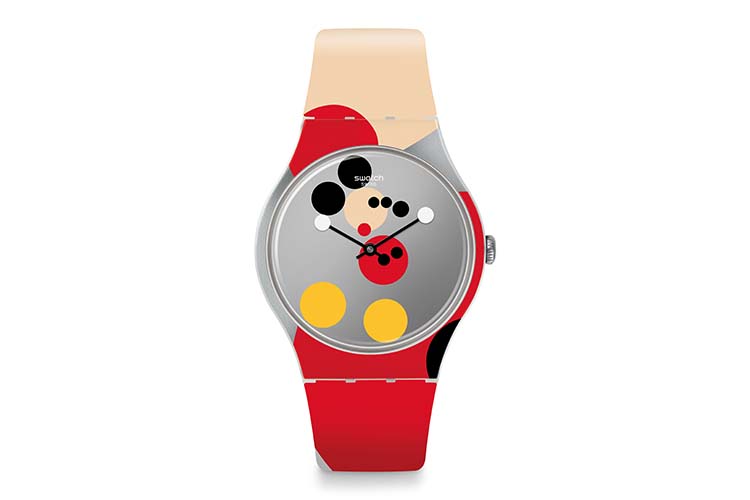 Swatch x Damien Hirst
Fans of Mickey Mouse, rejoice! Swatch have teamed up with Disney and Damien Hirst to celebrate Mickey's 90th birthday. Two unique models will be released, one called the Mirror Spot Mickey and the other will be called the Spot Mickey. The Mirror Spot Mickey will feature a mirrored dial and will be made in a not-so-limited run of 19,999 pieces, while the Spot Mikey features a black dial and will be made available in a slightly-more-limited run of 1,999 pieces. These pieces are, at least from the prospective of childhood nostalgia, pretty damn cool. Do they carry some sort of horological value? Absolutely not, but as far as melancholy goes, this is one cool bit of kit.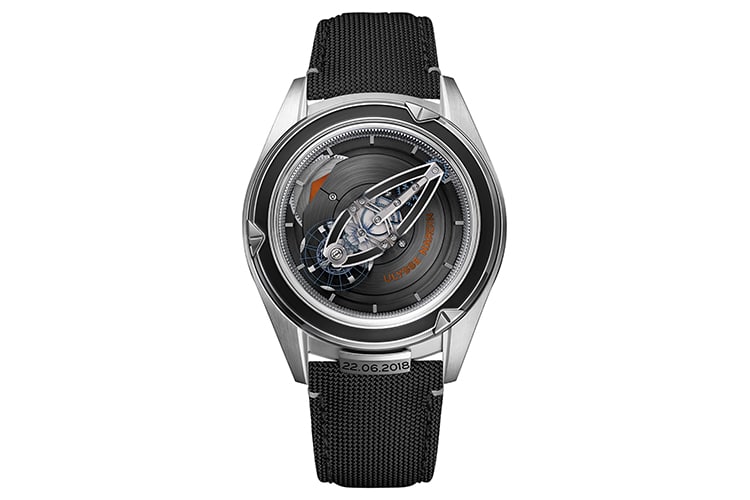 Ulysse Nardin FreakIT
Taking a step in the direction of absolute customisation, Ulysse Nardin have combined the enthralling task of creating your very own timepiece with what is, perhaps, one of their most coveted watches, the Freak. Ulysse Nardin have created the FreakIT app, taking the idea of a truly bespoke watch to a whole new level. There's an enormous array of choice here, and the customising configurator gives you a massive 22 different watch component and movement part options to choose from. Simply put, the FreakIT will enable you to create your very own, one-of-a-kind watch. The price to pay for this amount of individualization and control? A measly 105,000CHF (or about $145,000AUD).
If you enjoyed The Wind Up and would like to continue reading about watches, you can head on over to my blog, Haulogerie, where I delve a bit deeper into the wonderful world of watches.
---
You'll also like:
The Wind Up – Watch News #75
The Wind Up – Watch News #74
The Wind Up – Watch News #73
---