22 Best Burger Joints in Sydney
Our guide to the best burgers in Sydney is more than a tool for carnivores looking to cross burgers off their bucket list. It's also a great starting point for friends, couples and housemates to discover new bars and restaurants nearby with the potential to become local favourites. No matter where you live – CBD, northern beaches, western suburbs and beyond, there's a burger joint or restaurant that serves up quality food just waiting to be discovered.
You may also like:
16 Best Rib Joints in Sydney
11 Best Korean BBQ Restaurants in Sydney
Best Rooftop Bars in Sydney
Here's a list of the best burger joints in Sydney: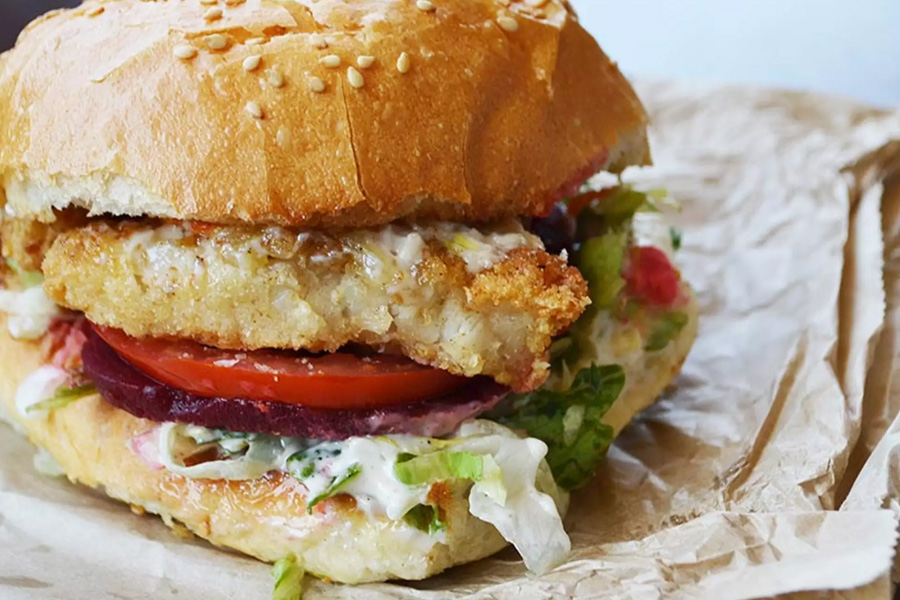 1. Out of The Blue
Affectionately referred to as OTB, this burger joint is one of the east's most popular gems. Proudly family-owned and operated, every burger is handmade with locally-sourced ingredients. The menu includes all of your favourites but its the house specials that set OTB apart. While there are a handful of seats inside, this is predominately a takeaway joint. So order ahead, pick up your burg and head down to the Cloey carpark for dinner with a view. Fair warning, Out of The Blue is a cash-only joint. But, damn she's worth it.
Address: 2/272 Clovelly Road, Coogee, 2034
Phone: 02 9315 8380
Trading hours: Mon-Tues: Closed, Wed-Thurs: 11:30am-8:30pm, Fri-Sat: 11:30am-9:00pm, Sun: 11:30am-8:00pm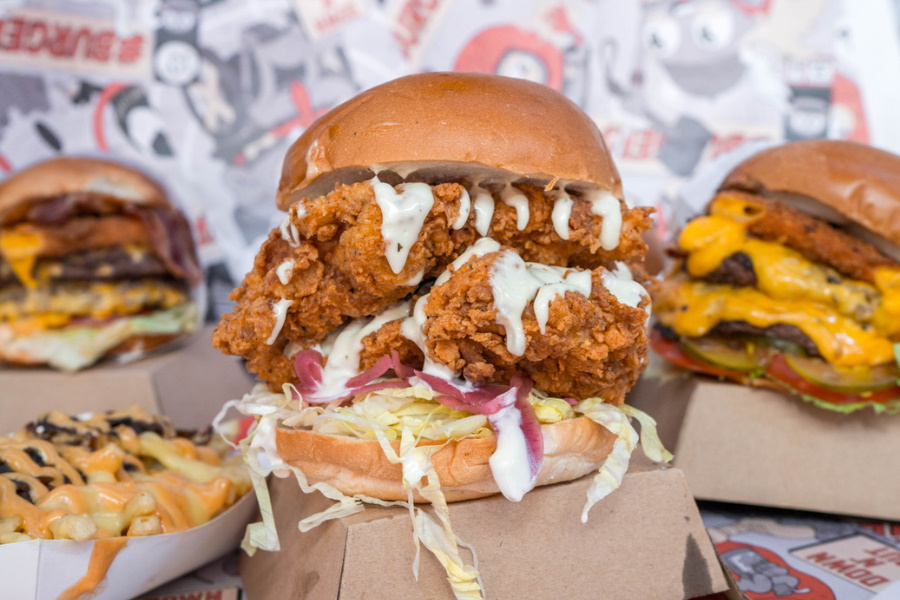 2. Down N' Out
As the name not-so-subtly suggests, Down N' Out is the Aussie (fully licensed) equivalent of the famed In 'N Out Burger that started in California and is regarded by many burger aficionados as one of the finest fast-food joints the world over. So how does it translate in the land down under? Almost identically – though there are more options than the American venue it homages, like the addition of bacon for starters. The Down N' Out craft beers on tap make a great case for dining in over takeaway.
Locations: Sydney CBD, Crows Nest, Ryde, Bankstown, Castle Hill
Trading hours: vary store-to-store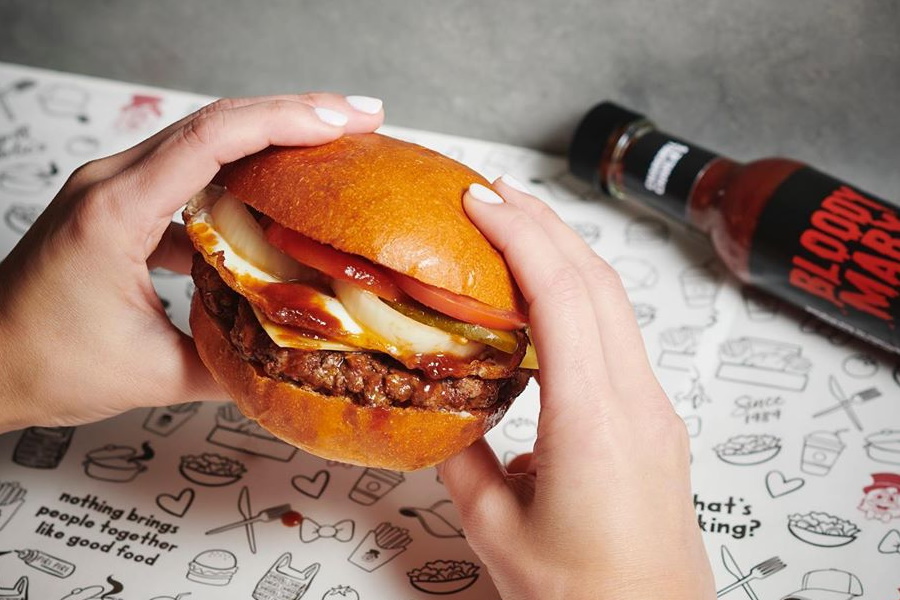 3. Chargrill Charlie's
The warm, welcoming atmosphere and award-winning recipes of Chargrill Charlie's have kept mouths watering for over 30 years. The house chicken burgers are made with grilled chicken breast marinated in lemon and herb then finished off with their famous chilli sauce. The beef burgers are made using ground Aussie Angus beef and when placed in the freshly baked buns with lashings of steak sauce, they become a real treat for the palate. Dine in or grab takeaway. If you're really into the food, look to Charlie's to cater your next function.
Locations: Annandale, Dee Why, Drummoyne, Frenchs Forest, Lane Cove, Mona Vale, Mosman, Neutral Bay, Rose Bay, St. Ives, Wahroonga, Willoughby, Woollahra
Trading hours: vary store-to-store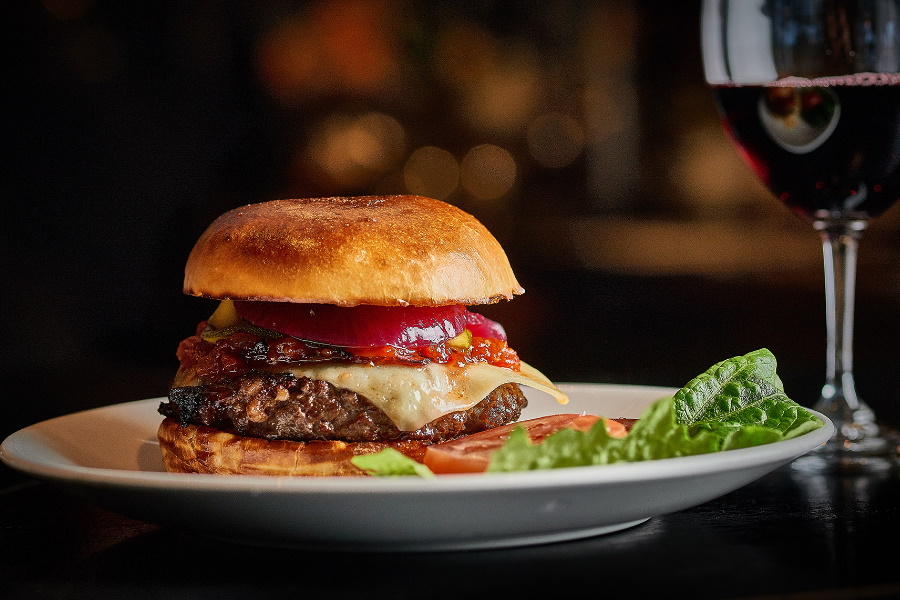 4. Rockpool Bar & Grill
A far cry from your local burger joint, Rockpool Bar & Grill Sydney is home to one of Australia's finest dining rooms and the perfect venue for experiencing one of the most acclaimed wagyu beef burgers in the country. This bar meal is part of a menu produced under the guidance of Head Chef Corey Costelloe, and the David Blackmore's Full Blood Wagyu Burger with Bacon, Gruyere Cheese and Zuri Pickle is exactly as gourmet as it sounds. Pair it with a glass of Si Vintners' Si Red' Cabernet Blend for $27.
Address: 66 Hunter Street, Sydney, 2000
Phone: 02 8099 7077
Trading hours: Mon-Wed: 12pm-10pm, Thur-Fri: 12pm-11pm, Sat: 5:30pm-11pm, Sun: 5:30pm-10pm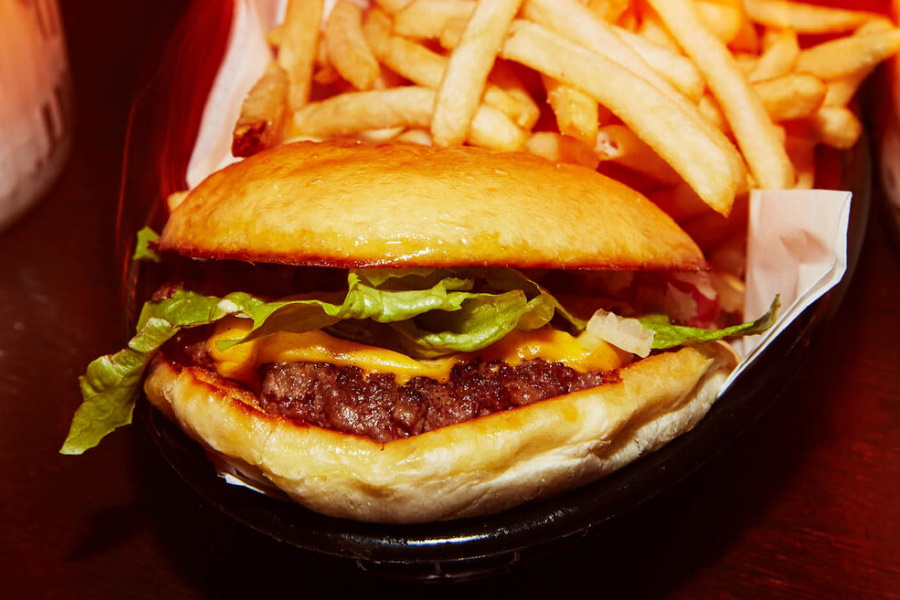 5. Mary's
Strong drinks, low lighting, great music, and graffiti are all part of Mary's charm. It's a loud, energetic chain that has expanded beyond the Newtown venue to open a series of diverse establishments across the city. The Castlereagh Street stop in the CBD is hole-in-the-wall takeaway. A trip to any of the other Mary's joints will undoubtedly result in burgers, fried chicken and hangovers because you will want to stay long after the tables have been cleared.
Locations: Newtown, Castlereagh Street, Pitt Street, Circular Quay
Trading hours: vary store-to-store
6. Paul's Famous Hamburgers
Of all the best burger joints in Sydney, this one has been around the longest. Founded in 1957, this classic takeaway joint has had several owners across the decades, yet Sydneysiders have always been impressed by the food and service. With an abundance of awards to their name, you can't go wrong with anything on the menu. However, the famous Works burger stands tall (literally) and should be devoured by anyone looking to cross the best burgers off their bucket list.
Address: 12 Princes Highway, Sylvania, 2444
Phone: 02 9522 5632
Trading hours: Mon-Tues: Closed, Wed-Fri: 11:30am-9pm, Sat-Sun: 11:30am-8pm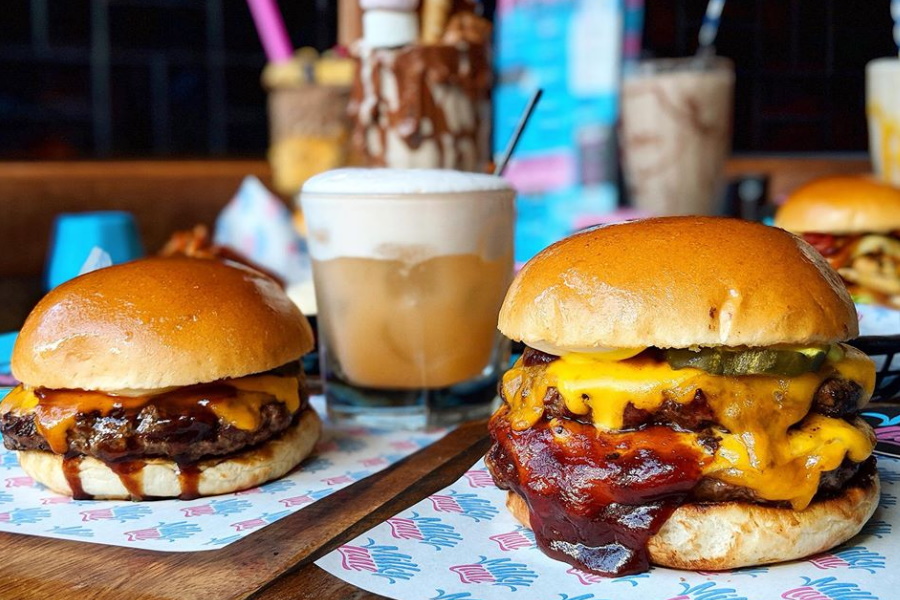 7. Milky Lane
Juicy burgers meet curated cocktails within one of Australia's fastest-growing indulgent institutions. Milky Lane's been shaking up the burger scene since 2016, opening a chain of stores up and down the east coast and winning a legion of fans along the way. These burgers are not for the faint of heart, and if you're concerned about clogged arteries, well, maybe you should eat a salad instead.
Locations: Bondi, Coogee, Cronulla, Crows Nest, Kings Cross, Parramatta
Trading hours: vary store-to-store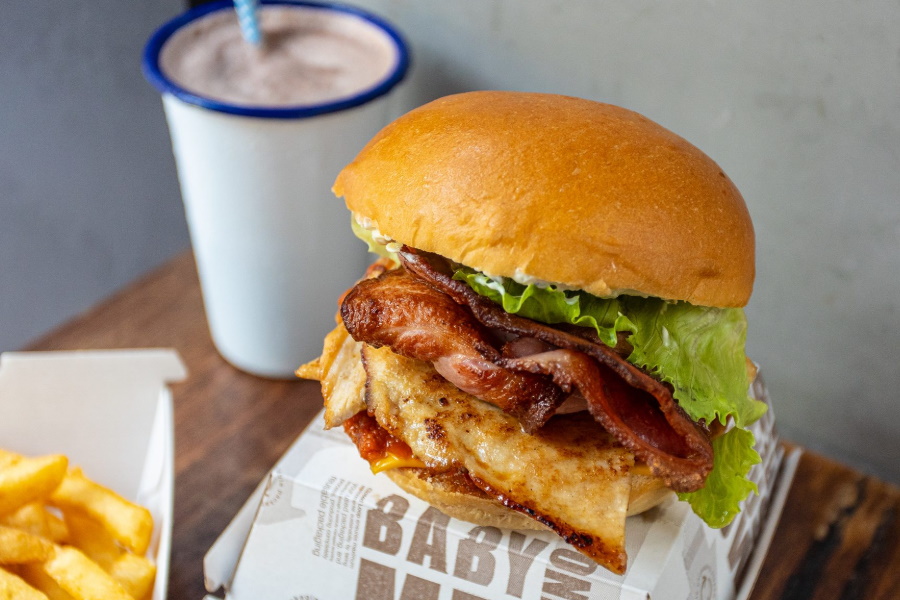 8. Five Points Burger
The New York-themed Five Points captures the hustle and bustle of the Big Apple. Push through the long lines of this popular joint to order a selection of burgers that represent the five New York boroughs – The Bronx, Brooklyn, Manhattan, Staten Island and Queens. The Bronx, Brooklyn and Manhattan are beefy experiences, the Queens is a chicken burger, and the oh-so original Staten Island is a portabello mushroom burger and just one of the many reasons to make the trip to North Sydney. Dine in or takeaway.
Address: 124 Walker Street, North Sydney, 2060
Phone: 02 8904 0276
Trading hours: Mon-Wed: 11:30am-5:30pm, Thur-Fri: 11am-9pm, Sat-Sun Closed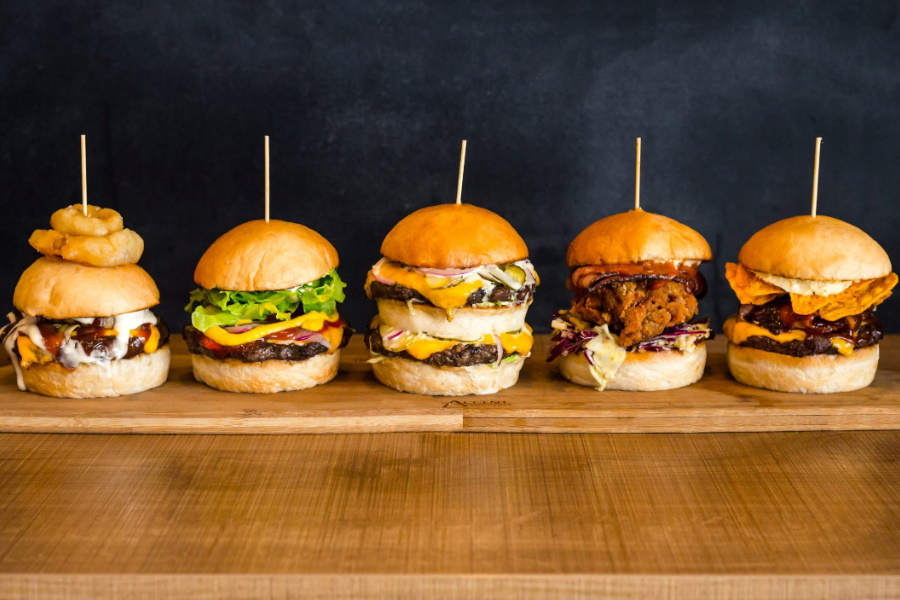 9. The Milkbar by Cafeish
This piping-hot bar and grill serves up soul food comprising delicious layers of premium seasoned meat, cheese and salads within toasted buns baked fresh daily. Burger fans are encouraged to explore the range of exotic condiments, while the weekly burger specials encourage and justify repeat visits. pair a burg or two with a housemade doughnut instead of fries for a truly unique combo.
Address: 105 Regent Street, Redfern, 2016
Phone: 02 9698 8598
Trading hours: Mon: Closed, Tues-Thur: 11:30am-8:30pm, Fri-Sat: 11am-9:30pm, Sun: 11am-8:30pm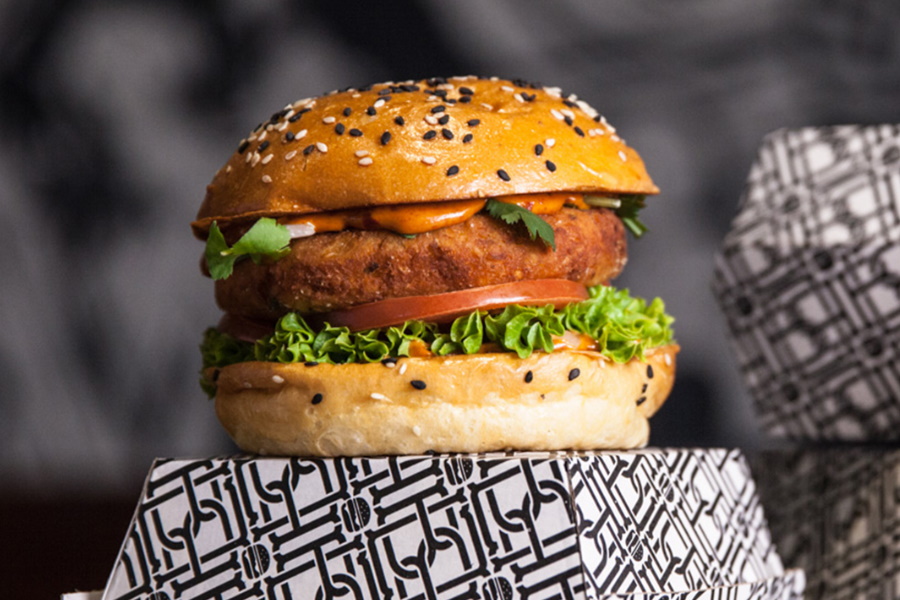 10. BL Burgers
Ideally located on Oxford Street, BL Burgers is the perfect meal before or after a night out. It's open late on the weekends precisely for this reason. Or if you live in the west, there's a second BL establishment in Parramatta. The real treat here, though, are the house specialities. With names like Blame Canada, Blame India, Mr T-Ruffle and Mac Daddy, you will wonder why you ever settled for names like Quarter Pounder and McChicken. Keep an eye to the BL Facebook page to catch the latest weekly burg specials. Dine in or takeaway.
Address: 1/151 Oxford Street, Darlinghurst, 2010
Phone: 02 9357 4527
Trading Hours: Mon-Tues: 11am-9pm, Wed-Thur: 11am-10pm, Fri-Sat: 11am-12am, Sun: 11am-9pm
Address: 3/188 Church Street, Parramatta, 2150
Phone: 02 9635 8950
Trading Hours: Mon-Sun: 12pm-9pm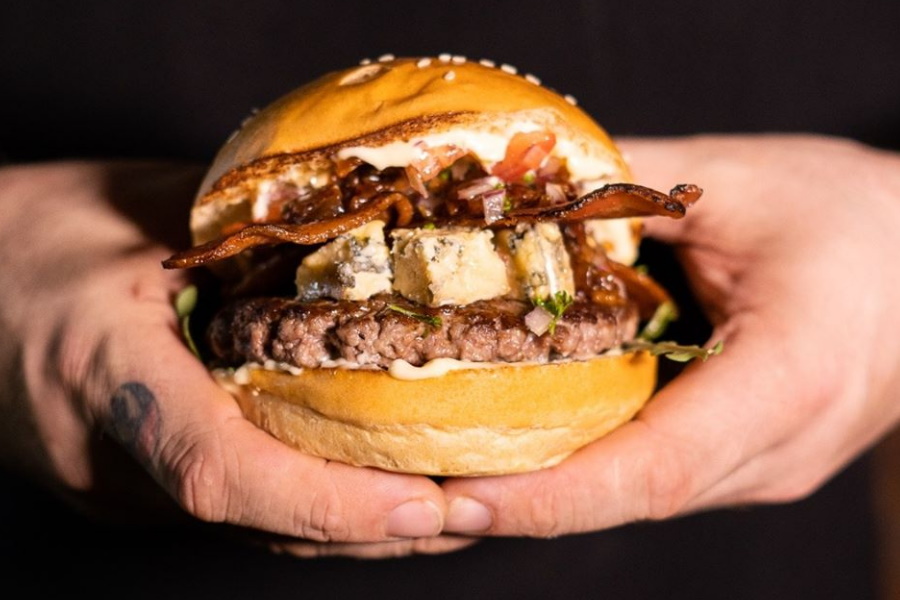 11. Surly's
Offering Sydney's authentic slice of Nashville, Surly's is the inner-city bar and grill where big kids go to play with the soul food and good company making you want to stay. This dive bar serves up a great selection of smoked meats and burgers, with the current menu featuring 13 unique burg creations. Highlights include Kenny Powers with Carolina-style smoked pulled pork, and for something different, the Surly Vurger replaces meat with a roast sweet potato and chickpea crumbed patty.
Address: 182 Campbell Street, Surry Hills, 2010
Phone: 02 9331 3705
Trading hours: Mon-Thur: 5pm-late, Fri-Sat: 12pm-late, Sun: 12pm-10pm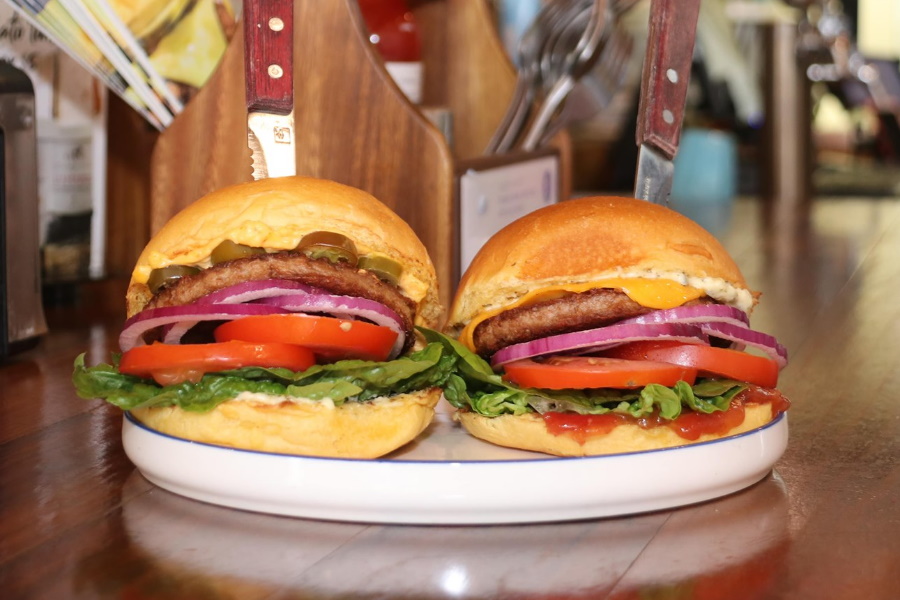 12. Soul Burger
Vegans and vegetarians will appreciate Soul Burger and its 100% plant-based burgers, fries and shakes. Juicy, healthier and great for the environment, the current menu includes classics like southern fried chicken, battered fish and pulled pork burgers all made entirely from plants. See if you can tell the difference. We don't think you can. The Soul range also includes unique creations like Satay Tofu and Falafel burgers. Dine in or takeaway, you can find Soul Burger spreading its wings across Sydney and possibly shaking up the entire fast-food industry in the near future.
Locations: Glebe, Newtown, Perouse Road
Trading hours: vary store-to-store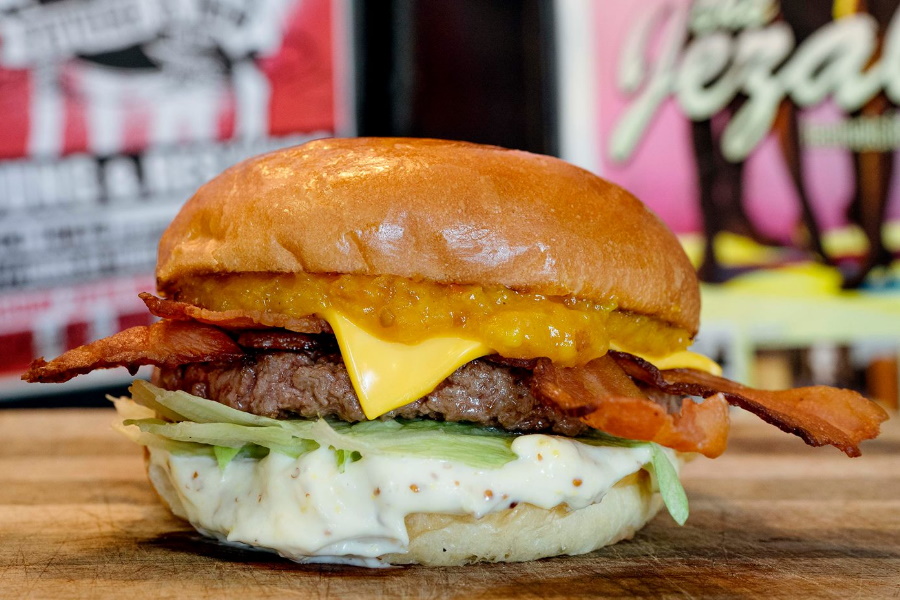 13. Bonditony's Burger Joint
In another life, Bondi Tony managed, toured and promoted rock bands. Now he creates fantastic burgers named after The Jezabels, Cog, and Children Collide, to name a few. With Young Henrys on tap, great wine and mean Bloody Marys, take advantage of the indoor or outdoor seating in the sun, upbeat tunes and inviting atmosphere for a great time near Bondi Beach.
Address: 1/144 Glenayr Avenue, Bondi Beach, 2065
Phone: 0410 893 003
Trading hours: Mon-Sat: 12pm-10pm, Sun: 12pm-9pm
14. Lotus
The new and improved Lotus restaurant at Merivale opened in 2019 and adds a whole bunch of new and returning gourmet treats to its menu. With renowned Chef Dan Hong at the helm, one of his specialities is the Classic Lotus Cheeseburger, with a moreish patty made from brisket, chuck steak and dry-aged beef. Pair it with crafty cocktails, succulent share plates and desserts to build the foundation of your next fine dining experience.
Address: 22 Challis Avenue, Potts Point, 2011
Phone: 02 9114 7340
Trading hours: Tue-Sat: 4:45pm-11:45pm, Sun: 1pm-9pm, Mon: Closed
15. Excelsior Jones
This family-owned coffee shop and café is the ideal location for a lazy lunch in the sun, or within the cosy café itself during the colder months. The current menu features three unique burgers: the Korean Fried Chicken Sambo, the Green Pea Burger and the Wagyu Out'n 'In Burger. The great thing about burgs at Excelsior Jones is that your companions can indulge in burgs or a wide selection of salads, toasties, breakfasts and smoothies if they prefer. Excelsior may have an almost non-existent online presence, but that's because the team are focused on the food.
Address: 139A Queen Street Sydney, 2131
Phone: 02 9799 3240
Trading hours: Mon-Fri: 7am-3pm, Sat-Sun: 8am-3pm
16. Ribs & Burgers
This rising burger chain combines flame-grilled patties with real ingredients and springy buns to take care of those cravings. The menu covers an excellent selection of chicken, lamb and beef burgers with a delicious range of meat-free options perfect for vegetarians. Of course, the other big drawcard of this establishment is the ribs. This is a burger-focused article, so that's all for now, but you better believe Ribs & Burgers is also on our best ribs in Sydney. Dine in, pick-up takeaway or make use of the convenient delivery options.
Locations: Chippendale, Chatswood, Drummoyne, Eastgardens, Neutral Bay, Holroyd, Rhodes, Stanhope Gardens, The Rocks, Zetland
Trading hours: vary store-to-store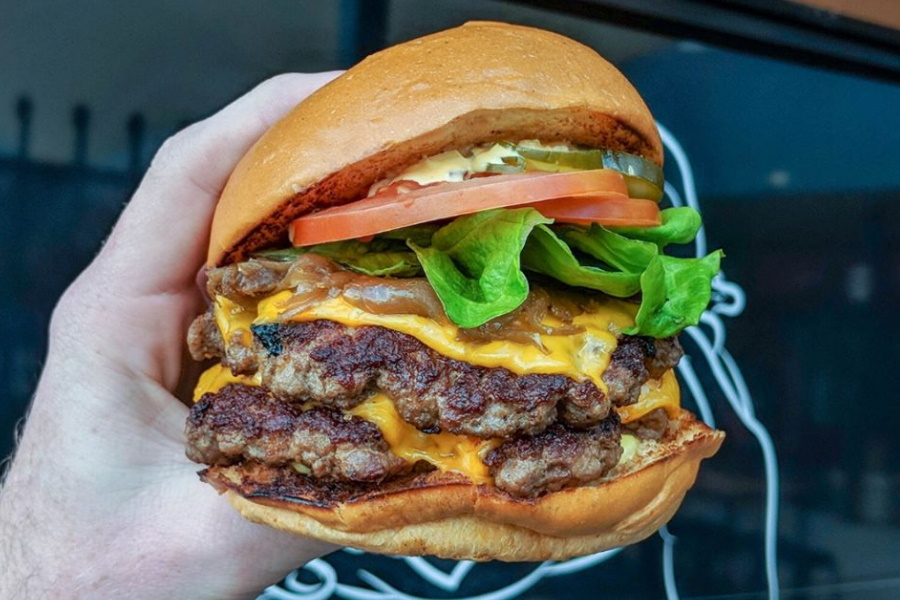 17. Burger Head
Burger Head was founded by three fine dining-trained chefs who came together to use their skills and to dish out quality burgs in the western suburbs. Mincing their own beef and concocting their own special sauces, one bite into a burger and you know it's something special. Dine in at Burger Head, order take away or look to social media and keep track of the Burger Head food van. In early 2020, it has set up residence in Blacktown.
Address: Shop 17, 98 Henry Street, Penrith, 2750
Trading hours: Sun-Wed: 11:30am-2:30pm 6pm-9pm, Thur-Sat: 11:30am-2:30pm 6pm-9:30pm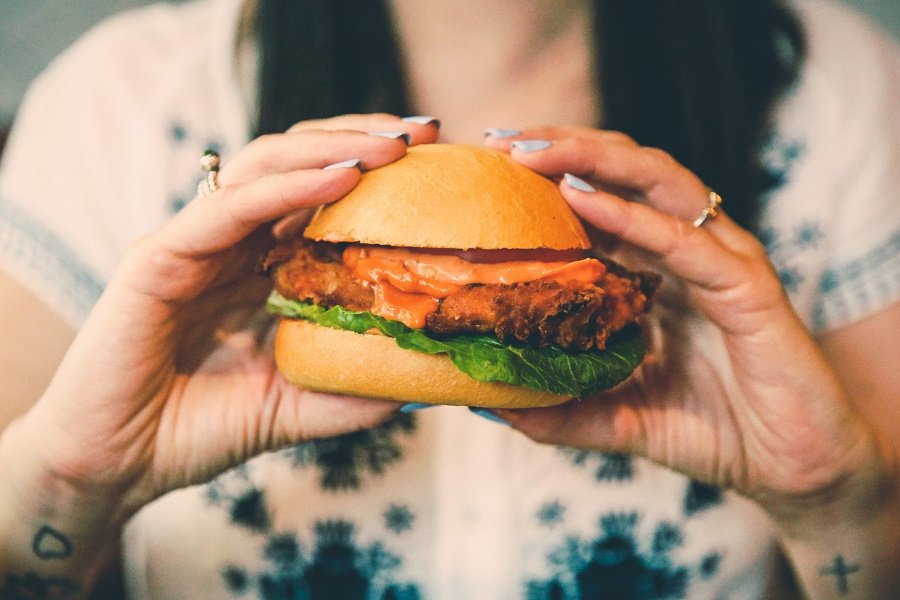 18. Parlour Burger at The Morrison
Just a few steps from The Morrison's main bar, Parlour Burger offers an eclectic menu of six delicious burgers and finger-licking sides, milkshakes and craft beers. The beef patties are a blend of Angus beef chuck, brisket and fat – seasoned with signature star anise salt. The buns are a mix of both Turkish and brioche doughs. Boasting its own bar, long banquette couch seating at the rear of the room, high round tables and leather stools, this is the perfect space for enjoying a cold bevy, after work drinks or watching the game.
Address: 225 George Street, Sydney, 2000
Phone: 02 9247 6744
Trading hours: Mon-Sun: 11am-late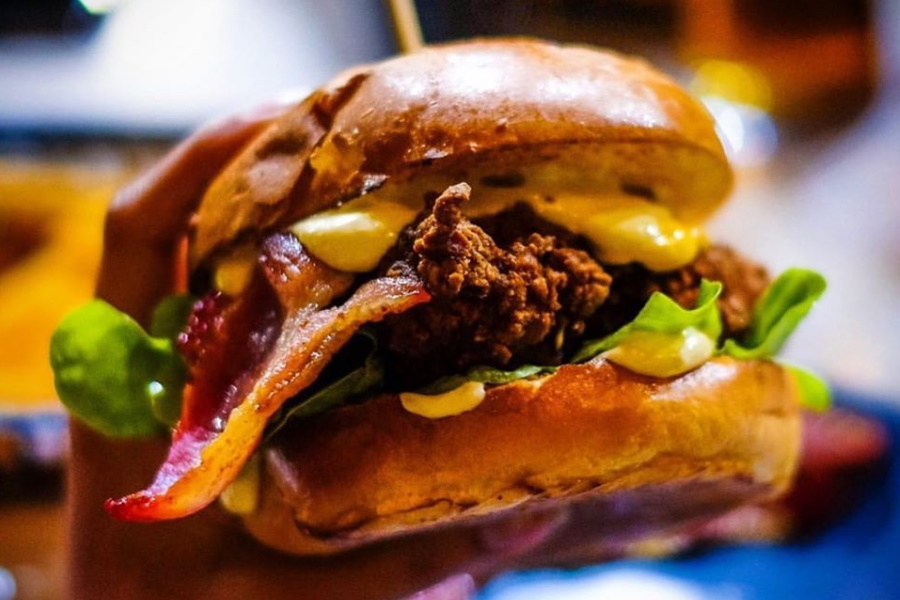 19. Bare Grill
Zomato rated Bare Grill the best burger venue in Sydney for both 2018 and 2019, so to experience it for yourself, head into the Surry Hills or La Perouse joints and select between the 15 or so available branded burgers. There's also a great range of ribs, loaded fries, shakes and salads for those healthier folk. Order a Grizzy Bare at your own risk. Dine in or takeaway.
Address: Shop 15, 425 Bourke Street, Surry Hills, 2010
Phone: 02 8964 4214
Trading Hours: Tues-Thurs: 12pm-10pm, Fri: 12pm-11pm, Sat: 11am-11pm, Sun: 11am-10pm
Address: Shop 3, 1601 Anzac Parade, La Perouse, 2036
Phone: 02 9661 2036
Trading hours: Mon-Thur: 11am-8pm, Fri-Sat: 11am-9pm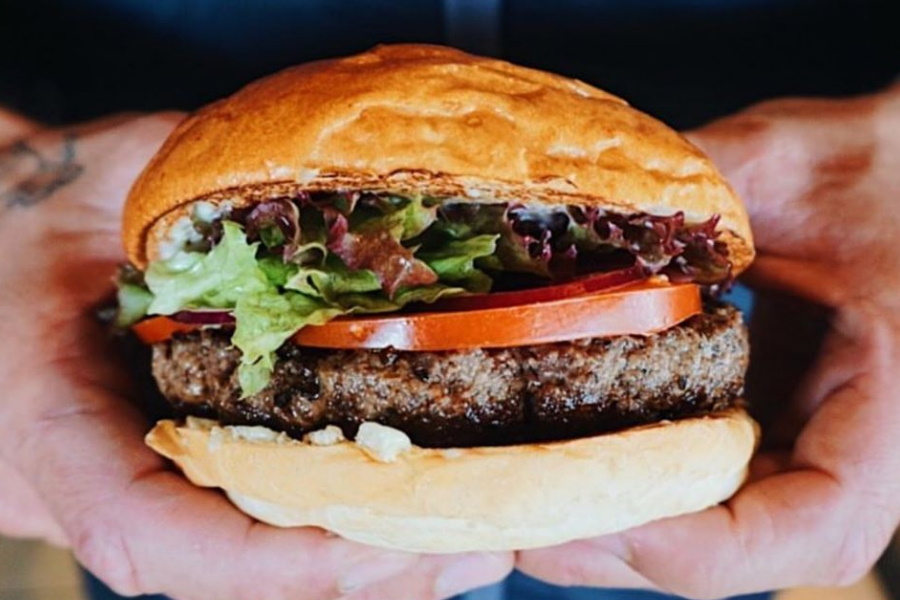 20. Vic's Meat Market
Part butcher, part smokehouse and grill and even part culinary school, Vic's Meat Market has it all!  Vic's takes the fresh quality meat from the butcher straight to the smokehouse and grill to serve burgers with smoked meats and perfectly grilled steaks. Pair a burger with some fries and a glass from one of Australia's finest wineries to make your next trip to the Sydney Fish Market's a truly memorable experience.
Address: 50-60 Bank Street, Pyrmont, 2009
Phone: 02 8570 8570
Trading hours: Mon-Wed: 10AM-3PM, Thu-Sun: 10AM-4PM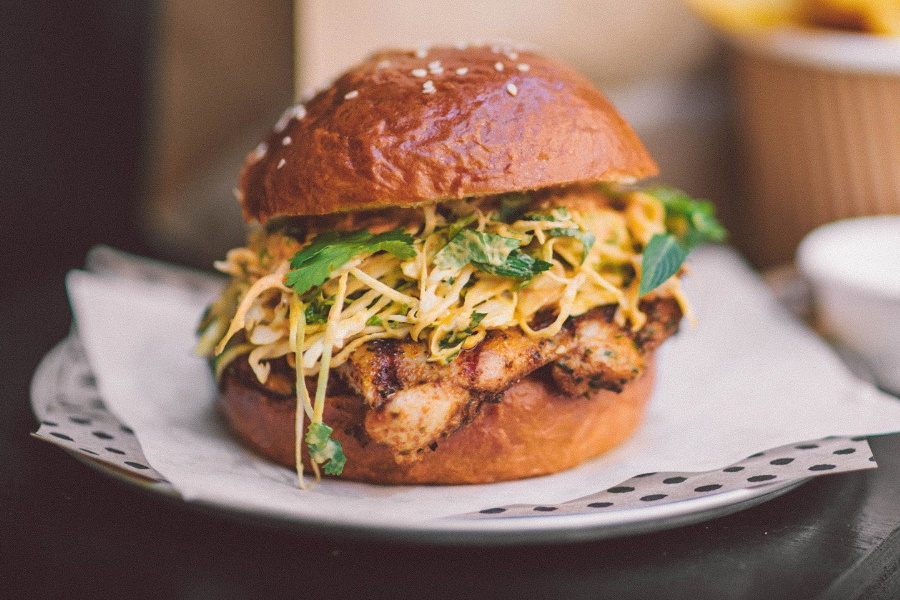 21. Chur Burger
Burger favourites mix with kiwi sensibilities at Chur Burger. Burgers, beers, shakes and sides from a growing chain that was awarded best burger in the Good Food section in the Sydney Morning Herald after just six weeks of trading. Whether looking for a meal in Surry Hills, catching a quick bite before the next flight or tracking their food van over the socials, the Chur name pretty much guarantees a good feed.
Locations: Surry Hills, Rooty Hill, Sydney T2 Domestic Terminal
Trading hours: vary store-to-store
22. Restaurant Hubert
It's not one of the best burger joints in Sydney. Instead, Restaurant Hubert is a French jazz bar in the CBD known for its ambiance, quality food and wine. The current menu is fine dining-focused with dishes like Duck Parfait, Oysters Mignonette and Caviar. However, we stumbled across one particular item on the bar menu that may interest you: The Normandy Burger is made using dry-aged beef, Gruyère cheese, dill pickle, and the special sauce Hubert. For a memorable night out that still features the burg you crave, check out Restaurant Hubert.
Address: 15 Bligh Street, Sydney, 2000
Phone: 02 9232 0881
Trading Hours: Mon-Sat: 4pm-1am
You may also like:
20 Best Tailors and Bespoke Suit Shops in Sydney
20 Best Barber Shops in Sydney
General FAQ
Is Soul Burger completely vegan?
Yes, it is. Soul Burger serves up delicious vegan burgers named after their meatier counterparts.
What beer goes well with burgers?
Dark ales, porter and stout go well with beef burgers, lamb warrants an IPA, pork calls for a lager and chicken demands a lighter beer like a blonde, pilsner or pale ale.
What wine pairs with burgers?
Cabernet sauvignon, merlot, grenache and red blends pair well with beef and lamb burgers while Riesling, chardonnay and pinot grigio pair with chicken, fish and spicy burgers.