6 Best Poke Bowls in Sydney
If you want to find the best poke bowl in Sydney, the options are nearly endless. From Fishbowl to Nama Poke, the New South Wales capital is loaded with great options for fresh bowls and seasonal flavours. A popular and healthy meal choice hitting Australian menus, poke looks just as good as it tastes. It's also perfect for these warmer months when you want something fresh and flavourful so check out 7 of the best poke bowls Sydney has to offer.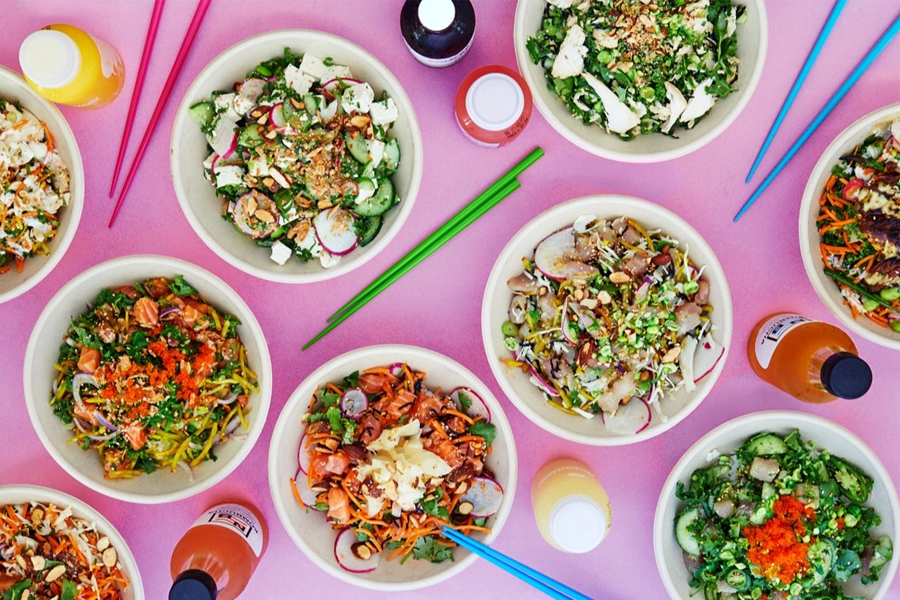 1. Fishbowl
Fishbowl in Bondi Beach has some of the best poke bowls in Sydney with a primary focus on using the finest produce available. For your first time you might as well try The O.G, salmon sashimi, shallots, kale, edamame with seaweed and sesame dressing or if you're feeling adventurous try making up your own concoction.
Address: 180 Campbell Parade, Bondi Beach
Phone: +61 2 9977 1797
Trading hours: Mon-Sun 11:30am-9pm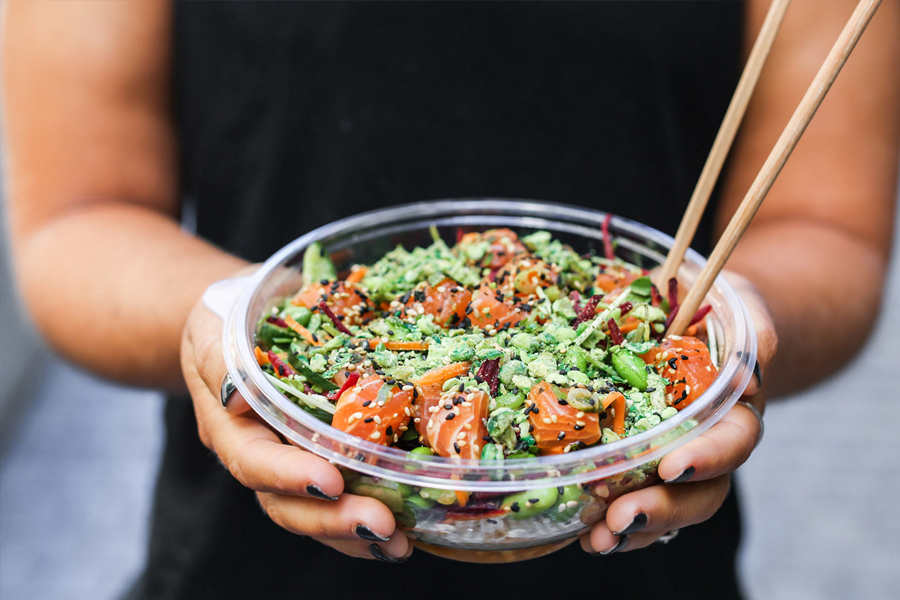 2. Nudefish Poke
Sustainable seafood caught right here in Australia is what makes Nudefish Poke one of the best spots to grab a poke bowl in Sydney, plus it's 100% gluten and dairy free. There is a whole range of bowls to choose from like the green goddess salmon with kale and edamame, the wasabi salmon with cucumber, pickled carrot and wasabi peas, and the spicy citrus tuna with citrus mayo and pickled ginger.
Address: Shop 12, Level 6, 19 Martin Place, Sydney NSW 2000
Trading hours: Mon-Fri 7am-3:30pm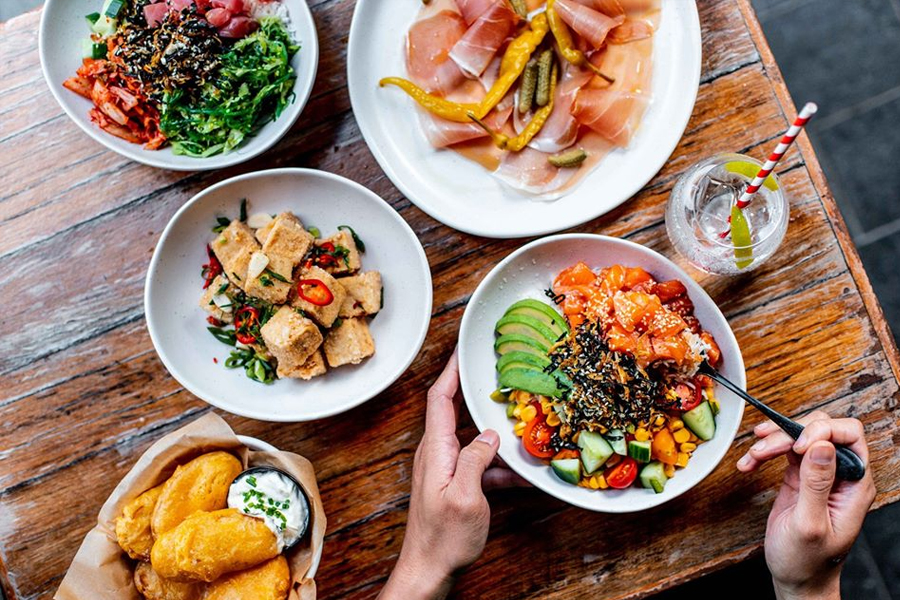 3. Salmon and Bear
Salmon and Bear offers up some of the best poke bowls in Sydney, defining their food as inspired by nature, you can't really go wrong if you're looking for tasty and healthy food in a cosy cabin setting. Try out their salmon poke bowl with soy and sesame dressing, corn salsa, avocado and coconut basmati rice.
Address: 6 Defries Ave, Zetland NSW 2017
Phone: +61 2 9662 8188
Trading hours: Mon-Fri 5:30pm-8:30pm, Sat-Sun 5pm-8:30pm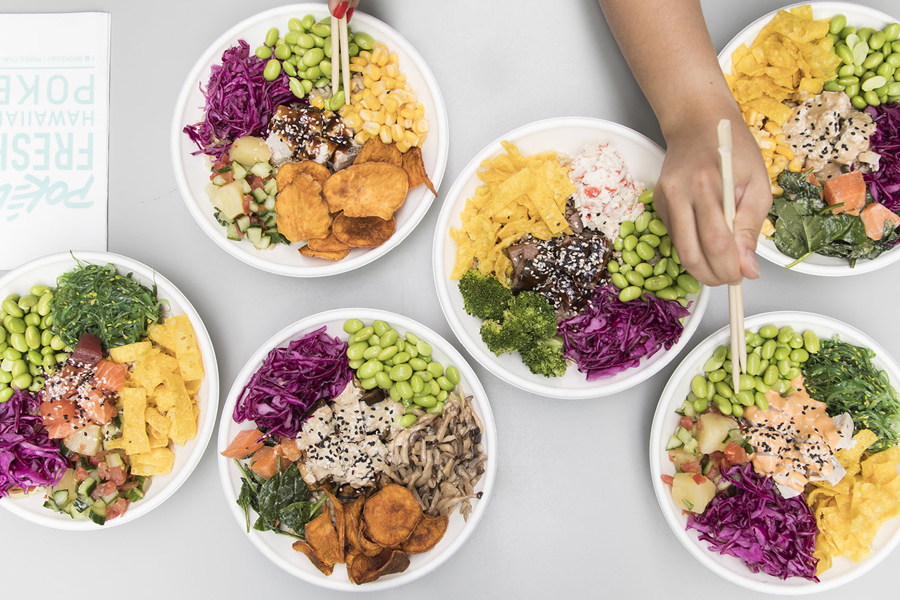 4. Poked
You get two menus at Pokéd, one with pre designed poké bowls and one for designer your very own customisable bowl. Just choose what size, base, protein, sauce and topping you want them Pokéd will whip it up for you. If that sounds like more than you want to do, grab a delicious mix created by the team at Pokéd like the Big Kahuna including salmon sashimi, cooked prawns, Hawaiian soy pineapple sauce, pickled cabbage and more.
---
Featured Video from Man of Many
---
Address: Shop 419, Level 4 Australia Square 264 George Street, Sydney NSW 2000
Phone: +61 2 9037 8258
Trading hours: Mon-Fri 10:30am-3pm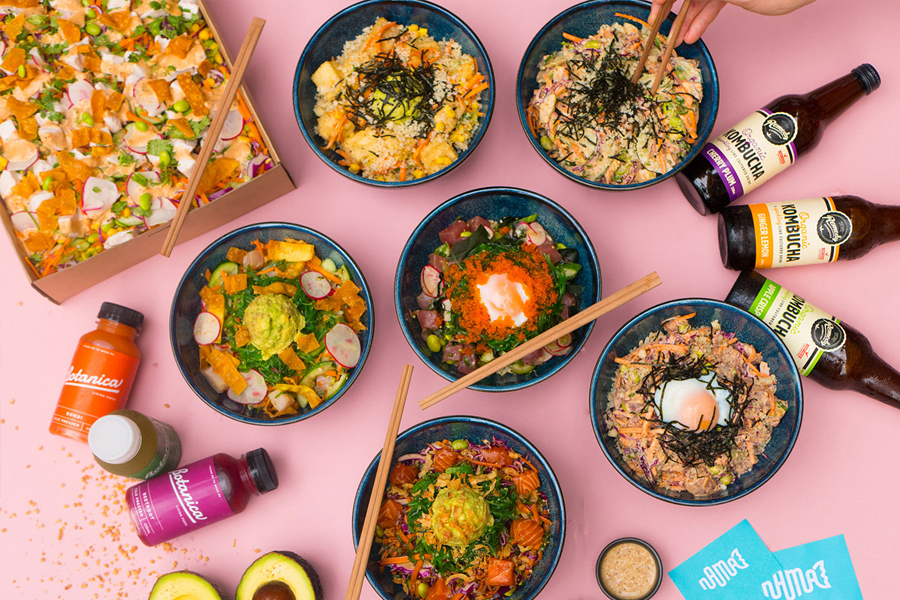 5. Nama Poke
Nama Poke serves up a whole range of vegetarian poké bowls with a whole lot of variety. They also offer extra choices to customise your bowl to your liking that isn't usually seen in other places. Get a base of your choice from potato noodles to zoodles or add an onsen egg.
Address: 62 Erskine Street, Sydney NSW 2000
Phone: (02) 9290 3419
Trading hours: Mon-Fri 11:30am-8:30pm
Address: Shop C, 16 Buckingham Street, Surry Hills NSW 2010
Phone: (02) 9318 2937
Trading hours: Mon-Fri 11am-3pm & 5pm-8:30pm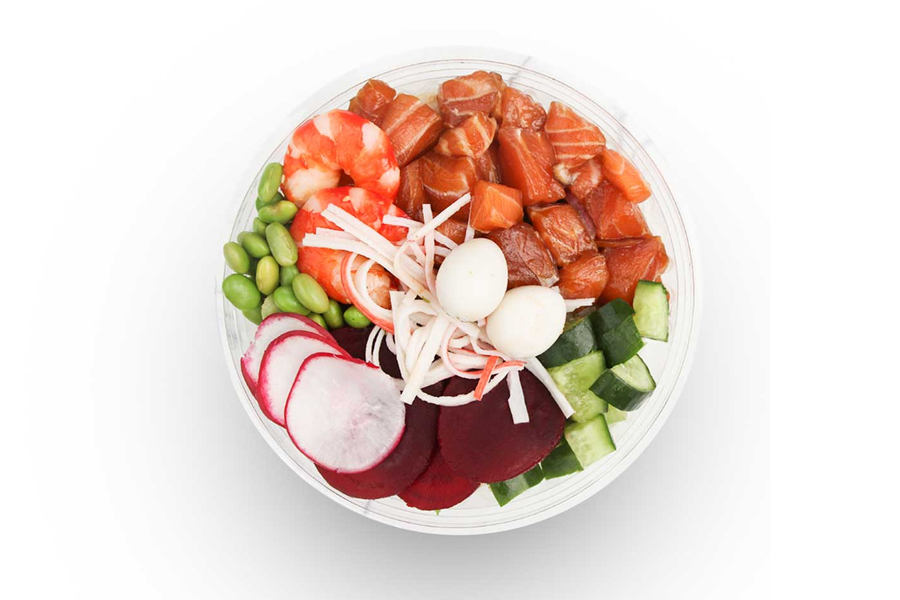 6. Poke Bros
This poke dedicated restaurant offers some fresh ingredients and sushi grade sashimi to give you one of the best poke bowls in Sydney. Dine in or take out at Poké Bros with some regular favourites like the premium salmon, the OG tuna, Poké Prawn and for the vegetarians the Tofu-Tofu. Not a fan of seafood? There's options for you too including the Spicy Korean Chicken Bowl
Address: Shop 15/180 Railway Parade, Cabramatta NSW 2166
Phone: 0484 234 001
Trading hours: Mon-Sun 11am-9pm
Address: Shop 4, Beneath City Centre Carpark, Horwood Place, Parramatta NSW, 2150
Phone: +61 484 234 001
Trading hours: Mon-Sun 11am-9pm
What is Poke?
What is a poke bowl you ask? Poké (pronounced po-keh) originated in Hawaii and literally means "cut to pieces". Consisting mainly of cubed raw fish and seafood, think of a sushi roll, deconstructed and served in a bowl. It's not limited to fish though, you'll find so many different combinations from Japanese inspired katsu poke, mussel poke, lobster poke, abalone poke and more, you'll have a hard time choosing.
Key Things to Consider for Sydney Poke Bowls
The key factors to keep in mind when deciding where to go:
Price – how much are you willing to spend on a good poke bowl? While most restaurants have standard prices n the $14-18 range, more premium offerings may see the figure rise.
Variation – menu variety and ability to make changes when needed.
Location – whether that be in the centre of all the action or somewhere quaint and quiet.
Service – good service makes the experience at a restaurant that much more enjoyable.
Alternatives to Sydney Poke Bowls
If you're looking for other things to do in and around Sydney, we've got you covered with some of the options listed below. You can also check out our list of fun things to do in Sydney. If you're looking for a more specific cuisine, check out our list of burgers or ramen restaurants. If you're full, we can also help you with your search for the best rooftop bars or show you the best Sydney museums.
How Man of Many Chose the Best Poke Bowls in Sydney
With an editorial team full of foodies, Man of Many has had the unique opportunity to directly sample and experience the best poke bowls in Sydney. This list is based on personal experience, in-depth research and customer reviews of Sydney poke restaurants. As expert journalists who guide people between competing products and services, we have provided our independent opinion in formulating our selections. Our editors have taken into account food, service and atmosphere while also making a concerted effort to highlight a few spots outside of the CBD. You can review our editorial policy here surrounding how we maintain our independence in our editorial reviews.
Poke Bowls in Sydney FAQs
Is Fishbowl on Uber eats?
Yes, Fishbowl is on Uber Eats.
How many calories are in a bowl of Fishbowl?
Your average poke bowl or fish bowl will contain around 200 calories.
---
Featured Video from Man of Many