Shop Small – Our Guide to Darlinghurst, Sydney
Formerly a suburb riddled with drugs, sex and crime, the suburb of Darlinghurst in Sydney's City East, has undergone a transformation over the years into a bustling hub for cool bars, good food, boutique fashion, art and design. We've decided to support small businesses in our local area by participating in the American Express Shop Small movement, by sharing our favourite spots in Darlinghurst. Here's a quick tour.
Boots Darling
Mum always said you can't start the day without a good breakfast so our first stop was always going to be Boots Darling in South Dowling Street. Built by partners and best mates, Dano and Justin, the café features great vibes, some wicked carpentry and quirky decorations like potted plants in ceramic boots and hanging light bulbs. You know the coffee and food is always going to be good when you've got a team of hipsters furiously working behind the counter. The coffee served are Joshua Bailey blends of Thursdays Child and Milky Bar Bandido.
Mr. Crackles
While this shop is usually frequented by late night revellers finishing up their night, there's good reason it's usually got a line out the door. Mr Crackles serves up delicious crispy skinned and slow-cooked succulent meats (it's a mouthful in every sense of the word). But what you may not be aware of is that the exquisite pork belly takes nearly 3 days to prepare which includes a total of 10 hours of slow braising goodness. Man of Many recommends the Crackles Classic with a side of sweet potato fries. If you're feeling dangerous try the double meats.
The Makery
Work-Shop's Makery is a platform that gives the opportunity for local designers, artists and makers to sell their wares by renting a small space in the showroom. As we wandered through the store we were wowed by the eclectic assortment of paintings, sculpture, t- Shirts, furniture, jewellery plus many other wonderful creations.
Service
Jeans, jeans and more jeans! We love our denim and the Service store is home to one of one our favourite Aussie brands Neuw denim. Located in the heart of Oxford St, is a great spot to grab yourself some of the latest in denim and apparel.

Platform 72
Platform 72 is a space in which artworks by established artists sit side by side with those of up-and-comers. Not only is this a gallery space, but a retail store. If you see something that catches your eye, you've got the option to buy it. What we enjoy most about the place is its chilled vibe. Platform 72 has created an environment free of pretentiousness making it a great place to view or purchase art whether you're an art connoisseur or a complete rookie.

Feit
Feit makes some fine-ass kicks! The brand was founded by two brothers from Sydney and their shoes are highly sought after item by fashion forward individuals all around the world. We stepped into their quaint Darlinghurst boutique to check out all their styles on offer. Their trademark vegetable-tanned leather Hand Sewn Low shoe is the bomb!
The Hazy Rose
Voted as the Best Small Bar in 2013 by Time Out magazine, The Hazy Rose offers a quaint and intimate vibe with retro western décor reminiscent of John Wayne's saloon days. The staff are attentive and always willing to cater to your tastes with their electrifying cocktail menu. The perfect venue for pre or post dinner drinks.

Gelato Messina
An institution to all Sydneysiders, Gelato Messina can turn the end of a great night out (or day for that matter) into something special. Voted as the Best Gelato in Australia by Sydney Morning Herald's Good Food Guide, the mammoth 40 flavours are all made fresh on the premises daily. If you're out to dinner in the area, skip ordering desert and head to this place instead for a night-cap! Man of Many recommends trying the flavour of the week (whatever it might be!). Mix it up and don't be scared to try something new.
Shop Small Walk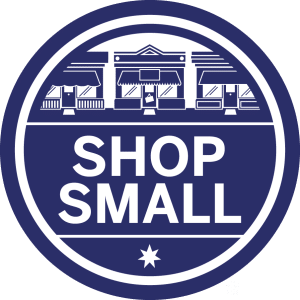 Shop Small, led by American Express, is a month long program that is committed to reconnecting Australians with all the wonderful small businesses. A handful of familiar Aussie faces have shared some of the favourite spots  int heir neighbourhood by creating Shop Small Walk Maps to help you discover some of the great small businesses in your area. Just head to the Shop Small website to see our Walk Map plus many more.