INTERVIEW: Alex De Minaur on the Australian Open, Lleyton Hewitt and TAG Heuer.
One of the most exciting things about Grand Slam Tennis is its propensity to facilitate some of the best upsets in the world of sport. Whether you're ranked #1 or #204, you're only as good as your last match.
It's been just over a year since Alex de Minaur became a household name in Australia. The Sydney-born, Spanish based talent burst onto our radar with two spectacular upsets, all before his 19th birthday. These day's Alex is ranked #29 in the world, #1 in Australia and has solidified a spot at each one of the 2019 Slams.
Following an impressive win at the Sydney International, Alex found himself with an uphill battle at the 2019 Australian Open. Beating Sousa in the round of 128 and Laaksonen in the round of 64, he found himself facing world #2 Rafael Nadal in the round of 32. Rafa, who was on an impressive streak of form, had to this point not dropped a set the entire slam.
De Minaur found his rhythm in the third set, but it seemed to be too little too late. Rafa won in straight sets and is now set to face Djokovic in the final. As he prepared himself for a second year on the Grand Slam tour, De Minaur sat down with us to give us an insight into what it's like at the top echelon of Tennis.
Firstly, something that we find so enticing about your playing style is that you got a never say die attitude on the court. It's pretty reminiscent of your mentor, Lleyton Hewitt. What's it like having an Australian player with as much as experience as Hewitt in your corner?
It's amazing. He's been a lot of help for a long time. Growing up, I watched him play and I definitely idolised him, so to have him as a mentor right now is a pretty surreal experience. There are times where I'll go to pinch myself and realise what's actually happening, but I just try to learn as much as I can every day from him.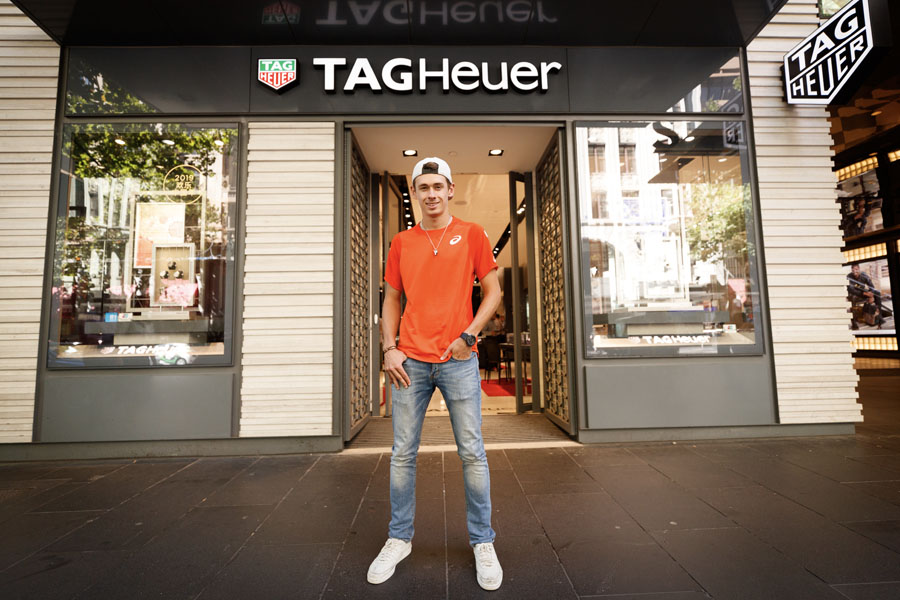 Are there any other past or present players that you look up to in particular?
---
Featured Video from Man of Many
---
Growing up you watch a lot of players play, and there's a lot of guys that have done so much for this sport, so if I start naming them there are gonna be too many.
I think you can't go and pass what both Roger and Rafa have done for the sport. And I mean, it's pretty incredible at the level they still are, and pretty much still at the top of their games. That's something that every tennis player has to thoroughly admire.
Interesting you say that, because the Australian Open saw another one of the tennis greats and personal fan of yours, Andy Murray, announce his retirement. As one of the youngest faces on the tour, do you agree with that idea that there is a changing of the guard coming? Is the Murray, Djokovic veteran, Nadal sort of dynasty coming to an end?
I think you just gotta look at the Australian Open. I mean, you've got players like Tsitsipas beating Roger, and you got Frances Tiafoe beating Dimitrov. Most of these guys are in the quarterfinals! It's pretty crazy. So I think, at the moment, we are making a real big push, and trying to sort of knock on the door. We're trying to obviously put ourselves out there and compete against these top guys and I think we're doing well. There's a great group of young guys coming up, and we're all pushing each other to get better and we just wanna go out there and compete and hopefully push these top guys further.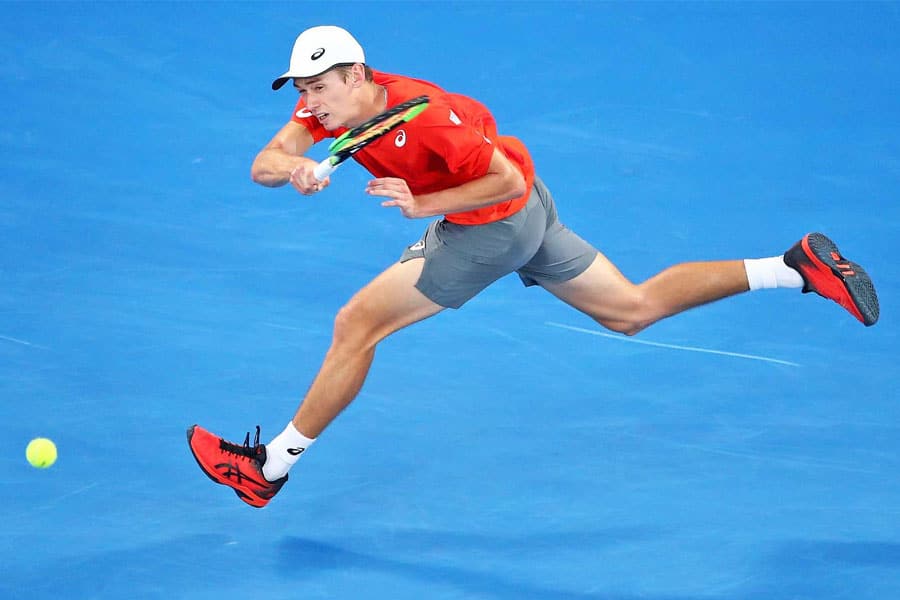 With the Aus Open being your first slam of 2019, congratulations on progressing so far. If it was to end, it was nice to see that you go out against one of the best. There's no doubt that Nadal is playing some excellent tennis at the moment and we'd expect to see him progressing to the final. My question is what can you learn from standing on the other side of the net to a player of that calibre? What do you take away from a loss like that?
Yeah, well, there's plenty of things that you learn from experiences like that. You know, you're just getting used to being on the same court as a player like Nadal. That's something that you can only do with experience and that's just going out there and competing.
There are areas that I need to improve on to push these top guys, but what I take away from a match like that is a lot of positives. I started playing better and better as the match went on, things got tight. Hopefully, next time around I can have a bigger crack.
😈@alexdeminaur #AusOpen pic.twitter.com/aGEruF7g4V

— #AusOpen (@AustralianOpen) January 16, 2019
Now, with the Australian Open in full swing, it's really is a great time to be a tennis fan in Australia. However, we have seen a lot of drama off the court as well. We've seen your name dragged into the whole debacle a couple times. Do you have a stance on the whole situation? Do you think it, and the media circus that has been surrounding it, had any effect on your preparation against Nadal?
No, not really. I mean, honestly, the things I worry about is what I do on the court. I always try and put myself in the best possible position to go out there and perform and give 150%. So, it's just things that happen, I mean, it's always gonna happen in the tennis world, and I'll just go focus on my side of the court and what I do, and keep trying to do things right.
After your upset against Steve Johnson in Brisbane, you've had an astronomic rise onto the professional tennis scene. Now that you're on everyone's watchlist, do you have any specific goals in mind for 2019?
Well, the only goal I can really think of, and I'm not one to think about numbers or ranking and points, but I'd really like to make a second week of the Slam. That's something that I'm gonna do everything I can and everything in my power to try and break that barrier, and I've been playing some great tennis so it's all about believing in myself.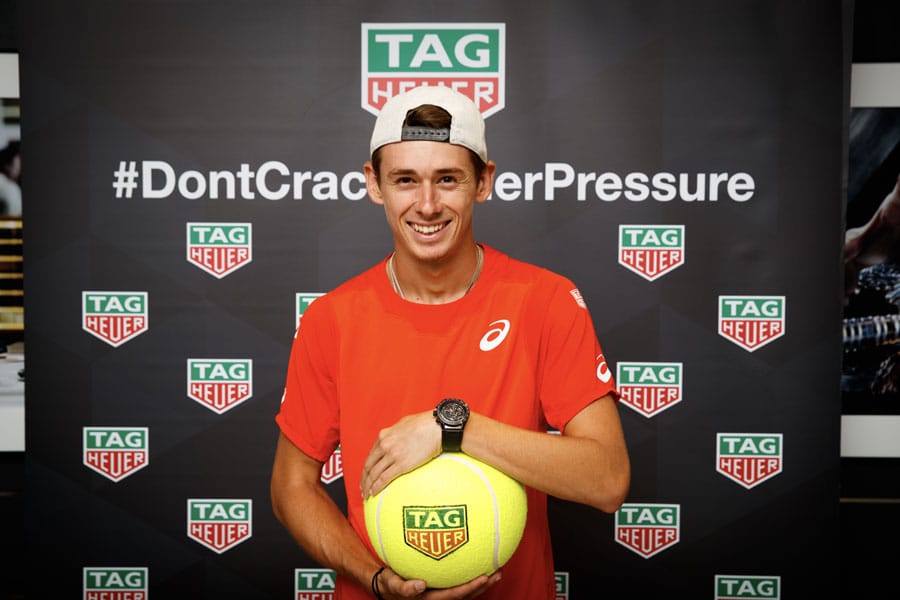 By partnering with a watch brand such as TAG Heuer, you'll be joining the ranks of sporting greats such as Muhammad Ali, Ayrton Senna, and more recently the surfer Kai Lenny. What about TAG Heuer is it that attracts such dedicated influential sportsmen to the brand?
I mean, that's pretty much self-explanatory. You've got some of the greats and pioneers in their respective sports ambassadors of TAG Heuer. It's such a luxury brand and they treat their ambassadors so well. It's just special to be a part of this amazing company and this amazing team. Hopefully, it means there are also bigger things to come.
And what exactly are you wearing on your wrist at the moment?
I'm wearing a TAG Heuer Carrera Calibre Heuer 01. Yeah. It's my go-to.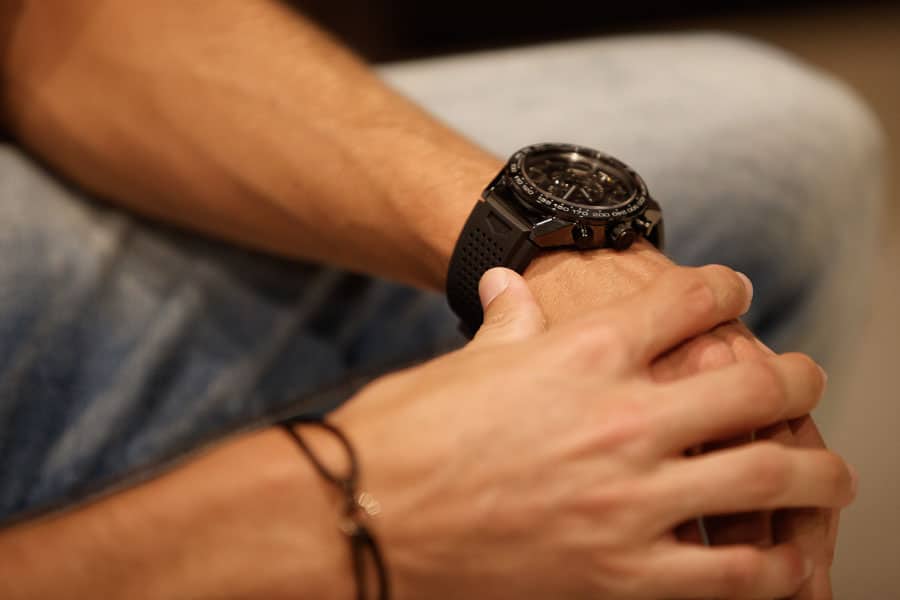 Finally, now that we're coming to the pointy end of the Aus Open, who are you tipping to be taking home the Norman Brook's Cup this Sunday?
Well, I think it's gonna be between Rafa and Nadal. I think they're both playing at the top of their game, but if I had to say something I'm gonna go with Rafa.
And in the Women's?
In the women's, well, Ash is playing some unbelievable tennis, and she really looks comfortable out there on the court. She's got a really tough match today, and I reckon if she can get through that today, she's a real good crack.
---
There's absolutely no doubt that Alex has got a big year ahead of him. We'll be keeping a close eye on him and you'd be silly if you didn't.
---
Featured Video from Man of Many