Adriano Zumbo Takes Over QT Sydney for World-class High Tea
Prepare your calendars because dessert king Adriano Zumbo is launching a world-exclusive high tea at QT Sydney from May 29th. QT Hotels is partnering up with the Willy Wonka of desserts to create a high tea like no other. We like to call it the 'not for your nanna' high tea because this is an extravagant, quirky, deliciously daring affair for the senses.
Related: A Three Day Food and Wine Street Party is Coming to Sydney.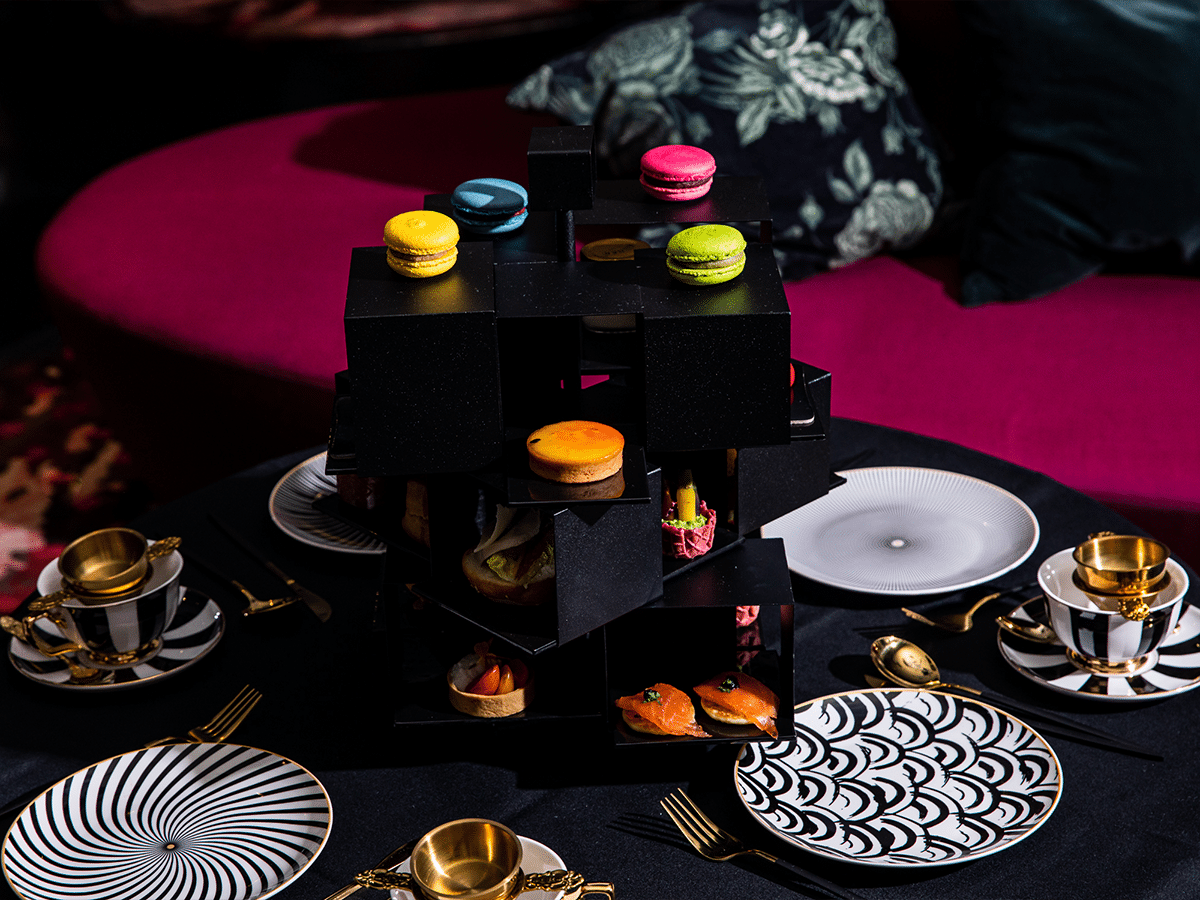 QTea by Adriano Zumbo
What: QTea by Adriano Zumbo at QT Sydney
When: Available Saturdays and Sundays
Where: 49 Market St, Sydney NSW 2000
Price: from $95pp
If you haven't heard of Adriano Zumbo, safe to say you've been living under a rock – the renowned dessert chef shot to fame from the first season of Masterchef with his daring Croquembouche creation and is the host of the Netflix series, Sugar Rush. Now, it's the public's latest chance to indulge in all his delicious creations! At Zumbo's high tea, you'll have the chance to taste-test a nostalgic roster of the dessert king's most famous sensations paired with a line-up of never-before-tasted delicacies.
The menu features a mix of sweet and savoury dishes, such as 'Sconez', an unexpected twist on scone, 'Just Love Me' a chocolate, raspberry and pistachio piece of perfection, but our absolute favourite has to be the delectable white glazed yuzu vanilla cake. The classic Zumbo Passionfruit Tart is served alongside his iconic macarons, known as Zumbarons. Other dishes include Lobster Rolls bursting with Champagne lobster, coconut, chilli and lime mayo, Caesar Sliders and Goat Cheese Tarts.
"Not one to do things the traditional way, I wanted to work with QT's signature quirk and create a high tea that you'd never expect. Forget sensible finger sandwiches or stuffy service, QTea is for guests looking for a sugar rush with a side of theatrics," said Zumbo.
Not only will you be met with the finest delicacies, but it will be enjoyed in Sydney's most luxurious lobby and studio at QT Sydney. There'll be a DJ spinning eclectic tunes and the clink of the flowing Champagne trolley. The luxury extends to the very plates the food is served on, perched on custom stands and Perrier Jouet Champagne paired to every palm. If you like your high tea with a dash of boozy, revellers can also pop the cork on a selection of 60 Champagnes from the hotel's multi-award-winning wine list.
Cancel all your weekend plans, become one with your inner modern Marie Antionette, and channel all that main character energy because QT Sydney is delivering the high tea of your dreams. QTea will be available to book from $95 per guest from Sunday 29 May, 2022.
You'll also like:
Best Dessert in Sydney
Best Cafes in Sydney
Best Circular Quay Restaurants