This 2020 Toyota Land Cruiser Wood Carving is Insane
No doubt you'd gladly take a 2020 V8 Toyota Land Cruiser if someone were to offer it to you. But just in case people aren't lining up at your door with keys to one, you might be willing to settle for a model version—especially if that model is a wood carving done by an artist in Vietnam. A recent video posted to YouTube shows a timelapse of the carving, taking the stunning model from a few planks of wood to a gorgeous replica, complete with doors that work and wheels that roll and turn.
You'll also like:
Watch Antoni 'Dante' Villoni Fly Through the Paris Catacombs on a Bike
Build Dom's Dodge Charger From Fast & Furious With LEGO Technic
LEGO Ideas Presents Tesla Cybertruck Model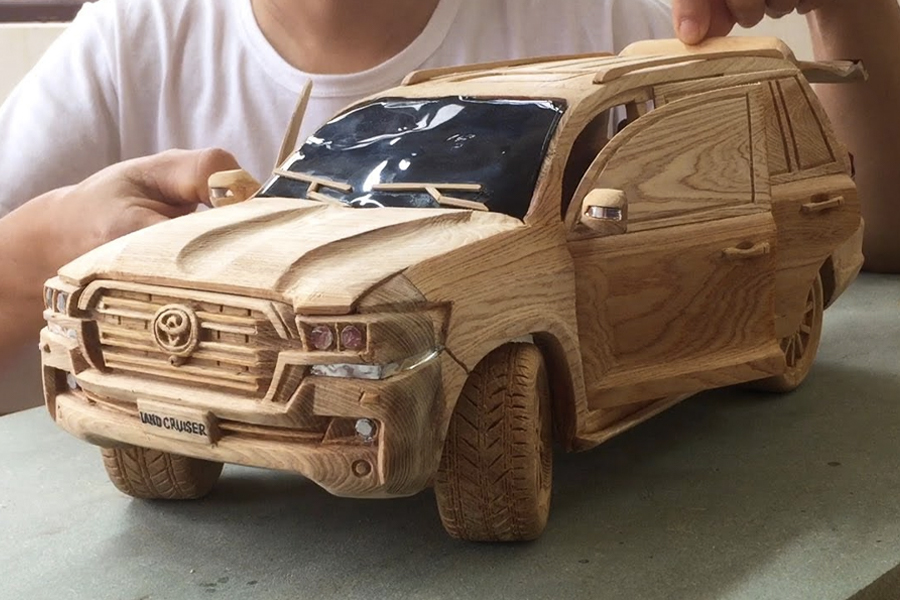 The process involves a number of different tools, including jigsaws, planers, sanders, rotary tools, and plenty of chisels. Though the video only lasts seven minutes, the build must have taken weeks if not months to build. The artist gets down to the very finest of details. The handles on the doors are an excellent example or the treads on the tires.
The process started by building a subframe by cutting out the appropriate form as well as the open areas that would form the vehicle's engine area and interior. From there, the front fascia is carved out, mostly with chisels, and again the detail is amazing, down to cutting out the Toyota logo on the grille. The rear is next to be done, and it features an opening hatch. The details continue to be revealed until we get to the axle that actually lets the wheels roll and lets the front wheels turn. Other details are added in, like pieces of red glass for the taillights and clear glass for the headlights. Bits of chrome are also added, as is a rear window wiper. The windshield is a piece of tinted plastic, and also comes with wipers. The final touch is to add the side mirrors.
This isn't the only build that the artist has posted. You can pass even more time watching the carving of a Bugatti Chiron or President Trump's "Beast" Cadillac.
You'll also like:
2022 Kia Sportage is a Sharp Suited SUV Set to Topple the RAV4
Build Dom's Dodge Charger From Fast & Furious With LEGO Technic
LEGO Ideas Presents Tesla Cybertruck Model
---
Featured Video from Man of Many