OnlyFans Launches OFTV, a Surprisingly SFW Streaming Service
Ever wanted to hear Holly Madison's take on social media? Make margaritas with Ruby Day? Talk shop with Mia Khalifa? Thanks to a somewhat unexpected diversification of content, you now can. Subscription media platform OnlyFans has launched OFTV, an on-demand streaming service with a decidedly SFW scope.
You'll also like:
15 Top-Earning OnlyFans Creators for 2021
Watch the Trailer for Hulu's Doco 'OnlyFans: Selling Sexy'
A natural extension of the subscription model, OFTV showcases original content from OnlyFans creators across a variety of wholesome topics. From fitness and cooking to comedy and music, the platform's big and small stars are set to release a series of short and long-form videos that take viewers behind the scenes. Best of all, you can watch the OFTV content on your phone, tablet or smart TV.
According to Tim Stokely, OnlyFans founder and CEO, the new OFTV addition is just another way for fans to view content from their favourite OnlyFans creators and discover new ones.
"From the onset of launching OnlyFans, we have been a creator-first platform to give creators further autonomy and power over their content," Stokely said. "We're all about giving creators more opportunities to get their content out there and more ways for our community to access it."
For eagle-eyed fans, the announcement is not a surprise. OnlyFans soft-launched the on-demand streaming service earlier this year to test out the market. After a resoundingly positive response, the entertainment platform has dramatically scaled OFTV. At present, the content library consists of over 800 videos from over 100 OnlyFans creators including Cheri Fit, Yoga with Taz, and Tennis Class with Adi.
Interestingly enough, OFTV comes in conjunction with the season two premiere of OnlyFans' original content series, Unlocked. The series sees host Casey Boonstra interview creators while they partake in mini-adventures, giving viewers a behind the scenes glimpse into their lives.
This time around, OFTV has tapped world-renowned content creator, actress and sports fanatic Mia Khalifa, whereby she and Boonstra turn themselves into 3-D holograms. The Unlocked episode follows the two as they 'rock out in a classic convertible while Mia spills the tea on everything from why she started an OF to her not-so-secret obsession with Batman'.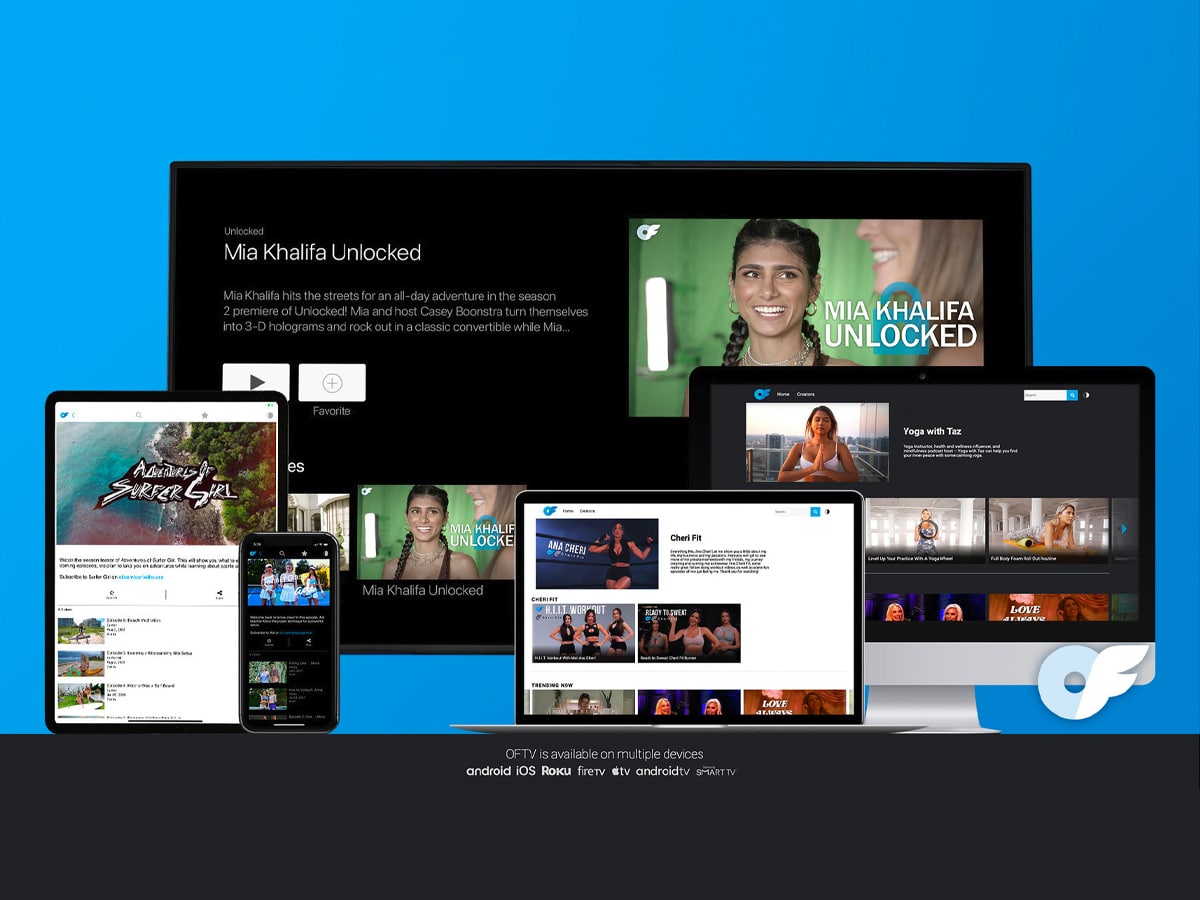 While the new SFW addition to OnlyFans might seem like a sideways step, it's a thoughtful continuation of the platform's growth. While OnlyFans may be dominated by adult content now, it originally started as a way to connect fans with content creators in the most seamless of ways. Seeing that slide into the world of fitness and cooking makes perfect sense, but at the same time, OFTV doesn't take itself too seriously (see – Coffee and Cleavage).
OFTV is free to view and available as an app for mobile devices and watchable via smart TVs. OFTV is available on Android, iOS, Apple TV, Roku, FireTV, Android TV, and Samsung Smart TVs.
You'll also like:
15 Top-Earning OnlyFans Creators for 2021
Watch the Trailer for Hulu's Doco 'OnlyFans: Selling Sexy'