Watchmaker TACS Honours Vintage Twin Lens Cameras with its Latest Creation
In Partnership with TACS
What TAG Heuer (and a number of lesser watch brands) does for race cars, Japan-based TACS does for classic vintage cameras. Their celebrated Lens Series kicked off as a crowdfunding project in 2016 and has since become a signature line of its own. On the heels of the brand's Automatic Vintage Lens II comes the latest and greatest camera-inspired design, better known as Automatic Twin Lens (ATL). Awash with meticulous and handcrafted detail, it renders as immediate an impression as the very camera from which it sprung.
First issued in the late 1920s, twin-lens cameras featured a unique and advantageous periscopic design. Thanks to the double-lens set-up—which consisted of a viewing-lens at the bottom and a taking-lens up top—photographers enjoyed a continuous view of their subject while capturing the shot. Between their versatile functionality and reduced shutter lag, these cameras became particularly useful amongst photojournalists and correspondents during WWII. It's even been said that the very concept was spawned in the trenches of WWI, where the camera's inventor would peer through a periscope.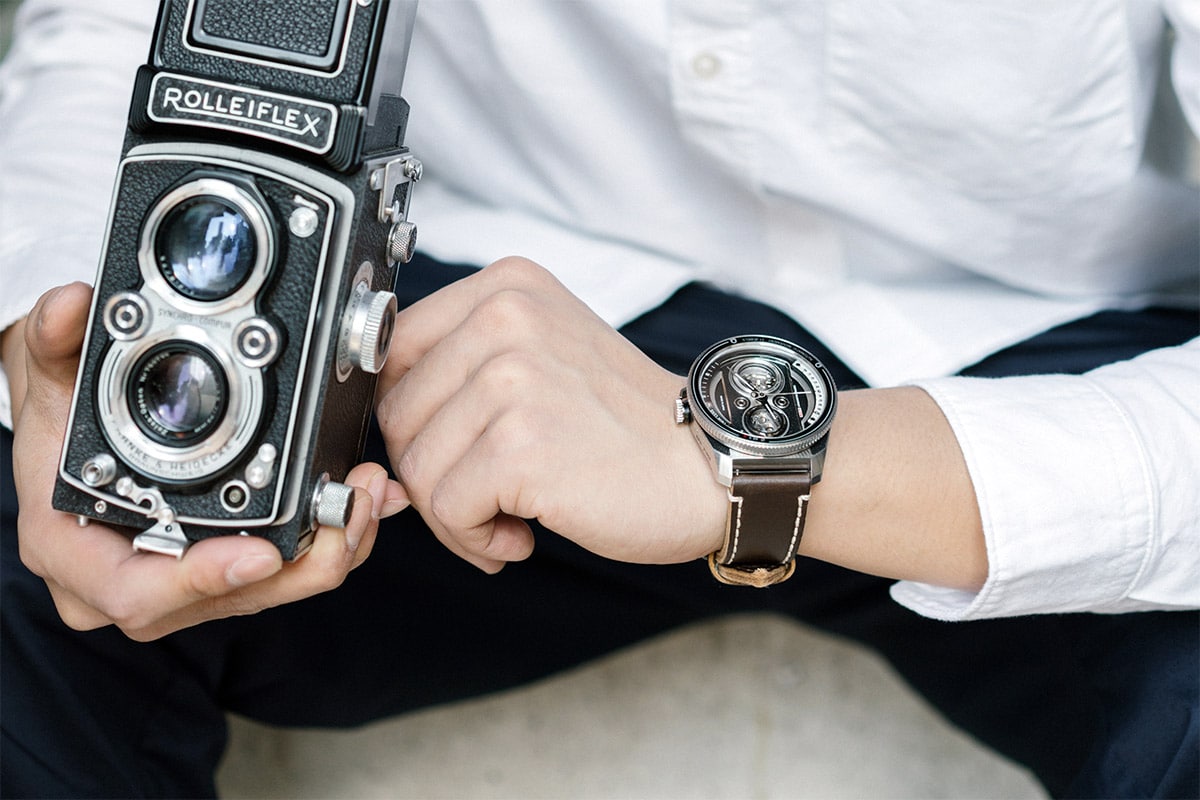 As it continued to evolve, the double-lens camera made its way off the battlefield and into the hands of numerous creative icons. Richard Avedon, Imogen Cunningham, Irving Penn, and Diane Arbus were just a few famous photographers who took advantage of the versatile design. Now, that very camera provides the aesthetic underpinnings for the latest TACS watch and its double-lens dial face. Housed inside a 45.6mm case, the piece is simply brimming with visual flair and retro panache.
One look at the new ATL and you can immediately tell that the brand pored over every spare detail. Two years in the making, it features two domed lenses on the dial and leather pattern materials, just like the twin-lens camera before it. The partial hours and minutes markers take cues from a depth of field scale while the second-hand tail resembles a vintage shutter. The etched textures on the rotating bezel and screw-down crown pay tribute to double-lens cameras and their respective focusing ring and knob. Even the crown protector reinforces the underlying motif, culling inspiration from the camera's strap eyelet slot.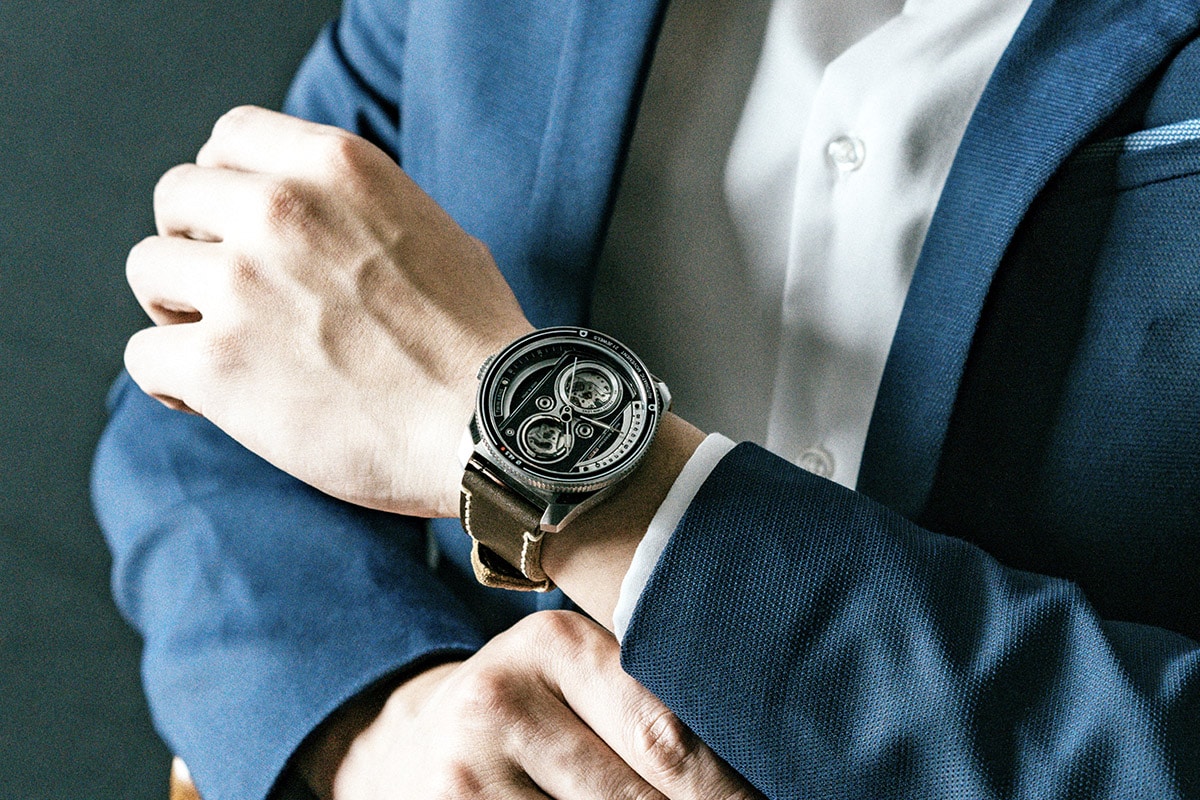 Skeleton Miyota 8N24 movement is revealed through the dial window, thereby generating an even greater tier of visual interplay. Flip the watch over and you'll find the twin-lens camera pattern reproduced as a mirror image on the caseback, which also displays the back of the skeleton movement. History comes to life at every turn and yet you're also looking at a stylish and elegant timepiece. Choose between modern silver and retro gold, the latter of which features a gold and black colour scheme with additional gold accents. Both models come with Horween leather straps in either brown (on the silver model) or black (on the gold model). A matching metal band is also available.
A guaranteed conversation-starter, the ATL cultivates its built-in themes with stunning precision. Each twin-lens dial—which consists of 19 individual parts—was hand-assembled in Japan by a TACS watchmaker at a rate of no more than 10 per day. The skeleton Miyota automatic movement was likewise handmade in Japan and it delivers a 42-hour power reserve. This watch is also 20% lighter than its predecessor and water-resistant to 100 metres, amongst other things.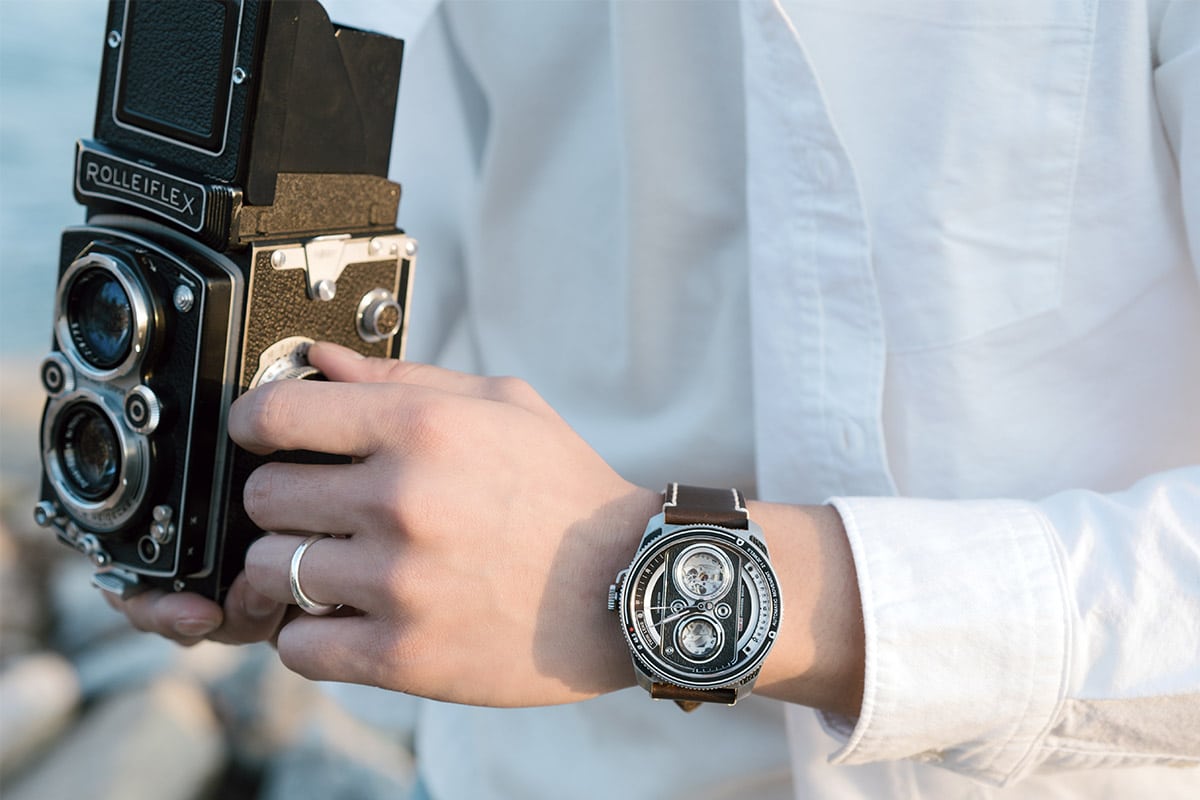 Vintage design meets modern Japanese craftsmanship on the new TACS ATL, an extraordinary work of art. You don't have to be a retro camera nerd to geek out on this wondrous wristwear, which bridges the gap between style and practicality in a conspicuously unique fashion. Of course, you should still brush up on camera history because a sense of intrigue is palpable at first sight. People will definitely want to know the story behind this watch!