City Guide: 48 Hours Kyoto
They may share letters and length, but Kyoto couldn't be more dissimilar to Tokyo. Having escaped mostly unscathed from WWII; Kyoto still has many of its traditional 'machiya' style wooden homes and buildings, and more than its fair share of temples and shrines. Unlike Tokyo's feudal maze of roads, meant to confuse invaders, Kyoto, the capital of Japan for over one thousand years, sprung up mostly in a grid, making it very walking friendly and easy to navigate. Full of trees, cobblestone alleys, and over ten UNESCO sites, Kyoto is the perfect city to have a nice leisurely weekend in. What it lacks in height and glass, it makes up for in culture and tradition.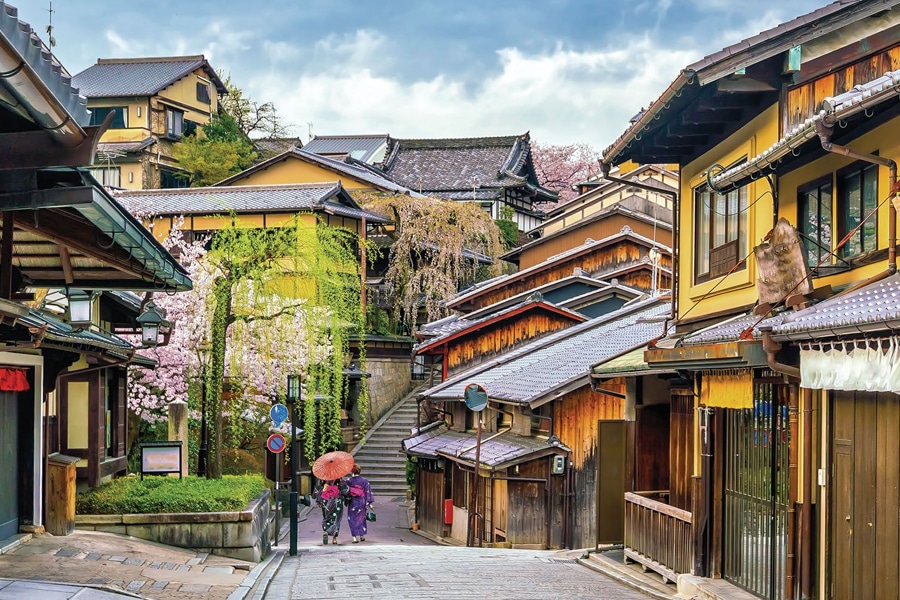 Gion, its famous geisha district, while still home to the elusive geisha, is now full of delightful tiny storefronts and cafes. Especially beautiful is the Gion Tatsumi bridge, picture perfectly ready for a postcard photo or, let's be real, an insta shot. Rivaling the bridge, the Nineizaka alley is lined with teahouses, treat shops and maiko rental stalls, which transform you and your party into Geiko (Kyoto Geisha), Maiko (apprentice Geisha) or Taikomochi (men's traditional attendees); bringing your Instagram dreams to reality.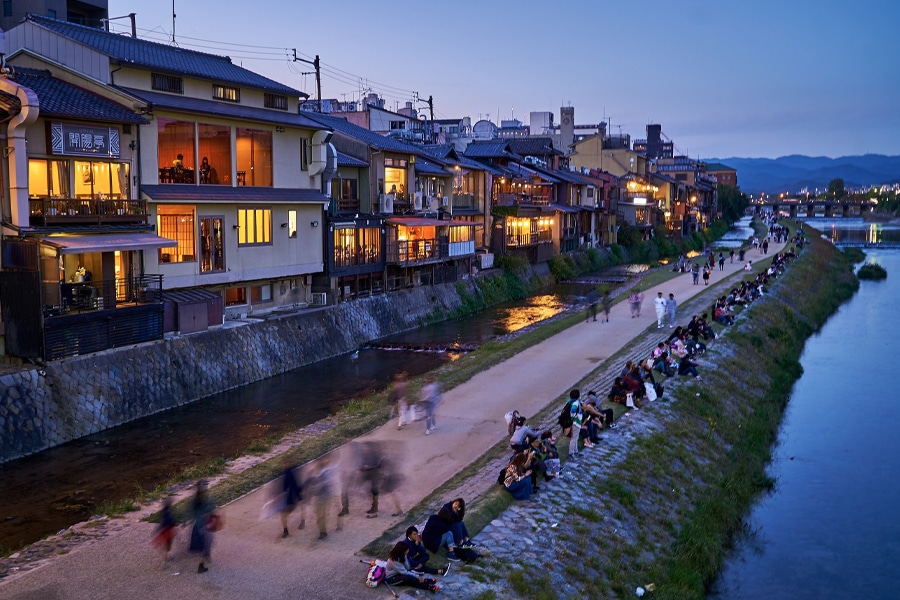 Kamogawa River Kyoto
Never far from hand; matcha is the drug of choice in Kyoto. The finest grade of ground tea leaves, matcha is found in countless cafes and shops, plying caffeine-addicted customers with all manner and grade of the green stuff. Five different strengths of matcha ice cream? Sure. Matcha parfaits and pancakes? Definitely. Matcha beer? Caffeine with alcohol? Yes, please.
Frequently finding itself an afterthought or add-on to a Tokyo trip, Kyoto is well worth some dedicated time. A quick bullet train from Osaka and Tokyo, and with a super tourist-friendly public transport system, Kyoto's disarming calm is welcoming and forgiving to newbie tourists. At a minimum, come to Kyoto for a break from the Tokyo intensity, however, be forewarned, you too might find yourself falling in love with its beguiling charm.
DRINK
Bees Knees 
Yet another 'speakeasy-style' cocktail joint. Again with the semi-hidden entrance and possibly overworked displays of craftsmanship. However, they get a pass because the bartenders are super friendly and the drinks are spot on.
364 Kamiyacho, Nakagyo Ward, Kyoto, 604-8024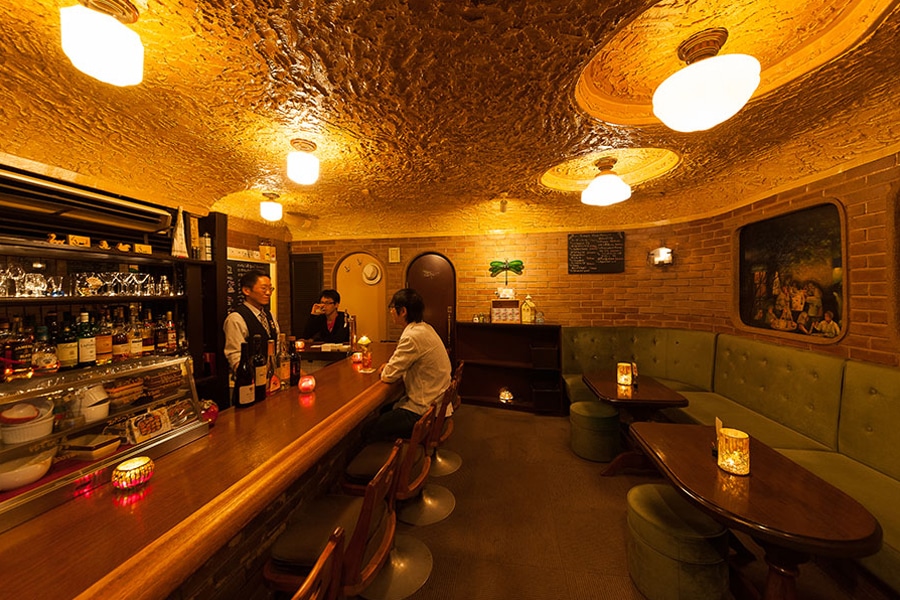 Bar Tonbo
Teeny, tiny and down a back alley. Follow the dragonfly signage. Seats about 12 total, yet has a large and extensive menu. The bartenders are wise beyond their years and teach you origami and card tricks while you sip.
604-0961 Kyoto, Nakagyo Ward, 191-7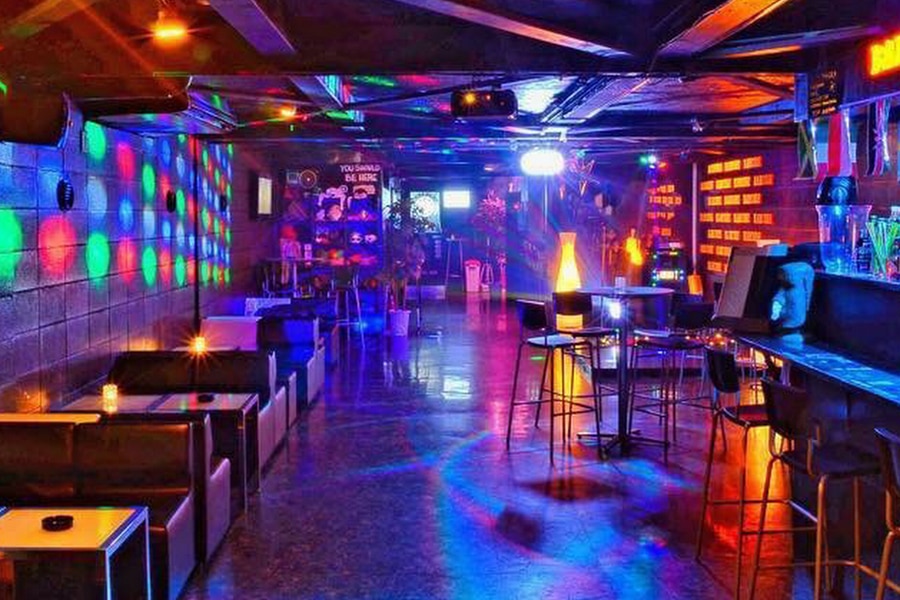 Barcode
You cannot go to Japan without a karaoke visit. Barcode is loud and cheesy, and a bit divey, but heaps fun.
604-8024 Kyoto, Nakagyo Ward, 366
EAT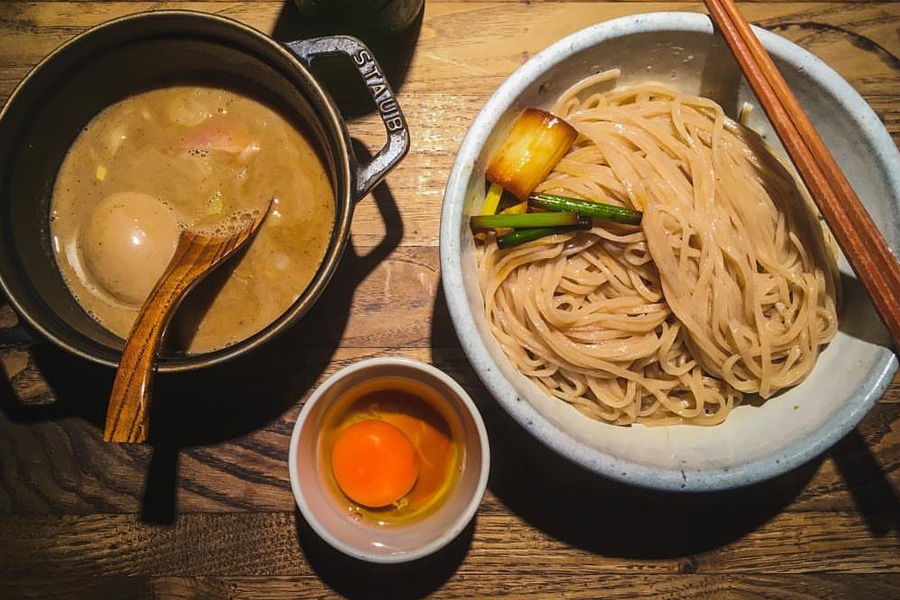 Wajouryoumen Sugari
In truth, you are going to walk past this place about a million times without finding it. It's tiny and has an old wood facade and looks nothing like a ramen joint. The lack of sign hardly helps matters. However, it's worth the persistence. A creamy, thick soup base, a wide selection of noodle textures and a separate bowl for dipping; a completely different take on noodles and liquid.
471-1 Kannondocho, Nakagyo Ward, Kyoto, 604-8222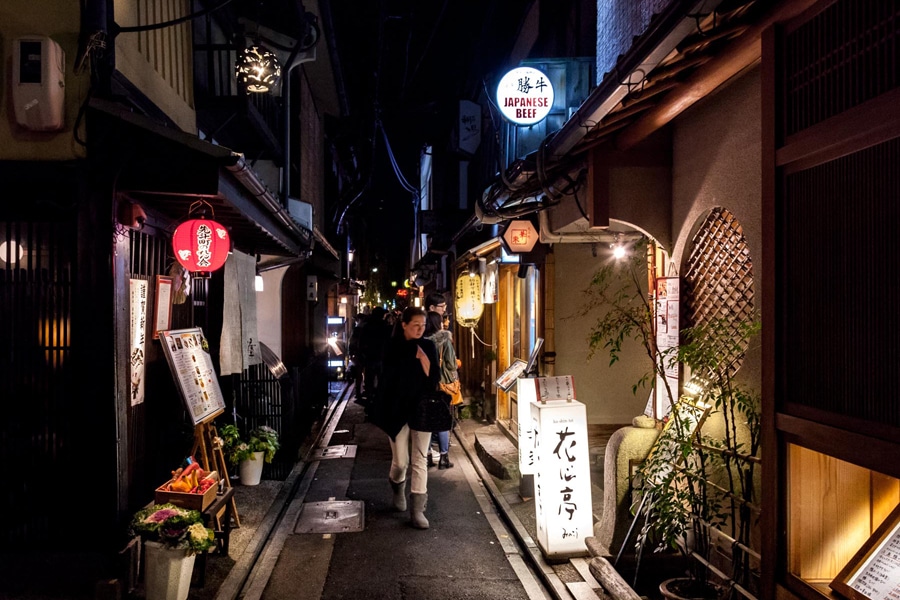 Pontocho Alley
Super-narrow, long and lined with tons and tons of dining options. Establishments are stacked like legos; basements and many stories up. Opt for a place on the east side of the alley, one that backs up against the Kamogawa River, for dinner al fresco, and views. Score traditional seating on the floor with tatami mats and cushions too.
604-8016 Kyoto, Nakagyo Ward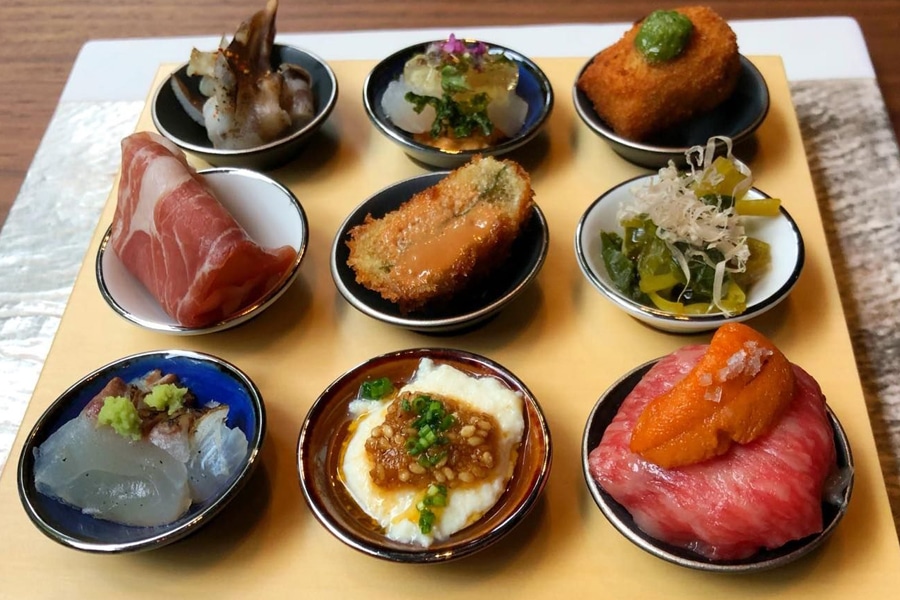 La Bombance
Presentation, presentation, presentation and the price to match. Beautiful pieces of meat, fish, vegetable, and starch, presented in utter simplicity, yet deliciously perfect. Served in the kyo-kaiseki style, where small dishes are brought out course by course, highlighting the local seasonal ingredients.
2 Chome-26-21 Nishiazabu, Minato City, Tokyo 106-0031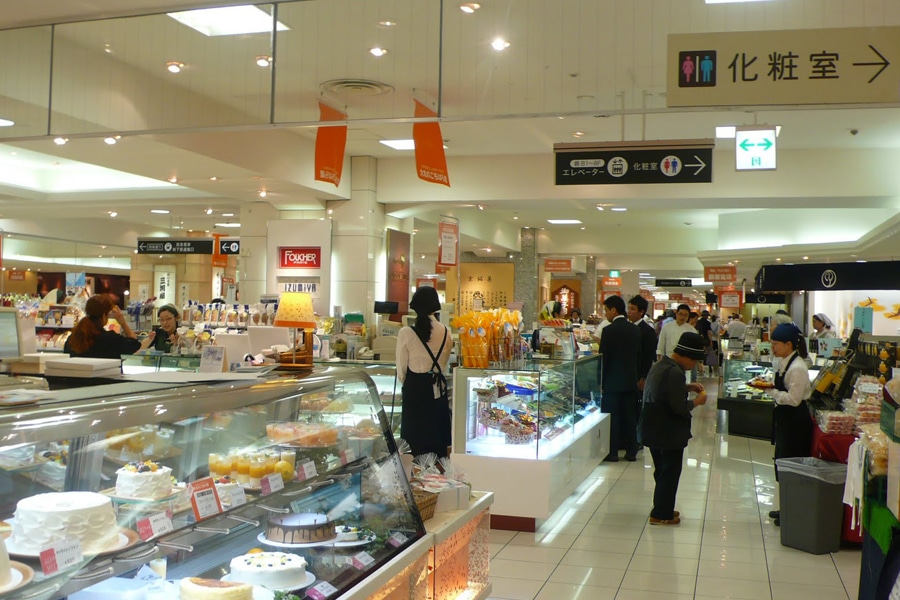 Daimaru Basement Food Hall
Japan is famous for its large department store food halls. This is yet another example of next-leve, subterranean eats. Pristine and perfect in presentation, this would be where you find your thousand dollar melon enshrined in a silk cushion.
79 Tachiuri Nishimachi, Kyoto, 600-8511

Ippudo Ramen
Consistently solid ramen. There will be a queue at most hours, but the turn over is quick. Ramen in Japan is all about a quick meal and slurp, this is not a place to linger. A small menu with lunch specials delivers quality noodles and pork. Vegan options as well, which is a rarity in this country.
Yubinbango 604-8143 Kyoto Prefecture Kyoto City Nakagyo-ku Higashi-donin 653-1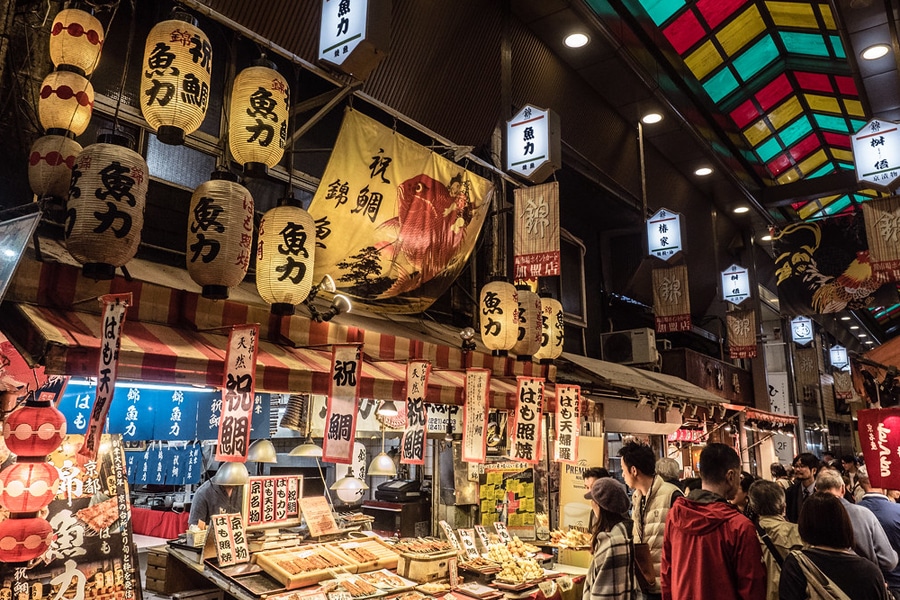 Nishiki Market
Over 130 food stalls and restaurants are found here…begging you to sample as you proceed. Plus as you walk east through the arcade, it ends at a perpendicular intersection with a streetwear and sneaker filled apparel market. You will likely part ways with considerable money in both situations.
604-8054 Kyoto, Nakagyo Ward, 609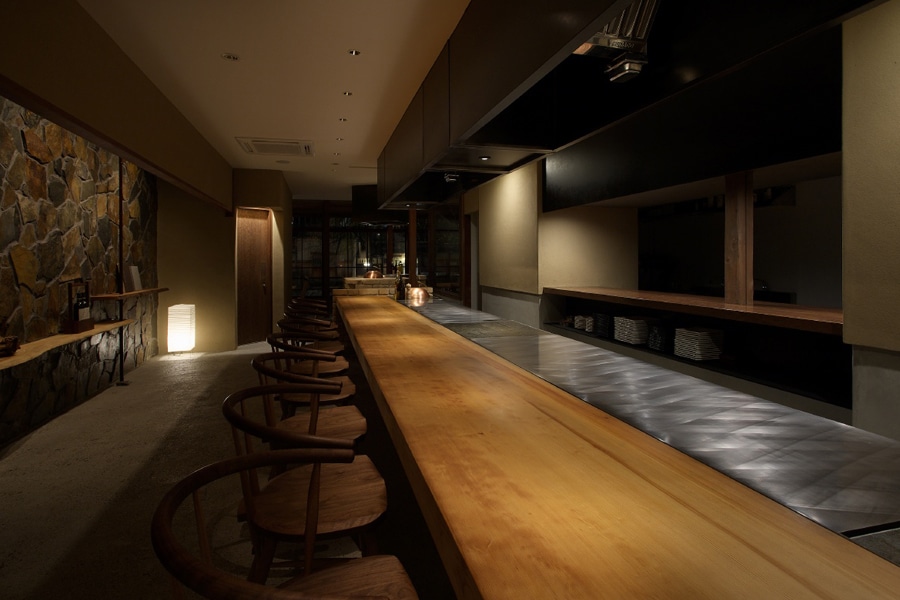 Itoh Dining 
Yes, you can saddle up to the grill to watch a master chef prepare teppanyaki in front of you, but we much prefer the little nook tables in the back of the restaurant, which sit astride a slow-moving river. Oh, and did I mention the foie gras and Kobe beef course? Didn't think so.
Kyoto Higashiyama-ku 80-80 Sueyoshicho Kyoto Higashi 605-0085 Kyoto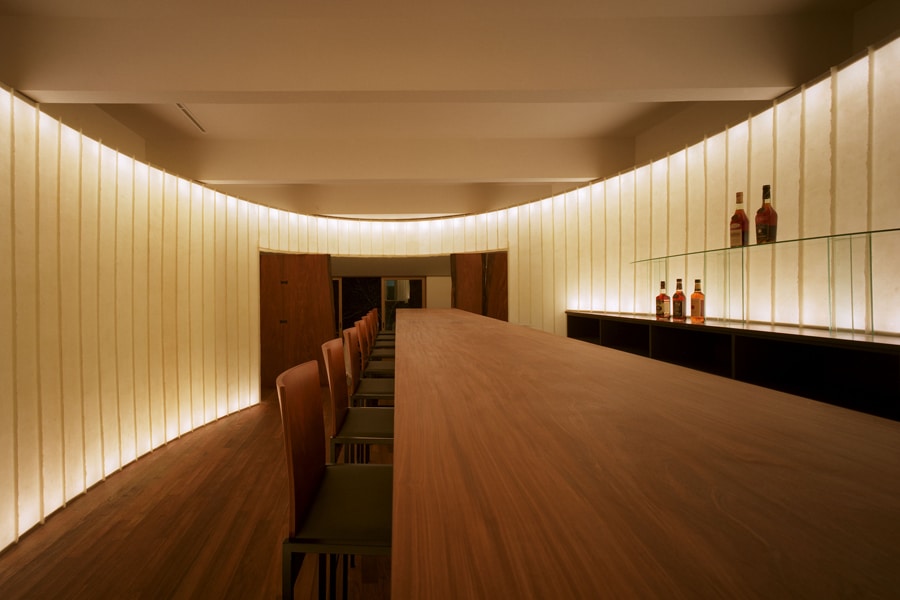 Gion 2 Deux 
Another beautifully designed food and drink establishment. Like many others, it's hard to find, backing onto a perfect river and lacking much signage. The bar lighting is super muted and strangely zen. You feel like you are in the future or at a minimum, a Kubrick movie.
 80-1 Sueyoshicho, Higashiyama-ku, Kyoto
SHOP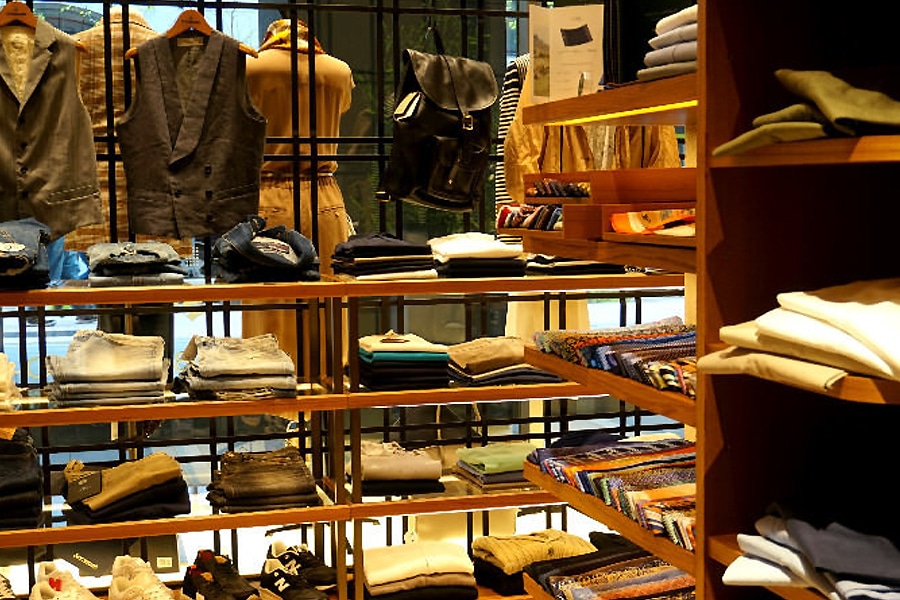 LAQUE Shijo Karasuma 
Thirty shops full of all manner of wonderful things to wear. Vintage, quirky, unique and custom pieces are all up for grabs in this mall.
600-8009 Kyoto, Shimogyo Ward,  101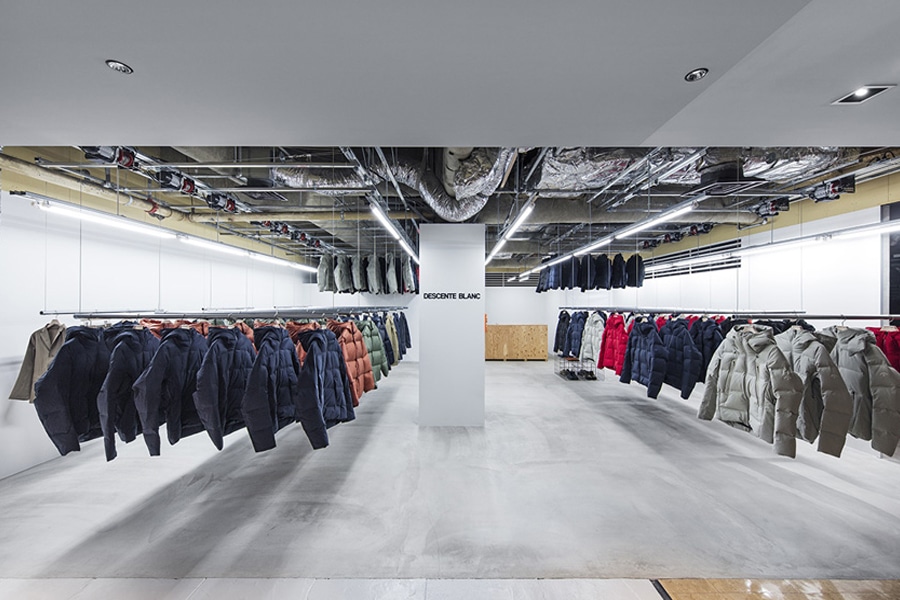 Fujii Daimaru
Focused on under 40s, the best dressers flock here to peruse the racks of the latest collaborations and straight off the runway looks.
Teianmaenocho, Shimogyo Ward, Kyoto, 600-8031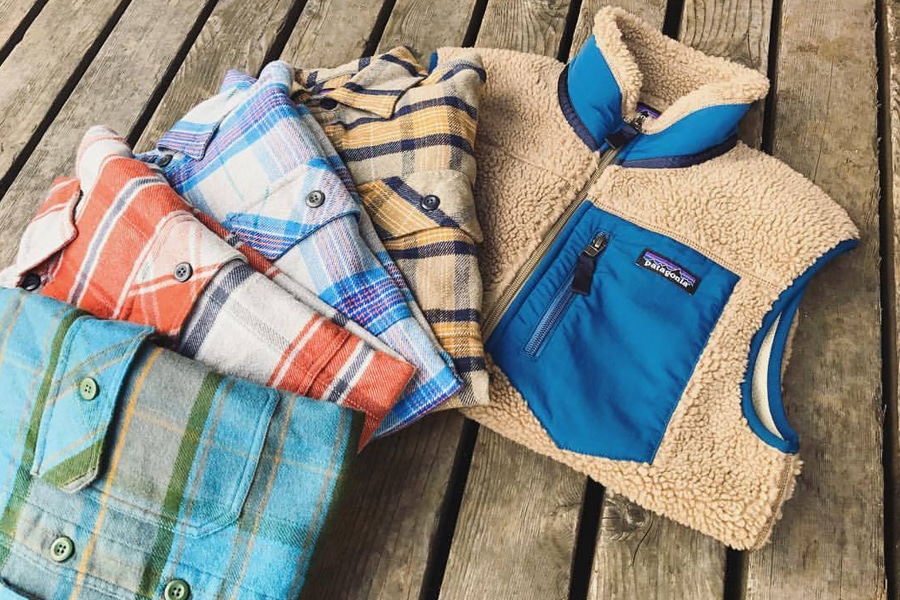 LOFTMAN COOP KYOTO
In the famous Kyogoku Shopping Arcade, Loftman has great staple pieces for the guy who dresses well but doesn't overdo it. The offerings of outdoor labels are also increasingly popular of late.
604-8045 Kyoto, Nakagyo Ward, 280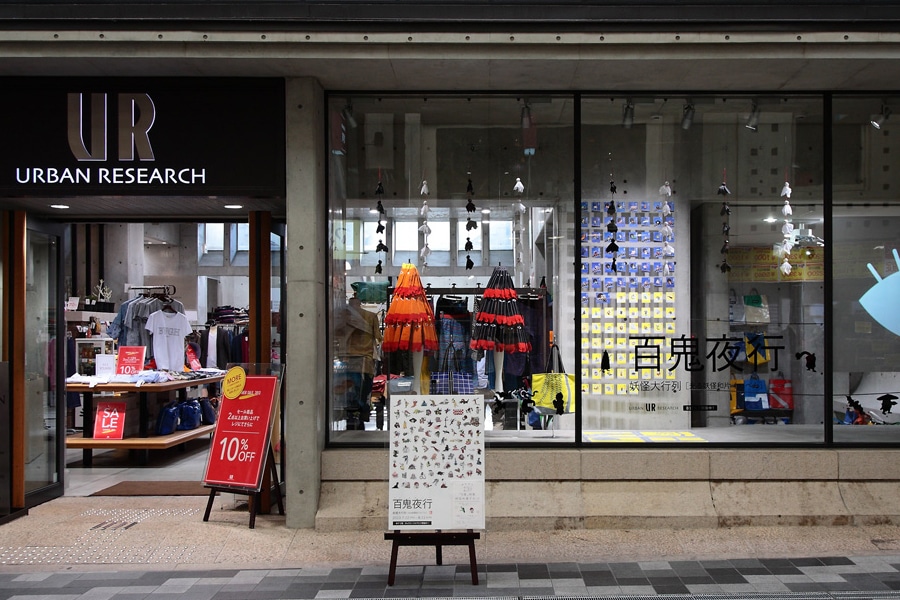 URBAN RESEARCH KYOTO
Carrying many designer and local brands, Urban Research mixes high and low labels with ease.
604-8045 Kyoto, Nakagyo Ward, 285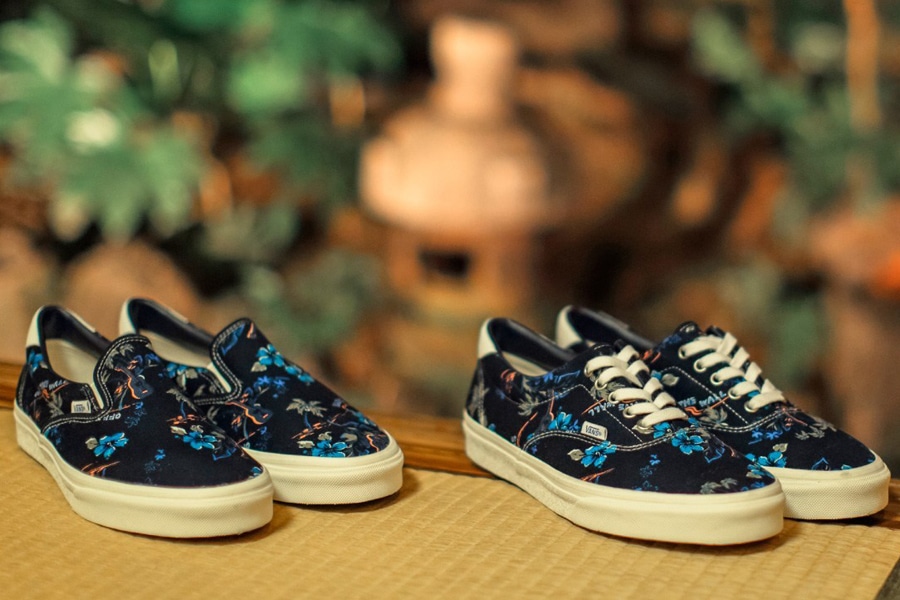 Billys
Billys scores all the great shoe collabs. Come here for the best selection of sneakers and streetwear favorites.
604-8027 Kyoto, Nakagyo Ward, Shioyacho, 319
COFFEE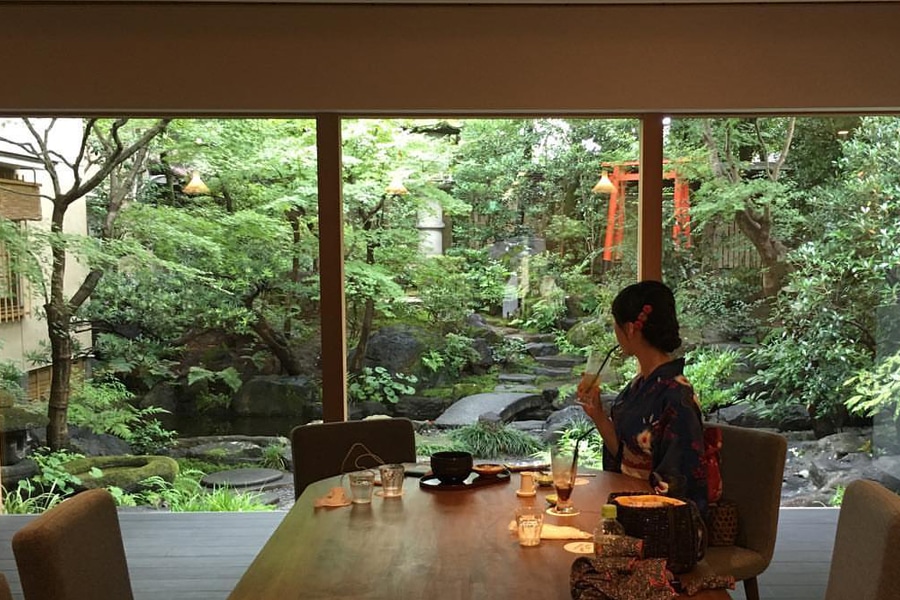 Cafe Kawataro
Huge glass windows framing a perfect Japanese garden. A quiet place to refuel and re-caffeinate.
505 Washiocho, Higashiyama Ward, Kyoto, 605-0072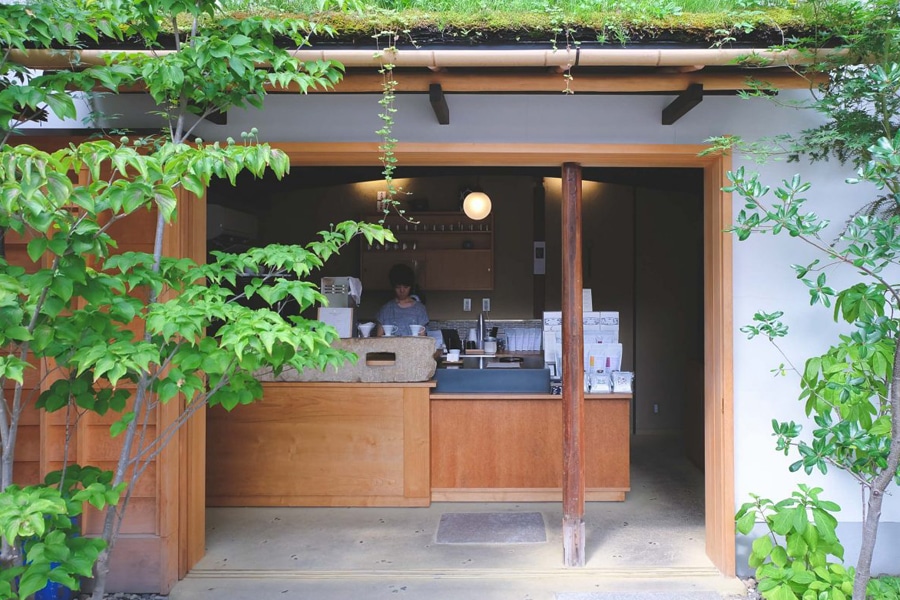 Weekenders Coffee
Easily the most delightful thing I have found in a parking lot. You will see a small sign advertising its existence. Covered in green foliage, the cafe is small but efficient and the staff are friendly and full of smiles while you wait for your delicious brews.
2F 82 Tanakasatonouchicho, Sakyo-ku, Kyoto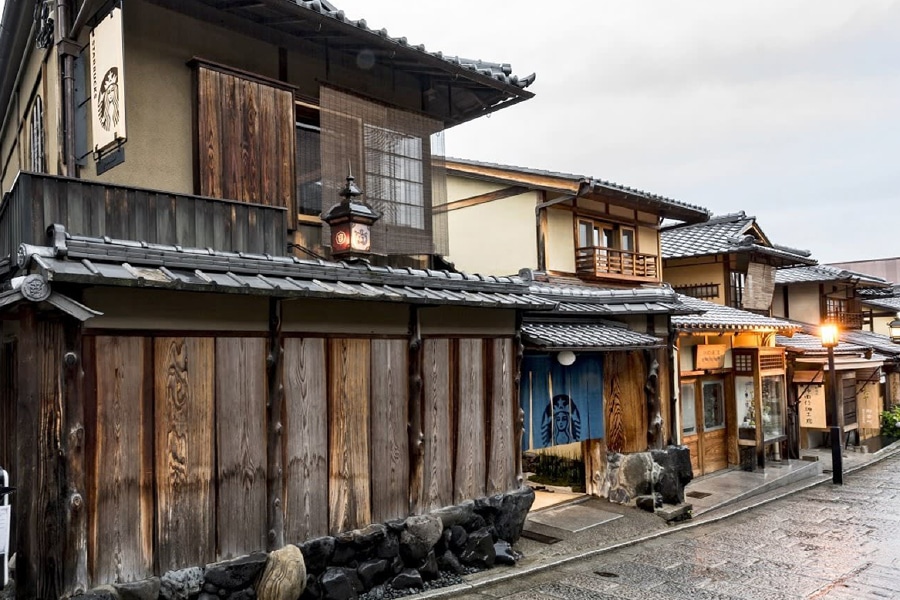 Starbucks
Ok, I can already feel the eyes rolling, but stay with me here. I am not suggesting you go here for the coffee, but instead for the space. Starbucks purchased a very old wood 'machiya' home and kept much of the original detailing; tatami mats, seats on floor cushions, walls covered in silk. Frankly, it's beautiful.
605-0826 Kyoto, Higashiyama-ku, Kyoto
TO DO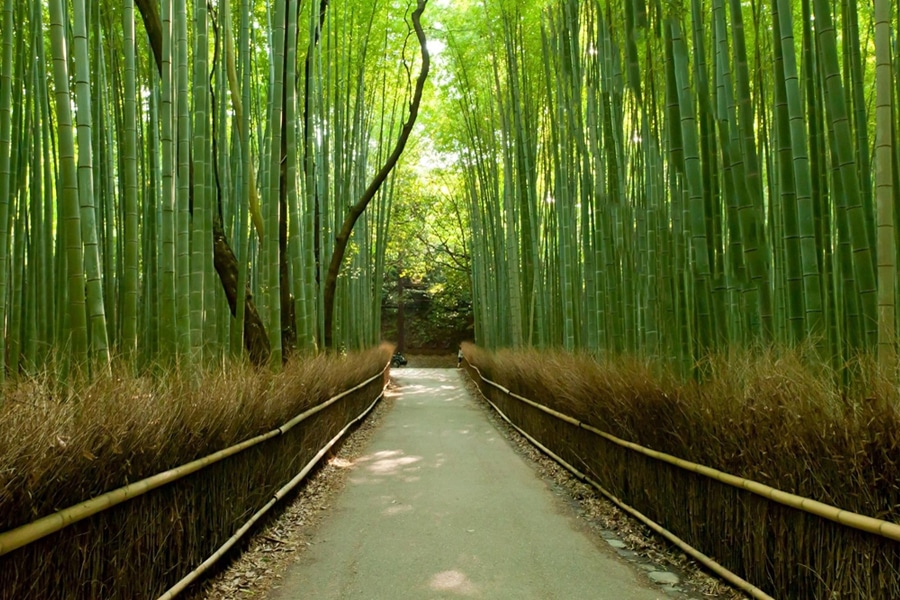 Kameyama Bamboo Forest
Don't get me wrong, this place is unique and beautiful in all seasons. Listening to the wind gasp through creeky giant bamboo is a little eery and wonderful. However, I am not entirely sure it lives up to all the hype. It's so full of tourists and school children that is ruins any mood you'd hope for. It's also on the outskirts of town, requiring a train ride to the northwest and a real commitment to your Instagram content.
Sagakamenoocho, Ukyo Ward, Kyoto, 616-8386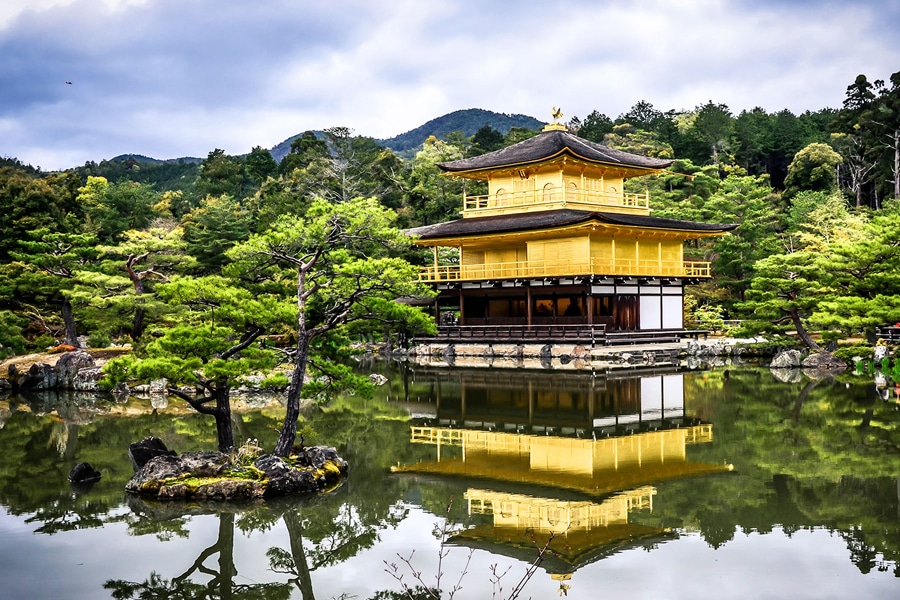 Kinkaju-ji
A Zen Buddhist temple, Kinkajuji is one of the most popular buildings in Japan, attracting a large number of visitors annually. It's beautiful in all seasons, and just as full of tourist tour buses. Unfortunately you are not free to wander the grounds much, and instead have to swim with the tide on pre-marked paths. But it's hundreds of years old and covered in gold. And who doesn't love gold?
Kyoto 603-8361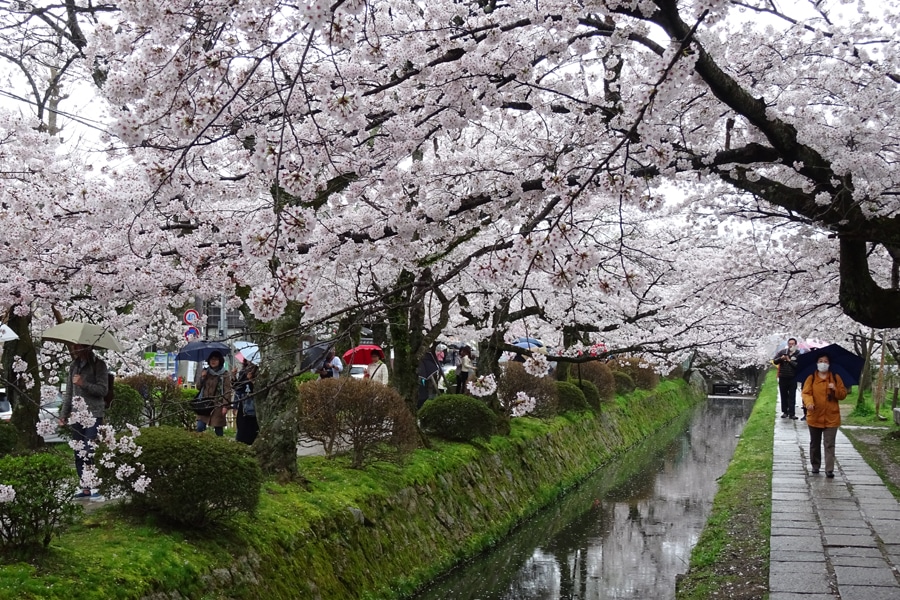 Philosopher's Path
The Philosopher's Walk is a pleasant path that runs alongside a canal in the shadow of the eastern mountains between Ginkaku-ji Temple (the Silver Pavilion) and the Nyakuoji Bridge. The former is famous for its 'wabi-sabi' aesthetic or 'beauty in the imperfect'.  The Walk is renowned across Japan for its beautiful spring cherry blossoms, which overhang the path like a canopy. Its also lined with small cafes and galleries making it extra 'twee'.
Shishigatani Honenin Nishimachi, Sakyo Ward, Kyoto, 606-8427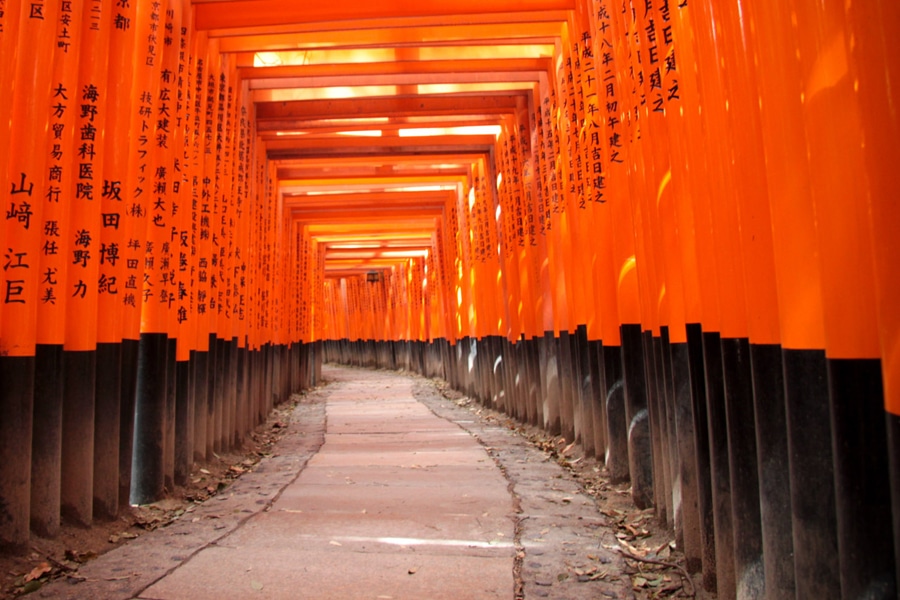 Fushimi Inari Taisha
This Inari shrine is the big daddy of them all. Endless tunnels of gates; around 10,000 in total. Every time you think you've hit the end of the line, there are more. The bigger the gate, the bigger the donation that was made. It's going to be next to impossible to get a photo without tourists in…but then again the shrine is open 24 hours. Don't forget to refuel at the many food stalls on the backside of the shrine.
68 Fukakusa Yabunouchicho, Fushimi Ward, Kyoto, 612-0882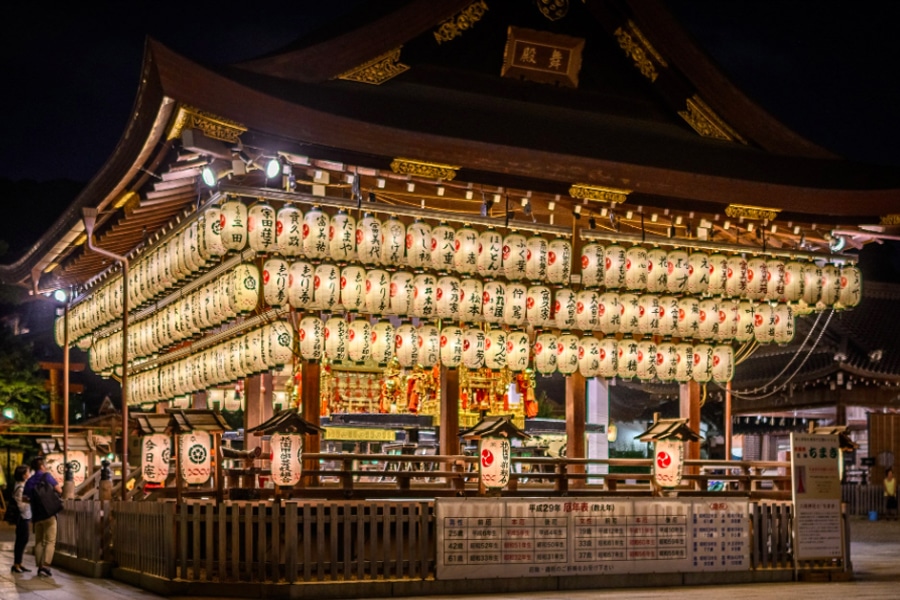 Yasaka Shrine
A huge complex full of all manner of temple, shrine, and lantern. Magically lit up at night, it's worth a bit of a wander through on your way home from stuffing yourself.
625 Gionmachi Kitagawa, Higashiyama Ward, Kyoto, 605-0073, Japan
STAY

Gion Ryokan Q-Beh
A quality, value ryokan option in the alley-filled Gion (traditionally Geisha) district. A quick walk to all the major shops and sites. Great value for money.
Washiocho, Higashiyama Ward, Kyoto, 605-0072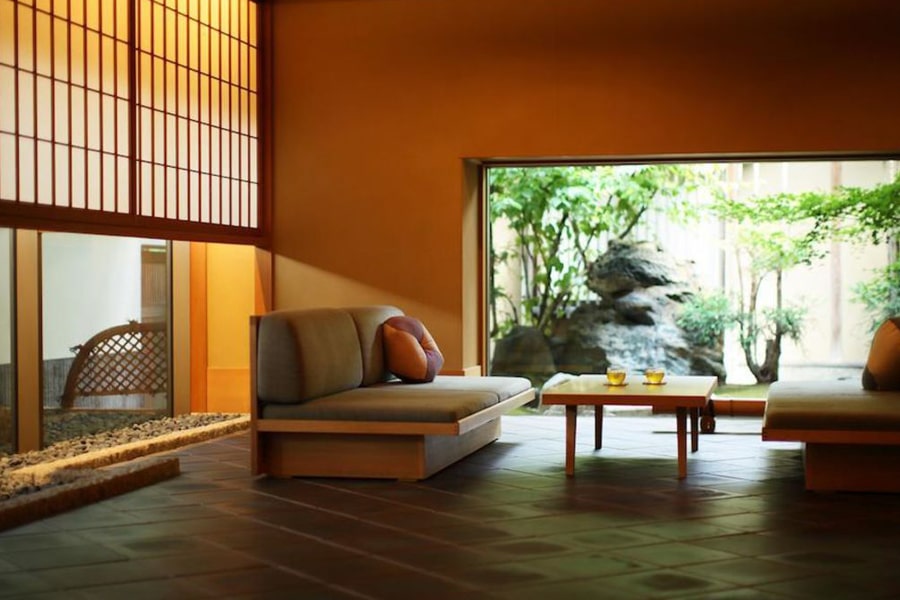 Gion Hatanaka
Mid-tier ryokan. Well designed and well-positioned near all the tourist sites, yet incredibly quiet and private.
505 Gionmachi Minamigawa, Higashiyama Ward, Kyoto, 605-0074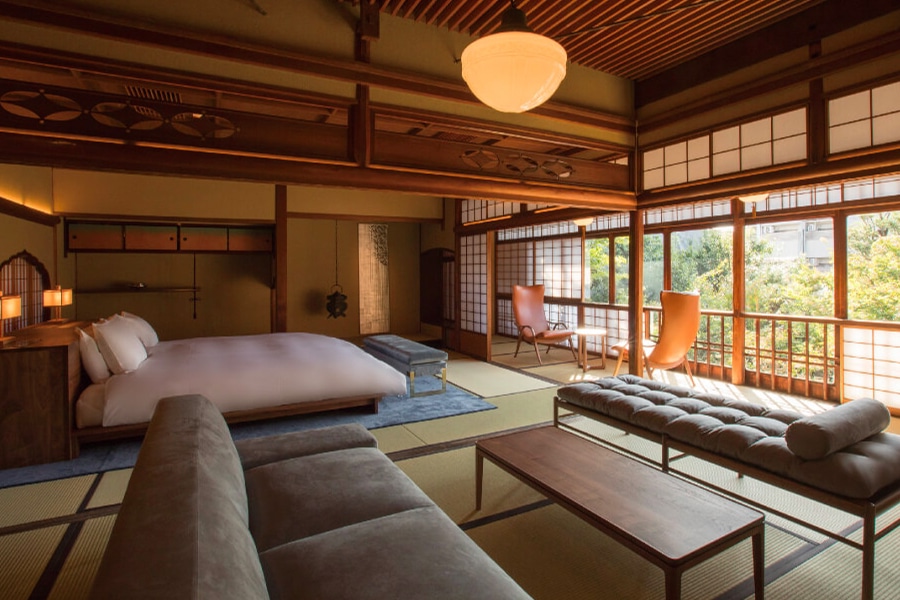 Sowaka
A 'mid-century' design freak's idea of heaven. Super luxe materials, interiors, and priceless calm. Considering the walls are bamboo, the floors straw, and windows paper; I swear its worth every penny and then some.
605-0821 Kyoto, Higashiyama Ward, 480 
Check it out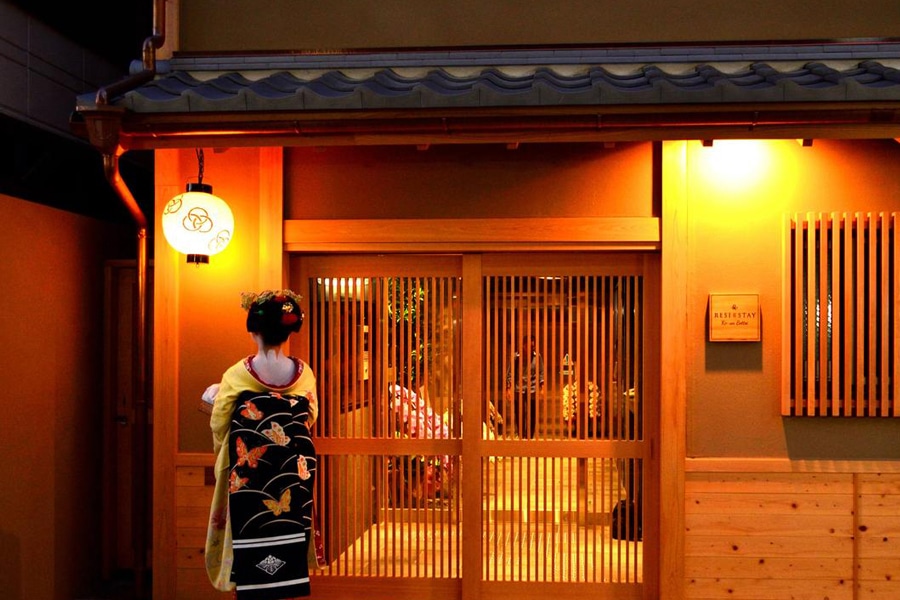 Geisha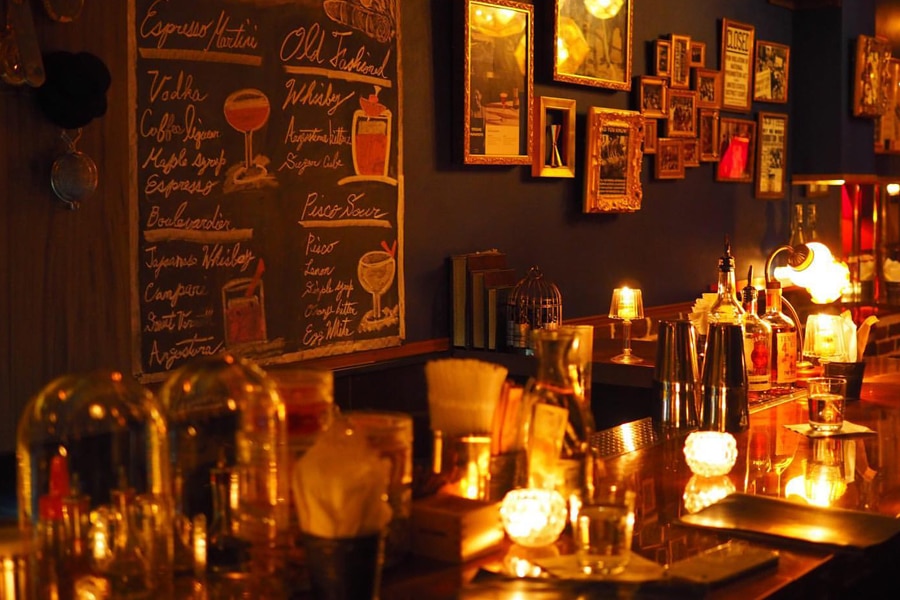 Bee's Knees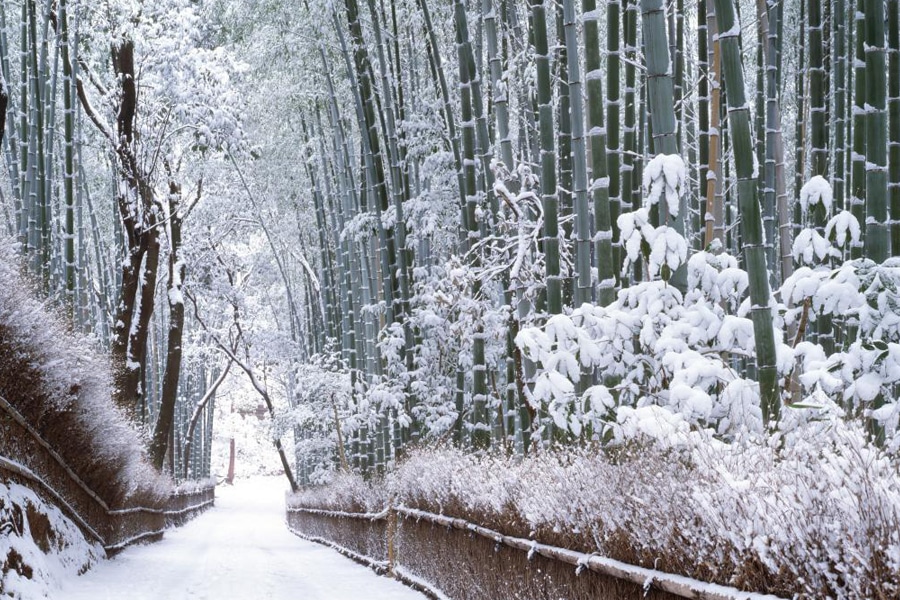 Kameyama Bamboo Grove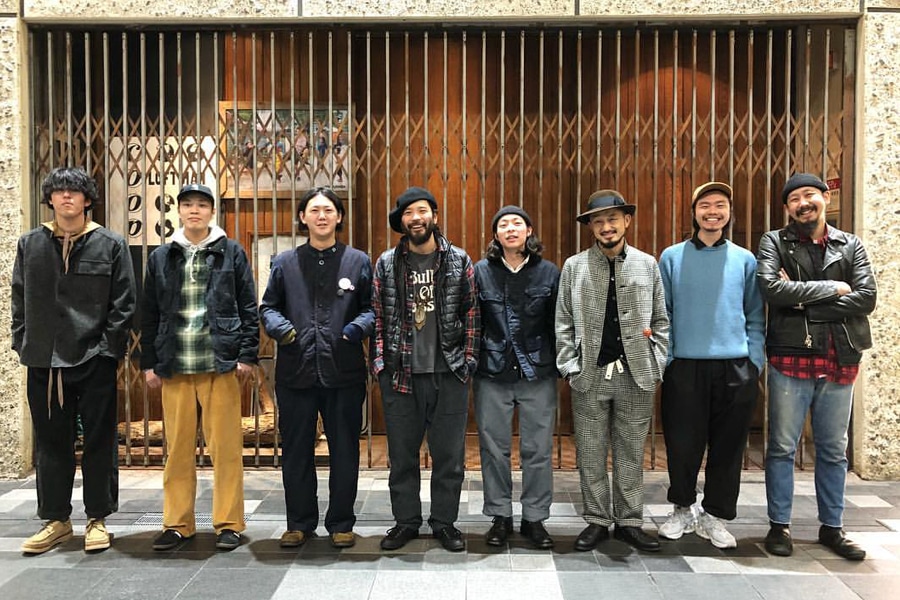 Kyoto Hypebeasts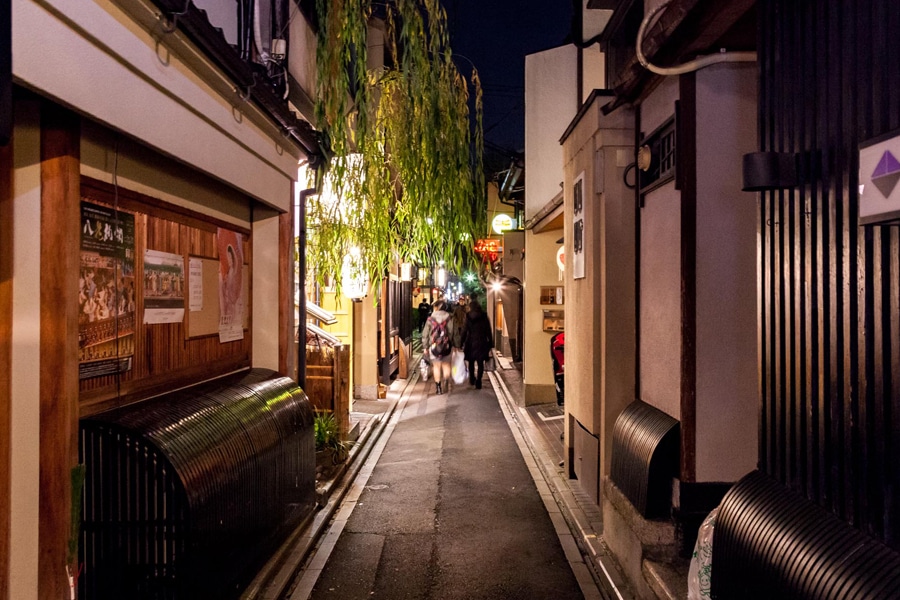 Pontocho Alley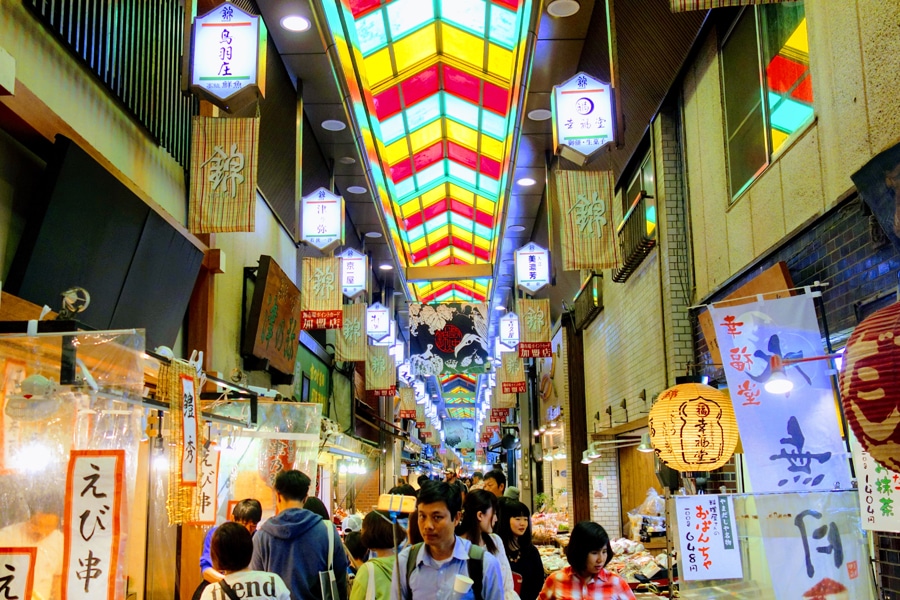 Nishiki Market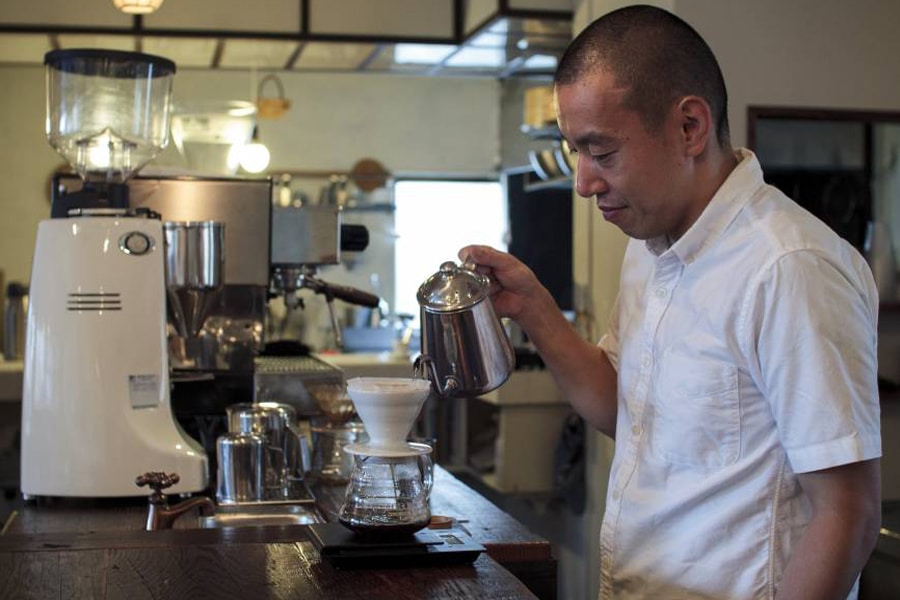 Weekender's Coffee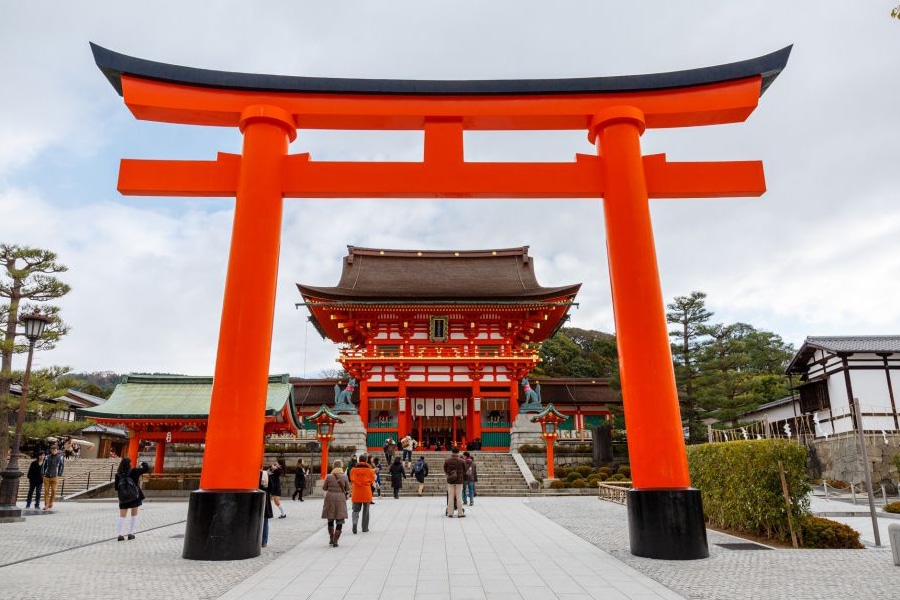 Fushimi Inari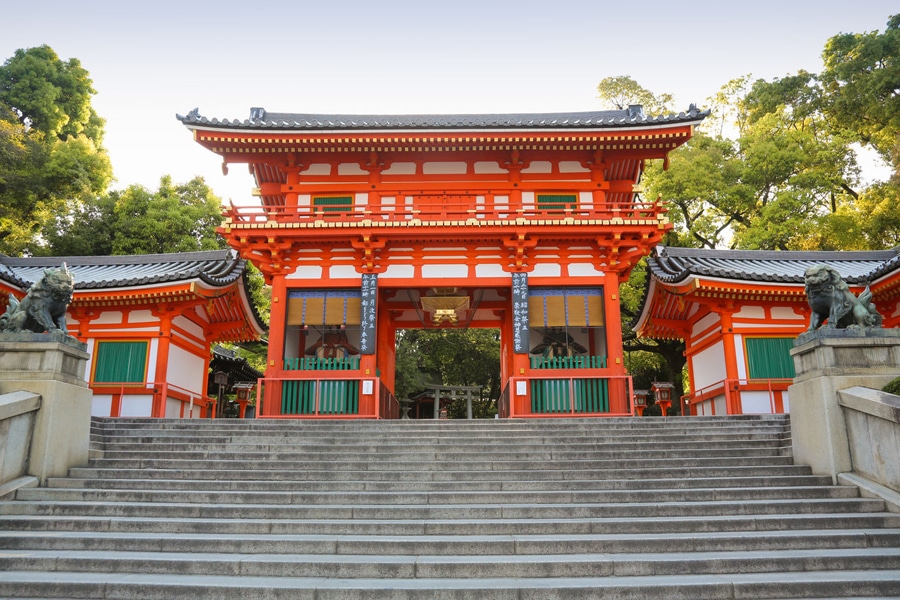 Yasaka Shrine