Elon Musk's Custom Tesla Nike Air Jordans
Elon Musk attracts a lot of attention for a lot of different reasons. Well, now you can add having some kickin' shoes to the list of reasons why people are watching the billionaire entrepreneur and engineer. At the unveiling of Tesla's Model Y on Friday, March 14, Musk was wearing a pair of Air Jordan 1 high top shoes that were a gift from a close friend. The shoes were commissioned as a birthday present and were created by Marco Acosta. Acosta modeled the shoes after the look and feel of Teslas, with deep blacks and red accents. The custom shoes have a Horween Leather Shell Cordovan—similar to Tesla's newest Roadster—for the toebox. A laser cut and stitched Tesla logo adorns the top of the toebox, while on the side of the shoe is the Nike Swoosh. Both logos are done in red metallic leather. For the rest of the shoe, Acosta opted for black python leather and pony hair.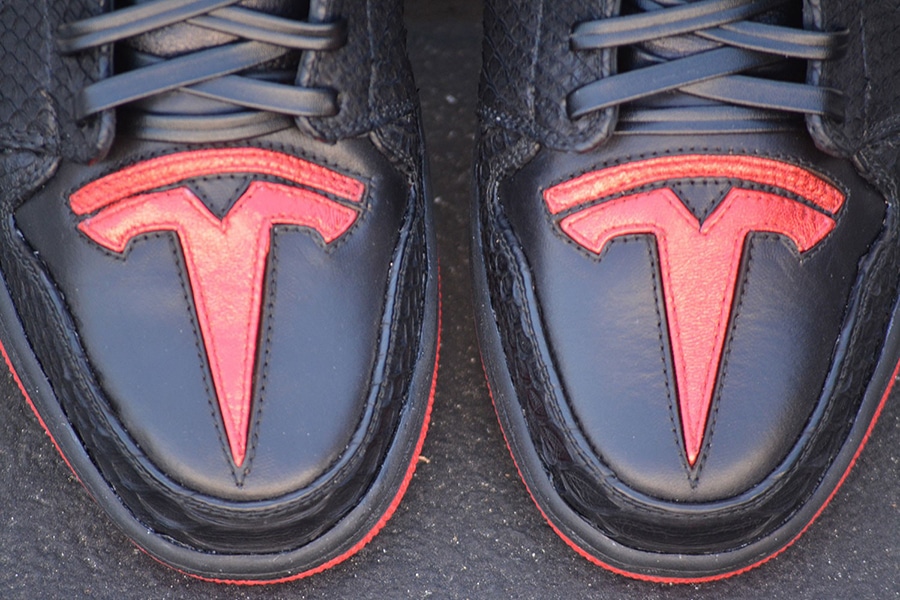 The shoe has been a real boon for Acosta. The shoe designer explains, "When we first made the shoes, they told us that there was a chance that he was probably never gonna wear them in public because that's just how he is. The fact that he did, that was just amazing for us." So much attention was given the shoes, that DM Customs decided to make six more pairs of the shoes, which are available at the same price that Musk's friend paid–$1,500.