Toyota's HiLux Tonka Concept is a Child's Dream Come True
Don't confuse this glorious 4×4 as a marketing ploy by Toyota to groom the younger demographic into buying its vehicles. No, this HiLux was built to rekindle your childhood memories and love for Tonka trucks. Part rock crawler, part desert racer – full extreme off-road vehicle, the HiLux Tonka Concept is a full-size dream-come-true for adults. It's a fully drivable HiLux that brings together the spirited nature of Tonka with the durability and masculinity of Toyota's iconic vehicle.
---
You'll also like:
Off-Road Vehicle with Speed to Burn – 2017 Can-Am Maverick X3 Max
The Ford Bronco is Coming Back in 2020
The Maybach G-Wagen G-550 Goes Off-Road
---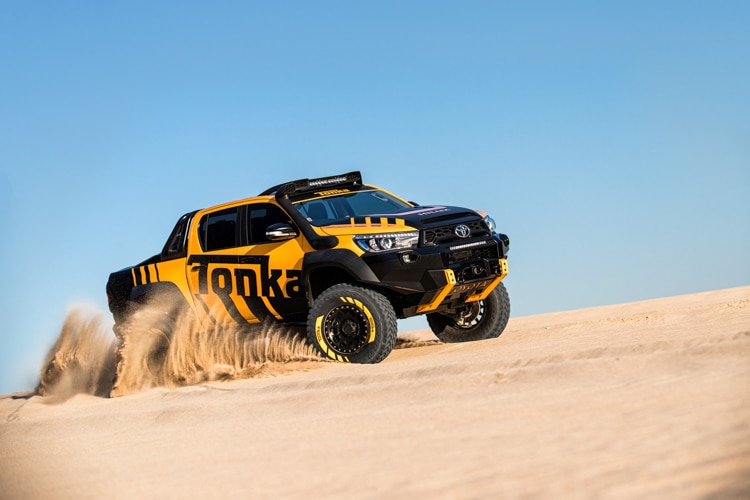 The Tonka Concept was built to celebrate the HiLux earning the top spot as Australia's best-selling vehicle in 2016 and to coincide with significant anniversaries for both Toyota and Tonka. Aussies are typically bottom of the barrel when it comes to vehicle launches, especially when global brands are involved, but credit for the Tonka concept goes to the designers and engineers from Toyota Australia and the 150 member-strong product planning and development division.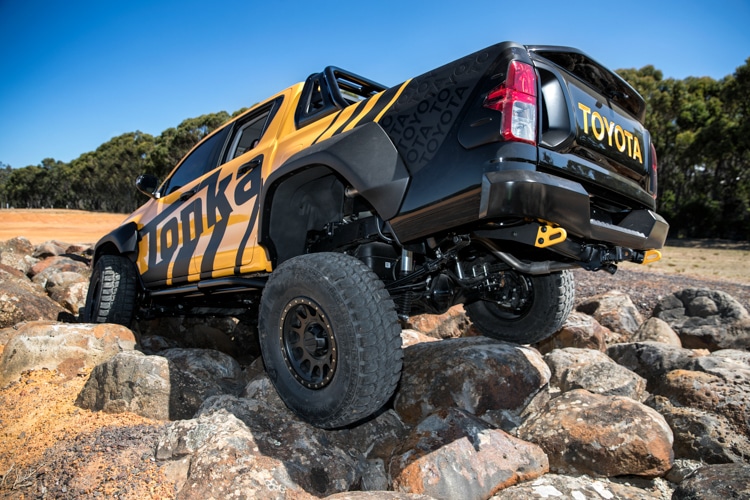 Product design chief Nicolas Hogios said the Tonka-HiLux Concept was inspired by the Tonka trucks that kids played with in their backyards. The concept vehicle goes well beyond a new paint job. "We have taken Tonka out of the sand pit and reinvented HiLux from top to bottom and from nose to tail," said Hogios.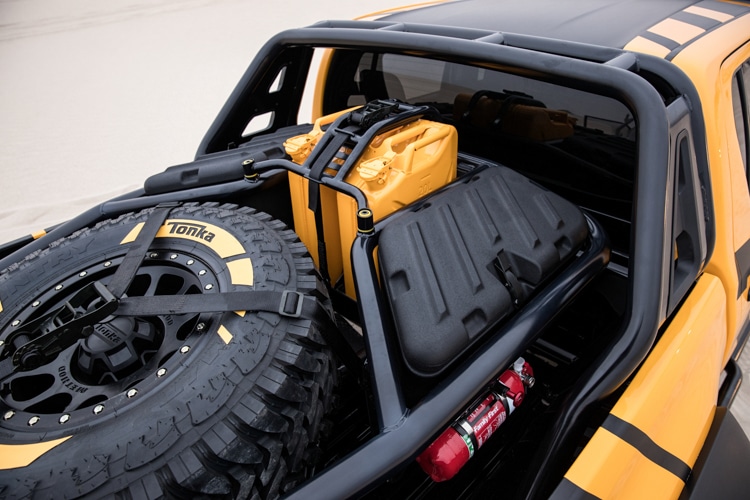 The dramatic black-and-yellow (a custom colour called "Sun Fusion") is bold and nostalgic, although it's underneath the paint that its true nature is revealed. A powerful 2.8-litre four-cylinder turbo-diesel engine pumps out 450Nm of pulling power with a towing capacity of an impressive 3.5 tonnes and shoulders up to a 1240kg payload with ease. The extensive remodelling starts with the extra ground clearance of 150mm, complimented by a high-riding axle, heavy-duty suspension and 35-inch diameter tyres. The HiLux has never been better equipped for off-road.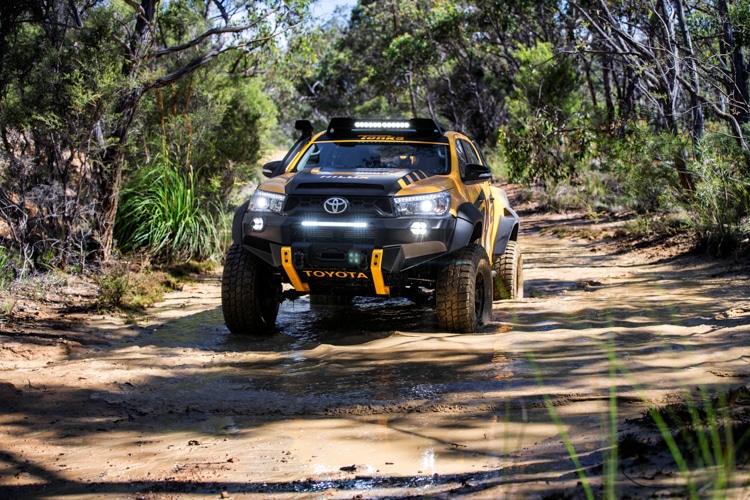 The bonnet is fitted with a lighter carbon-fibre skin and is shaped with an aggressive "power bulge" and air scoops. High-performance off-road LED lights are fitted in the roof pod, and a rugged bash plate made from 6mm-thick alloy protects the sump and other vital components. Tubular side rails protect the body and chassis.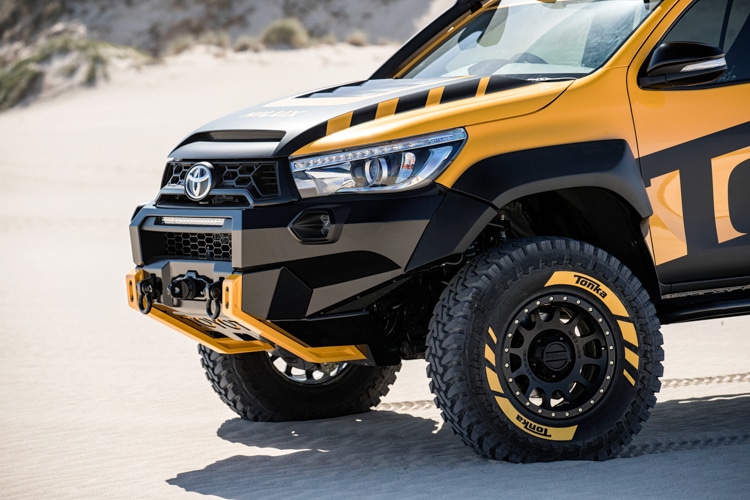 A new tailgate wrapped in carbon fibre incorporates a spoiler and two air vents for optimal airflow. The tailgate handle has been scrapped and replaced with a durable, lightweight strap. Inside the tray, a removable frame keeps all the gear/tools in place, while storage boxes house the recovery gear needed for extreme off-road driving. A fire extinguisher, axe, shovel and high-lift jack are also fitted. It's survival of the finest.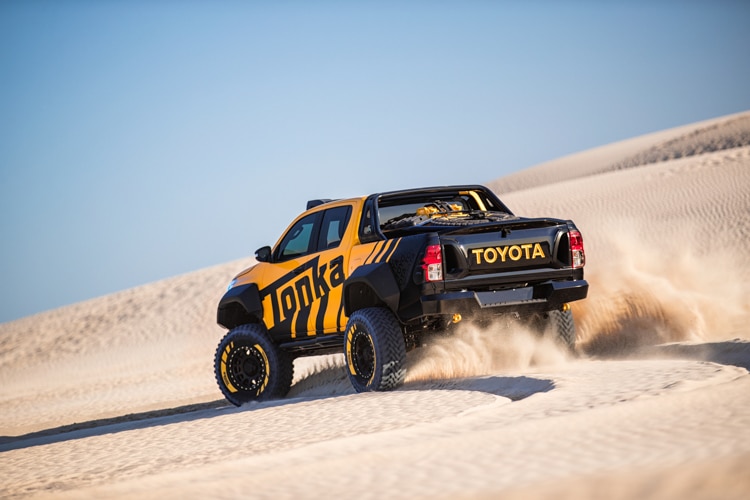 2017 marks the 70th anniversary for Tonka and the 80th for Toyota. The Tonka HiLux concept is the perfect way to celebrate both, although the key word here is concept. The vehicle is not destined for dealer showrooms. Swooning adults and kids alike will have the opportunity to check out the vehicle when it tours the country over the coming months.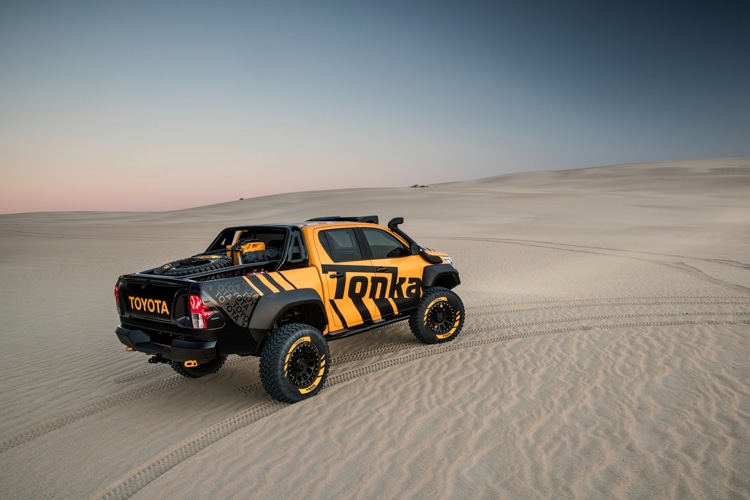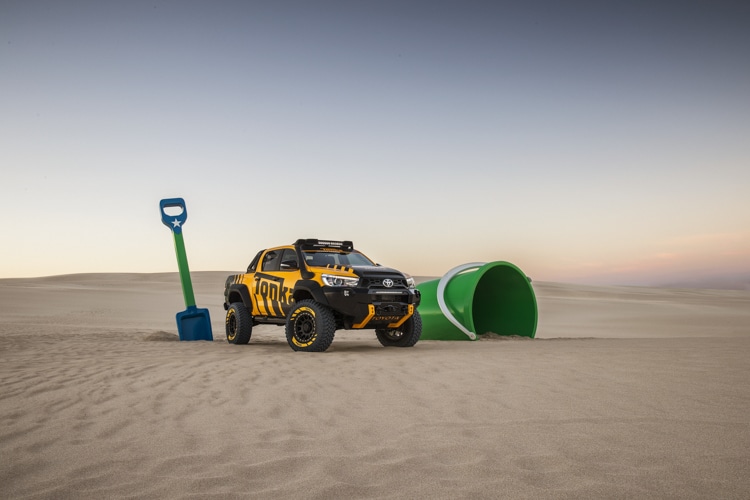 ---
You'll also like:
Off-Road Vehicle with Speed to Burn – 2017 Can-Am Maverick X3 Max
The Ford Bronco is Coming Back in 2020
The Maybach G-Wagen G-550 Goes Off-Road
---
Have you subscribed to Man of Many? You can also follow us on Facebook, Twitter, and Instagram.