Avi-8 Announces 1960s and 1980s Editions of the Centenary Flyboy
In Partnership with AVI-8
It was 100 years ago that the British RAF (Royal Air Force) was formed, representing the first independent air force in the world. To commemorate this vital institution and its ongoing legacy, UK-based AVI-8 has introduced the Centenary Collection. Based on the brand's popular Flyboy range, the new watch collection breaks down into four different decades, and duly captures the spirit of both military aviation and steadfast horology alike. The 1920s and 1940s editions dropped earlier this year and sold out right away. Now, the 1960s and 1980s editions are available for pre-order at a special price of £219 with code: manofmany, and in limited supply. Get one before it takes off like a Hawker Hurricane circa WWII.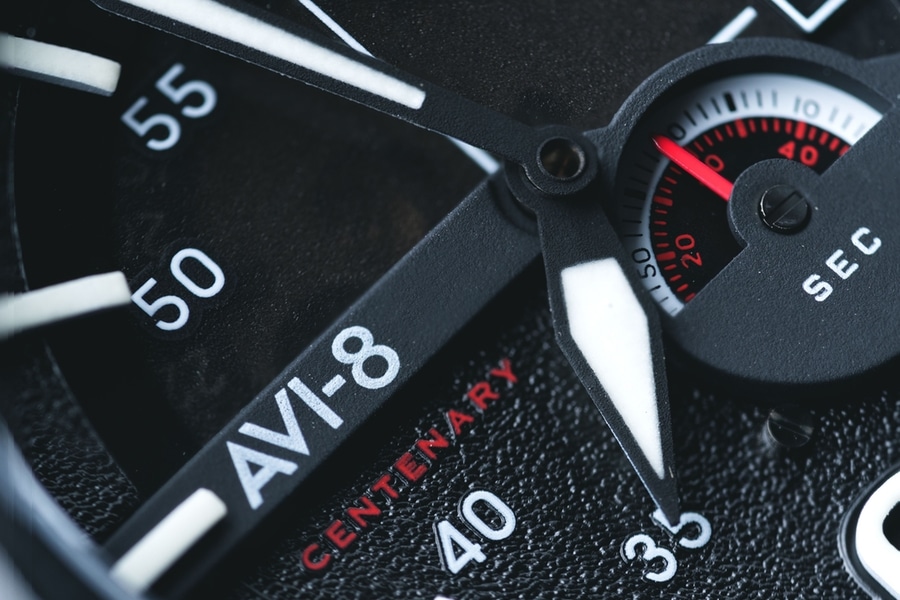 As one might have guessed, each watch in the Centenary Collection takes aesthetic cues from its respective era. That said, dependable specs like 316L stainless steel, a scratch-resistant sapphire lens, and self-winding Miyota movement with seconds subdial and date display, are featured throughout the entire range. Put it all together and you get breathtaking vintage designs, contemporary materials, modern mechanics, and a conceptual foundation in one stunning place. Needless to say, these watches do the RAF proud.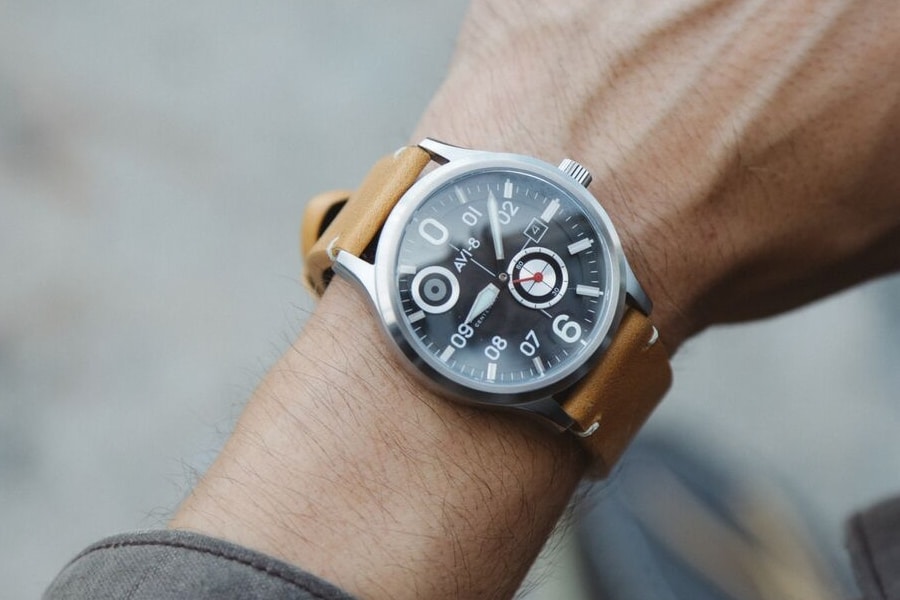 Of course, seeking inspiration through aviation is par for the course over at AVI-8. That is to say, the brand has nothing but the utmost respect for how a military aircraft gets designed and executed. After all, it takes a supremely talented group of scientists, engineers, and designers to create radical RAF fighter planes like the Hawker Hunter or the Lancaster Bomber. At the controls is a designated "flyboy", a term that's been used to describe air force pilots since WWI. It's in honour of both these incredible machines and the bold men who fly them that AVI-8 crafts its extraordinary watches (or "time instruments" as the brand likes to call them).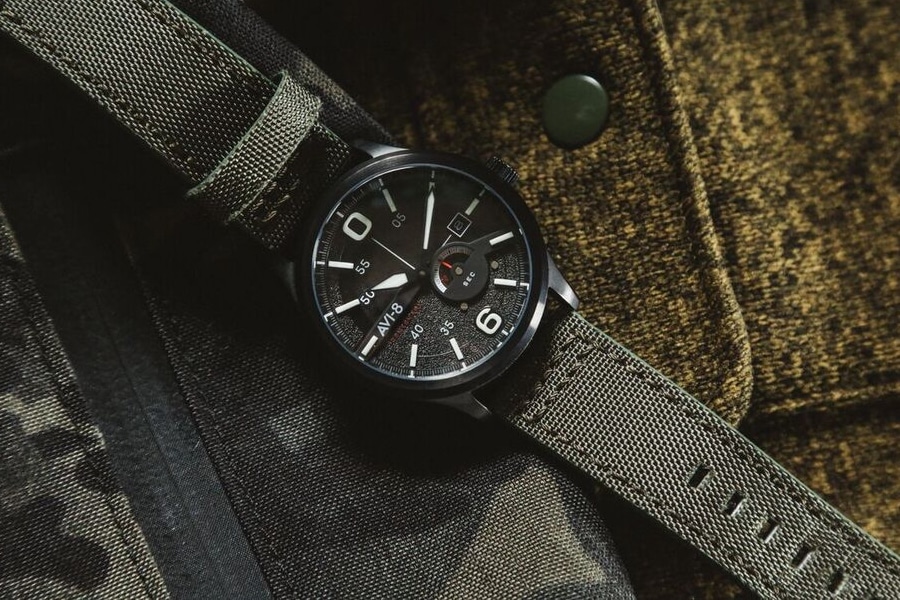 The Centenary Collection is the latest evolution to emerge from AVI-8's already stellar portfolio. Awash with a vintage, aviation aesthetic, each dial design invokes a true sense of high-flying acceleration, using the sparest of means. Furthermore, the watch faces are extremely legible, albeit unconventional in their approach. Since first announcing the collection, AVI-8 has been rolling out each respective model in chronological order.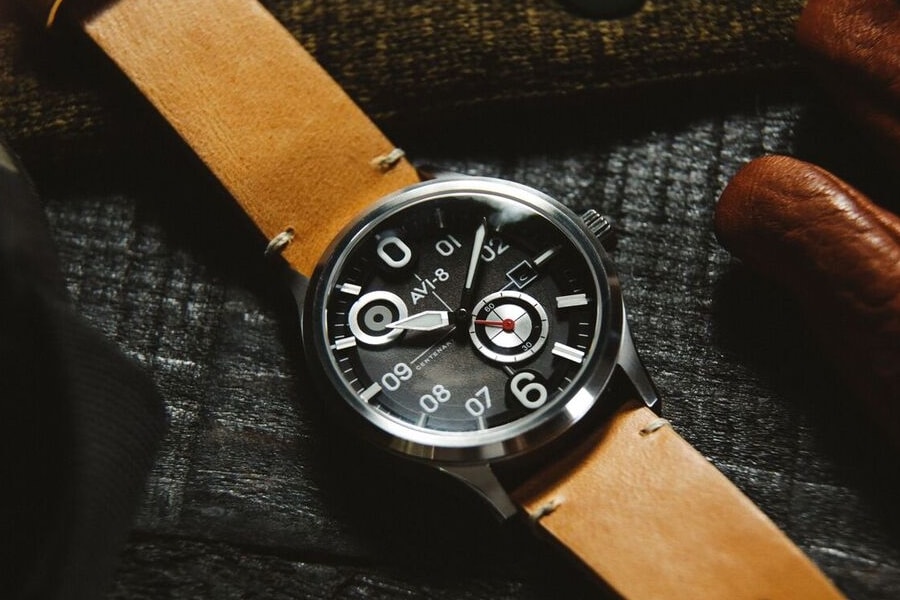 That brings us to the 1960s and 1980s models, which are currently available for pre-order. As eye-catching as they are functional, both watches host a 43mm case of premium stainless steel, and come powered by 21-jewelled Japanese Miyota 8218 automatic movement. Also featured on both watches are a domed sapphire crystal lens, exhibition case-back, fixed case bezel, date display, and a seconds subdial.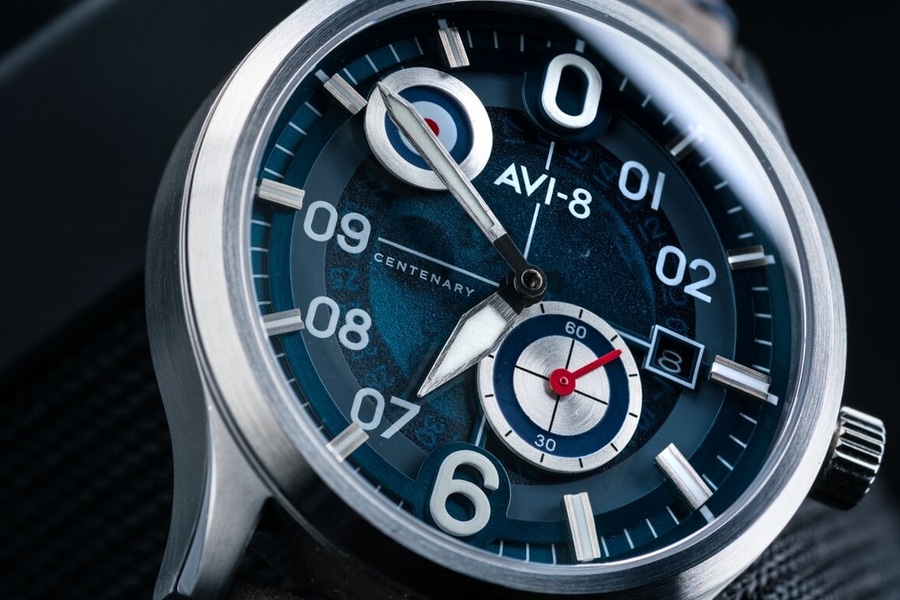 Despite their similarities, the 1960s and 1980s editions are quite clearly two different beasts. Let's start with the 1960s variant, which accordingly pays tribute to the accomplishments of the jet age. For the RAF, that meant the development of formidable aircraft like the V-class strategic bombers, the Hawker Hunter, and the Lightning. To capture the essence of so much progress, the 1960s Edition dial includes large, Swiss Super LumiNova hands and a translucent inner dial, the latter of which offers a view of the inner mechanics. As with the other models in the range, this piece touts an understated sense of propulsion, primarily accomplished by way of the signature dial layout. Giving the watch an extra touch of sophistication is a genuine hand-stitched leather strap.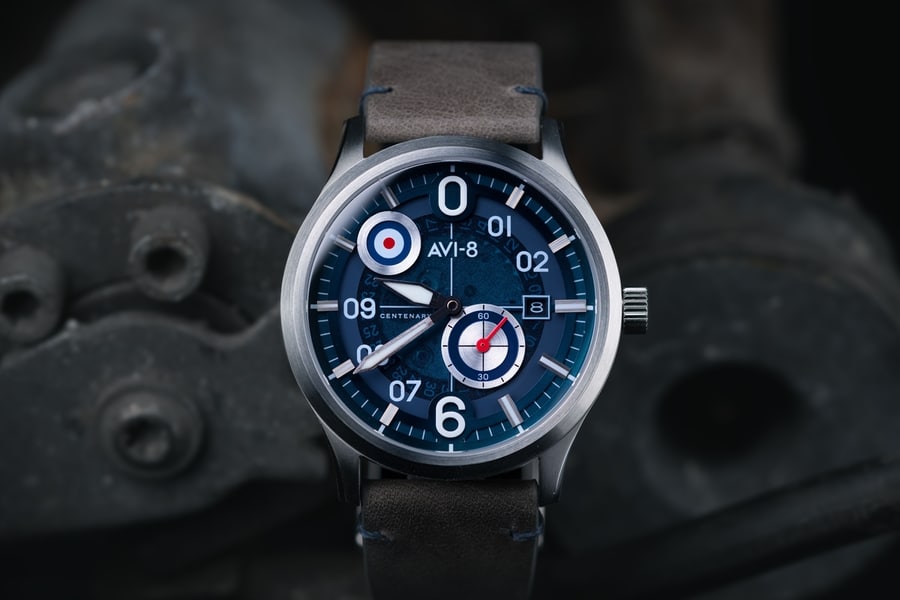 By the 1980s, computerisation was taking the aviation world by storm, and causing significant changes in RAF cockpits. However, don't take that to mean the Centenary Collection 1980s Edition is going to flaunt some cheap-looking digital display. By contrast, the watch retains a brilliant analogue aesthetic, letting the SuperLuminova hands, stark colourway, and semi-translucent dial do most of the talking. Furthermore, the seconds subdial has been tweaked to resemble a gauge-like instrument, thereby driving home the aviation theme while further distinguishing the model from its counterparts. True to its respective era, the watch comes with a robust Cordura strap, as the RAF began using this sturdy material with more frequency back in the 1980s.
We said it before and we'll say it again: the AVI-8 watches are now available for pre-order at a special price of £219 and are being offered in limited supply. Not only is this one heck of a way to help celebrate the RAF's 100th birthday, but it's one heck of a watch collection in its own right.
Use code manofmany at checkout to qualify for the special price of £219 (usually £280).