It's not exactly a far stretch to say that 2020 has been one of those years we'd like to forget. From bushfires and pandemics, to lockdowns and riots, this one has been and doozy and what's more, it's not over yet. As we slowly trudge our way to the proverbial finish line, we're sadly reminded that if and when we do come out the other side, we'll have to spend decades reflecting on the year that was. Luckily, we spent a good portion in the middle there documenting our journey through a detailed collection of 2020 memes. That's right, hundreds of years from now, historians will probably look back on the cavalcade of funny memes 2020 produced in the same manner we look upon the artworks our ancestors left behind.
From the real-life stories that shocked us to celebrities behaving badly, the best memes of 2020 are a mixed bag. In fact, out of context some of this stuff seems downright psychotic, but who are we to judge? Trauma enacts itself in different ways, so however you chose to commemorate the challenging first year of the decade, there's probably a 2020 meme for it. However strange, we've covered them all and left many a Facebook relative bewildered and concerned by our commentary.
Here is a list of the 27 best memes 2020 gave us.
1. My Plans/2020
It makes sense that the best meme 2020 produced was about how shocking 2020 has been. The two-scene masterpiece represents your optimistic approach in January, which was quickly swatted down by 2020 like Dikembe Mutombo at the rim. Our personal favourite is Kevin's Chilli from The Office. It perfectly sums up the high expectations we had for the year, only to see them fall in a sloppy heap on the floor.
Type: Exploitable, Parody
Origin: Twitter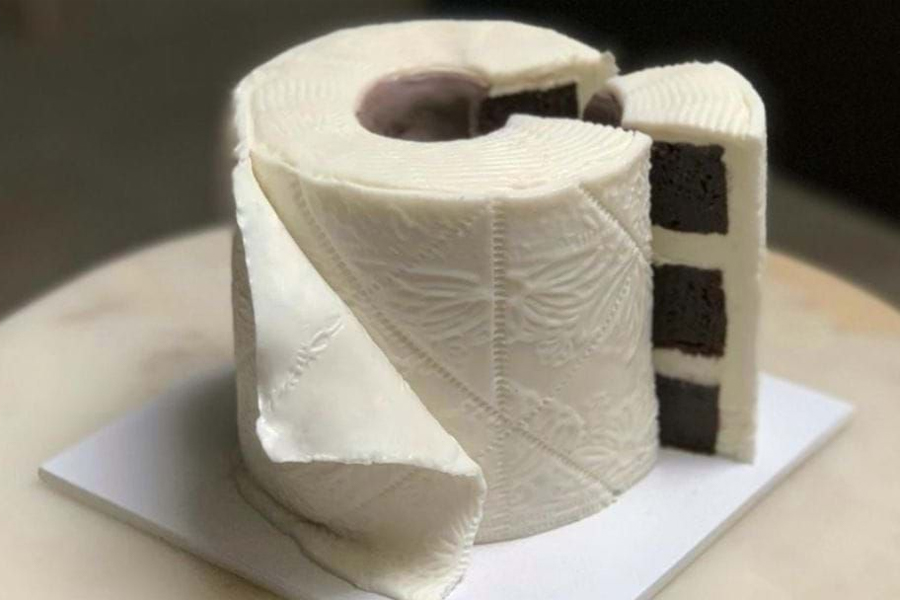 2. Is it Cake?
Who could've guessed that one of the most popular memes 2020 produced was about people turning everyday things into cake? Apparently, the whole trend started with one BuzzFeed video which revealed a series of hyper-realistic objects were actually made of cake. As the movement gathered pace and the cakes become more expansive and believable, our trust in the physical diminished. Can we ever really be sure that something isn't cake again?
Type: Video
Origin: YouTube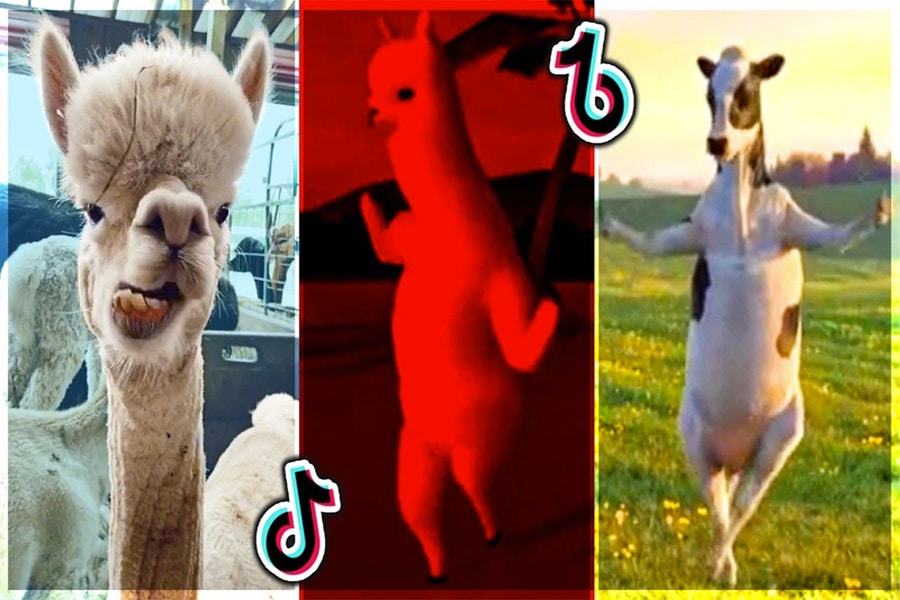 3. Mi Pan
A Russian cereal jingle that features a cartoon bee? Sounds like a recipe for 2020 meme success to us. This one had a massive rate of adoption on TikTok with people performing dances, skits and soulful acoustic versions of the overly catchy tune. As for deciphering just what Mi Pan is, Vice reported that the song is a remix of the jingle from a commercial for a cereal known as Miel Pops. The lyrics to the song are actually "Miel pops", rather than "Mi pan." Sure, this one isn't exactly a meme, but you can't deny this song is literally everywhere.
---
Featured Video from Man of Many
---
Type: Song
Origin: TikTok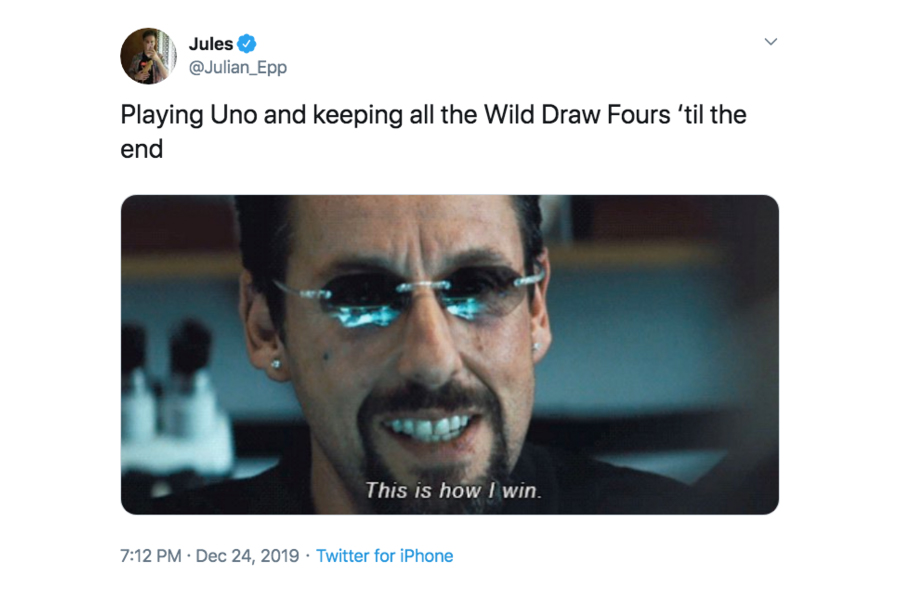 4. This Is How I Win
Adam Sandler's starring role in the Safdie brothers' film Uncut Gems spurred this 2020 meme that we've pretty much done to death. The meme originated on September 24th, 2019, when studio A24 published a GIF of the scene to GIPHY. Within four months, the post received more than 9.8 million views. From overly abusive Karens to McDonald's workers unwilling to turn the shake machine on, this meme works for whatever you're trying to do.
Type: Reaction
Origin: Uncut Gems
5. Love Story Thrust
Years after it was originally released as a country-pop ballad, Taylor Swift's Love Story was reborn as a TikTok trend. This 2020 meme saw dudes walk together towards the camera thrusting violently while the song played in the background. It's been a couple of months since it kicked off, but we still don't really get this one.
Type: Song
Origin: TikTok
6. Doing It All
We're not sure if Dolly Parton actually created this meme or not, but we're going to give her credit for it anyway. In this one, you show off your four different personalities; the ones you share on Facebook, Tinder, Instagram and LinkedIn. From sexy Insta-thot photos, to the casual suit and tie LinkedIn shot, apparently, we all have a hidden version of ourselves we reserve solely for social media.
Type: Reaction
Origin: Dolly Parton's Instagram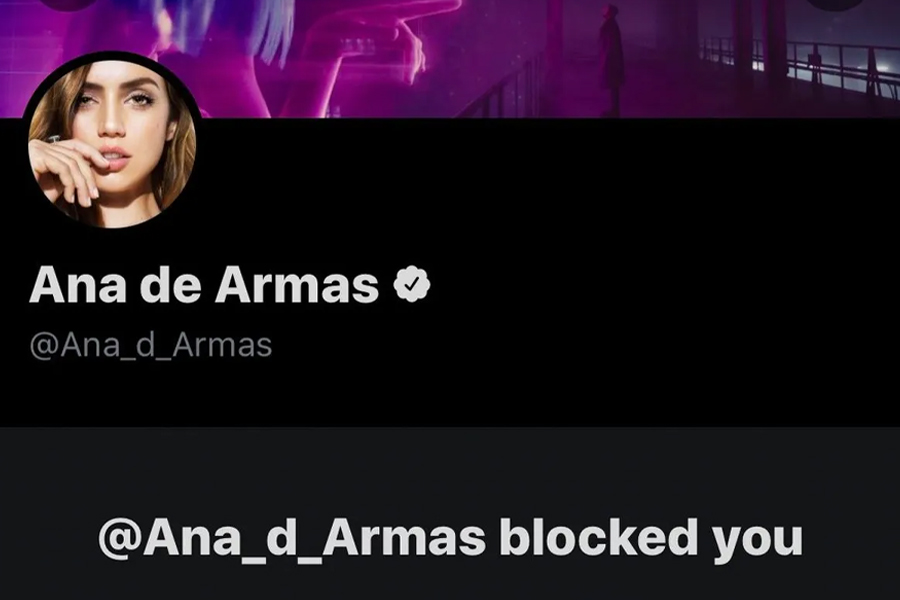 7. ArmasUpdates
If you haven't heard about this 2020 meme, which is probably more of an online chronicle to be fair, you're in for a treat. The Instagram account post photos of actress Ana de Armas and captions them with completely fictional events. Even better, the satirical account has genuinely caused a stir with the real Ana de Armas who has reportedly blocked it.
Type: Parody, Satire
Origin: Instagram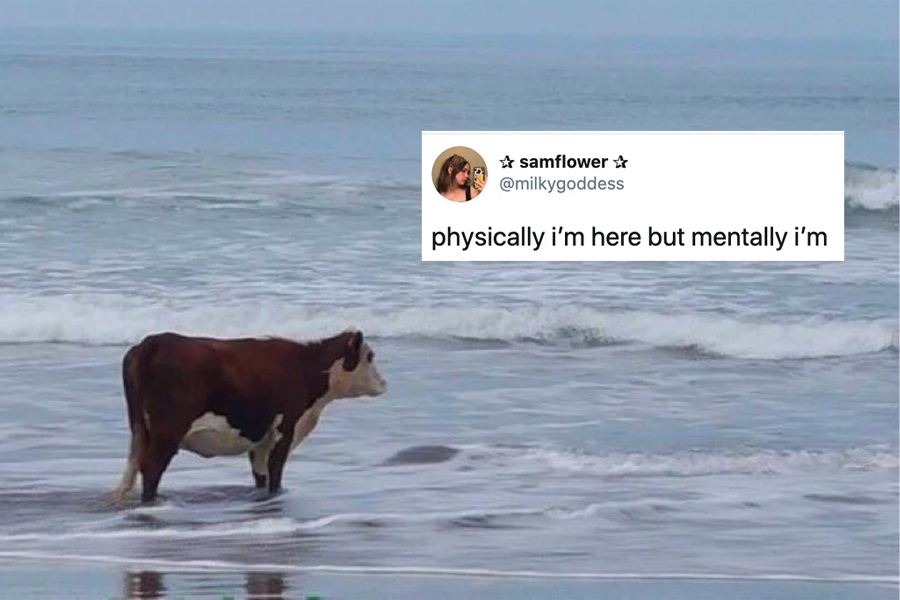 8. This is Where I'm At
With our grasp on reality slowly slipping away, it's becoming more difficult to articulate how we're going. That's where the 'This is Where I'm At' meme comes in handy. Made most famous by a mechanical structure that features a deer head and some rather delightful prosthetic legs, This Is Where I'm At is a way to vocalise the very odd mental place we all find ourselves in right now. With food bloggers struggling to score meals at pandemic-affected restaurants and the annual Summer Eurotrip girls locked in-doors, it's no surprise this became one of the best memes of 2020.
Type: Catchphrase
Origin: Twitter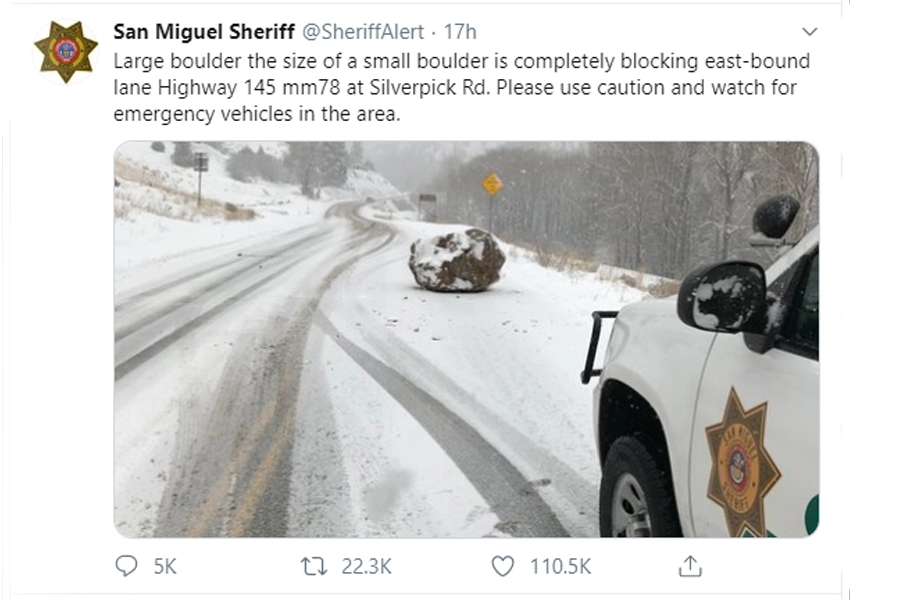 9. This Large Boulder
It definitely seems like more than 12 months since the great saga of 'Large boulder the size of small boulder', but apparently, that was also a 2020 meme. This awkward news Tweet from the San Miguel County Sheriff's Department in Telluride, Colorado earlier this year was one of the funniest things we've seen in some time. It was little surprise that the internet turned this classic confusing statement into one of the best funny memes 2020 had to offer.
Type: Fail
Origin: Twitter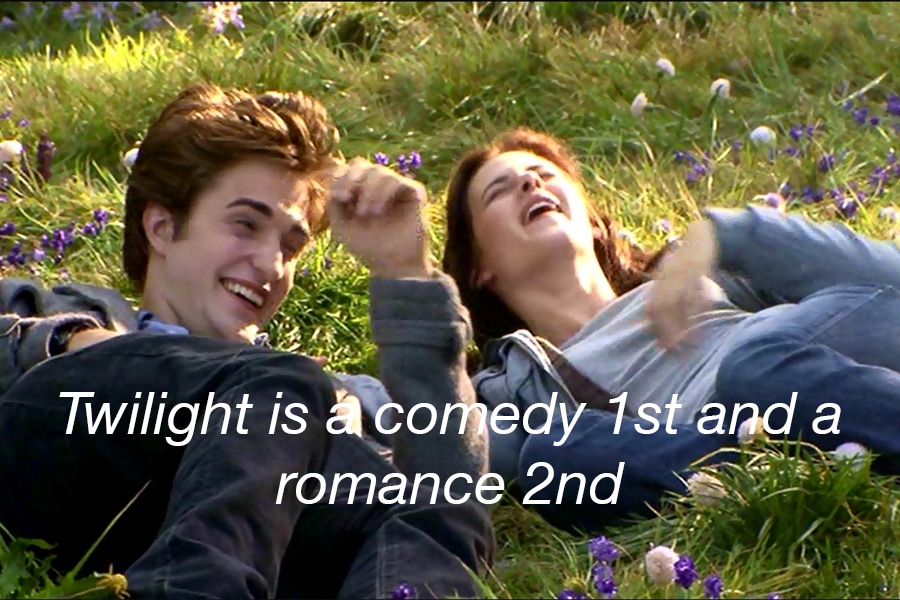 10. Twilight POVs
During the lockdown, we found ourselves diving deep into some old film franchises, one of which was Twilight. The teen vampire romance saw a massive resurgence in popularity, but not because it's a great flick. Turns out this popular 2020 meme was born out of a strange realisation that the acting in Twilight was incredibly awkward. While Kristen Stewart's robotic smile returned back to popular culture, we're genuinely hoping the name Renesmee doesn't. Honestly, what was that?
Type: Parody
Origin: YouTube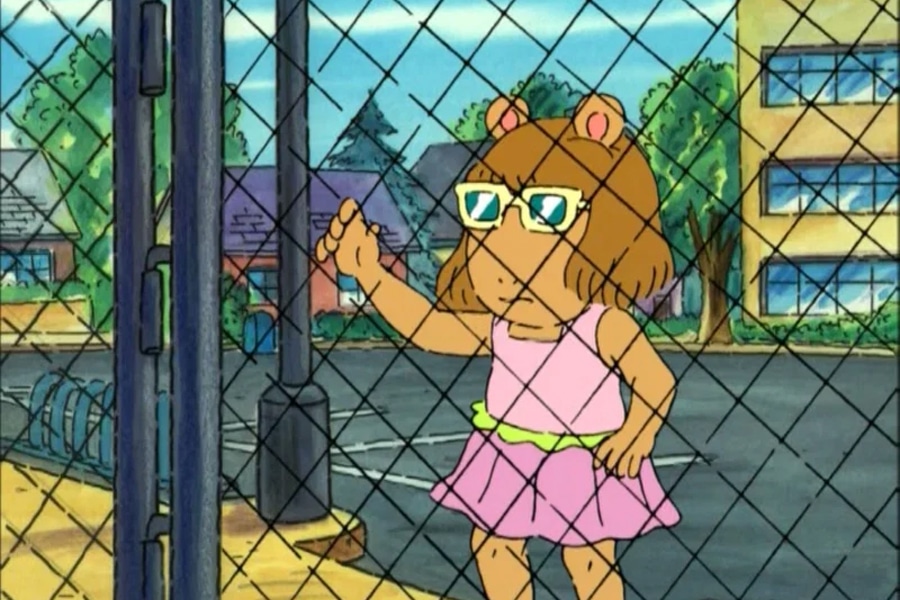 11. D.W. Holding Fence
How we long for the days where we could head to a restaurant or visit the park freely and without restrictions. In this meme that took 2020 by storm, we see the classic D.W. character from Arthur resting on a fence, trademark shades in check. The format for this one involves showing something you once took for granted and using D.W. to reveal your regret. The screenshot of the Arthur character staring longingly through a fence is hitting us all to our core.
Type: Reaction
Origin: Arthur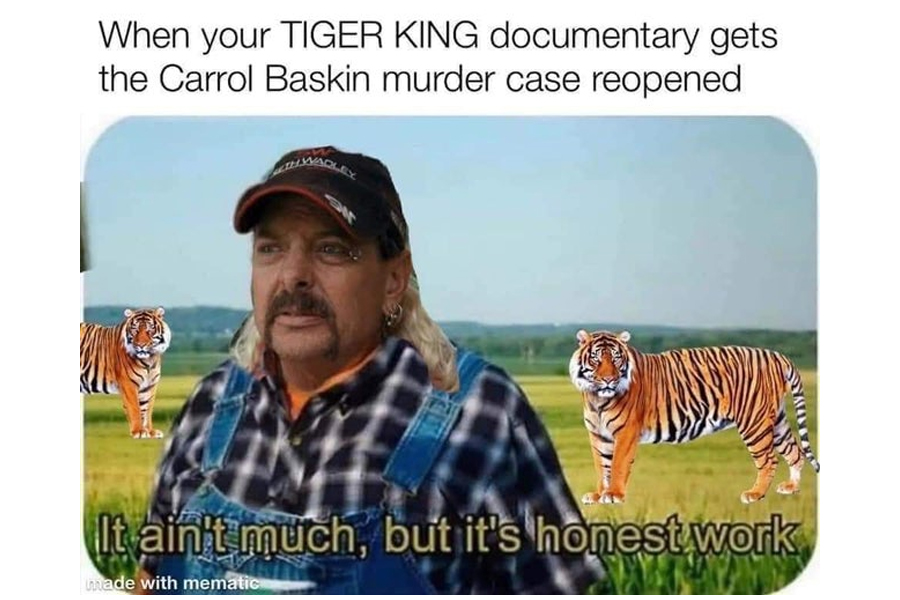 12. Tiger King Memes
It feels like an age since Joe Exotic dominated our screens, but apparently, Tiger King happened in 2020. The wealth of Tiger King memes that took off over lockdown was pretty ridiculous, but then again so was the hit Netflix show. Our personal favourite was the amount of 'I will never financially recover from this' memes.
Type: Reaction, Parody
Origin: Tiger King: Murder, Mayhem and Madness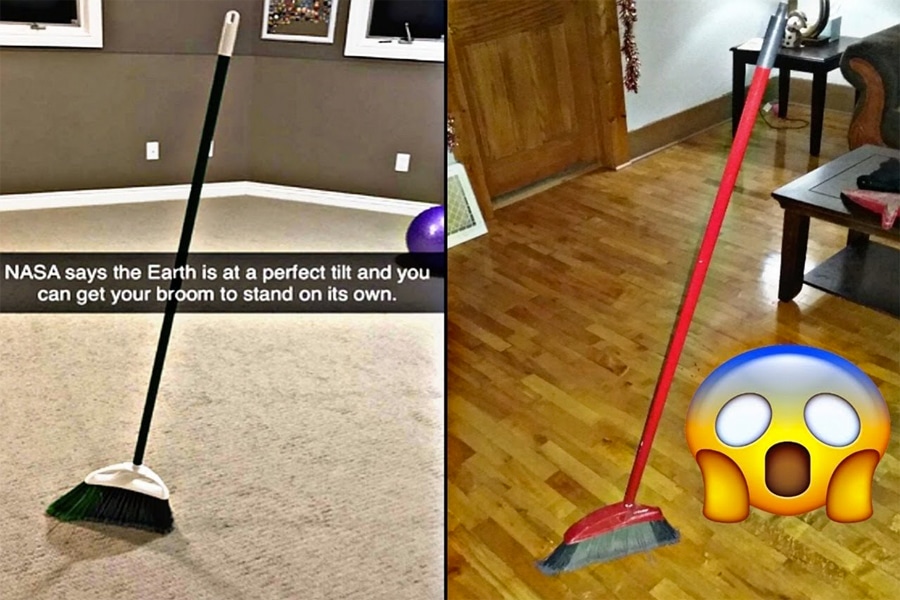 13. Broom Challenge
At one point this year, we deemed it necessary to try and stand brooms up completely vertical. Amazingly, some of us succeeded and thus, the great broom challenge of 2020 was born. While people have been doing this for years, the trend kicked back up in February when Twitter user @mikaiylaaaaa tweeted that brooms could stand upright on their own "because of the gravitational pull," attributing the claim to NASA. A video of @mikaiylaaaaa performing the trick was attached, which went on to receive over 51,500 retweets and 217,100 likes in one day, with the video accumulating over 5.4 million views.
Type: Hoax, Challenge
Origin: Twitter
14. How the Email Found Me
If you've ever landed yourself a corporate job, then you know the pain of reading the line "Hope this email finds you well" a couple of hundred times per day, but have you ever thought if the email did find you well? In 2020, it probably didn't and for the first time, we're letting people know. This 2020 meme is an ode to enlightenment in a year when literally no email found us well.
Type: Reaction, Parody
Origin: Twitter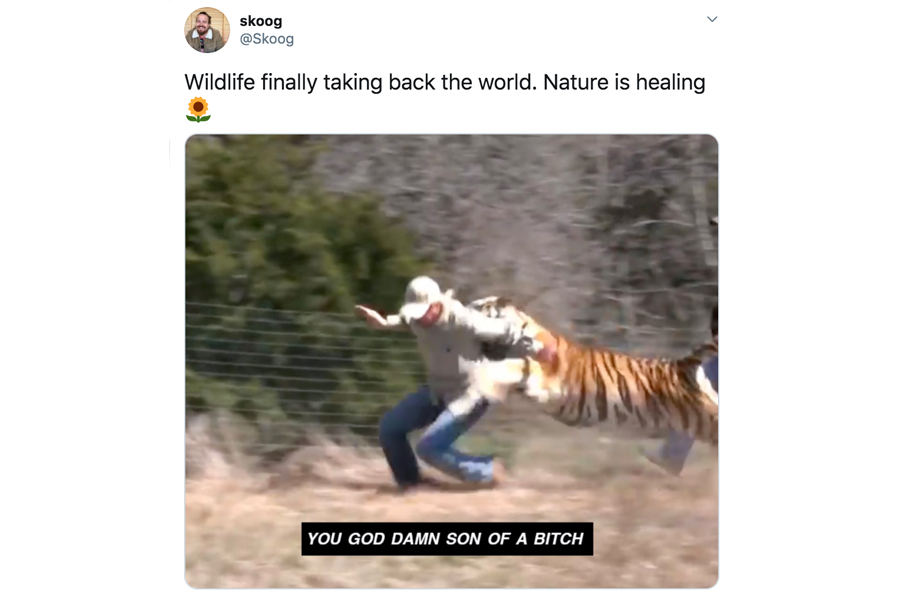 15. Nature is Healing
When the lockdown kicked off and human beings exited the busy streets, some curious animals moved in. There were reports of dolphins in the Venice canals and elephants overtaking farming villages, leading us to think all this development may have been covering up Earth's natural beauty. So to commemorate, we turned the movement into one of the best memes of 2020. Nature is Healing takes that idea and adds it to images of animals doing seemingly ridiculous things, suggesting this is how they naturally act when we aren't around.
Type: Exploitable, Parody
Origin: Twitter
16. The Real Villain
2020 might also be the year that moviegoers finally snapped. After spending too much time indoors, running through marathon sessions, we all started to dissect our favourite flicks a little too much. What we did notice is that perhaps the person we hated in the movie wasn't as bad as we thought. Maybe Darth Vader just wanted to spend more time with his son? Perhaps Yoda was a manipulator who turned an impressionable young man against his kin? Either way, it's worth evaluating the toxic people in your life.
Type: Reaction
Origin: Instagram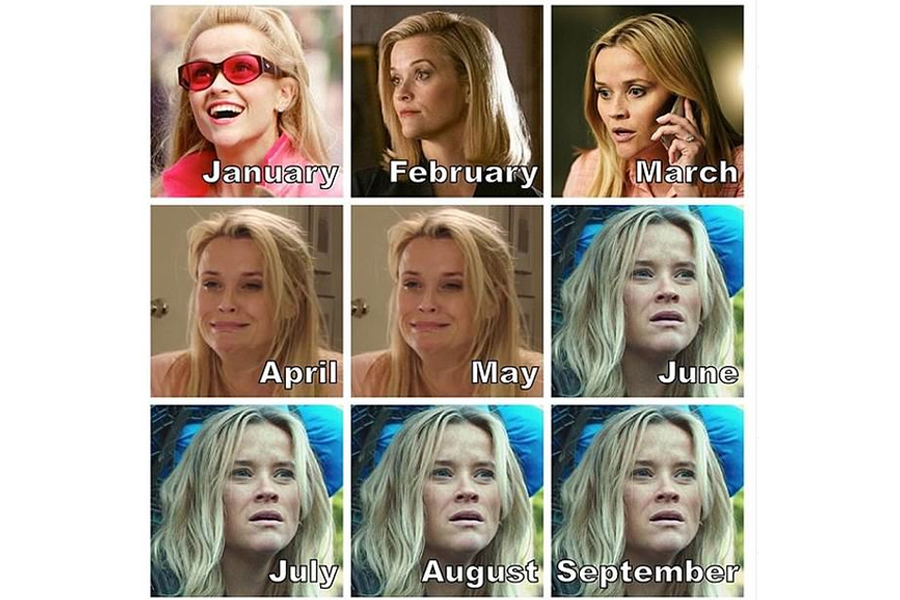 17. The 2020 Challenge
We all started out the year with high hopes, only to have them quashed pretty quickly. In the 2020 Challenge, which is also known as the Reese Witherspoon Challenge, you share your emotional journey from sparkling optimism to cold, senile bitterness. This might not be the best meme 2020 produced, but it's probably the most accurate.
Type: Image macro
Origin: Instagram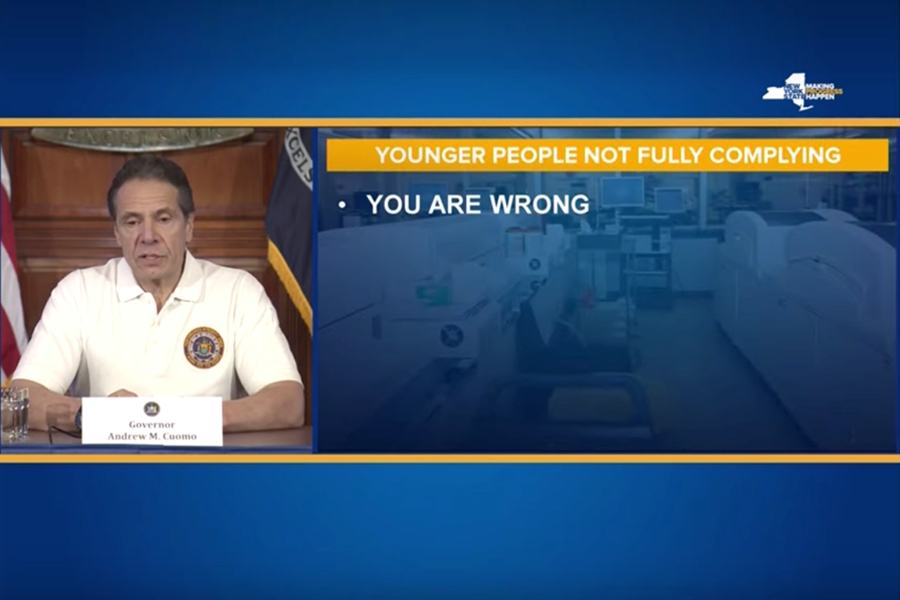 18. Cuomo's Slides
New York governor Andrew Cuomo's presentation on how the city planned to fight back against COVID-19 in spite of the president's admission that things were going well was an act of defiance that deserved to be commended. His slides, on the other hand, probably didn't. From spelling mistakes to cheesy slogans, Cuomo's Slides have become a glorious meme template used to ram home a point that needs absolutely no clarification.
Type: Exploitable, Parody
Origin: Andrew Cuomo's presentation
19. Chicky Nuggies
If you love chicken nuggets and Baby Yoda, 2020 may have been the year for you. This pop-culture hit saw the adorable character from Disney's The Mandalorian series become the ultimate nug-fiend in one of the most popular memes in recent memory. While some of the memes on this list target real-life issues, this one is pretty much just about the disappointment of not getting chicken nuggets for dinner. Heartbreaking.
Type: Exploitable, Parody
Origin: The Mandalorian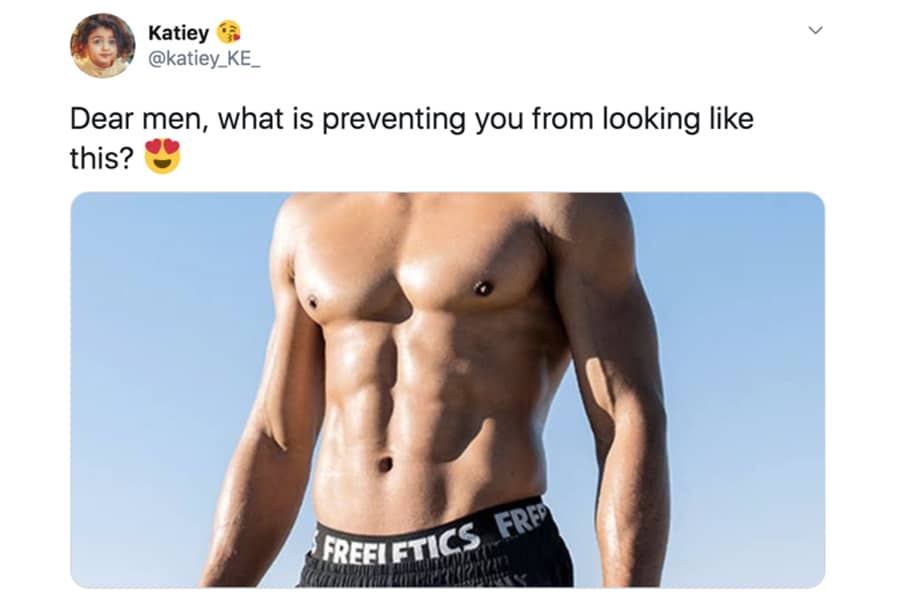 20. Dear Men…
It's always great watching someone get slammed for an outlandish opinion. When a Twitter user captioned a picture of a six-pack-emblazoned man with 'Dear men, what is preventing you from looking like this?', she got roasted. Even better, people took the format and ran with it, creating a strangely positive community where people share their own version of the ideal man.
Type: Exploitable, Parody
Origin: Twitter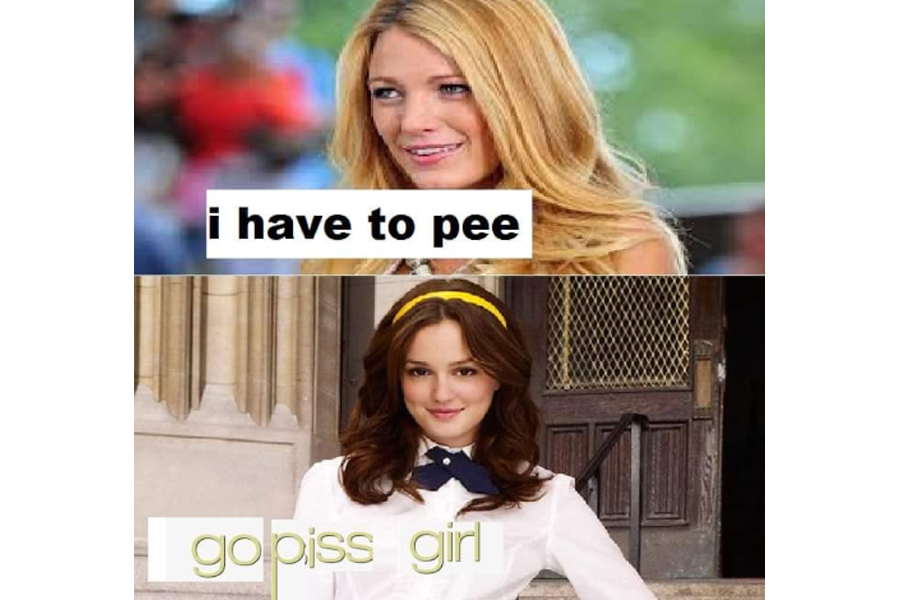 21. Gossip Girl
It's as simple as rearranging letters. That's all it takes to become a 2020 meme lord. In this one, we saw people take the title of popular early-2000s series Gossip Girl and rearrange the letters to make a different word. The format sees you use Blake Lively up top to pose a question, with Leighton Meester offering up the answer down the bottom. We're not really sure how this one gained traction, but it's undeniably one of the most popular memes in 2020.
Type: Exploitable, Parody
Origin: Instagram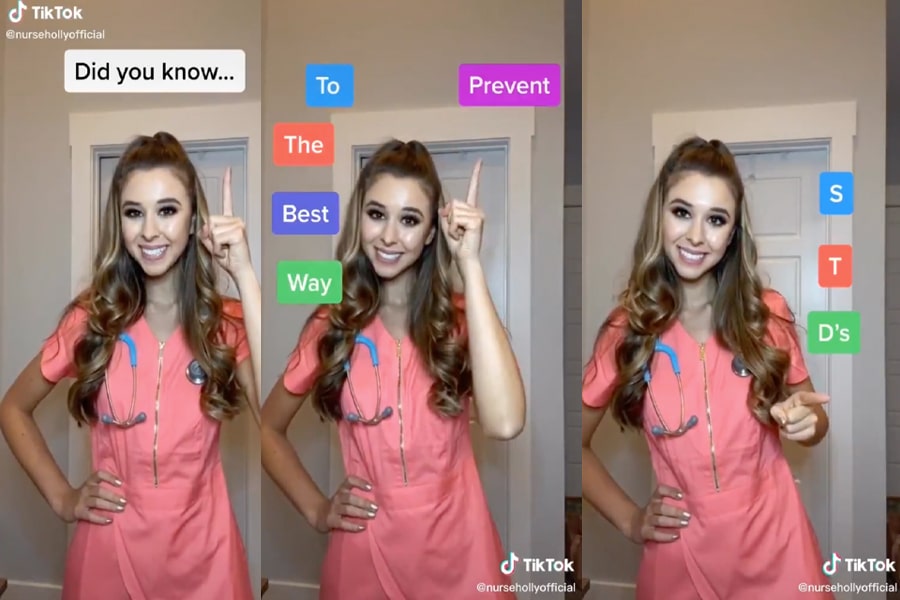 22. Point to Text TikTok
If you've been on TikTok recently, you would have seen users point to superimposed text to the overly wholesome tune from Yoshi's Island. Generally, it's just basic information or occasionally helpful advice, but when a TikTok user named Nurse Holly posted her attempt, it didn't go down so well. The TikToker claimed that abstinence was the best method for STD prevention. She has since deleted the video following backlash, but that hasn't stopped people from turning her false fact-check into one of best funny memes of the year.
Type: Exploitable, Parody
Origin: TikTok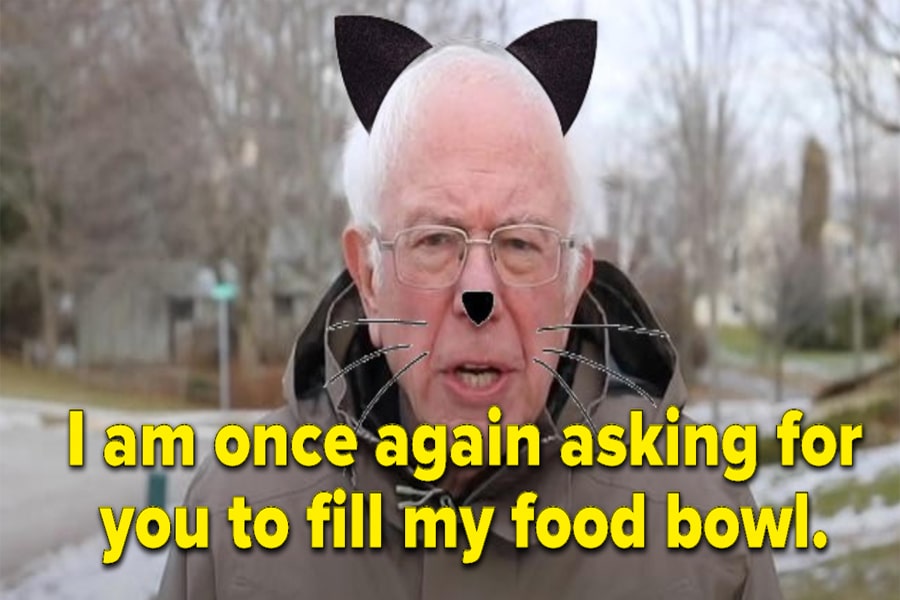 23. Bernie Sanders Asking You Again
He may not have won the candidacy, but Bernie Sanders won our hearts by becoming perhaps the best meme of 2020. When he unveiled a video that saw him open with 'I am once again asking for your financial support', the internet saw an opportunity and run with it. We're glad they did.
Type: Reaction, Parody
Origin: Bernie Sanders campaign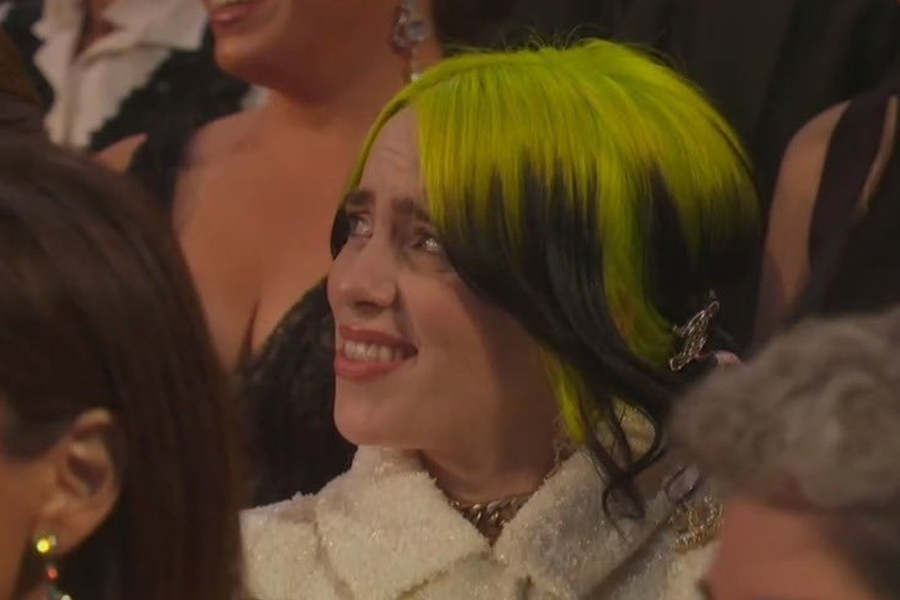 24. Billie Eilish Oscars
The look of disgust that spurred 1,000 memes. Billie Eilish's response to comments made at this year's Oscar was immediately meme-worthy and it's not hard to see why. The face works with pretty much any question.
Type: Reaction, Image macro
Origin: Billie Eilish at the 2020 Oscars
25. Nancy Pelosi Ripping Up Trump's Speech
When Speaker Nancy Pelosi stood up and ripped Donald Trump's speech in front of him immediately after his third State of the Union address, the world took note. She genuinely couldn't look more done and thus, a 2020 meme was born. The sheer, unbridled disgust that Pelosi emanates translates so well into meme-format. This one probably should've been bigger than it was.
Type: Exploitable, Reaction
Origin: Nancy Pelosi at State of the Union address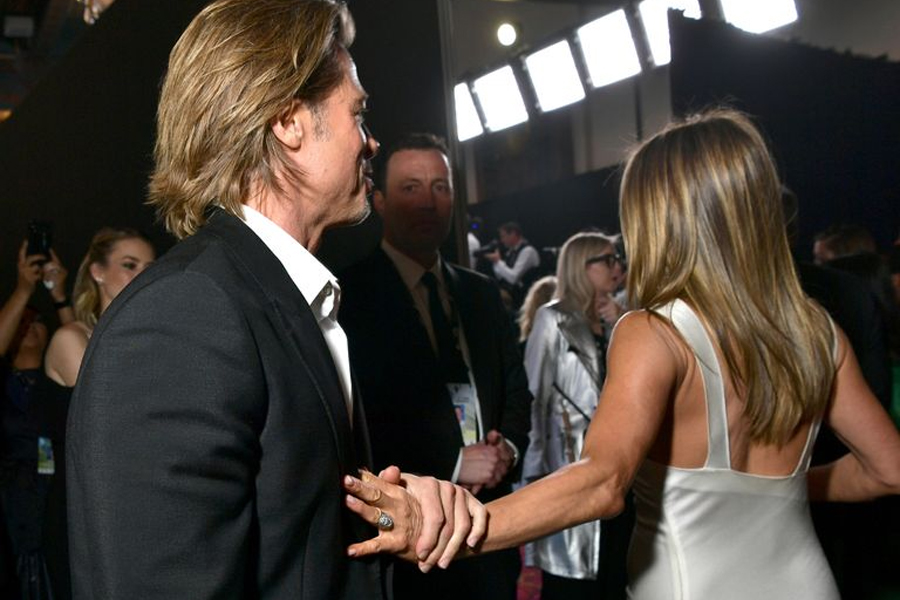 26. Brad Pitt Wrist Grab
Proof that even the coolest man in the world can be awkward AF sometimes, this high-art photo of Brad Pitt clutching at Jennifer Anniston's wrist became of one 2020's most popular memes. An ode to life slipping past, this picture sums up our year to a tee.
Type: Parody, Reaction
Origin: Brad Pitt at Golden Globes in 2000s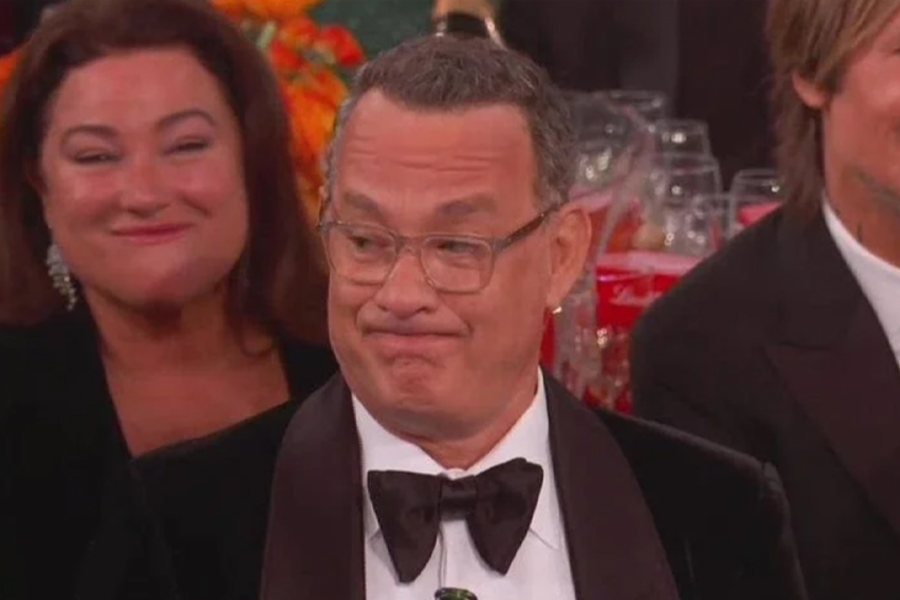 27. Tom Hanks Golden Globes
Rivalling Billie Eilish for the best stink-face of the year was Tom Hanks at the Golden Globes. The dual-Oscar-winning actor couldn't hold his cringe when host Ricky Gervais made some less-than-subtle comments. This one is probably our favourite 2020 meme.
Type: Reaction
Origin: Tom Hanks at 2020 Golden Globes
General FAQs
Where can I find new memes?
As with most internet culture elements, most new memes emerged on forums like Reddit. You can also find some good new memes on sites like GIPHY, Know Your Meme and IMgur.
What is Meme short for?
The term meme is short for the Greek word mimeme, which means 'imitated'. Coined by evolutionary biologist Richard Dawkins in his work The Selfish Gene, meme refers to a unit of cultural information, as a concept, belief, or practice, that spreads from person to person in a way analogous to the transmission of genes.
How do you say meme?
The correct way to pronounce this word is 'meem'.
You'll also like:
Who is Daquan? The Meme Page Warner Music Just Paid $85 Million For
21 Best Tekashi 6ix9ine Memes on Him Snitching
True Story of Barry Wood: 'Wood Sitting On a Bed' Meme
---
Featured Video from Man of Many