Indochino's Made to Measure Suits are Finally Coming to Australia
In Partnership with Indochino
Australian Introductory Offer: $559 for a made to measure suit + free shipping
If you've read any of our coverage on men's suits, then you already know we're huge fans of the made-to-measure experience. Indeed, few things in life are better than a quality suit that's been constructed to meet the exact measurements of your personal physique, using premium fabrics of your choosing. We're thus tremendously excited to discover that Indochino—who claim to be the world's largest exclusive made-to-measure suit company—is coming to Australia in mid-April. That means we and our fellow Aussies will have unrestricted access to hundreds of customisable suit and shirt fabrics, chinos, blazers, and sportscoats, minus the pesky conversion rates and import fees. It's all made to measure, priced to move, and shipped within two weeks flat. Awesome is hardly the word.
Odds are you've already heard of Indochino, and not just because they're one of the biggest and best in the game. After all, they've been shipping custom suits to stylish Australians for the last decade. However, because they were always sending each suit from overseas, it took longer to arrive and came joined by duty fees. With the brand's official arrival down under, those aforementioned hiccups are completely gone. What remains is cost friendliness, expediency, and convenience. Oh, and a customised suit, naturally.
Speaking personally, we're huge fans of both Indochino and the made-to-measure experience in general. For one, it basically goes without saying that made-to-measure suits fit better compared to generic off-the-rack suits. Furthermore, we simply look greater and feel more confident when we put on a suit that we had a hand in designing. On that front, Indochino doesn't just build suits to meet your exact measurements, but they put a full spectrum of high-quality fabrics at your disposal. Additionally, you're able to customise choice details like the lapel, lining, pockets, and buttons, as well as write your own monograms. It all amounts to a perfect fit with the personal touch, thereby taking the words "satisfaction guaranteed" to new and spectacular heights.
Meanwhile, Indochino delivers each unparalleled fit at a downright affordable price. The brand was, in fact, founded on the belief that a custom wardrobe shouldn't cost a fortune. By taking the customised experience directly to consumers while expanding its operation across the globe, Indochino is able to provide made-to-measure apparel at ready-to-wear prices. That the brand is launching in Australia is resoundingly good news for anyone with even the slightest semblance of style, as you won't have to break the bank when shopping among the hundreds of suit and shirt fabrics, chinos, blazers, and sportcoats.
Becoming an Indochino customer couldn't be easier. Here's how it works:
Either have a friend or a personal stylist take your measurements, or measure yourself at home and then shop online at Indochino.com.
Select your fabric (inside and out), choosing from a massive variety.
Choose your design customisations.
Submit your measurements along with your choices.
Crack open a beer and pat yourself on the back.
Receive your new made-to-measure suit within two weeks time.
As if a wider variety of fabrics, cool customised suits, lower costs, and faster shipping wasn't sweet enough, Indochino's arrival in Australia also means added customer support. Should you have a question or concern about your order, one of the brand's specialists is available to assist you at the drop of a toll-free phone call. It's yet another blatant perk that both you and we can look forward to starting mid-April.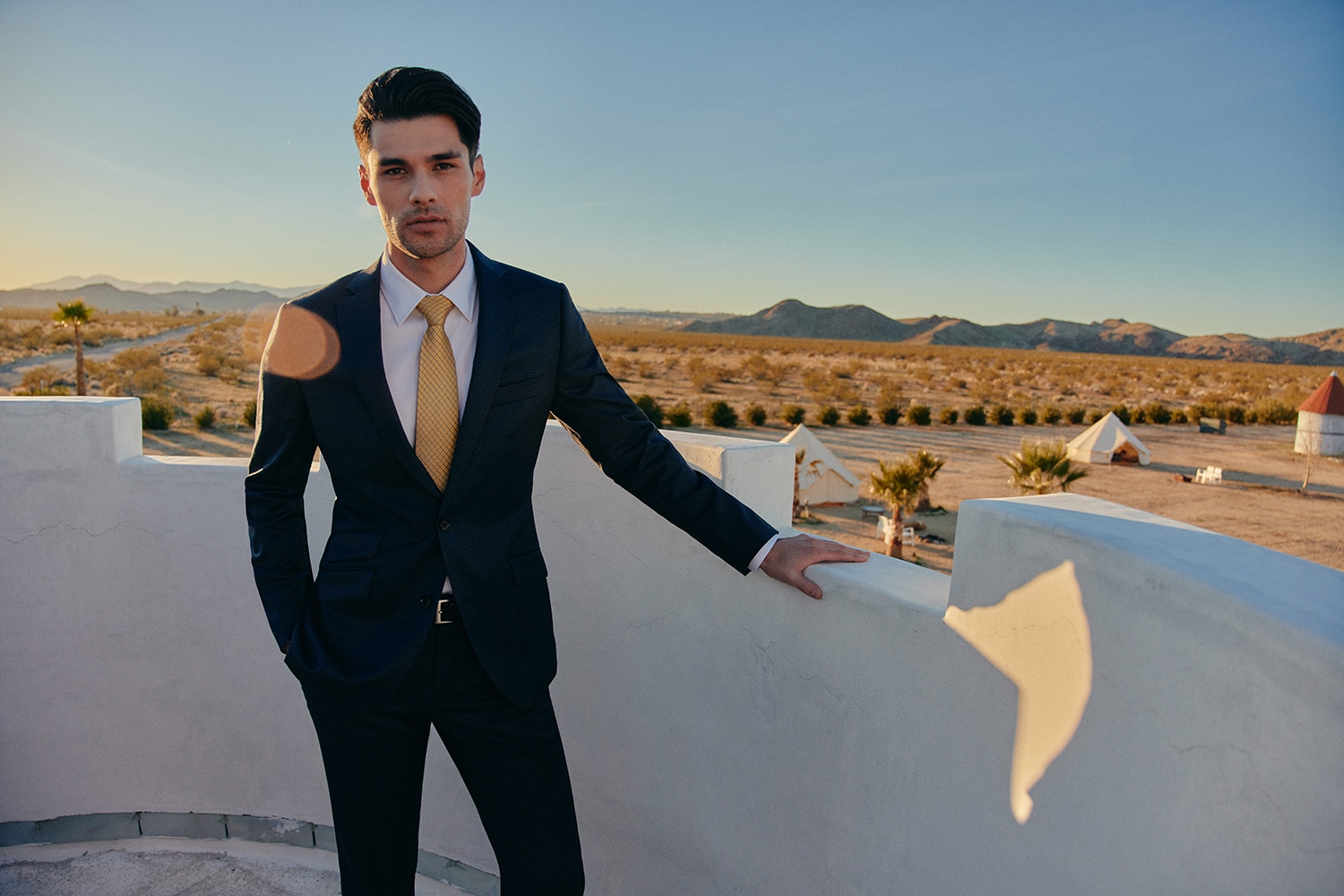 At the end of the day, the benefits of a made-to-measure suit pretty much speak for themselves. Nevertheless, we can summarise the experience with a succinct phrase: wearing a suit that was built to your specifications will make you look and feel better. It really is that simple. Hence, you should be as excited by Indochino's arrival as we are. Here's to sophisticated style at the right price, which comes straight to your door in two weeks flat. Life is good.
Australian Introductory Offer: $559 for a made to measure suit + free shipping