Introducing the Nike Vapormax – Walking on Air
With 30 years of Air innovation behind it, Nike's latest genesis is the finally here. The Nike VaporMax. From the bottom, this is one crazy looking shoe that sparks intrigue and doubt, yet upstairs it maintains its allure with a cool grey Flyknit wrap that we all know too well. The first-ever shoe to shed its foam midsole and let the air out, the VaporMax is a testament to the history of Nike Running.
New technologies have allowed Nike to scrap more weight off the shoe and expose those big bulbous bubbles, removing the need for a traditional midsole. Traction is at it's utmost with a complete wrap of rigid teeth around each air unit. The upper is a complete Flyknit ensemble with incorporated Flywire to ensure extra support and even tension across the forefoot. A thin film of plastic covers parts of the Flyknit where it meets the sole to ensure you keep that Flyknit dirt free. A soft collar, flexible sole and breathable upper makes this one of, if not the comfiest runner on the market.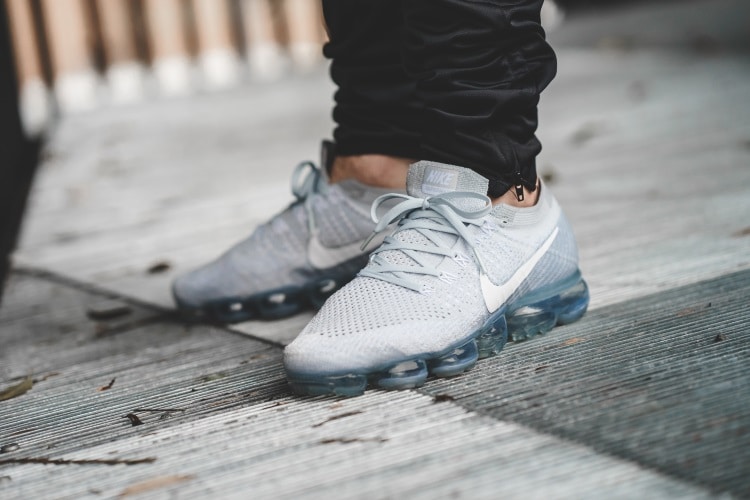 Don't believe us? Well, we put them to the test last week when Nike invited 30 individuals to partake in a 5km run across Sydney's bustling city streets. Oh, and did I mention it was raining? Everyone was blown away with the comfort and flexibility, and with no compromise to sex appeal, we couldn't say a bad thing about the VaporMax.
The Air Max 87 is where it all began when Tinker Hatfield proposed exposing the already existing airbag technology that Nike was using, for the consumer to see. Like a window into innovation. Everyone thought he was crazy and that no one would ever buy a shoe that looked like it would burst with wear. He proved them all wrong and the Air Max 1 was born becoming a cult classic and icon for the world of sneakers. With countless renditions of the Air Max over the past 30 years, they always had the intention to have a complete Air sole. In 1997 they were halfway there when they released the Air Max 87 that ran an Air unit along the entire sole yet still encapsulated by a foam midsole. Fast forward 20 years and the future is now.
The VaporMax will birth to the public on Sunday, March 26th to coincide with Air Max Day. The Wolf Grey VaporMax pictured is limited to 400 pairs across Australia, making them a shoe of few. HypeDC, Footlocker and Nike are the go-to for Maximum acquisition. But it doesn't stop there. Nike is also releasing a similar grey version with the addition of a red swoosh and Flywire accents dubbed the "OG". These should be available at similar stores to those mentioned above. There is also a murdered out black rendition to maintain your stealthy inner ninja on those midnight runs, however, this is a little more limited releasing only at NikeLab locations globally.
Lucas Blackman is a cup 2 halves full man that can pour a mean flat white or photoshop your wrinkles out, but can be summed up as Moustache, Ice cream and a Man of Many sneakers. Check out his instagram here: @lucasblackman