The Ultimate Men's Guide to Wearing Pink
The stigma of pink being only for women has long been placed as an archaic and odd thought. One of this season biggest trends for men is, in fact, this once feminine hue, and this handy little guide will tell you all you need to know about pulling it off without fault this season. From jackets to shoes, this season we teach every man how to wear pink.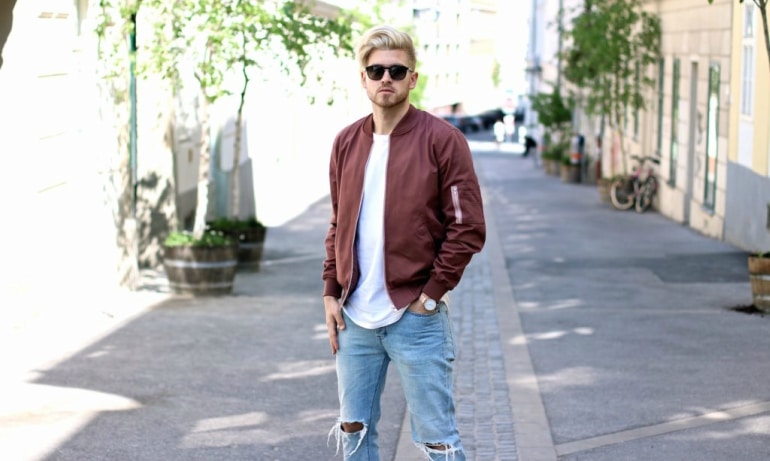 Pink Jacket
Probably the most statement piece you could wear to tackle this trend, the pink jacket will no doubt add to your wardrobe arsenal this season. Surprisingly, this is a colour that incorporates brilliantly into any man's wardrobe, but you just have to know what to pair with it.
If you're wearing a pink jacket or overcoat then you don't really want to wear anything else that screams statement piece. Try and wear something tonal underneath, whether it's all black, grey or navy, either will work perfectly. Personally, I'd stick to all black, as this will work as a great base layer to make the jacket or coat really stand out from the crowd.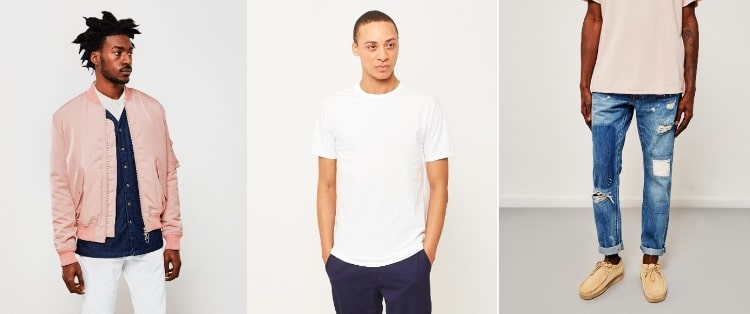 Pink Jumper
Again, another statement piece to wear this season, but something a little more practical. When we say pink, we don't mean the hot, almost Barbie-esque pink that was massive back in the early noughties, well, it can be, but you can really play around with the hue that you're comfortable with wearing. This could be anything from hot pink to a salmon colour or something really muted and subtle.
If you're going to wear a pink jumper then I'd suggest, again much like the coat or jacket, leaving it as the statement piece to your look. Grey works perfectly with a subtle pink, so opt for a pair of grey wool trousers for a warm and textured look that blends the trend and your wardrobe essentials perfectly.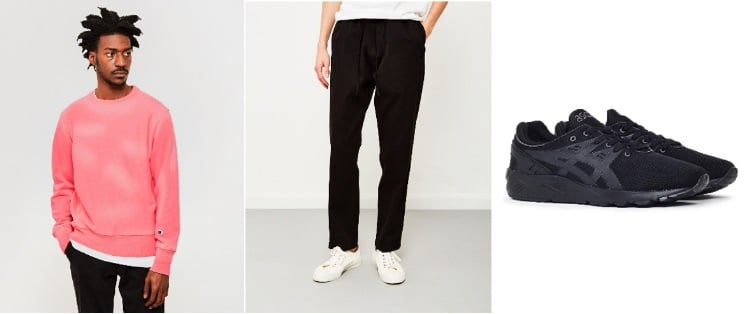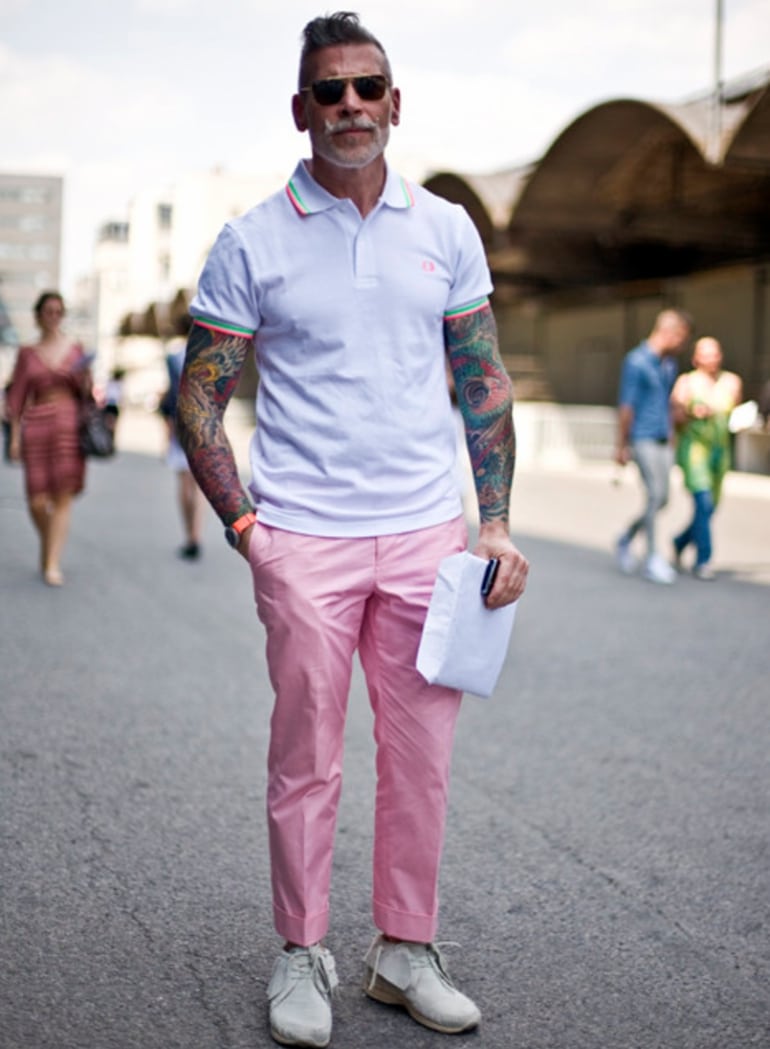 Pink Trousers
Now, this may not be your first choice when it comes to tackling pink this season, but a pair of pink trousers will be more versatile in your wardrobe that you first thought. An easier way to get on board with this is to try a pair of casual jeans instead of the more formal trousers, and if you're feeling really adventurous, try a pair of raw hemmed jeans to incorporate two trends at once.
For your jeans (or trousers if you've chosen to go with them) you can add (or keep) a sense of formality by adding a white button down Oxford shirt into the mix. This classic wardrobe staple works with any colour and style, just make sure that it fits you correctly and you'll be good to go.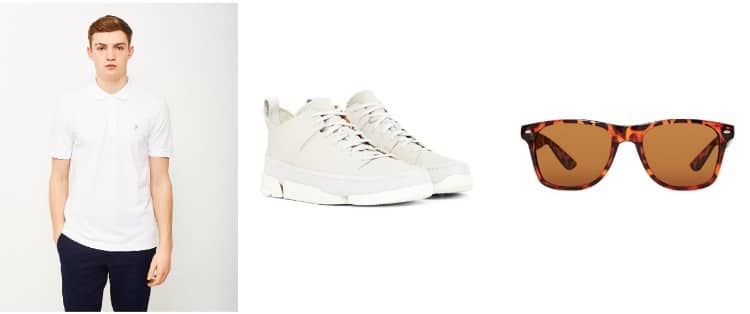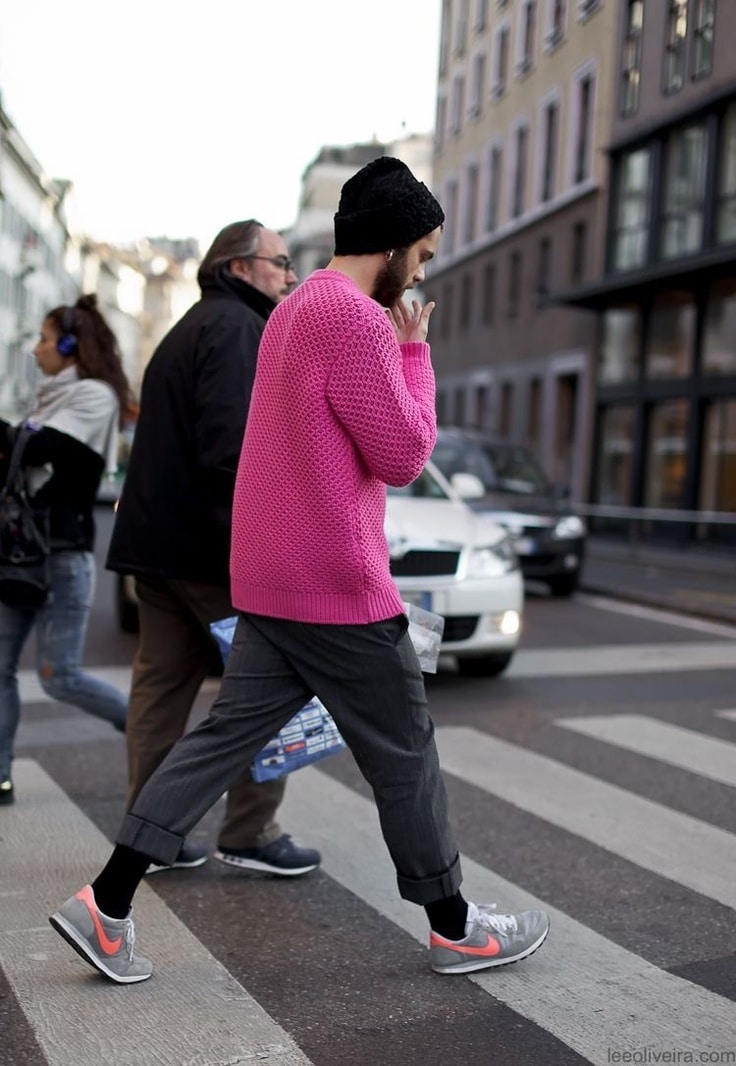 Pink Shoes
Something you thought would never come into style for men is a pair of pink shoes, but as the times change, so does the style. A pair of pink shoes are more inclined to a summer wardrobe, but don't be afraid to wear them in the colder months to liven things up a little bit.
Personally, I would opt for pink trainers as you will get more wear out of them than you would a loafer per say. Go for classic silhouettes and avoid glaringly over-the-top tones of pink, as these can instantly make you look tacky. Again, opt for lighter hues and muted tones as these will fair better in the long run. Teamed with an all grey look (a T-shirt with trousers) and you'll have a look that's both stylish and on trend this season.
Tom Courcey is the Editor of the menswear e-tailer The Idle Man, a leading menswear e-tailer in the UK. Covering everything from fashion, lifestyle and grooming, The Idle Man is the go-to online destination for men.