Watches to Die For – SIHH 2017 (Part 4)
This is the last instalment of the roundup of our journey to Geneva for SIHH 2017, and what an experience it was. We saw everything from sleek to showy, from swish to sporty, from a piece that resembles a jellyfish to one of the most complex watches ever produced. Lucky for you we're not done yet. Behold our final highlights of SIHH 2017.
---
Have you read parts 1 & 2?
Watches to Die For – SIHH 2017 (Part 1)
Watches to Die For – SIHH 2017 (Part 2)
Watches to Die For – SIHH 2017 (Part 3)
---
Slim is sexy with the Cartier Drive De Cartier Extra-Flat
One of the newest addition to the Cartier Drive De Cartier collection designed in 2016 is the extra-slim and extra-sexy – Extra-Flat. This stylish cushion shaped, dress-watch has undergone a facelift and has come back even sleeker than ever with coming in at under 7mm in thickness which is 40% thinner than the original model. It wears beautifully on the wrist and is ever so tastefully understated in its look.
Cartier Mysterious Hour is rife with intrigue
This asymmetrical, skeletal beauty is initially a perplexing thing to lay eyes upon, but once you get past its unorthodox structure, one can really embrace all it has to offer. Sporting a two-sided, calibre 9983 MC, the hands on the left side of the face are not directly connected to the movement. Instead of that, the hands are joined to two sapphire discs that are laced with teeth around their circumference. Through the large roman numerals that make up the right side of the 44mm case, you are able to see the gear train of this mysterious movement.
Montblanc Timewalker Collection zooms toward the future without forgetting the past
This collection has drawn its inspiration from motor racing, but not for just any reason. Watch manufacturer Minerva, who was acquired by Montblanc to produce movements in-house, have been around since 1858 and bring a sense of tradition to the modern Montblanc brand – and part of that tradition involves its connection with motor racing. All five pieces within this collection feature a satinated case and sleek design, inspired by the racing stopwatches that were made by Minerva years back in the early 1900's. Their no-nonsense legible design, feature a highly defined red second hand for extra precision, and all but one feature some sort of chronograph.
The Panerai Luminor Submersible 1950 3 Days Automatic Oro Rosso 42mm is as reliable as it is beautiful
This bad boy marks the first time every that a Panerai Submersible watch available in a 42mm case – the other watches in this collection all stretch to a slightly larger diameter of 47mm. Coming in options of red gold or steel, that have different yet impressive water resistance capabilities (100m and 300m respectively), it is operated on an automatic, mechanical calibre P.9010 movement which is executed entirely by Panerai.
Audemars Piguet drops two vastly different but equally stunning pieces
Audemars Piguet dropped a number of beauties at this year's SIHH, but none shone brighter than these two. The first – the Royal Oak Tourbillon Extra-Thin – is a steel number that quite literally has nothing to hide. Being an openworked piece, the entire gear train and movement are visible through the face of the watch that is held together by a 41mm diameter case. The tourbillon is finished in such a way that it displays as a standard black until you move your wrist, in which it evolves into a vivid mirror.
The second of these numbers – Royal Oak Perpetual Calendar Black Ceramic – is particularly special because, as the name so blatantly suggests, the watch is primarily constructed from hand finished black ceramic, with a sleek, matte black, brushed finish. The 41mm case and bracelet are really the stars here, being made entirely of ceramic, these parts possess insane levels of  scratch and heat resistance.
Ressence Type 1 Squared end the week on a renewed, revamped high
Offered as a bit of a classier update to the original Type 1, namely evidenced by the cushion-shaped case, Ressence have adhered to an idea to create a watch that is visually reminiscent a traditional watch while still using the Ressence oil filled display and the the self winding 2842/2 base calibre. On the back, as opposed to the standard sapphire case backing, there is a retractable lever that changes the feel of the watch completely. When one sets the time, the rotation of the lever co-ordinates perfectly with the spins of the dial on the disc.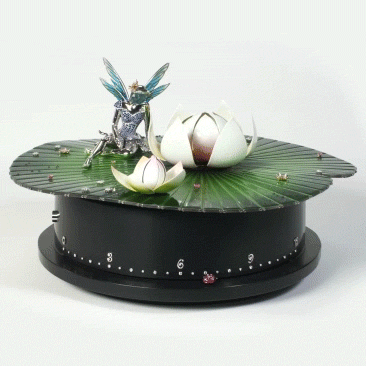 Van Cleef & Arpels Automate Fée Ondine is truly a magical piece of technology
While not a watch by any means, this piece is the result of long arduous years of work and a strong collaboration with automaton maker Francois Junod. It's a highly complex and intricate mechanism that brings together both the craft of jewellery and the craft of watchmaking. Telling a narrative of a graceful fairy awakening from her slumber, the centrepiece is delicately laced with nuanced jewels. The best bit – every fifteen minutes the aforementioned fairy becomes animated giving the entire piece a mysterious air of magic.
---
Have you read parts 1 & 2?
Watches to Die For – SIHH 2017 (Part 1)
Watches to Die For – SIHH 2017 (Part 2)
Watches to Die For – SIHH 2017 (Part 3)