Vincent Namatjira Becomes the First Indigenous Artist to Win the Archibald Prize
Australia's most prestigious portrait competition has finally recognised an Indigenous artist. Prominent first nation's painter Vincent Namatjira has claimed the 2020 Archibald Prize for his portrait of AFL legend Adam Goodes, marking the first time in the art competition's 99-year history that an Indigenous artist has won.
You'll also like:
Banksy Pays Tribute with Bold New Black Lives Matter Artwork
What You Can Do to Take a Stand Against Injustice
Watch Meyne Wyatt Tear Down Australian Racism in Under 4 Minutes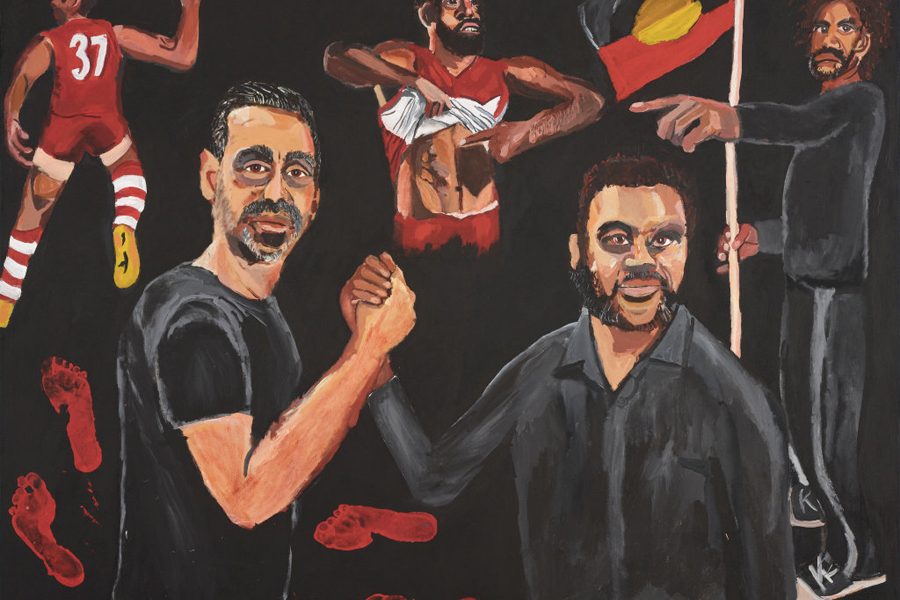 Titled 'Stand Strong for Who You Are', Namatjira's piece features the former Sydney Swans player and Namatjira clasping hands. The AFL star turned Indigenous rights activist and Australian of the Year has become a beacon for equality and the unrelenting need for representation. Goodes' ability to break boundaries and challenge the status quo has been lauded the world over, and for good reason. A determined inspiration, Goodes, like Namatjira, not only chose to speak the truth but accepted the vilification that sadly accompanied it with grace and dignity.
"We share some similar stories and experiences – of disconnection from culture, language and Country, and the constant pressures of being an Aboriginal man in this country," Namatjira previously said of his work. "We've also both got young daughters and don't want them to have to go through those same experiences. When I was younger and growing up in the foster system in Perth, Indigenous footballers were like heroes to me. Goodesy is much more than a great footballer though, he took a strong stand against racism and said, "enough is enough". I stand strong with you too, brother.'
Goodes' likeness and the sentiment it represents was more than befitting of the inaugural Indigenous victory, but Namatjira's name is not unfamiliar to Archibald regulars.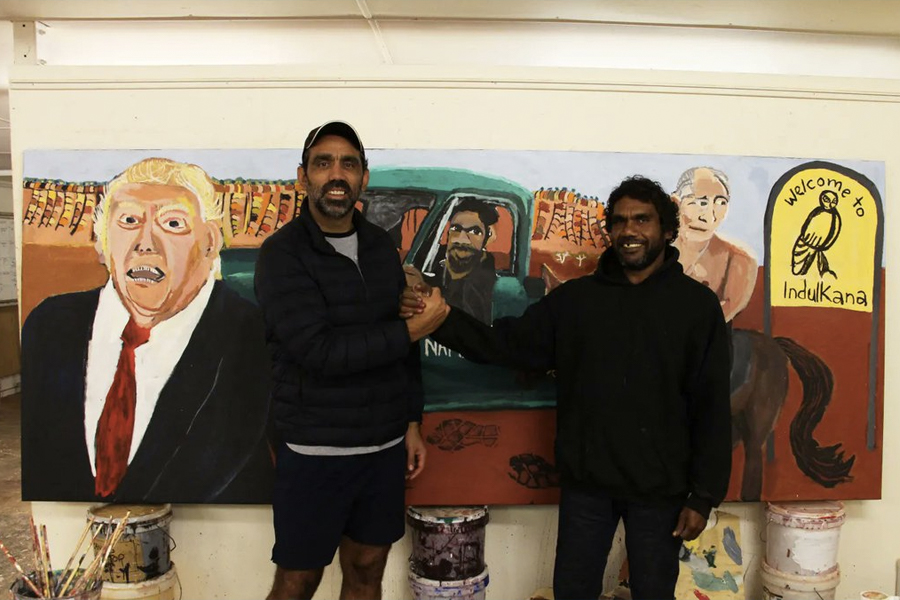 Inspired by the 1956 Archibald Prize-winning portrait of his great-grandfather Albert Namatjira by Sir William Dargie, Vincent's approach to portraiture is an exploration of identity and pride. In 2014, he painted a portrait of himself alongside the Archibald-Prize winning image of his ancestor. While not accepted as a finalist, the painting now hangs in the Queensland Art Gallery alongside the original.
While Namatjira couldn't be there in person to accept the coveted prize, he appeared via video-link to express what the award means to him. "This is a really special moment for me," he said. "What an honour it is to be the first Indigenous winner of the Archibald prize."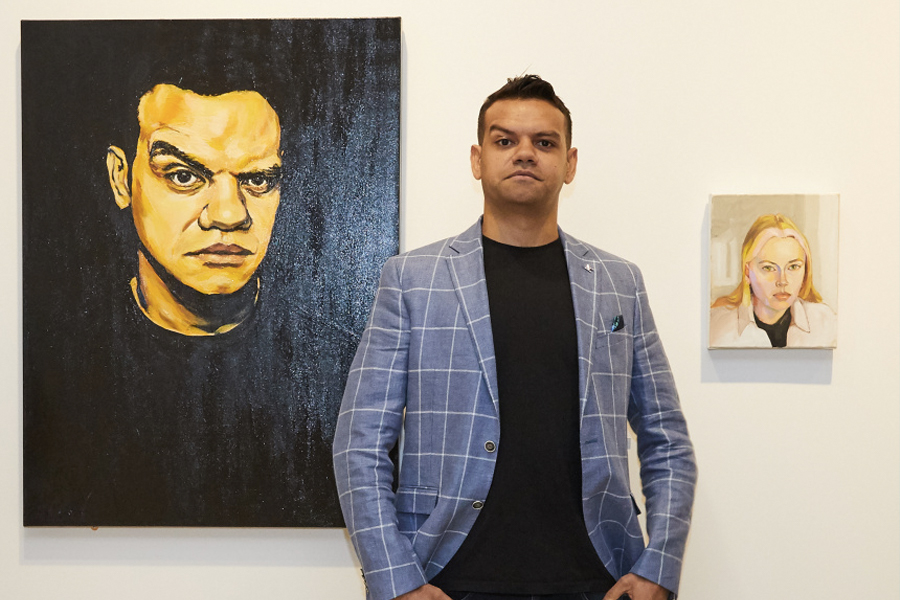 But Namatjira wasn't the only Indigenous artist to accept claim this year. In fact, four of the five available accolades across the Archibald and Wynne prizes, among the country's longest-running and most prestigious, were taken out by Aboriginal artists. Wongutha-Yamatji actor Meyne Wyatt became the first Aboriginal person to be awarded the Packing Room Prize, Anangu (Pitjantjatjara) artist Nyunmiti Burton secured the Roberts Family Prize and Western Aranda painter Hubert Pareroultja claimed the Wynne Prize.
With representation high and a slate of awards now in the record books, we may finally be seeing the long-overdue recognition of Indigenous art creep into contemporary circles.
You'll also like:
Banksy Pays Tribute with Bold New Black Lives Matter Artwork
What You Can Do to Take a Stand Against Injustice
Watch Meyne Wyatt Tear Down Australian Racism in Under 4 Minutes